Listen to "What We Had" Dirtbag Diaries Podcast Episode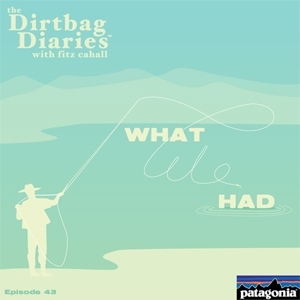 Happy New Year. We're starting 2011 off right with the first-ever fly fishing story to be shared on the Dirtbag Diaries. Host Fitz Cahall introduces today's podcast:
Mark Rutherford and John Merritt grew up sharing the same sand box. As they grew up, they each followed separate paths. John had a successful career in the Chicago financial world. Mark moved to Alaska and raised a family in tiny cabin he built with his own hands. Twenty years ago, Mark began a successful adventure fly fishing guide service in the Bristol Bay region. An avid fisherman, John got in touch with Mark and scheduled a trip. On that first trip, John revealed that he had been diagnosed with M.S. Ten years prior, doctors told him he had seven years to live. That first trip marked the beginning of decade of trips, each more adventurous than the last. Today, we are headed up stream to the confluence of several lives. Friendships are a bit like rivers — when they converge, they swell into something greater.

Listen to "What We Had"
(mp3 – right-click to download)
There's more to this touching story than what you just heard. Hit the jump for some background on the folks who were featured in today's podcast and a link to some photos from the trip they described.
As it happens, Mark Rutherford is the father of Patagonia ambassador Kate Rutherford — a talented fly fisher in her own right — and Vijay Viswanathan, who was mentioned in the podcast, was a former Patagonia employee. Not long ago, we ran a photo of Vijay, Kate and her brother, Alex, from the trip Mark mentioned in the podcast and Vijay gave his take on the photo as an audio caption. Here it is again for those who didn't see our spring 2010 fly fishing digital catalog. The photo is by Mikey Schaefer:

Listen to the audio caption by Vijay Viswanathan
If you're interested in taking a fly-fishing trip with Mark Rutherford up in Alaska, check out the services he offers over at Wild River Guide Co. Patagonia ambassador Timmy O'Neill also works with disabled individuals who are interested in human-powered outdoor sports through his non-profit venture Paradox Sports — Jeff Johnson wrote about climbing with Timmy and Aron Ralston in a previous post. In fact, you can read a trip report and see a bunch of photos from the trip described in the podcast right on the Paradox Sports website.
As always, our thanks go out to Fitz and Becca Cahall for bringing these wonderful stories to life in podcast form. Visit dirtbagdiaries.com to hear the music from "What We Had" or download past episodes. You can subscribe to the show via iTunes and RSS, or connect with like-minded listeners on Facebook and Twitter.
Thanks for listening.