Hitting the Streets to Preserve National Monuments
How to talk to people and the alchemy of transforming "no" into "yes."
In mid-May, I presented at the annual NOLS instructor conference held in Lander, Wyoming. This was not only an opportunity to speak to the frontline of outdoor educators but, in light of the recent concerns with our public lands, an even better chance to harness their collective voice. It was the first time I've ever encouraged those attending a keynote to write a representative. As we distributed the stationary, pens and stamps at the top of the show, I felt that this act could not only transform the fight to retain our "saved lands" but, more importantly, nourish and inspire the lives of those who were engaged in the struggle.
I have been writing letters for the past thirty years and, in a way, it seems to be a dying art. Email, texting and the ever present "walking computer" have rendered the act of communicating to a few seconds and an appropriate emoji. Yet, I've found that the process of sitting down and connecting via the written word to be a vital link in creating and maintaining meaningful relationships. Almost no one in the audience of 200 that evening had ever handwritten a letter to a public servant.
The month before the NOLS talk, I attended the People's Climate March in Washington D.C. with a committed crew from Protect Our Winters and Patagonia. It was there that I learned of the proposed rescindment of 27 national monuments. It was a last straw moment, and I immediately spoke with my friend Whitney about preventing that travesty. My early years, spent living and climbing in wild places like Joshua Tree, Yosemite and Yellowstone, didn't necessarily save my life but they did allow me to truly discover and continually define it. And I knew that if I did nothing, then nothing would save them. Editor's note: Five monuments have been protected since this story was published, leaving 22 still under threat.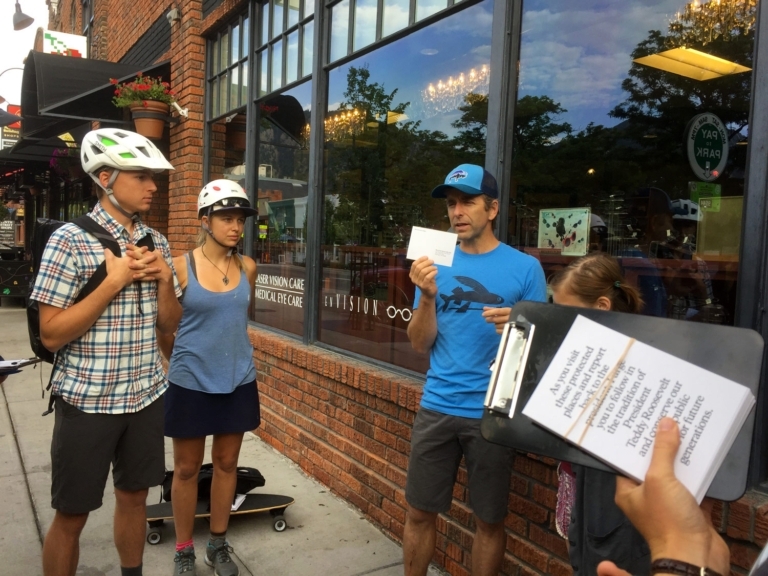 I pitched a wilderness protection appeal to the people, with a modern day coffee shop/climbing gym stump speech, to encourage folks to have their voices heard and wills known—our goal being to record public comments with the Department of the Interior in favor of continued conservation of our national monuments with no changes to the boundaries. I got the green light. What I didn't realize, was just how distracted everyone would be doing anything other than wanting to write a card to a cabinet member.
Prior to my steep learning curve in rejection tolerance, I linked up with Joshua Livasy in a rental car in Venice Beach. Our plan was to drive 1,000 miles from L.A. to Bend with multiple stops in numerous towns, working from dawn till dusk, in order to get over 3,000 postcards signed. And since I had recently learned the four key points in applying and maintaining resistance—1) pick an issue, 2) find like-minded people, 3) build an offense and defense, 4) eat and be well—we drove drive directly to enjoy a healthy lunch on reusable ware.
Our first stop was Patagonia Santa Monica. For every person that popped in the store there were another nine that kept walking. I knew that any carny hawker worth their salt belonged on the sidewalk so I grabbed a handful of cards and pens and hit the pavement. It is a vulnerable act to approach anyone, especially a stranger, and ask them to stop and listen. After you catch their ear and eye, you must then quickly capture their mind, and hopefully their heart, in order to get the twenty seconds needed to have them print their name, city, state, zip and a short comment to Secretary of the Interior Ryan Zinke.
Josh helped the folks that I sent inside. Between his winning patter and the free Patagonia Provisions snacks and Venice Cold Brew, we accumulated a smart stack of cards. One of my favorites was from an octogenarian named Marguerite who, after signing, stood outside with me to cajole others to get involved. When someone said they would do it later, she knowingly declared, "You need to do it now; time is running out and there is no later." As Josh and I headed north on the 101 that evening, it dawned on us that it was going to be as much about locating our teammates, as it was about discerning the competition.
Once you take the first step, the next is easier and the second day of the mini tour picked up swell moving into Santa Cruz where we met up with pro snowboarder Alex Yoder. After engaging outlet walk-ins for a couple hours, we headed downtown for a bowl of macrobiotic grub and a sidewalk sesh of, "Excuse me, do you have a moment for national monuments?" Upon encountering a slew of "no thanks" and "not now" you can get a little beat down. That is until you encounter the unexpected jolt of joy of a borderline fanatic who loves what you're doing. My first was a dreadlocked, long-limbed chap who brought color to the card with a clear plastic box of Crayola markers pulled from a bursting backpack. He too went into selling mode with an erratic pitch that bordered on harangue—when faced with someone receding back he'd hurl an accusatory quip of planetary negligence.
After we filled our allotment and bade farewell to the impromptu street team, we agreed on the importance of providing others with the chance to take action on what they believe in. It affirmed my belief that one of the best ways to create meaning in your own life is to provide meaning in someone else's.
It was a light blue, clear morning when we grouped outside the climbing gym in San Francisco's Mission District on day three. If all the world's a stage, then my usual format is a single sixty-minute slideshow per evening. Hitting up multiple passing targets felt more like performing sixty, one-minute shows, hour after hour. Intensity and longevity became requisite and we began to understand the meaning of Brock Evans' famed enviro call to arms: "Endless pressure, endlessly applied."
The daily work traffic of bikes and people hustled by, a seemingly indifferent city of ear buds in motion. Luckily, we teamed up with Scott Briscoe, a dedicated, energetic San Francisco local who taught us the alchemy of hearing "no" and saying "yes." He perfected the Briscoe Stroll, where he would walk with a person after they begged off, "Running late to the office," and by the end of the block he'd not only have a completed card and a heartfelt thanks from the person he'd won over but also our enduring respect and admiration.
Later that evening, after a few more stops, we landed at the Berkeley Ironworks climbing gym for a marathon session of hundreds of postcards and conversations centered around the stewardship responsibilities of the climbing community. Even though some may object that our tactics involve preaching to the choir, it is far more effective to harmonize with like minds than it is to tune into static.
At one point, a person countered that without the industries that extract and process the resources contained in these protected monuments there would be no Patagonia stores nor clothing and equipment. Knowing the trap that being part of the problem renders you groundless to propose solutions, I stated that I was less worried about dismantling the world "as we know it" and more interested in saving wilderness so we can "continue to know it."
I would sometimes be asked what to include in the note and I would suggest the personal. Some wrote of the wild place where they got engaged, or the natural setting at which they found higher purpose, or where a daughter learned to fish. Others demanded that we continue to protect and preserve these wild, beautiful and sacred lands. Many simply wrote one word, "No."
I know this is not an uncompromising rant to forsake oil, meat or money. It is simply a call to a moderate sensibility that rejects short-term gain for long-term degradation. I also feel a conviction to speak for the trees, hills and rivers and to give voice to the entire biota so others can someday find themselves in nature. My civic duty usually ended at my vote, but due to the threat of rescinding protections on already protected lands, I've dropped the ballot and grabbed the mallet, as the drum must be beat and the bell rung. The thousands of cards we gathered, and the millions of us who celebrate and preserve our system of national monuments and parks are proof that the prophetic words of Thoreau will continue to ring true.
"In wildness is the preservation of the world."