So It Begins (with a Margarita Recipe)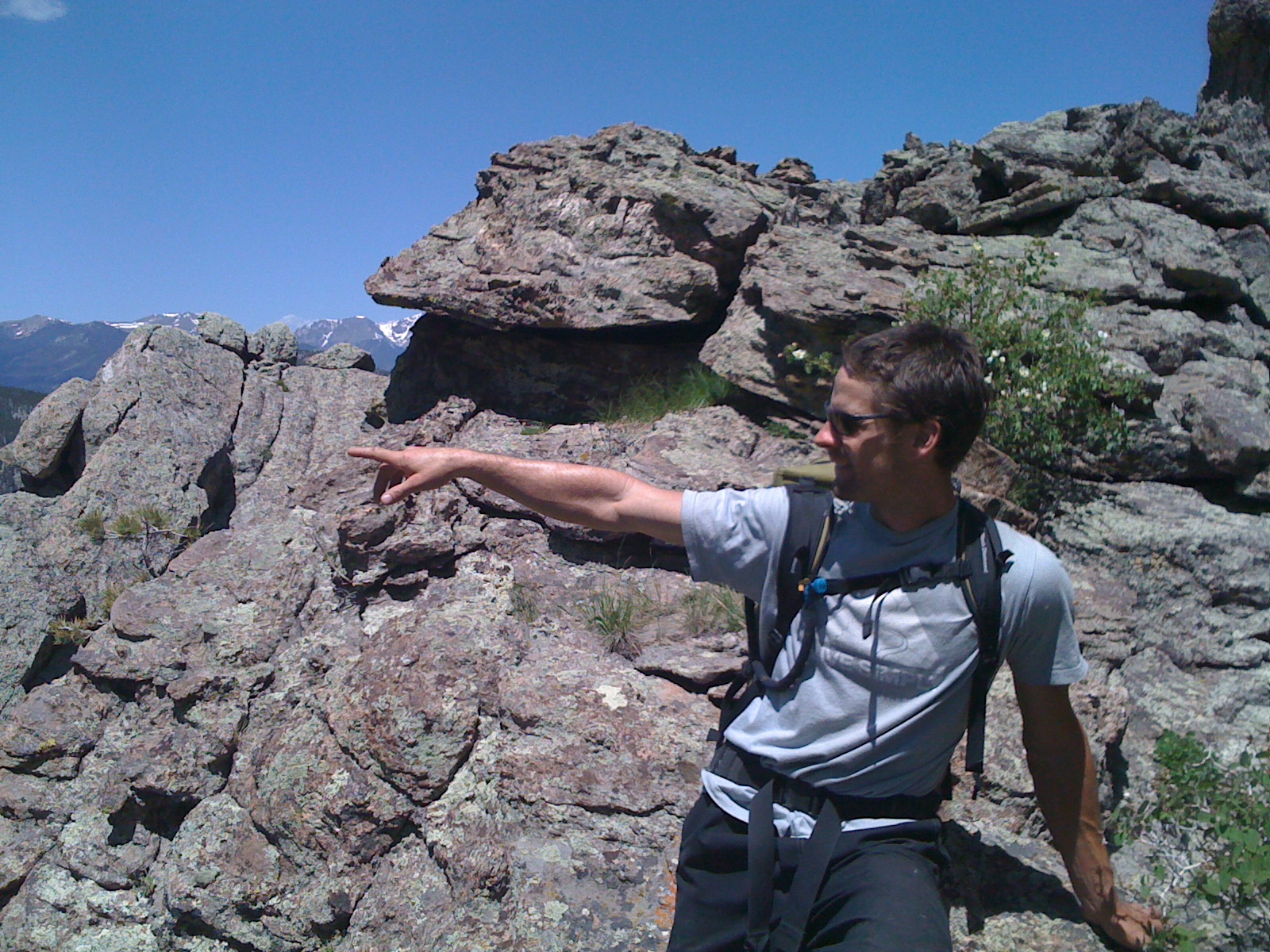 At my margarita deck party here on the Solstice, of which I remember little, Tommy C had told Scotty D that this one obscure crag had three good routes, each a number grade apart. Scotty thinks he might have remembered that they went left to right, easy to hard. Our friend Ammon later told Scotty that he knows the crag – he'd been there before – even though, it turns out, Tommy was talking about an entirely different crag. I'd just started walking without a cane a month prior, and been out climbing a few times. Scotty told me, "Sounds like a 15-minute approach, should be OK for your leg."
[Scotty D: "Is it over there?" Photo: Kelly Cordes]
This post might bear remarkable similarity to my (and my friends') legendary routefinding skills – rambling, bumbling and lost. Yet I've long held the belief that you're never lost unless you admit it ("I'm not lost, I just haven't figured out where I'm at yet.").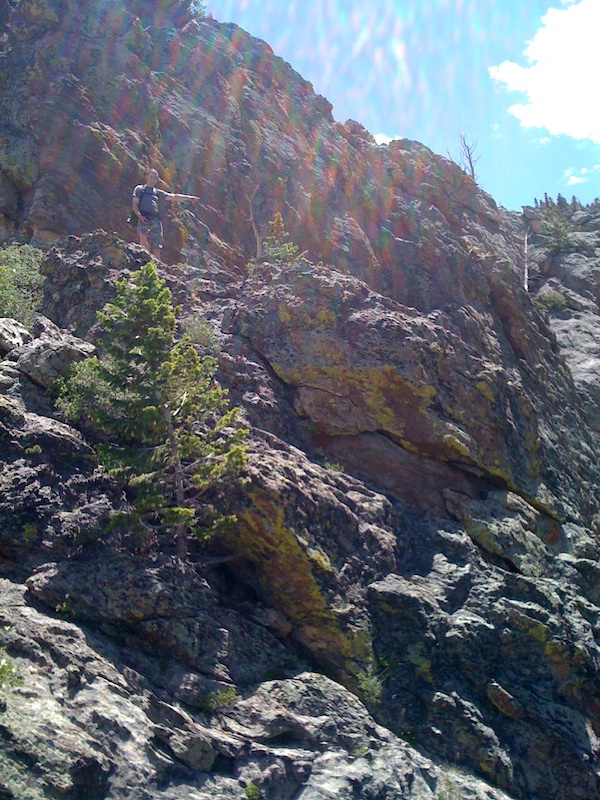 [Ammon: "No, I think that's it, down there!" Photo: Kelly Cordes]
Damn, I love climbing. Even after we bushwhacked (I limped) and dead-ended atop a scrambly chosspile, from where Ammon pointed down to a little rock tower a thousand feet below and excitedly proclaimed: "There it is!" A sketchy downclimb-gimp and an hour-and-a-half into our 15-minute approach later, we roped-up and climbed two pretty OK little sport routes. Suddenly my leg felt great, and, even though I really felt it the next day, I loved every minute of it.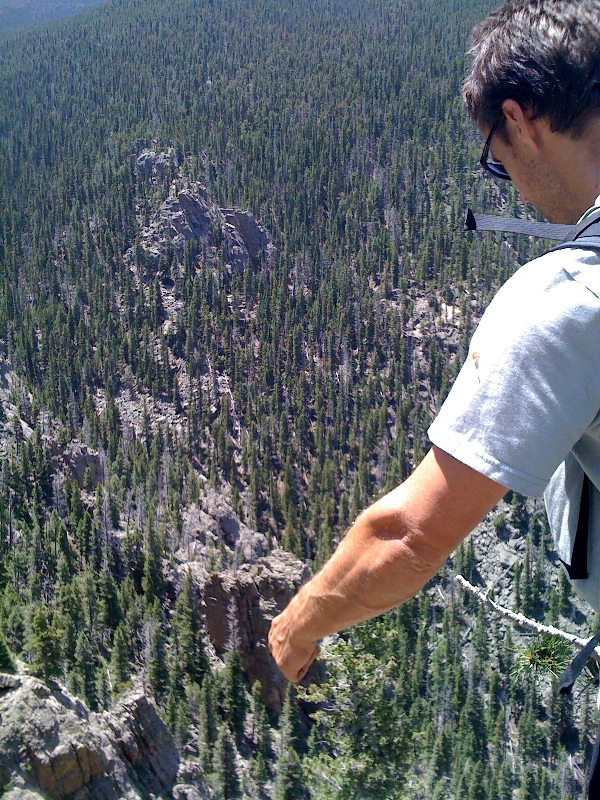 [Scotty D: "I think we're a little too high." (It's the tiny crag behind his hand…oops.) Photo: Kelly Cordes]
I also love how some things change – progress, shreds of maturity, maybe even the passing glimpse of wisdom. And I love how some things never do. Going nowhere sometimes leads you somewhere.
And so it begins with this new climbing blog branch of The Cleanest Line. The TCL crew has set a kickass standard, and now I'll manage some regular climbing posts and try not to bring down the crew.
Storytelling plays a big part of our climbing culture, and certainly part of Patagonia's. It's in our DNA, as old as the human race. We have many ways to share stories, and, as with most things, it happens in different ways. You can bring a heavy-handed film crew to Cerro Torre and trash the place, or you can sit around a campfire and tell your friends. But those aren't the only options. We've also got modern, honest and authentic ways to share. Hopefully we'll get it right, or close to it.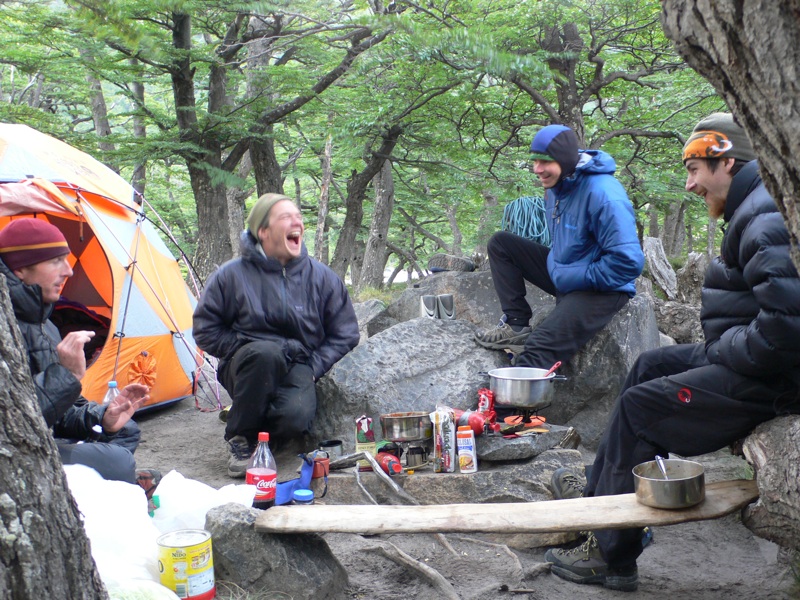 [Telling stories around camp in Patagonia. Photo: Kelly Cordes]
So anyway, Patagonia asked if I'd be interested in writing regularly for them, online, about climbing.
Hell yeah. I went straight to the top, and left a message for Yvon: "Hey, sounds great. What, like maybe you'd like a virtual climbing forum where we pass the talking stick back and forth? I don't know if you know this, Yvon, but it's a stick where the holder may share his or her feelings without fear of judgment or ridicule – and then I'll express our peaceful resolution of the given situation in an interpretive dance. Something like that?"
Instead, Kasey, Patagonia's Web editor, got back to me: "Well, not exactly. We'd rather you go for it, how you want, in your own voice. We've talked a little about your language, but we don't want to hold you back. Just be yourself."
"No shit?!" I said.
Seriously, I mean, who hears that from their boss? How cool. Granted, I'll try to remember that part of Patagonia's mission statement that goes "Do no unnecessary harm," and so I'll probably refrain from rants like this when writing here – I can keep that on my own blog, where I'll only embarrass myself and where I thus, clearly, have little to lose.
No unnecessary harm comes from sipping a fine margarita, and if I do one thing well in life, it's mixing margaritas. And so for those so inclined, I hereby present The Cleanest Marg.
Remember – I'm not lost, I just haven't figured out where I'm at yet.
The Cleanest Marg
Not to get all uppity ("You ain't no better 'an me, college boy!"), but let's start things off right. None of this swampwater swill tequila and corn syrup mix garbage (unless you're on a glacier somewhere or living out of your car to climb – that's different). Take the time to do it right. Priorities. This is a damned fine margarita.
Mix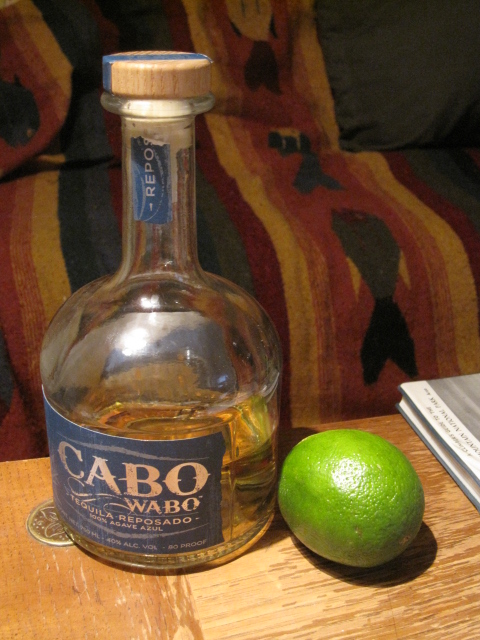 Fresh squeezed limes. Roll them on the countertop, under your palm, softening their skins and making the juices fluid. Roll the ends, too. Squeeze with a juicer – not an automatic one, but do it by hand; it's better that way. A good lime will yield about two ounces of juice. So, get plenty of limes.
Make simple syrup – the sweetness offers a perfect yin to the lime's yang – with one part sugar, one part water. Heat gradually, stirring, but don't boil. Cool the pot by setting it inside a larger pot of cold water. Do this first, so it cools while you squeeze the limes.
About one part lime juice, ¾ or so simple syrup – adjust to taste. Add a splash of OJ.
Tequila
Cabo Wabo Reposado. If we're going to the effort to make an organic hand-made mix, it's like the slow food thing – save the Ramen for a more desperate time. Likewise, you wouldn't bring down a good tequila with a nasty pre-packaged mix. Cabo Wabo makes an outstanding tequila, only affordable to me because I found it on a killer sale, but don't let that dissuade you – I'm a climbing bum. It's too good for idiotic fratboy things like shots; this is a tequila to enjoy. From the label: "Aged in oak barrels from 4 to 6 months, our tequila reposado marries aromas of sweet limes, oranges, fresh herbs and mint with a smooth finish." I wholeheartedly concur (look at the picture – I've sampled enough to shape my highly refined observations…).
Marg
Mix equal parts mix and tequila – keep it strong. No triple sec needed here, it just detracts from the simplicity and quality of the ingredients. Use triple sec to take the edge off a lesser tequila, but when it's this good there's no reason to mess with it.
On the rocks, with salt. Shaken, not stirred. Oh yeah – I shouldn't even have to say this, but no umbrella.
Enjoy the weekend.