Kelly Cordes Climbs with a Teen
Mid-morning it hit me for the millionth time: this is ridiculous. Only, at this point in my life I rarely think of it as ridiculous-stupid. More like, ridiculous-ok-fine-so-what, with a chuckle-twist on the side. It was my inaugural day of taking the tools for a walk, 2011, and my friend Artley and I carried packs full of ice climbing gear to the base of Hessie Chimney, only to find it bone dry.
Editor's note: This post is rated T for teen because of some profanities.
"Well, we could just climb it, but it's warm enough that I'd probably take off my gloves and climb bare handed," Artley said.
"Yeah. If there was a bunch of bullshit snow covering the choss, then it'd seem more worth it, huh."
We both paused – like a simultaneous realization that my words were equal parts true and absurd – and then laughed.
"Sooo, Eldo?"
"Eldo."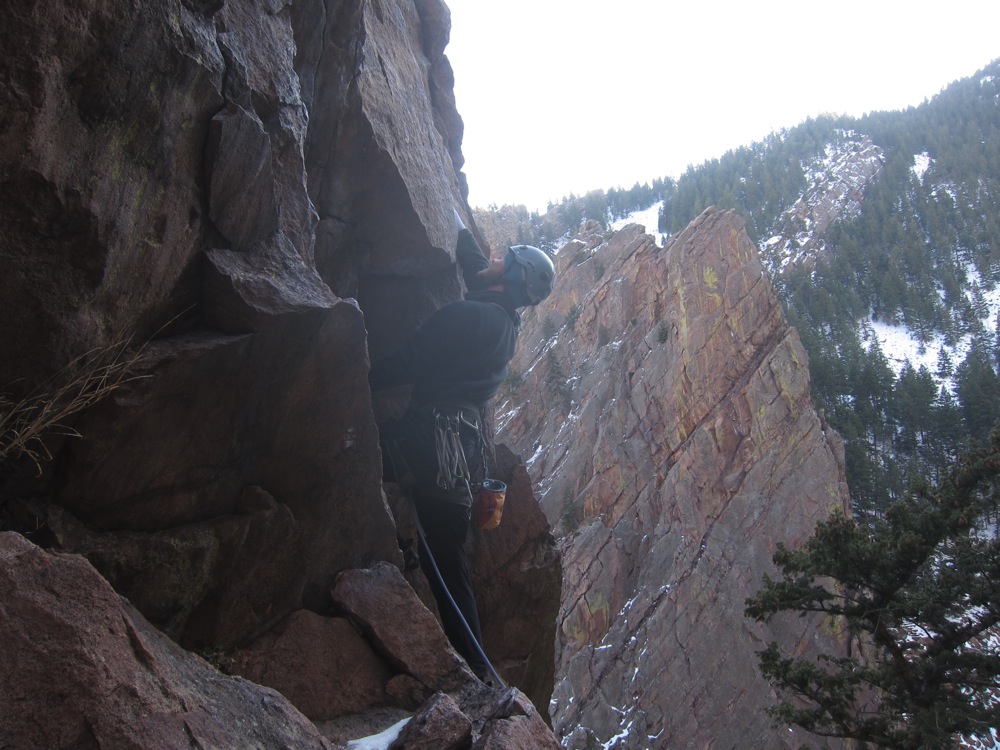 We hiked back to the car and drove to the lower-elevation Eldorado Canyon, cloaked in at least as much snow and cold. Go figure. But that didn't matter. As the years pass, I'd rather get out with a friend on anything than climb something hard with a stranger.
And damn, I swear it was yesterday that Artley was 16 years old and his mother enrolled him in a rock climbing course that I got assigned to teach. That was early 2000s, me and the Danimal living in the Colorado Mountain School guide shack, that "foul pit of climbing ambition and dirty dishes," as it had been infamously described, and Artley's mother, bless her heart, wanted something positive for her son; maybe something to keep him out of trouble. And even deadbeats like us had a conscience – Dan, hide the PBR! – and the CMS crew took to him easily; Artley was a great kid.
He tells me I took him under my wing, but I remember just trying to be nice, trying to be decent, trying to do good the way people did to me. It's the way the world works – no, check that – it's the way the world should work.
Anyway, Artley took to climbing right away, returning for more climbs, and soon I gathered that maybe money was tight, and the home life well intentioned but perhaps sometimes challenging – it happens. Life happens. And so Artley and I just went climbing as friends – maybe even as big brother and younger brother – no money, no courses, no guiding. No official guiding.
Damn, ten years goes fast.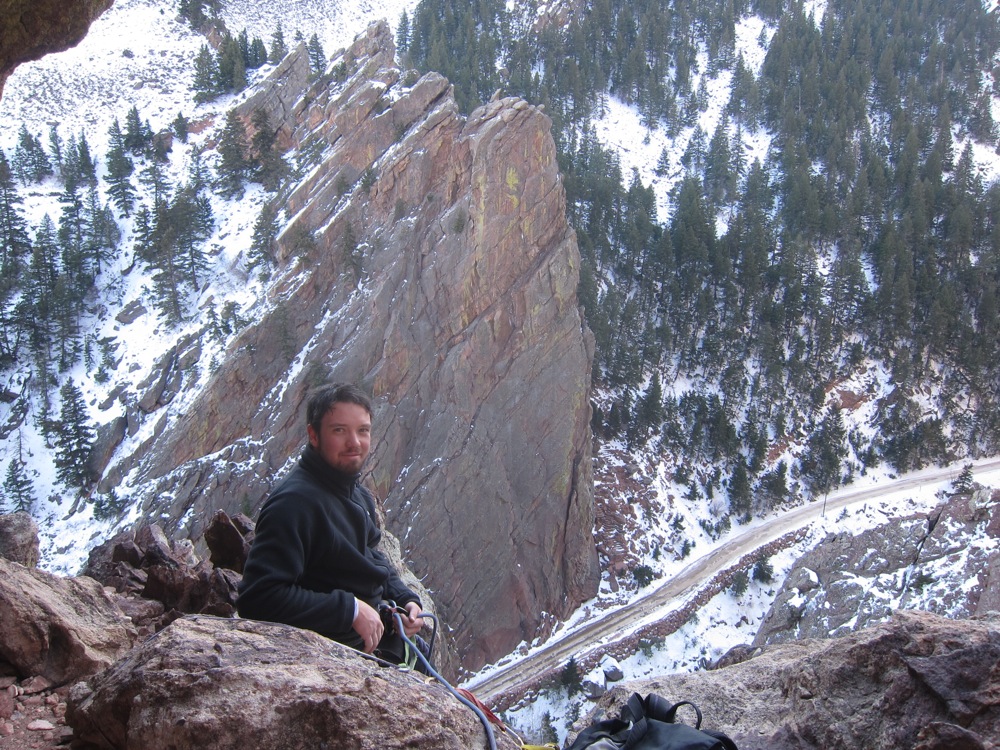 Artley chillin' at a ledge, midway up. Photo: Kelly Cordes
About a year and a half ago I gimped out of the liquor store, leaning on a cane with my leg in a walking boot, a barrel of booze under my arm, and I hear, "Kelly?!?" No shit. Artley? Oh shit. So much for being a role model…
But there he was, all grown up, purchasing some fine adult beverages of his own – PBR, as I recall. We caught-up a bit, and said that one of these days we should go climbing. I said it was his turn to drag my gimp ass up something.
And so while carrying packs full of heavy gear to non-existent ice, we talked like old friends, with me occasionally spacing out at the realization of time and how it flies, how life changes, and how proud I was to be out with such a fine young man, and then chuckling at myself when I realized how old that made me sound.
"What's so funny?" Artley said.
"Nothin' dude," I replied. "Nothing."
Back in Eldo, we walked in – neither of us had the eight bucks to drive through, and besides, walking is good. Option A? No way. Icicles dangled from the overhang. Option B? Is that ice in the crack up there? So what's option C? This is getting absurd. Wait, it's been absurd from the start.
I think there's beauty in doing something for pure joy, for the pleasure of escape, no matter how absurd it might look to the world.
OK then, C it is. "You want first lead?" I asked Artley, deliberately snapping out of the last-gen default of me leading.
"Sure," he said. He tied-in and stepped off the ledge, his breath freezing as it rose above the canyon, and he placed good pro and then cruised around the corner and out of sight. The rope fed smoothly and I sat alone, paying out slack, grinning ear-to-ear.
Next pitch I led out of the shadow line cast by the horizon, and into late-day winter sun that graced us high on the cliff. We flowed over easy terrain, moving freely in a deserted and snowed-up canyon, and as I belayed in the sun the rope suddenly stopped. I looked down to see Artley standing on a ledge, his face glowing as he gazed across the canyon, and I heard him say, "This is so awesome. Man, it doesn't get any better than this."
I just sat there, squinting into the sun and smiling in complete agreement.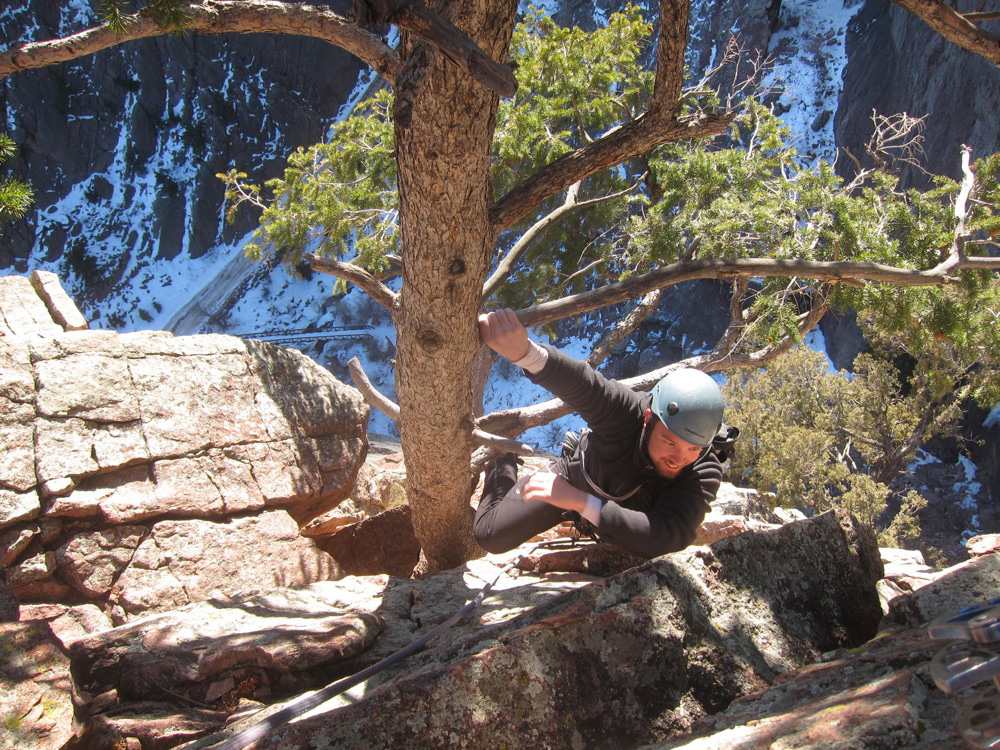 Artley navigates the obligatory tree-stem finish. Photo: Kelly Cordes
Happy New Year from all of us at Patagonia.