Mountain Fristers
Ski-touring Banff National Park with two teen daughters.
A group of four skiers moves methodically across the snow-covered Wapta Icefield ahead of me in single file connected by a thread-like rope—mothers on each end, Cheryl and Nan, and their two daughters, Roan and Sailor, in the middle. As Roan's father and Cheryl's husband, I'm tagging along on this five-day hut-based ski tour in Canada's Banff National Park, hoping to take a few photos along the way. Surrounded by fracturing storm clouds, swirling snow and the hulking darkness of shrouded rocky peaks, we move through five inches of new snow and cold-front temperatures that are just beginning to mend what Roan had called "The worst skiing I have ever done!" on an earlier warm-up tour—the ravages of an extreme warm spell in March. With bowed heads, we try to make some distance before lunch.
I was certain we would not see any other young teens on the Wapta—even in the crowded Colorado backcountry, Roan and Sailor are usually the only kids searching for fresh powder. Backcountry skiers since kindergarten (possible only with imported and self-modified kids' ski bindings), they understand we don't buy our turns (that's called heli-skiing); we hike. Although there has been a lot of parental candy-bribing and storytelling on the uphills, over the years, both girls have accepted the effort required to access the downhill feeling of "floating on clouds," as Sailor and Roan say. This trip would threaten that acceptance, since skiing with a heavy pack can feel like going uphill both ways.
Shortly after leaving the Bow Hut that morning, we'd been happily delayed by the discovery of an ice cave at the snout of the melting Bow Glacier, which revealed a dark underside with curving hues of deep, glacial turquoise.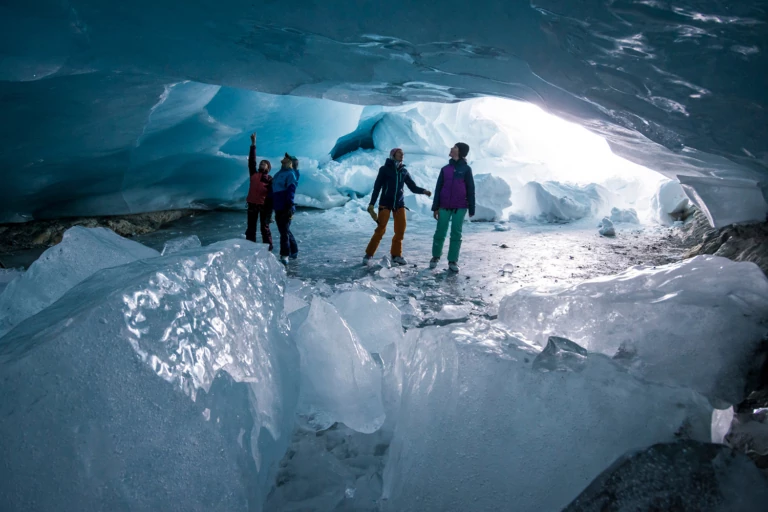 "Oh my gosh," Roan said, "I am touching layers of ancient time." Sailor paused for a moment and added, "This is magical. It looks like something from a movie! I can feel the power of the ice above and below me." They circled the small enclosure in awe, mesmerized by this metaphorical edge of existence.
Sailor and Roan joke that they met in the womb. Nan has a portentous photo of 6-month-old Sailor patting Cheryl's pregnant belly, seemingly impatient with anticipation. Since then, the two girls have developed a strong friendship that's sister-like, a word from which Sailor coined the endearment "fristers."
"Hey, Frister!" Sailor shouted back to Roan as the clouds dissipated above the rope team and replaced the head-down gloom with jewel-like sun sparkles on the surface of the new snow, "I love your jacket!"

Roan is sporting a hand-me-down jacket that Sailor had given her before the trip. Hand-me-downs are an integral part of the Durango family network, and Roan took pride in the gift. "Now there are memories of both of us in this jacket," Roan observed.
Hand-me-downs can also refer to the cycle of passing accumulated knowledge to younger generations. My mother instructed for Outward Bound in the '60s and first led me into the wilderness. I studied Rachel Carson and Aldo Leopold in college and then fell in love with rock. Returning from big expeditions, successful or not, I always felt that in comparison, the challenges of surviving in society seemed trivial—at least for a while until I ran off again. Obviously, I am a huge believer in a wilderness skill set, and this continues to shape my own parenting.
After a lunch break, we ascend to a viewpoint on the long ridgeline of Mount Rhondda—a whale-like hump cleaving above a 360-degree glacial ocean. Roan and Sailor gravitate to the left flank, a wind-sculpted moraine high above a crenulated glacier, to take selfies and enjoy the summit viewpoint. Roan remembers wanting to explore the expanse below, as well as feeling "so proud of the world we live in."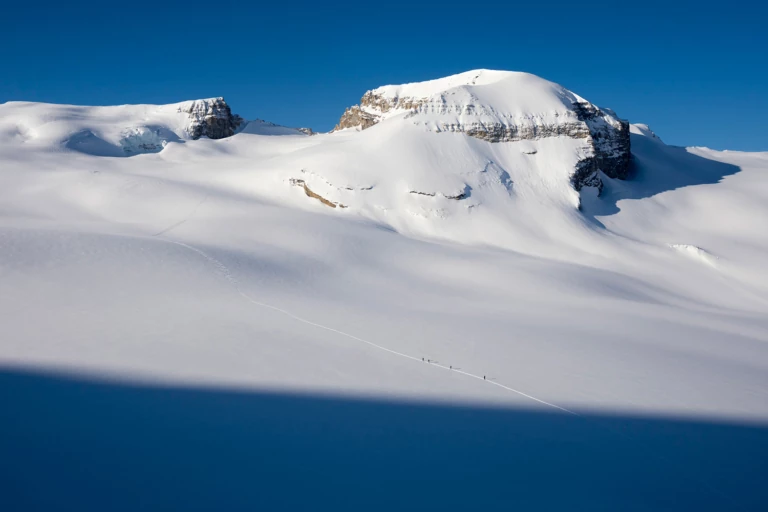 Although we are leading Sailor and Roan across the glacier, they are at an age of transition where they absorb all the necessary knowledge so quickly that they will soon be leading us parents to places that we are unable to imagine. At one point on the traverse I stray too close to a massive serac fall when scouting out a photo angle, and Roan and Cheryl are visibly upset with me. "I learned about keeping a healthy group dynamic," Sailor recalls. "It's necessary to constantly ask how everyone is feeling so that no one gets put into a dangerous situation they don't want to be in." Her analysis of my mistake shows a readiness beyond her years.
I will continue to visit glaciers with Roan at every chance (just not quite so close). I want her to cherish them like I do, and of course, to save them. I hope for more reflection, less consumption and stewardship. Recently she surprised me, unprompted, by bringing home the quote, "Only the mountain has lived long enough to listen objectively to the howl of the wolf," by Mr. Leopold himself. By taking Roan and Sailor into the wilderness of snow at such a young age, we have brutalized them with a ski setup half their weight, bloodied their cheeks from windburn and given them a continual nudge over their comfort's edge. Remarkably, they are now "powderhounds" and believers in the wilderness skill set too—parenting is so much about hope. And from our summit perch, Nan, Cheryl and I are brimming with it.
Prompted by the idea of warm soup and cozy sleeping bags, we rip off skins, turn back toward the Peyto Hut, our next sleeping den, and quickly descend the several miles of gentle, fluffy powder as a group with slow, wide turns of whooping joy. Too soon (no one wants to go home) we will retrace our steps back to the Bow Hut and out to the waiting car, but today, we are happily family, friends and fristers in perfect contentment.