Ramón Navarro: Above and Beyond
Greg Long
/
30 12 2016
/
7 min de lecture
/
Surf
Every so often you come across someone whose actions and demeanor leave you both inspired and in a state of wonder. Such was the case when I first encountered Ramón Navarro.
I was 19 years old at the time, spending an extended winter stint on the fabled North Shore of O'ahu, Hawai'i, hoping to further hone my big-wave surfing skills. Following the lead of fellow young big-wave surfers like Jamie Sterling and Mark Healey, to name a few, I would often venture to the outer reefs when the swells were big enough to get them rumbling. Upon doing so, I regularly found myself beyond my comfort zone, lost among the shifting lineups and sweeping trade winds. I would choose to sit slightly wider and further outside of my counterparts in hopes that I could make an escape to the safety of the channel if a giant clean-up set should dawn before us, as they almost inevitably would.
On one such day, I entered the lineup to find a regular, small crew of surfers who frequented the outer reefs, along with a new face I hadn't met yet. Dark hair, small in stature, with a perfectly sculpted pin-line mustache, this new face sat calmly poised on his board slightly inside of the pack. Hands clutching the rails of his board, his gaze focused down at the deck of his board, he would only glance up every so often to scan the horizon for an approaching set.
On big days you can look around the lineup and easily gauge the level of fear rushing through a surfer's veins. Look into someone's eyes, observe their body language, and in an instant you can tell if they are ready and willing to take off on a giant wave or if they are out there playing games. But this individual's nonchalant demeanor left me wondering. He was either oblivious to what he was getting into or the exact opposite.
My uncertainty was answered when the first set blackened the horizon, sending the few uncertain surfers paddling for the channel (myself included) and the rest to hold the line and wait. As the biggest wave of the set passed well underneath me, I turned around to see the little mustached man swing around both deeper and inside of the rest of the pack, and go on what looked to be an impossible double up with a wall stretching far into the channel. When the spray from the back of the wave cleared, it seemed as though the entire lineup anxiously held their breath and began scanning the impact zone for any sign of either board or body.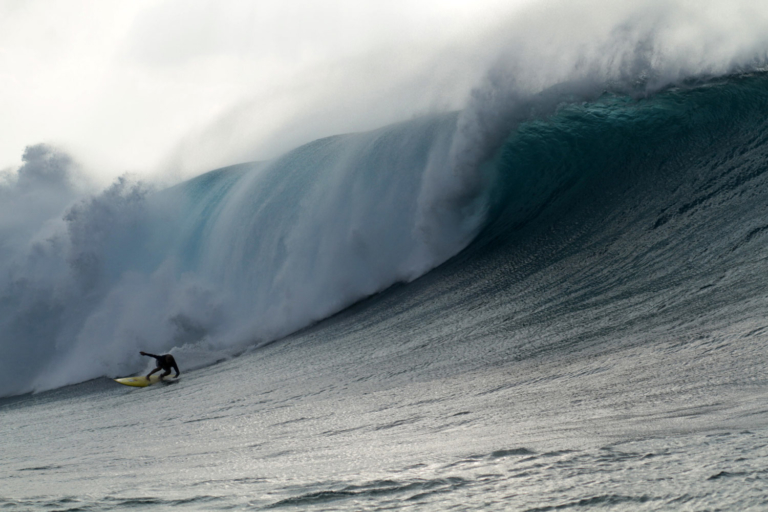 Twenty seconds elapsed before the final foamy wave of the set lifted us up, giving one last hopeful scan of the impact zone. Suddenly, 200 yards down the line, a tiny, dark figure kicked out over the shoulder of the wave. He made it! Ten minutes later, the surfer quietly re-entered the lineup without saying a word, sat back up, clutched the rails of his board and fixed his gaze softly downward, never saying a word. I assumed he was another one of the hardcore underground Hawaiian chargers whom I hadn't met yet. I was much too quiet and reserved at the time to introduce myself, but his demeanor in the lineup was something I would never forget. It was pure passion, determination and humility, and it left an impression of character that I always remember.
It wasn't until later that I came to find out the little mustached man wasn't in fact from Hawai'i. It was Ramón Navarro, an up-and-coming professional surfer from Chile. I had heard his name before and seen the odd picture of him riding big waves in his home country. It was sometime after that outer-reef session that I finally met Ramón during a month-long stint in Cape Town, South Africa. As we both waited for a big-wave competition to run at the legendary break Dungeons, we solidified what was to become a lifelong friendship.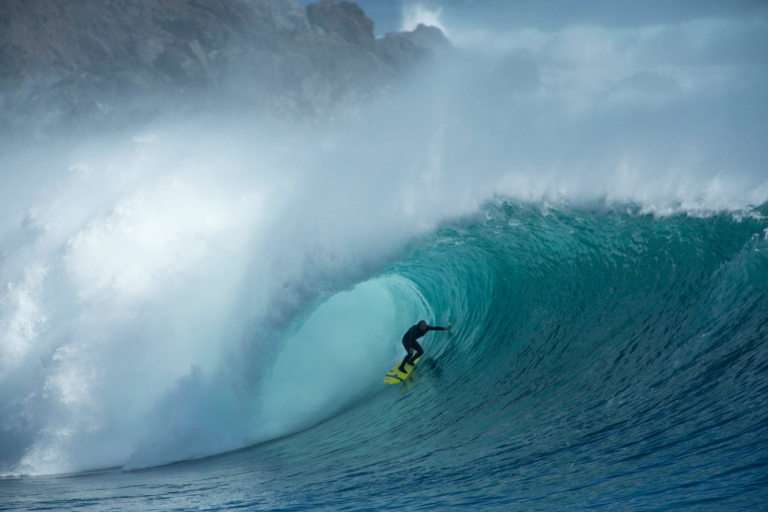 In the following years, as each of our professional big-wave surfing careers blossomed, we would regularly meet up to chase swells around the world, including visits to his home country of Chile. It was during an extended stay in his hometown of Pichilemu that I came to better understand the origins of his humble and generous nature, and got to know an entirely different side—that of a passionate environmental advocate. Growing up the son of a fisherman, Ramón and his family lived a simple existence dictated by the ocean waves and tides. As a child, his parents instilled within him the ideals that through caring for the land, sea, his peers and his community, it would in turn provide him with everything he would ever need to live a prosperous life.
Throughout his youth, Pichilemu remained a relatively quiet surfing sanctuary and summer escape for city dwellers. But being only a three-hour drive from Santiago, it was a matter of time before the beauty of the small, sleepy fishing village would be discovered by the masses. Both the popularization of surfing and the dream of living a glamorous beach lifestyle ignited a blitz of development in Pichilemu. Sadly, most of it was being initiated with ill-conceived infrastructure and very little thought given to the preservation of the natural environment and existing local community.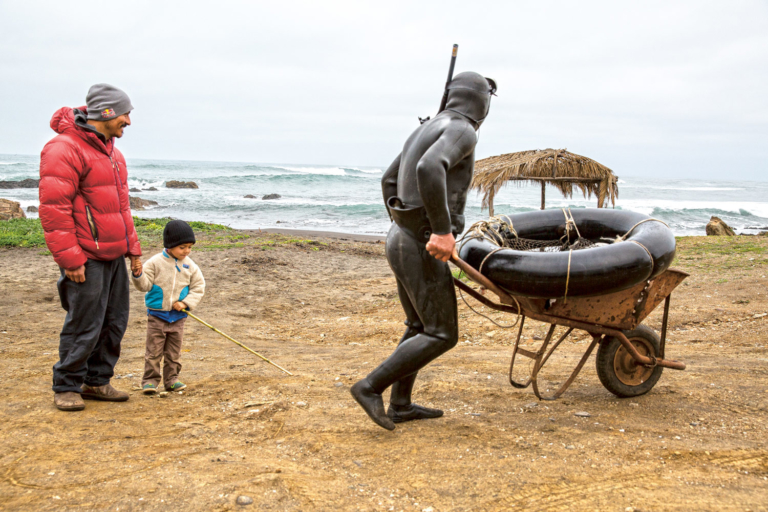 I came to learn about the first of many environmental campaigns initiated by Ramón during a 2007 visit. He had diligently galvanized community support to oppose a proposed pipeline set to dump sewage into the ocean just offshore of Pichilemu's main beach, where many years before he had taught himself to surf. He has since been working tirelessly to oppose coastal pollution from Chile's pulp and power industries throughout the country, and most recently and notably, teaming up with Save The Waves in an effort to create a local foundation and conservation easements for the long-term protection and preservation of the land at Punta de Lobos, his home break. When finished, the point and surrounding area at Punta de Lobos will be put into a land trust safeguarding it from future development, while protecting the marine and ecological biodiversity, surf resources and the local community's traditional fishing rights.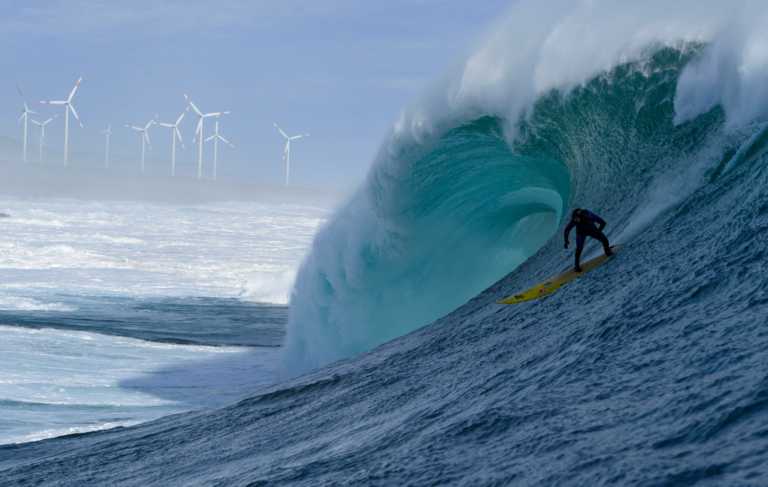 In the course of our friendship, spanning well over a decade, we have shared countless adventures, leaving a long-winded list of extremely memorable moments. I stood on the beach during the Eddie Aikau, surfing's most prestigious big-wave competition, watching in disbelief as Ramón dropped into an impossible beast of a wave, which would later be nominated "the wave of the day." I watched on as he wove his way through arguably the best barrel ever ridden in the history of our sport during a massive swell in Fiji.
But the greatest moment came during an evening this summer in Laguna Beach, California, where I was bestowed the honor of presenting the Surf Industry Manufacturers Association (SIMA) Environmentalist of the Year award to Ramón. This recognition is reserved for individuals who have gone above and beyond, dedicating themselves to spreading conservation awareness and protecting our world's oceans and natural resources, to which Ramón has dedicated his adult life.
Standing on stage before a crowd of friends, family, industry leaders and surfing heroes, Ramón spoke about his humble beginnings and the endless good fortune, joy and opportunity the ocean has brought into his life. His message was that it is the responsibility of all of us to ensure that future generations will have the same opportunities to experience and appreciate our natural treasures in the same way this generation has.
Graciously acknowledging the award as the most significant of his life and career, Ramón shared his belief that what you do to give back in the world and what you do to help others will far outweigh any other achievement. With a laundry list of surfing accolades that most could only dream of, he of all people would know.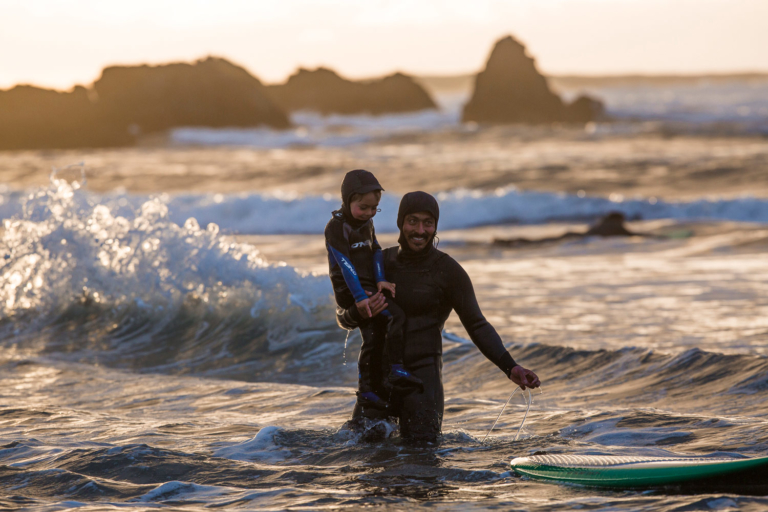 Ramón approaches his role as environmental activist with the same level of passion, integrity, determination and humility that he does his big-wave surfing. During our first encounter in Hawai'i almost 15 years ago he left me monumentally inspired, and that inspiration and respect only grows with each passing encounter, endeavor and the passionate efforts he leads in changing our collective environmental consciousness and ethic.