Fire Sheep
Sheep (and their poop) could help California's climate-driven wildfires. One couple is ushering in this idea with a small flock and some supportive fire departments.
Jenya Schneider wakes up every morning thinking about one thing: sheep. "It's worlds apart from my life before."
A former city girl, she had no plans of living alongside sheep and talking about their eating and excrement habits. But here she is now, dressed in torn jeans, a cowboy hat, dark brown curls draping her neck as she prepares for another day outside under the hot California sun, building fences to keep her sheep protected back at the ranch. "I didn't grow up like this, in a family of ranchers," she says.
Rather, Schneider was born and raised in San Francisco, California, and worked a series of jobs in the environmental and nonprofit sector before ending up as a shepherd to a flock of 600 sheep as the co-founder of Cuyama Lamb, a farm business that rears sheep to do contract grazing. "It's not your typical CV," she jokes.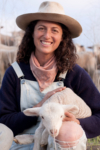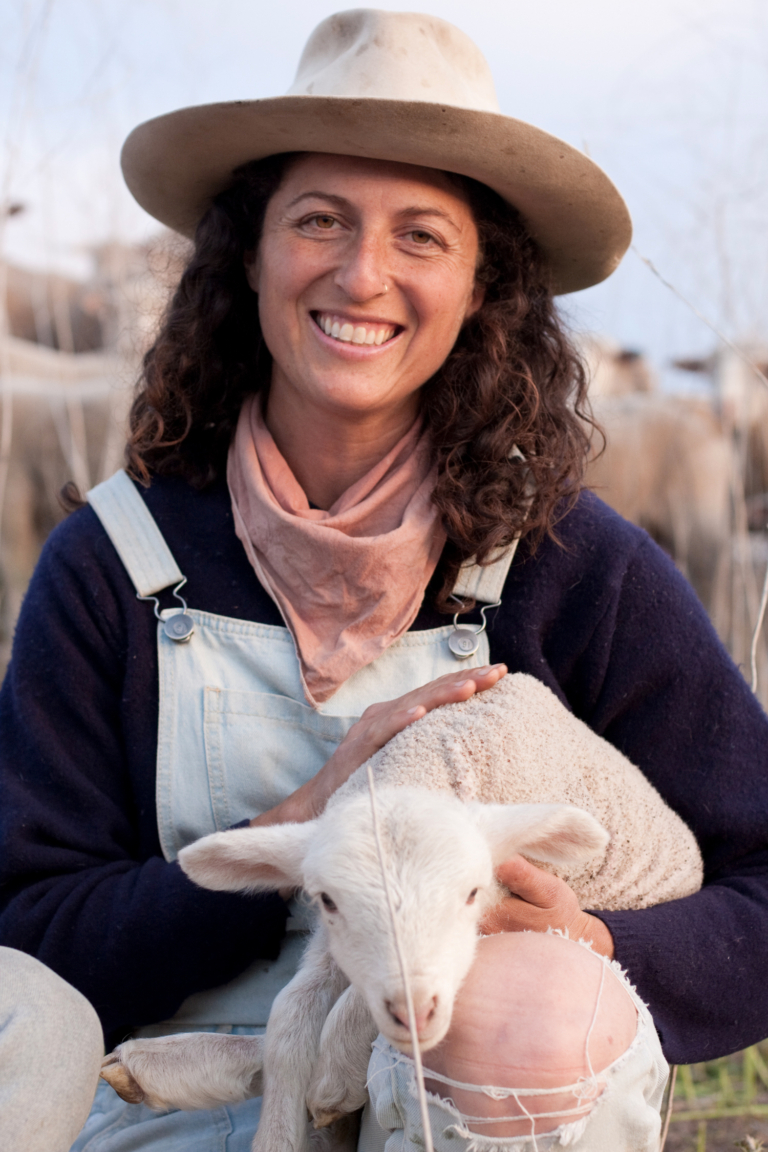 Regenerative grazing, which is what Schneider's sheep do, is not a new concept—goats have been used to manage vast open spaces for centuries around the world. More recently, the practice has received greater traction from firefighting units and conservationists because of how well it works and because it can be cost-effective. One animal in particular has become a winning candidate for cleaning up overgrown landscapes that often contribute to wildfires: sheep. They enjoy munching on grass and their stomach acts as a fermentation chamber; as sheep eat through the weeds, and inevitably poop, they give native vegetation a chance to grow back. It's a regenerative approach to managing landscapes, whether there's an ongoing fire or not.
It was love that led Schneider to this nomadic lifestyle: When she met partner Jack Anderson who works at Quail Springs, an environmental nonprofit tucked away in the Cuyama Valley near Santa Barbara, California, she was smitten—by him and his lifestyle centered around nature.
While neither one of them had ever raised sheep, or run a ranch, Anderson was keen to figure it out. "I dove right in as well. That's kind of who I am. I like a challenge," says Schneider.
Soon after, they welcomed 400 ewes to the property. "My life went from zero to 100, within weeks, once we got the sheep. You get up every day thinking about the sheep, going to check in on them first thing," says Schneider. "I imagine it's something like having a child. From nothing to your everything."
Since she didn't have any experience around livestock, Schneider learned by doing: "In the beginning, I was definitely nervous. It was super intimidating to work with them in the corral or to just even understand their instincts. But they were small then. That helped."
For weeks, she spent hours every day out in the tranquil Cuyama Valley, bonding with her new flock as they grazed. "There's no signal out there. So you cannot be on your phone or on email. You're just so present on the land with the animals. I spent a lot of time watching them closely, seeing how they eat, interact and move. Very quickly, my life became so full of sheep!" she laughs.
By 2018, Anderson and Schneider started Cuyama Lamb, a unique business that not only raises sheep for their fibers and meat but also puts them to work, making them instrumental in fire mitigation—chomping away on brush and overgrowth that fuels California's wildfires and contributes to records being broken each year.
Schneider and Anderson's first client, Channel Islands Restoration, wanted to use the sheep to revive the San Marcos Foothills Preserve—200 acres of native grasslands, towering oaks trees and numerous streams and brooks that was hit by the Jesusita Fire in 2009; it burned through more than 8,700 acres, destroyed homes and left these open grasslands exposed.
This changed the local ecology: Instead of native grasses, non-native species grew back. The native grasses are slow growers with deep root systems. The non-natives are more aggressive with shallow root systems. When these invasive grasses overshadow the native ones, they suck up nutrients, space and sunlight, making it hard for anything else to come through.
Cuyama Lamb's flock is currently helping restore 50 acres of grassland on the preserve. The sheep are taken out to graze as the non-native grasses begin to pop up. Once the sheep munch on these grasses, it reduces the chance of seeds falling to the ground for next season. That gives the native perennial grasses a chance to thrive.
"They just love eating through grasslands and weeds. It gives them a chance to graze, and poop, which enriches the soils, and access areas that are really remote," says Schneider.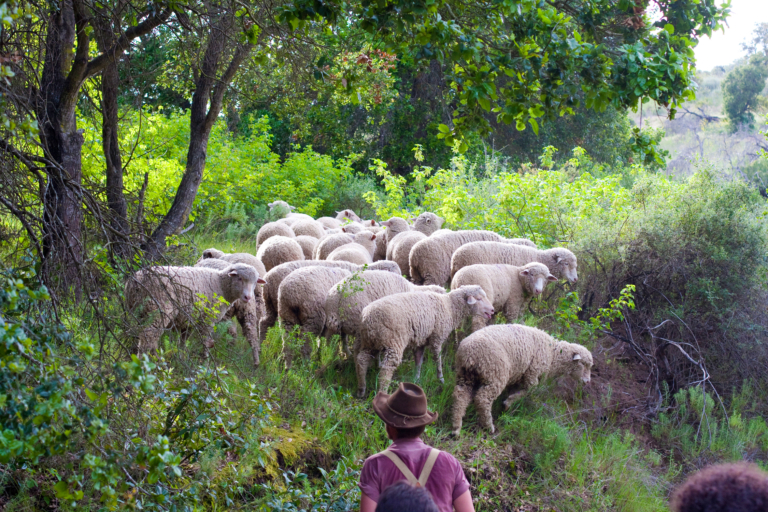 Usually, firefighters and local crews manually remove a lot of this dried growth. But after they whack it down, the cut grass can become tinder for fires. That dried vegetation then has to be removed from the area—either by hand or helicopter (if there's no road nearby). "It's a tedious process that sheep can do better," says Nic Elmquist, a firefighter with the Montecito Fire Protection District.
"Due to the steepness and relatively inaccessible terrain, sometimes grazing is one of the only options for these areas," he says. "This is the reason we picked the locations we did to use sheep."
For Elmquist and fellow firefighter Maeve Juarez at the Montecito Fire Protection District, "prescribed herbivory" (or working with Schneider and Anderson's flock to manage a small parcel of 30 acres) is part of the answer to California's fire problem. "[It] is only one tool in our toolbox; however, it happens to be a really great one," says Juarez, who has been a firefighter for over 20 years in the state.
"Wildfires are getting bigger, lasting longer, burning more homes and killing more people than ever before. The California fire season is now almost 90 days longer than it was in the 1970s. It seems that each year, we introduce a new 'mega fire,'" she says. "There aren't enough aircrafts to fight these types of fires, and we can't build larger fire engines or put more firefighters on the line. There simply needs to be a change. A change in education, response, preparedness and in wildfire prevention."
Juarez enjoyed working with Cuyama Lamb so much that she took her two young kids to help herd Schneider's sheep around Montecito.
"It was great to be able to bring the sheep into the community, especially for those who suffered through the Thomas Fire and the subsequent [mudslides], and show property owners positive changes to the landscape and how we can create meaningful, defensible space in a non-traditional way," she says.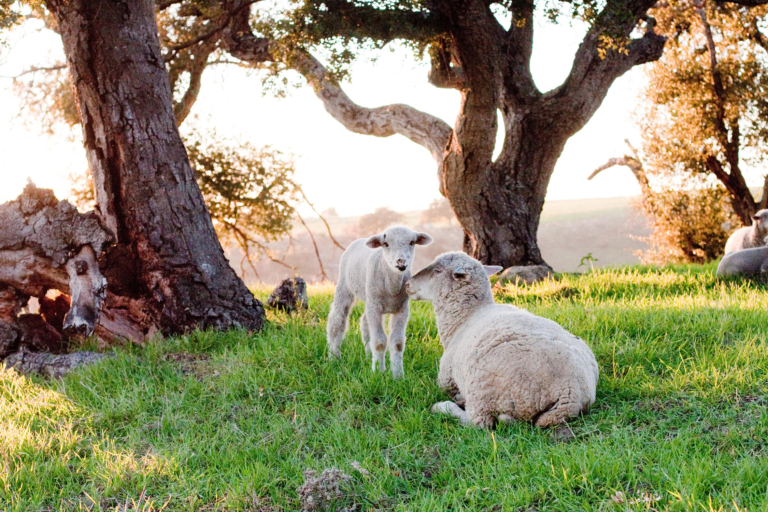 For Schneider, her job as a modern-day shepherd is driven by her love of nature and desire to protect the beauty of her home state of California. "As a society, we have had these massive harmful effects on the Earth—soil, the ecosystem and now people. I think it's our responsibility to help restore that," she says. "I think there's something in working with plants, animals and any part of the natural world that calls us back to ourselves. It feels like second nature to me because I think it very much is—for all of us."