Product Testing: Spring Skiing the Tahoe Rim Trail
Old School
/
8 Min. Lesezeit
/
Design
We test our gear on a variety of levels. Our athletes and ambassadors are responsible for putting the latest designs and fabrics through the paces before we'll add a new product to our lineup. But just because something reaches our shelves doesn't mean testing is over. Once a new item shows up in our catalogs, our Customer Service staff gets busy ground-truthing the latest offerings. They know the questions our customers will be asking, and turn that attention to our gear.
_____________________________________________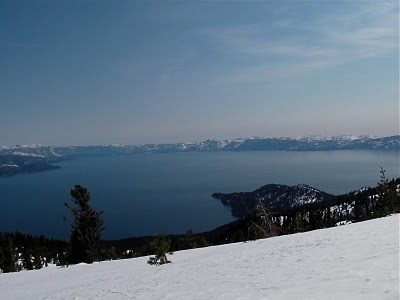 Product Report  – The outfit: Traverse Pull-Over, Backcountry Guide Pants, Merino 1 Tee, and Ultra Heavyweight Socks
Activity: Backcountry Ski Traverse – Lake Tahoe Rim Trail
Tested by: Adam Bradley, Patagonia Mail Order Customer Service
The Tahoe Rim Trail is a 165 mile trail around Lake Tahoe that  "passes through two states (California and Nevada), six counties, one state park, three National Forests, and three Wilderness areas" along the mountain crests above Lake Tahoe. Skiing the Rim of Lake Tahoe has been a goal of mine since becoming more adept at snow- camping over the last few winters. I altered the official route to minimize exposure to avalanche terrain and shorten the trail in the Carson Pass/ Meiss Meadow area, so my route was approximately 145-150 miles. The elevation of the trail ranges from just under 10,000 ft to 6,400 ft. The scenery was, as expected, stunning and took me through places that are way too brushy to access in summer.
I like to snow-camp as it keeps my skills sharp and compared to the summer's masses, this time of year offers true solitude. I wanted to do this trip unsupported and without any re-supplies. This meant I set out with all my provisions on my back and had to have the willpower to not purchase anything additional along the way (ed note: the trail crosses 6 highways, giving the non-purist many opportunities for re-supplies).  Food packing and planning would have to be dead-on or I wouldn't make it the whole way around. Of course this made the pack heavy setting out from Tahoe Meadow, but it was worth it knowing I could just move forward and not be delayed by having to pick things up along the way.
[Looking south from Rose Knob Peak. photo: Adam Bradley]
I wouldn't have been successful with the TRST if not for reliable, lightweight equipment. The temperatures ranged from a low of 18° at night to high of 50-60° during the day and I slept round-the-clock for 7 days straight in Patagonia clothing. The items I lived in daily were a Merino 1 Tee, the Traverse Pull-Over  (the Traverse is still available in a full zip version) and the Backcountry Guide Pants (will be back in Fall 10). In addition to these items which were worn sunup to sundown every day, I wore a Capilene 4 over the Merino 1 Tee for warmth, Merino 2 bottoms, Heavyweight Mountaineering Socks and of course my beloved Montbell Down Inner Parka and Pants.
The Merino 1 Tee was indispensable as it was my baselayer and sleep gear for 7 days straight. I never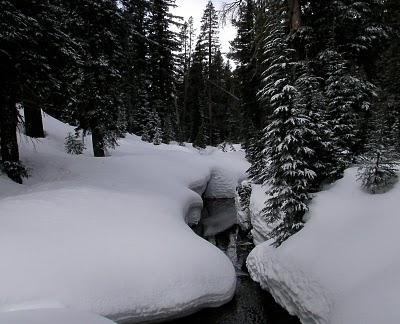 took it off the entire trip as I was never that hot, and I wore it in my vapor barrier each night to keep my sweat off of me. I was happy to have the Merino 1 on the trip as a Merino 2 would have been too warm. Also when I do overheat in a Merino 2 it is clammy, where I find the Merino 1 wicks and dries faster. Of course wool is silky smooth against the skin for all day comfort, especially under heavy pack straps.
I have an older Traverse Pull-Over (P/O) and it was a favorite on this trip. The P/O was the perfect weight for my pack and the trim cut worked well under my pack straps. I wore this basically sun up to sun down. I like many of the features on the Traverse, especially the deep chest pocket. The brushed tricot on the inside of the collar is nice against the neck and provided additional warmth when needed. The Traverse fabric is pretty amazing; it's stretchy, functionally windproof and traps heat when necessary, but when it is 50-60° in the hot sun and you're skinning 1,000 ft or more straight up it still breathes. Amazing. My only wish would be that we made one with a hood so I could leave my old Specter Jacket (no longer available) at home. I could wear this with only the Merino 1 underneath in some pretty gnarly weather and not get too chilled as long as I kept moving. The DWR not only kept the snow from soaking my Merino 1 whenever I fell, it also shed new snow easily. 
Backcountry Guide Pants have been a staple for the last few winters on all of my overnight trips.  I could probably get away with using some of the Lightweight Guide Pants, but I want the waterproof seat and knees.  I also like reinforced scuff guard and the internal gaiters that tie down.  They're not only quite a bit warmer than my Simple Guides, they're stretchy and tough enough for the unintentionally limber moves I forced them to make in 100 plus falls while skiing.  I can see how climbers or backcountry skiers would love these pants.  With the killer pockets for things like lip balm, ski straps, gloves, or Hammer Gels you have what I consider to be the best pant for the Sierra in winter.  The last feature I really like are the thigh vents which have two-way zippers and backed by nylon mesh making them perfect for those long climbs up.  They come with suspenders, but for me at least, these are a no-go under a pack so I wear mine with a Friction Belt. 
Before reaching camp each night I would dream about getting into my warmies. I always put on my Merino 2 bottoms which are soft and warm like all the Merino Base Layers we make. I never needed to wear these during the day, but they were perfect in camp. On top, I took both a Merino 1 top and Cap 4 top and my warm hat was a LW Alpine Balaclava made from Cap 4. It's sadly no longer available. The weight is perfect for in camp and can be doubled up on itself and just used as a snow hat. Suffice it to say the Balaclava was on my head every night and I slept in it most nights. It also fits nicely under the OR High Point Cap on really cold days. 
Over my base layers I wore my Montbell Down Inner Parka and Pants. I have used these for 2 winters now with no sign of wear or tear. I went with Montbell primarily due to weight considerations, it uses a lighter shell fabric than the Patagonia Down Sweater and instead of baffles it's made with box quilt construction.  So for 16 oz I get both a full zip parka and pants with 800 fill down which would be the same weight as just the Patagonia Hooded Down Sweater. The Patagonia Down Sweater is warmer, but for our mild Sierra winters the Montbell Down Inner Parka and Pants are perfect. Besides we don't make down pants. On my feet I wore the Patagonia Heavy Weight Mountaineering Socks. In camp I wore these inside the Integral Designs Hot Socks which are like micropuffs for your feet. I like that the Integral Designs Hot Sock is light, dries fast and has a durable bottom for cruising around in a hut or on pine duff.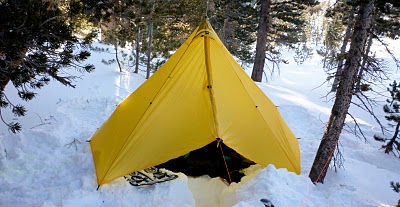 For sleeping, I used a Western Mountaineering Megalite. This is only a 30° bag so I combined it with a  Western Mountaineering HotSac Vapor Barrier Liner. This liner is a waterproof inner barrier that paradoxically keeps you from sweating profusely and wetting out the down bag. These liners add 10-15 degrees warmth which was just what I needed when the temperature hit 18° on Monument Pass, high above Lake Tahoe's south shore. A VBL is a perfect match for my Mountain Laurel Designs Superlight Bivy Sack because it prevents condensation between the sleeping bag and bivy sack. My tent was the Mountain Laurel Designs Duomid, a pyramid tent coming in at only 17 oz., I find that it is perfectly suited for one person to comfortably camp in winter. I like a little more room in winter so I find the dimensions of the Duomid to be perfect.
The pack I used to carry all this stuff was the Mountain Laurel Ark. This pack exceeded all my expectations, especially considering it weighs just under a pound. My base weight (all gear carried in my pack minus food and water) came in at 13 lbs making my total weight at the start 35 lbs. This pack withstood at least 100 high-speed falls without a hole or blown seam to be found, and it carried the load really comfortably.
Overall I found this trek to be a both mentally and physically a more challenging endeavor than my PCT record hike. I really enjoyed the beauty of winter and the freedom of being on skis, particularly the efficiency of summiting a pass and then holding a contour for 3 miles while only dropping 20 ft. As I've said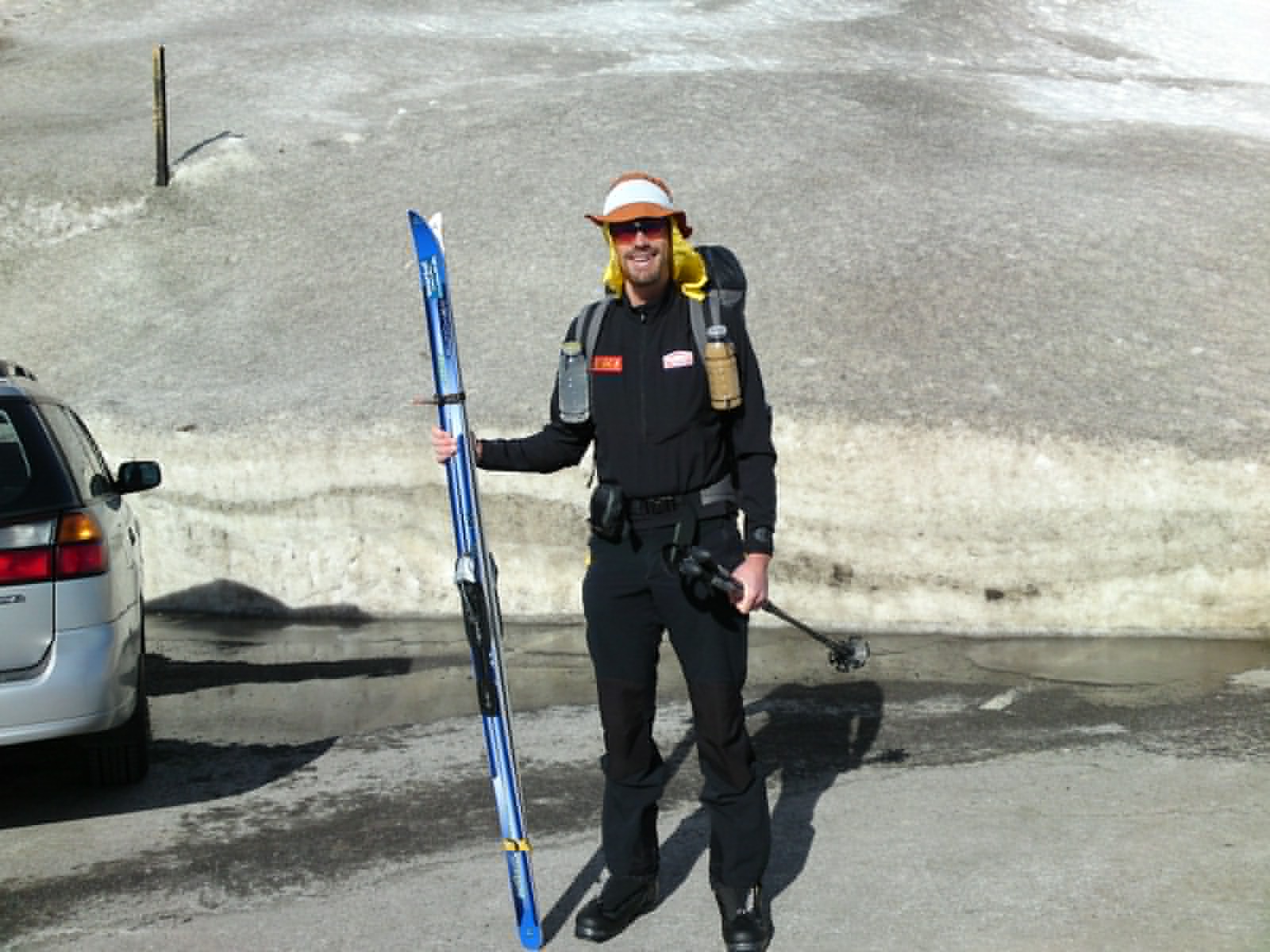 above, I'm not a great skier, so although the scenery was world-class, traveling alone meant I couldn't let my guard down for a split second, lest I fall into a tree well or hit a tree and break something. I think having to be so attentive to my safety and not really settling into a rhythm just made it feel like one big push. Seven days of solo travel in a sometimes harsh winter environment was also more grueling than I had imagined. I needed to keep dry and warm, safe from the sun's harmful rays (the sun was intense during brief window's of good weather) and hydrated. I was so tired upon reaching Mt Rose Summit on day seven that I was just shuffling my feet along. I couldn't even hold my arms up anymore or push with the poles.
I was so happy to see Shelly at the parking lot as I was ready for the
trip to be over. Making it around the lake in 7 days had left me more worn out than that PCT hike. I was charged up by what I had accomplished though, and my mind
started to spin with ideas of future ski-tour objectives.
[Top, right: Phipps Creek, west shore Lake Tahoe. Above, left: the Duomid in action. Photos: Adam Bradley. Above, right: Ready to head home. Photo: Shelly Culbertson.]