United in Suffering at Grinduro Scotland
It's drizzling and a bag piper is piping—cliché but cute—as I roll through the steep, salty streets of Lamlash, on Scotland's Isle of Arran, into a rooty, ferny slick single track, with 149 other bikers. Within the first quarter mile of the Grinduro Scotland, about half the participants are already off their bikes and walking. The trail is showing us who is boss. And there are still more than 50 miles to go.
It's not often that an organized event is an adventure but the Grinduro Scotland, a social, single-day backcountry ride with timed segments for those who want to race, qualifies. Peanut butter colored mud turns my gravel bike tires into smooth glazed donuts, and I pull over to peel layers and steel myself for the adventure ahead.
Muddy track gives way to gravel road, and milk foam fog encases us. Bombing downhills, the meandering track makes me feel like I'm in a 1980s race car video game where the road only reveals itself moments before you have to react to avoid an obstacle. A quick turn and the trail switches sharply onto a country path shaded by ancient trees and bordered by stone walls that spits me out by a stone shingled church.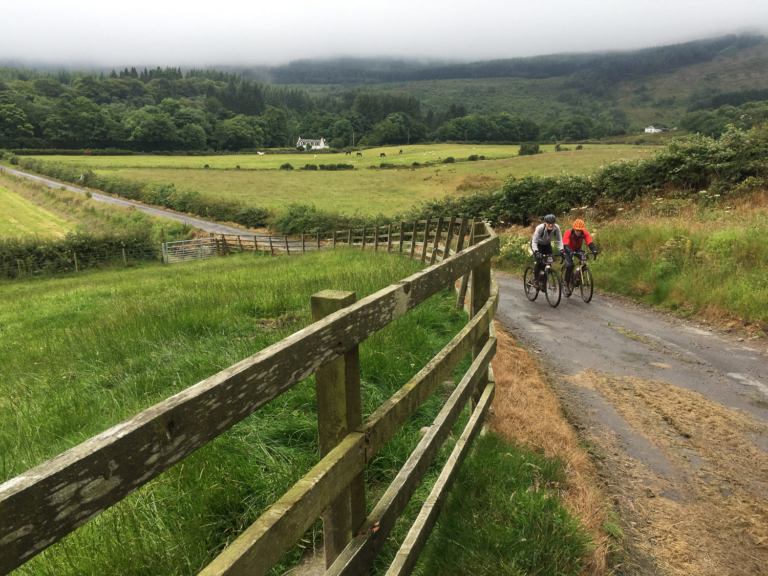 At the first rest stop, bikes have been racked, leaned and piled. There are gravel, mountain and fat bikes, handbuilt steel steeds, and mass-produced carbon ponies. Their lycra-clad owners are streaming into a steamy, bike-themed café across the street where cheery baristas pull creamy espressos for riders huddled around the wood stove.
Grinduro riders are as diverse as the bikes—from a dozen countries or more, some so committed to the biking lifestyle that they mounted their bikes at the Glasgow airport and rode to the start of the event, others who call themselves roadies or mountain bikers, from 20 years old to 60 plus. We're all wet and gritty and soaked to the bone. But no one complains.
From the café, a road climb spits us onto a dirt single track that straggles high into the Arran hills then returns to sea level. I pause after descending half a dozen switchbacking corners that made me wish for the fat tires and full suspension of my mountain bike. But skinny tires turn easy single track into adventure riding. I power across a shallow river and miraculously make it through the gurgling water moving fast enough to move fist sized rocks as if they were pebbles. A chap with a plaid brimmed hat and a golden retriever on a leash reminds me that even though in the fog I imagine myself in some uninhabited corner of the earth, I'm probably just around the corner from a neighborhood of tidy gardens.
The first timed section is a gravel road. The second is a single track. I duck in to take pictures. A rider skids around a corner at the bottom of a steep hill then she catapults into the heather launched by a greasy root. She's still clipped in and wriggling around in the dense, stunted vegetation giggling while trying to extricate herself. Another rider goes OTB—over the bars—next to a volunteer who is pointing out a mossy root drop into a hole. Soon after, I grind to a stop in hubs-deep black mud then teeter over and sink mid-calf in muck. I manage to slog out of the peaty bog without losing a shoe, then pause long enough to watch a group of riders coming up behind me to do the same.

The weather cycles between steady drizzle, heavy mist and occasional downpour—my feet have been wet since the 9 a.m. start—and now they're filled with gluey muck and gritty dirt. So is my hair from the spray off my wheel. Salty sand has rooster tailed off my wheels and it's burning my eyes and grinding my brake pads down to their metal backer. I keep spinning my legs so I don't cool down and cramp. The physical challenge is just part of the fun. I like the weather. It's classic. It gives riders a common cross to bear.
After lunch, I find myself alone for a few minutes swooping down a rare section of pristine pavement between yellow hedgerows, chunks of mud shooting from my tires. I think we're nearly done when a volunteer waves me away from the seaside and into a turn. A worried looking young man is unclipped at the bottom of the steep hill that snakes away into the mist, hoovering a Clif Bar and clicking through the buttons on his Garmin wondering if there is really still 1,200 feet of climbing to go. I leave him, and pedal baby head rocks up a footpath. Signs tell me I'm on the grounds of Brodick Castle, Garden and Country Park, but I can't see anything.
The rock-strewn rock and dirt climb punches into an active logging area with mountains of pencil straight pines stacked into a horizontal mountain … and more mud. At the top, a cluster of volunteers is cheering us into the final grassy ridgeline descent, a steeply angled skating rink of mud-greased grass wetness and mud with a precipitous drop-off into nothingness on one side. I schooch, I teeter into the prickly, purple heather, then I join a snake of riders slipping and sliding down the hill.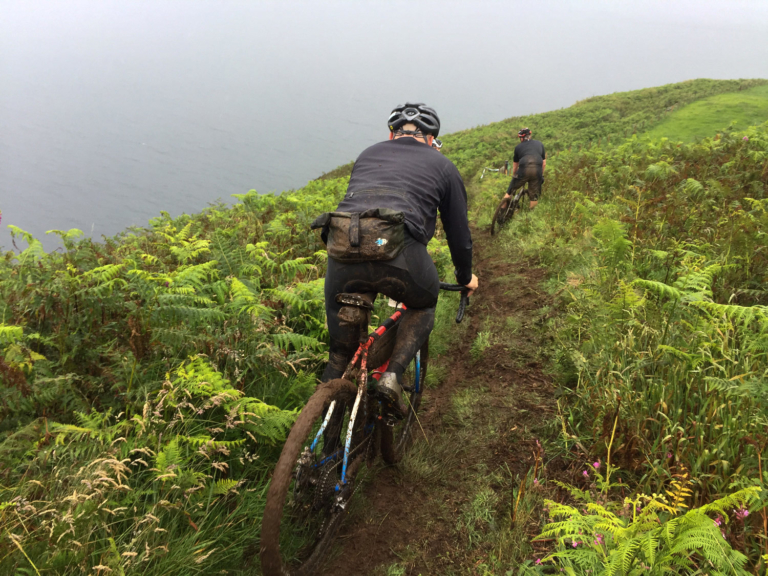 The finish is uneventful. But a hot shower back at the Lamlash school, local brews and a steaming pot of stew shared around cafeteria tables is really the best finish I can think of. The happy misery of shared hardship creates a common bond that often leads to personal connections that cross borders. I showed up alone. But when the Van T's, Grinduro's Scottish house band, crank the amps and starts to jam, I'm dancing with a room full of friends.