Garbage Bins for the Ocean
Gabriela Aoun
/
29.04.2021
/
5 Min. Lesezeit
/
Surfen
Seasoned waterman, master woodworker and Patagonia Surf Ambassador Ben Wilkinson channels his skills toward a new environmental calling.
Ben Wilkinson leads with his instincts when salvaging wood to create furniture, sculptures and surfboards or chasing big waves around the world. "I just want to do things I'm passionate about," he says.
Now, with two small children at home—instead of making art from a slab of albizia wood, surfing a heat in the Eddie Aikau Big Wave Invitational or giving life to a lonely boat—his next passion project is one with his kids' future in mind. "The love I've experienced from my kids opened my eyes a lot more to what life is all about," Wilkinson says, "and I started to think, 'What are we leaving for them?'" Wilkinson's applying his building skills to a new environmental venture on O'ahu, installing and maintaining three Seabins in Honolulu's Ala Wai Harbor.
Wilkinson learned about the initiative while woodworking with Seabin Project Cofounder and CEO Pete Ceglinski's brother, Andy, who asked if Wilkinson could help build Pete some displays for a Seabin demonstration he was giving in Honolulu. "Pete showed me the product, and I wanted to be included in trying to change something," says Wilkinson. "I use so many different tools in my day-to-day life, and this was just another great little creative tool to put to use."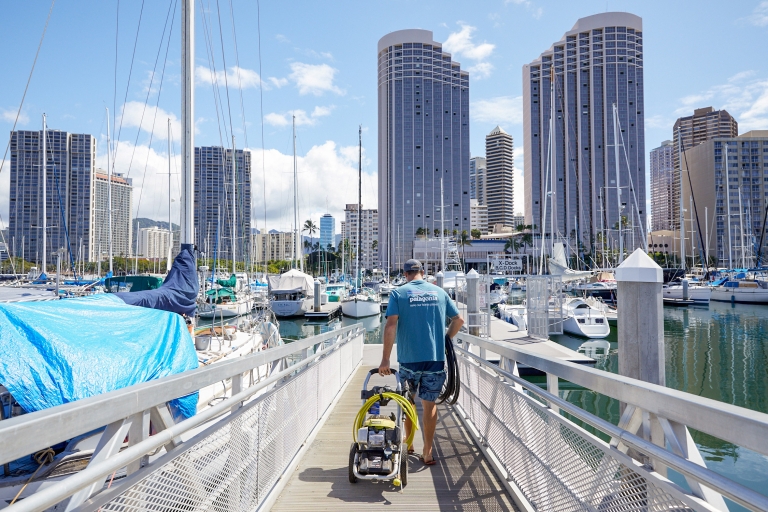 Founded in Australia, the Seabin Project installs litter-collection systems in harbors all over the world to gather waste that clusters in waterways. The Seabin is essentially a floating garbage bin that's attached to a dock. It uses a pump that pulls water through a catch bag and filtration system to collect trash—including microplastics as small as 1mm wide—and absorbs oil and other pollutants, removing them from the water. "It was the most obvious thing in the world to put a trash can in the ocean, but no one had done it," says Pete.
An individual Seabin filters more than 153,000 gallons of water per day—with 860 Seabins installed across 53 countries, each catching a daily average of 9.25 pounds of waste, the project is currently collecting nearly 8,000 pounds of litter around the world daily.
In their first year of operation, the Honolulu Seabins are projected to collect 9,921 pounds of litter from the harbor, but Wilkinson says the Seabins are also an important tool to educate the public. "The Ala Wai is filthy and the rubbish comes from the land—it's coming from us. If we can get people to see that these bins are full all the time, it's going to teach us to take responsibility."
Ceglinski agrees: "The cleanup is not the solution. Not needing to cleanup is the solution." For this reason, Seabin has positioned itself as a data-collection tool first and a trash-collection tool second. "Ocean cleanup is a by-product of what we do, but we lead with data," he says. "If you're a decision maker and you're investing in cleaning up the ocean, you need to know what's in there: the volumes, what it is and where it comes from. And if you're running a solution program, you need to know how your solutions are going."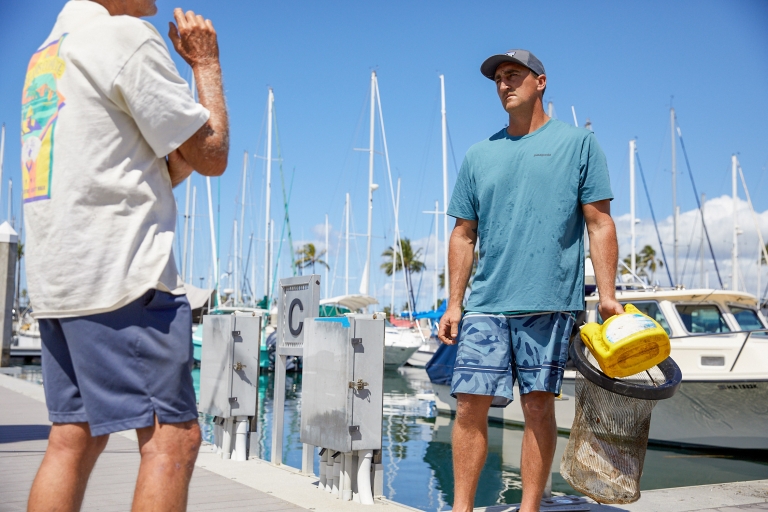 Seabin has a robust data collection and City Pilot program running in Sydney Harbour, where they have 20 bins installed and a network of staff and volunteers logging exactly what is making up the 2.33 tons of litter they collect monthly. That information is uploaded to Seabin's Pollution Index™ data program, providing public authorities information on what is ending up in Sydney's waterways and how much of it. The next version of the Seabin, called the V6, will include data sensors with internet connectivity that will be able to track and automatically upload information on water temperature and dissolved oxygen, salinity and pH levels.
In Honolulu, the data collection is currently done by Fernando Torres, better known as Green Man Hawaii, who empties the Ala Wai Seabins every day. Before the bins were installed, Torres did regular cleanups in the harbor with a pool skimmer. "Sometimes people pass me in the harbor and laugh at me," he says. "But I'm not trying to get all the plastic out of the ocean. I'm trying to create some community awareness, and maybe someone will see me and then go home and look at all the plastic in their house and make a change."
Now, he conducts a pollution index each week for the Seabins, logging exactly what is in the bins before disposing of it. The most common items in terms of quantity are microplastics, like nurdles (small plastic pellets from which nearly all plastic goods are made), and in terms of weight, it's hard plastic food packaging.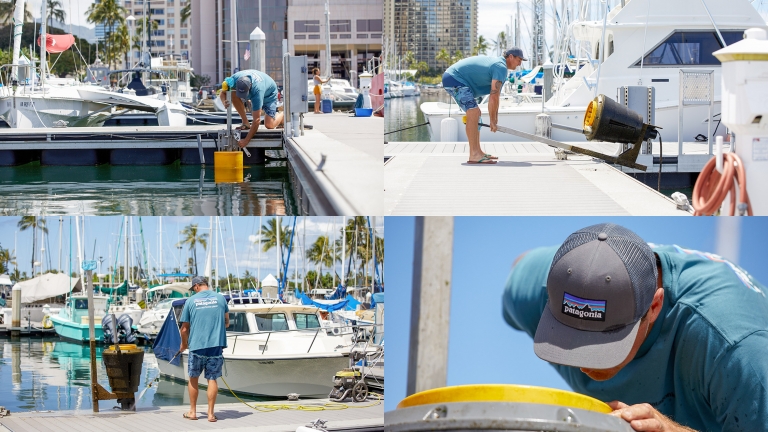 Wilkinson and Torres have formed a partnership where Wilkinson oversees installation and repairs, while Torres handles daily maintenance. Soon, the pair will install three more Seabins in front of the Hawaii Yacht Club, a perfect place because of the number of youth programs at the club and the opportunity to show the Seabins to kids and spark important conversations about ocean pollution. "I was at the harbor doing a repair yesterday, and every other person who passed by wanted to talk about it," Wilkinson says.
Faced with the seemingly insurmountable challenge of trash in the world's oceans, Wilkinson's working with Seabin on finding ways to repurpose the waste that is collected, which is typically too degraded and contaminated to be recycled through currently available methods. Wilkinson is undeterred by anyone who might say that the problem is beyond repair.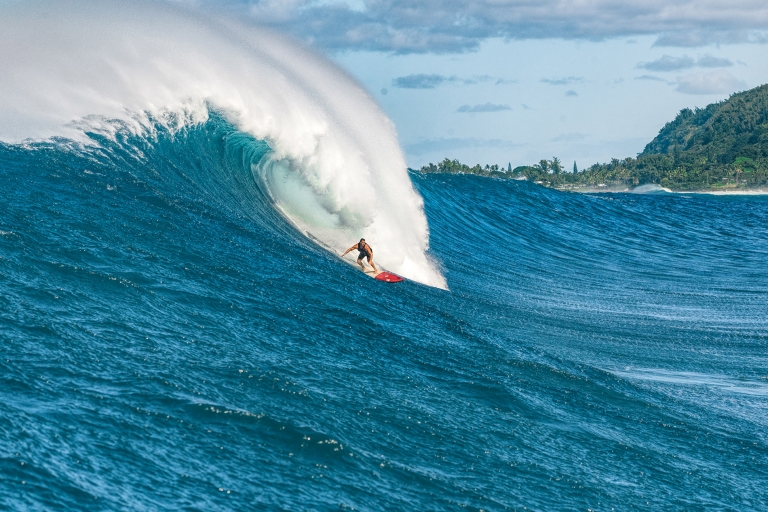 "When I was younger, my biggest goal ever was to be in the Eddie Aikau big-wave contest," he says. "I had surf executives and friends tell me I'd never get in, but I achieved it. I surfed a heat in the Eddie. Now, I have new unattainable goals that I want to achieve. When I set out to surf the Eddie, I would get so pumped, and now I get that same feeling from doing this."