Cleaning Up a Boat Wreck in Isla de Todos Santos
Besides a lighthouse, a dirt trail and a few small structures, Isla De Todos Santos is almost completely undeveloped. The only permanent resident is the lighthouse keeper, who greeted us in Spanish as we approached after stepping ashore on a bright October morning. Those who choose to live in solitude fascinate me and I wanted to ask him a hundred questions, but there was no time. We had a long day of work ahead of us.
One year ago, a 40-foot commercial fishing vessel wrecked on Isla de Todos Santos. (Note: It's actually a pair of islands that span just over 300 acres, separated by a narrow passage, 12 miles off the coast of Ensenada in Baja California.) The fishermen who had brought us to Todos Santos rumored that the vessel had been purposely crashed to collect insurance money, but no one could prove it. Regardless of the cause, the vessel was still there on the northwestern side, beaten down and broken apart by waves, wind and salt. With scuba gear, a WaveRunner and industrial-sized trash bags, a team of 20 volunteers, myself included, had chartered two fishing vessels to take us to the islands to clear the debris.
Within the surf community, Todos Santos is well-known as the location of a big wave where many of the world's best—including volunteer Greg Long—cut their teeth in heavy water. When large winter storms track down from the north, they can produce waves as big as four-story buildings that explode on the reef and rival any other big wave in the world.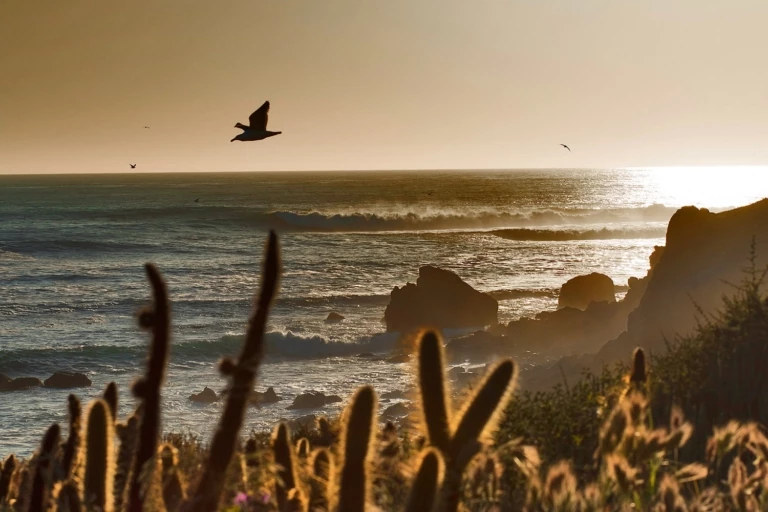 Our cleanup project was organized by the World Surfing Reserve of Bahia de Todos Santos and the Save The Waves Coalition and supported by Parley for the Oceans. Locals Mara Arroyo Rodriguez and Vicente Yazbek—the manager and one of the ambassadors, respectively, of the World Surfing Reserve—were the leaders on the ground.
"By addressing environmental issues such as the shipwrecks, we're working not only to protect the Todos surf spot," Rodriguez told us, "but also the island's beautiful natural condition."
On the island, cliffs dropped off to beaches absent of sand. In its place were slippery rocks that varied in size from tennis balls to beach balls, perfectly designed to cause injury to those who attempted to navigate them. The swell wasn't big enough for the main wave to break when we arrived, but it was still powerful enough to surge rocks up and down the shore with an emphatic growl. Treading carefully, we found fishing line, rubber boots and other detritus dotting a quarter-mile stretch of shoreline. Below the tideline, the bathymetry dropped off quickly to deep water. "Good spearfishing," one volunteer said—the water was so clear that much of the fishing boat's wreckage was visible 20 feet below the surface. Our scuba team would spend the rest of the day retrieving submerged fiberglass boat panels as big as doors that were lying on the ocean floor.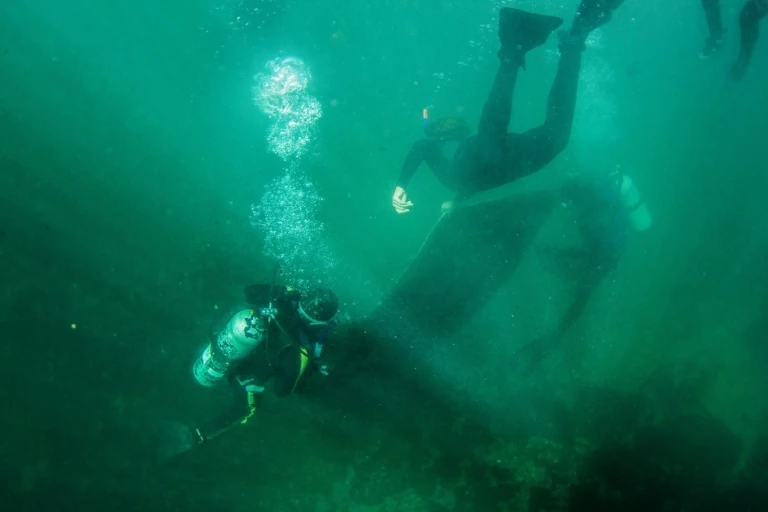 On shore, most of the debris was easy enough to move into trash bags for transport to the vessels. The high tide and swell, however, posed complications when we attempted to move some of the fiberglass panels resting along the rocks. As we lifted them, they embedded shards of fiberglass into our chests and forearms. Chris Mumford, a San Diego construction worker and Todos regular, used a surfboard strap to lasso a panel. When he saw a lull, he scurried down the boulders with the strap in his hands and heaved the panel into the surf.
"Don't let yourself get caught between the panel and a wave, or it'll slice you," I yelled from shore. Using one hand to pull the panel and the other to swim, Mumford groaned as he hauled the panel beyond the surging surf and onto the WaveRunner.
I went next. On my way out, my panel got caught on a boulder and I found myself in a dangerous position as a set approached. A surge rolled me onto the rocks as I tried to free the panel, resulting in a bloody knee and proof of our inefficient strategy. Greg, our most logical team member, recommended that we find a safer entry point down the beach. We did so, and it more than doubled our efficiency—reminding me of the old maxim that to cut down a tree in five minutes, you should spend three of them sharpening your axe. It's a philosophy that has led Greg to two Big Wave World Tour titles, and I found it amusing to see him apply it to other disciplines.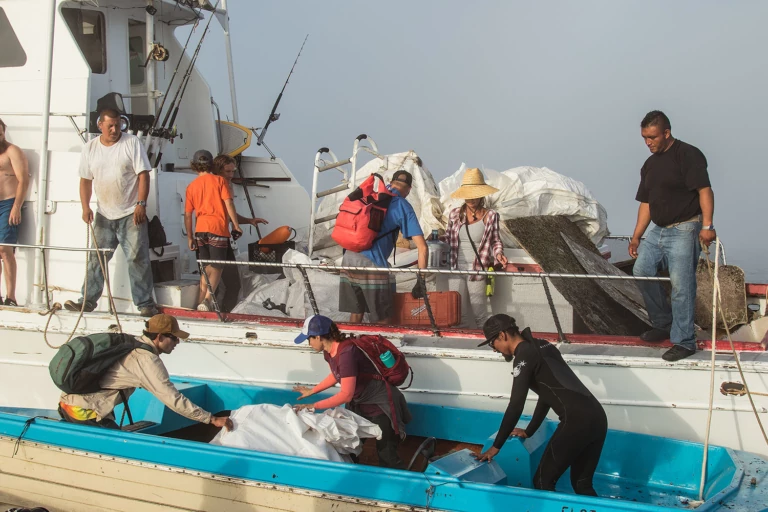 We kept hauling debris until sunset, and finally returned to the vessels with 13 full trash bags. The shoreline was now mostly clean, but we were unable to retrieve many of the panels that still, to this day, lie beneath the break. Later that night, we dumped the collected wreckage into industrial trash and recycling containers at the Ensenada port. The shards of fiberglass covered my exposed skin like lice, but we drank beer, laughed and then face-planted into our pillows, exhausted and satisfied.
To support future projects like this, visit Save The Waves Coalition and become a member today.
Does volunteering for a non-profit environmental group interest you? Visit Patagonia Action Works to connect with groups in your area and lend a hand.