Paradise Found: Pakistan's Charakusa Valley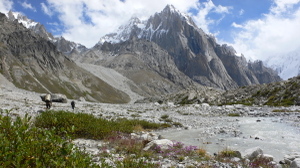 Our friend Kelly Cordes, who tests gear and writes copy for us, went climbing in the Charakusa Valley of Pakistan last summer and sent us some photos to share. Though Kelly and his climbing partner, Scott DeCapio, were unsuccessful on their attempt at a new line on K7, they returned with some spectacular images — enjoy!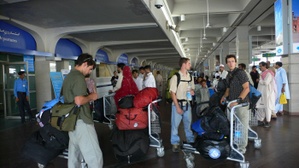 Arrival at the Islamabad airport. Things look calm here, but generally it's mass chaos, which sounds intimidating except that everyone's super friendly. This was my third time to Pakistan – the place grows on ya, in large part because of the incredible people, especially in the villages. In all my travels, nowhere in the world have I been greeted with the kindness and warmth of the people of northern Pakistan. The spectacular mountains feed the attraction, too.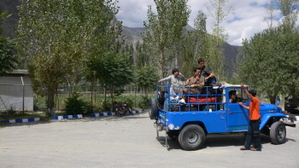 Our jeep at the airport in Skardu – from Islamabad, we lucked out and caught the 45 minute flight to Skardu. They don't have radar at the Skardu airport, so they only fly when the weather is perfect. The other option for getting to Skardu is a 20+ hour drive on the sketchball Karakoram Highway… Oh yeah, let the skies be clear, Inshallah! From Skardu, it's about a 6-8 hr jeep ride to the village of Hushe, from where we hire porters and begin trekking into the Charaskusa Valley.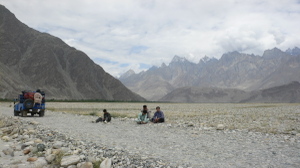 Killing time in Pakistan. Always an important skill on expeditions. Here, we wait a few hours for the other jeep and the rest of the team en route to Hushe – turns out that our military Liaison Officer (if you have to have an L.O., apparently it's way better if you go to an area/peak that allows you to have a civilian L.O.) wanted to drive up the road to hang with some of his Army buddies. I'd never gone for a peak requiring an L.O. before, as I figured paying someone to sit around and do absolutely nothing might irritate me, but in a moment of weakness I decided I shouldn't be so closed minded…now I'm back to being closed minded. Some good came of having an L.O., however, as it answered a burning life question for me – "young man, what do want to do with your life?!" I want to become a Liaison Officer. I have all the job requirements: I'm lazy, demanding, and I want to get paid. Anybody have any connections?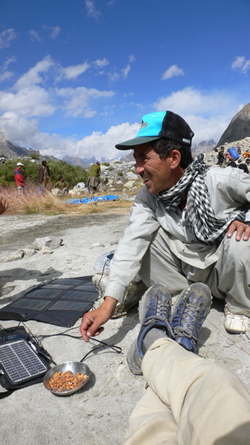 Our friend Hussain, the porter Sirdar, at a rest stop during the approach to base camp in the Charakusa Valley.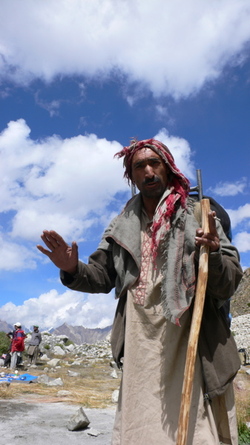 Balti porter saying hello at a rest stop during the approach to base camp. It took two days to trek into base camp. Each day was fairly short, which was fine since we were all sucking wind. I think Hushe sits at about 10,000′, and b.c. was about 14,000′.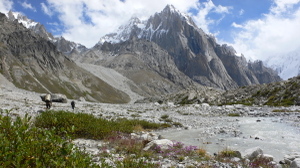 Arrival into base camp, late August, 2007, with K7 in the background. The Charakusa…wow. A climber's paradise. I think Scott and I spent about a week hanging near b.c., hiking, etc, until we felt well enough to do much more. Altitude's really not so fun.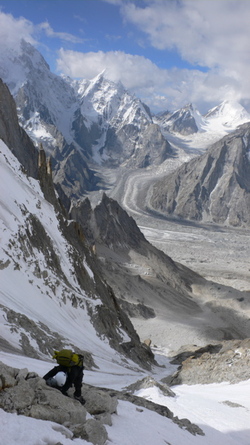 The joys of acclimatization…Scotty not feeling the love on Sulu Peak. I didn't feel any better – neither of us feel especially strong at altitude.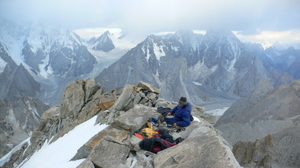 We bivied partway up Sulu (here) on the first night, then spent our second near the summit (about 18,000′). A storm started brewing the second night and so we packed up pre-dawn and bailed before things got bad. In retrospect, we probably should have tried to acclimatize more.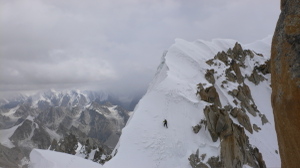 Scott near the top of Sulu Peak on the second day of our acclimatization mission.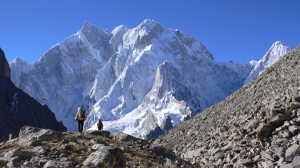 Maxime Turgeon (L), with an escort from Scott, descends toward base camp after his solo first ascent of East Farol peak. The massive north and west aspects of K6 rise in the background.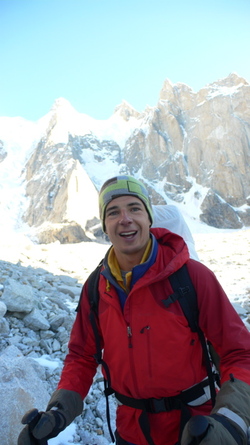 Max, understandably psyched after his awesome solo – his line climbs the peak directly above his head via steep ice and mixed climbing.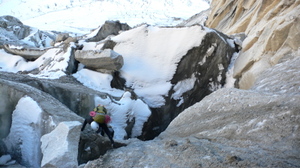 Scott DeCapio working up the complex glacier below the east face of K7, where we'd spotted a cool-looking line. After the icefall, we bivied next to a rock wall just below the bergschrund, chowed a big dinner and slept for a few hours.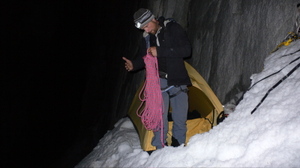 Scott leaving the tent and gearing up on the morning of our attempt, in mid-September.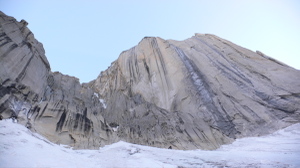 About 1,000 feet up the east face of K7, Scott leads a long simul-climbing pitch on calf-burner ice toward a mixed runnel below the "Fortress" (the big rock wall above).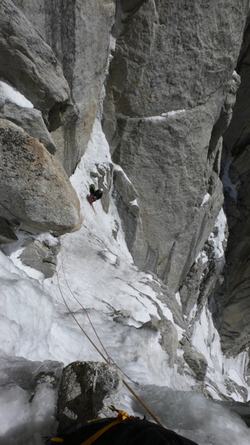 Scott DeCapio at a belay, day one of our attempt. This pitch brought us to a nice, protected rib where we rested in the sun for about four hours. We couldn't believe the heat, stuff falling down everywhere and waterfalls running. Once the sun left, things chilled out (ha, chilled out…).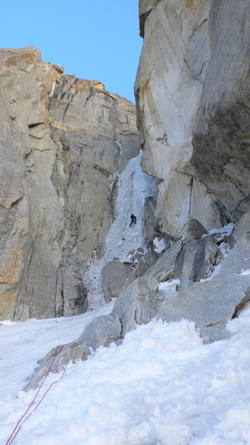 Scott leading a pitch of steep ice after our rest stop. This began a really cool section of maybe 800 feet of ice and mixed climbing. Later in the day, after dark, after climbing about 3,000 vertical feet, we joined the Japanese Route and then climbed off to a snow rib where we made a small bivy spot.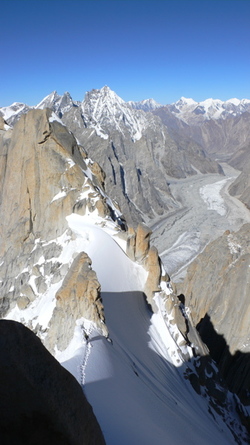 Scott leaving our bivy site, near the junction with the Japanese Route, morning of day 2.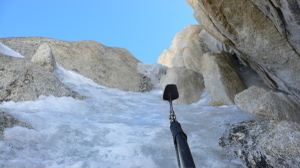 On day two we came across this fixed ladder, a relic from the first ascent of the Japanese Route. K7 is a spectacular, complex mountain and the three parties to have climbed it deserve full credit: the team of young Japanese college students who made the peak's first ascent in 1984, Steve House's awesome solo of a new route in 2004, and Doug Chabot and Bruce Miller's impressive alpine-style repeat of the Japanese Route, also in 2004.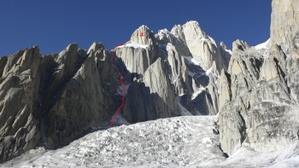 Line of our attempt on K7, starting with 3,000 feet of previously unclimbed terrain from the east to join the Japanese Route, then continuing for another 500-1,000 feet. The dotted lines below the ridge indicate spots that are hidden in the couloir. For the upper dotted lines leading to our high point (X), we were on the opposite side of the Fortress.
Thinking ourselves clever, we figured we could traverse around the Fortress, rather than climb over it. A man wiser than us once said there's a fine line between clever and stupid, and we proved it. We dead-ended and, wilting in the sun under our too-heavy packs, gasping in air-too-thin, and getting sloppy from fatigue – in other words, suffering from lameoitis – we retreated from about 19,000′ and descended the basin to the west (where Steve House's solo goes). Though it was probably the right call, naturally we were disappointed in ourselves.
We realize that opinions vary on what constitutes a new route (like joining an existing line or reaching prominent landmarks), but as we whimpered back to camp it seemed quite clear who got the better of our little exchange with K7.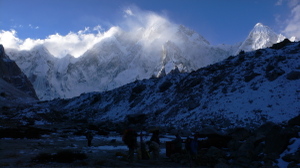 Departing base camp in late September, with K6 in the background.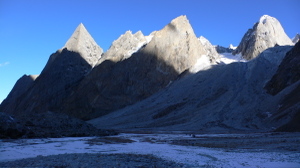 Departing base camp – the pyramid-shaped peak is Nayser Brakk.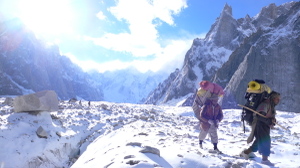 Porters packing out loads as we leave the Charakusa. As with my past trips to Pakistan, everybody was overwhelmingly kind and generous. No doubt some craziness happens there, as in any country, but the areas where we traveled were all tremendous, and the mountains breathtaking in their beauty. If I hadn't heard any news before or after our trip, I'd think that Pakistan is the most peaceful place on earth.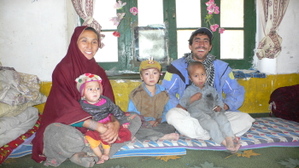 Hussain and his family at home, in the village of Kande – Hussain insisted we stay with him on the way out, rather than camping or getting a hotel. His boys are just like little boys anywhere – rolling in the dirt, chasing each other, wrestling – but they were also super excited to practice reading to us in English.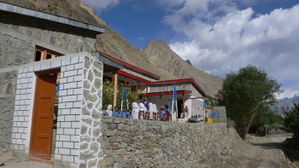 A school in Kande, built by the Central Asia Institute. Everywhere we went, villagers rightly saw education as the key to a better future for their children and their society. It was awesome to see their enthusiasm for learning.
The world's a helluva place, and I'm so grateful for these opportunities. Still, as always, it was great to get home, where our lives are so good it's almost unbelievable. We're so fortunate.
Huge thanks to Kelly for sharing these amazing photos with us.