We Have Work to Do: Thoughts from Standing Rock
Colin McCarthy
/
December 27, 2016
/
8 Min Read
/
Activism
It's cold. The snow hasn't come yet but it's really, really cold. I'm in my long johns, getting ready for bed, brushing my teeth (and shivering) in the front seat of the borrowed van we drove from California. Saxon and I are talking through the action we attended earlier today, when we notice a bright light way off across camp. "Fire! … Fire! … FIRE!!!" comes 101 Dalmatians-style through the night. We jump out of the van, grab all of our water and run towards the smoke and light.
As we slip through the makeshift streets and little neighborhoods of the DIY city, I notice more and more people are running beside us. We are getting close to the fire and I look around. Floods of people just like us are coming in from all directions, you can see their heavy breath in the cold night, water sloshing all over themselves. Maybe 100 people, ready and willing. It was a tepee that had caught fire, the wood-stove inside had sparked a piece of the insulation, someone said. The fire had been mostly put out by the time we arrived, so our water will live on to become soup or tea another day.
As we walk back across camp, I get goose bumps thinking about what it would be like to live in a community where the whole damn town shows up in their underwear with pots and pans full of water when a stranger needs help. A place where you jump at every opportunity to help make life better, to make the world better, not someday, but today. A place where you not only know your neighbors, but live and work alongside them every day for the true greater good.
I realize quickly that, for right now at least, I do live in a place like that: Oceti Sakowin Camp, Standing Rock Reservation, North Dakota.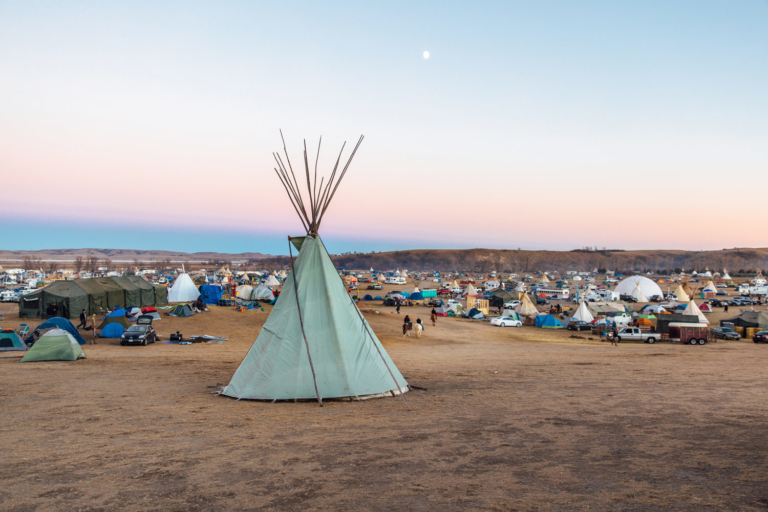 That fire in camp left me thinking about three main actions:
Act without hesitation to help solve an obvious and urgent problem
Bring what you have to the table (or fire)
Get to know your neighbors, be a community
When something is on fire, you suddenly spring into action, even if you've never fought a fire before. You understand subconsciously, inherently, that you have to act immediately if you want to save what's burning. How do we learn, teach, feel and share that same sense of urgency when talking about the environment and social justice?
Our earth is burning up. We must act together, immediately, if we want to save this tepee.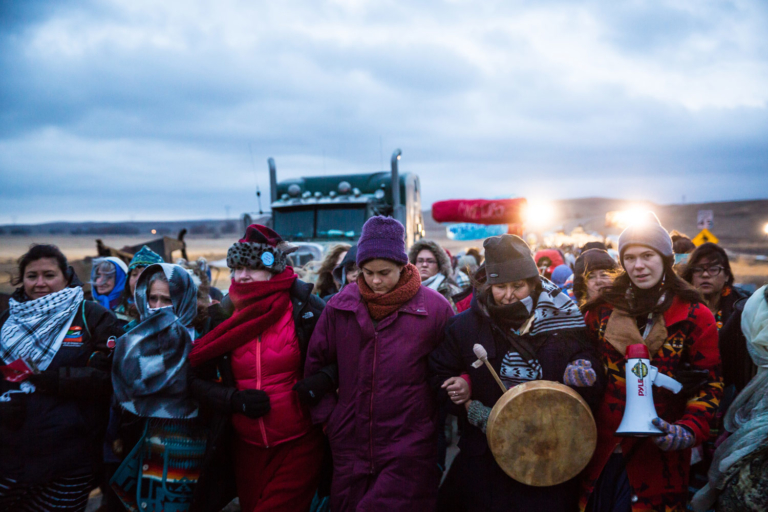 Everyone has their own reasons for getting involved with the movement against the Dakota Access Pipeline. I'm a photographer and filmmaker, and I spent a good chunk of the last two years working on an awareness project for another water-crossing pipeline in the Midwest (Line 5). I saw going to Standing Rock as an opportunity to go back in time to 1953 when they buried Line 5 into the bed of the Great Lakes. To proclaim: "Stop now, we will regret this!" And, my heart breaks for the ongoing disregard of not only the needs and rights of North American tribes, but all of the indigenous peoples of the world.
I reached out to some friends who work at Patagonia HQ to see if there was a way to get more people involved. We put on a clothing and gear drive so the employees could donate items, and rounded up boxes and boxes from the company itself for me to drive out. (The cargo van was packed to the brim!)
I headed out to Standing Rock to use my skills and share the story in whatever way was helpful. I shot photos at direct actions, around camp and the surrounding reservation, and we filmed for a short documentary. But I also served dinner, chopped wood, unloaded construction trucks, built Facebook and GoFundMe pages on my laptop tethered to my iPhone Wi-Fi, made tea for elders, delivered water, listened patiently, organized what to send and where for brands I work with, gave rides to town, and handed out the coats, blankets and headlamps we brought to security, kitchen staff, children, elders and frontline activists.
There's (a) time for everything.
Only about five-to-ten percent of the average day in camp involves direct action or frontline protest. Those actions are extremely important for generating public awareness, but there are so many jobs beyond what you see on BuzzFeed that keeps the movement moving: architects, medics, carpenters, artists, recyclers, dumpster divers, electricians, solar-power specialists, school teachers, teacher teachers, camp media makers, live streamers, sacred-fire keepers, chefs and kitchen masters, water purifiers, ceremony leaders, healers, direct-action educators and resistance organizers, security guards, fund raisers, donation allocators, tea-house tenders (camps' best-kept secret is a yurt that our friend Matt runs as a late-night tea house), it goes on and on.
You soon realize that making blueberry pancakes (probably organic), can and is, in fact, as radical an act of resistance as chaining yourself to pipeline equipment or taking mace with grace. There is a place for the strongest of women, the softest of men and everything in between. All nations and all relations. The whole network is vital to creating change. There is no action without food to feed it or shelter to house it. That's inspiring to me because I can relay a message to everyone who asks, "Do you think I should come? Do I really have anything to add? I can't get arrested but I want to help in other ways."
No matter what skills you have, and no matter the level of willingness you have to put yourself at risk of physical or legal harm—from zero to "Arrest me!"—there is and always will be a place for you in this camp or the next. Start where you are and find your role in the conservation movement. I promise you have one.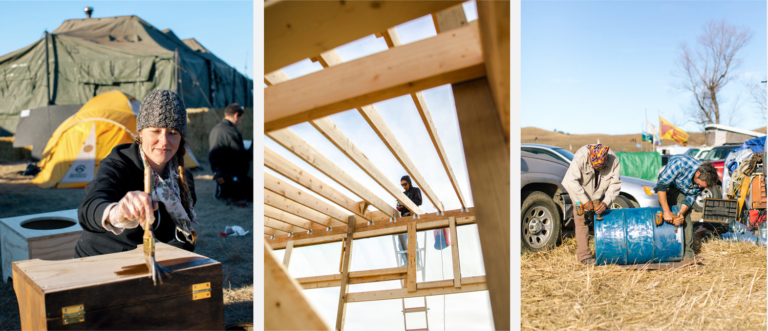 The tone in camp is often quiet and thoughtful. It's easy to feel the importance of stopping to talk and be present with people. I met a younger guy, maybe 20 years old, named Mark. He was born and raised Standing Rock Sioux in the nearby reservation town of McLaughlin. Mark was camped out next us and we had him over for dinner one night. Pumpkin French toast and lamb veggie stew (a classic pairing, I know). I washed a bowl and fork and he joined us on our blanket next to the fire. Mark offered a small plastic bag of sage from California that someone had given him, as a thank you for the meal. We passed the sage around and all took a little in our hands, prayed on it (or offered well wishes into the world) and then gave it to the fire.
We went on to talk about what it was like growing up in North Dakota on the reservation and how it feels to have this happen here. He told me things have always been quiet. He went to school and that was about the extent of it, that he's never had a job, that there aren't really many jobs to be had. At camp, now, he is responsible for keeping the sacred seven-council fire burning, a fire that has not been lit in almost 150 years. That's how long it's been since the seven tribes of the Lakota have come together as one, and Mark feels honored to protect and tend that sacred history. I almost convinced him to road trip back to California with me to see some friends he had made at camp, but he said, for now at least, he had a job to do at home.
I spent a lot of time working with "the water truck" and j. Lovewater who put the project together. A rough-around-the-edges-60-something-year-old man from Nashville, Tennessee, j. has a heart of gold and a passion for clean water. For the last 30-plus years he has been working on projects that provide communities with not just clean, but brilliantly pure water. "Love Water" is the name of the project, and this version of it looks like a big, blue, 21-foot-long box truck that houses a mass water purification system. Complete with three commercial-grade kitchen sink hoses for filling on the side, "the water truck" as it's known around camp is there to provide the water protectors with what they are there to protect. j. wanted absolutely nothing to do with us telling a story about him, which, I have found, probably means it's one worth working for.
It's beautiful. The whole thing. I know that sounds strange, but every time someone says "thank you for being out there" I almost laugh to myself, because it was one of the most beautiful and expanding experiences of my life. It was a blessing to be there, and truly my privilege. Even though I obviously wish there was no need for the resistance, the course of many lives, like mine and j.'s and Mark's, have now been positively steered by this event. We had the opportunity to go learn, support and be inspired, and now we have the responsibility to share with those who couldn't be there, and to continue this conversation within our own communities.
How do we use what has been developed at Standing Rock as inspiration, as a blueprint for making our voices heard? For change? Now more than ever, understanding how to effectively push issues beyond the ballot and into the public eye is what really matters.

This occupation of Standing Rock was started by five youths that decided to stand together and ignite a movement. Eight months, millions of dollars in support, tens of thousands of camp residents, 400 million dollars in pipeline funding revoked later, one easement to drill under Lake Oahe has been denied by the United States Army Corps. This is by no means the end of Dakota Access Pipeline, but it is a monumental step in the right direction. Celebrate the little victories when they happen, then link arms and keep marching forward.
We have work to do.
Patagonia stands with the Standing Rock Sioux and their fight to prevent the Dakota Access Pipeline from passing through their sacred sites. Since the fall, we have sent 40 boxes of clothes, five boxes of jackets, 200 fleece blankets and 550 pairs of socks to the Standing Rock encampment. We also provided a $25,000 grant to the Indigenous Environmental Network to support their work and their strategy to raise the volume and reach of indigenous voices. We applaud the good news that the Army Corps of Engineers has denied the permit for a pipeline to be drilled under a dammed section of the Missouri River, and will shift into an Environmental Impact process with full public input. The fight is long from over. We are watching the situation closely and will continue to support and engage with the NGO and tribal community.