Listen to "The Reckoning" Dirtbag Diaries Podcast Episode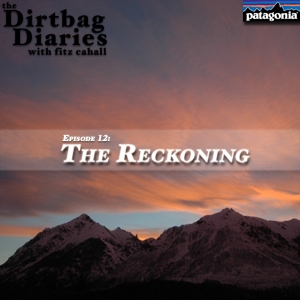 I reckon there's no better way to start off a holiday week than with a fresh episode of The Dirtbag Diaries podcast with Fitz Cahall. From Fitz:
Every aspiring photographer dreams of capturing an iconic image. It's the same kind of motivation that draws young skiers to intimidating lines in foreboding ranges and pulls ambitious climbers to Yosemite. We imagine these moments a thousand times in advance, but when we finally arrive, we are often surprised and humbled. Epiphanies require stumbling.

In 2005, photographer, writer and avid cyclist Blake Gordon set out to take the trip of a lifetime. With camera in hand, he joined brothers Mike and John Logsdon as part of their Spinning Southward team. The Logsdon brothers were in the midst of pedaling 15,000 miles and raising money for the National Brain Tumor Foundation. Blake would join them to ride the final leg through Patagonia.

For Blake, it was almost like a math equation. Plug 2,500 miles worth of pedaling through a raw and lonesome landscape, add a couple of close friends and Blake was bound to get an image that flawlessly conveyed the essence of the Logsdon's journey. Even before his flight touched down in Santiago, Chile, he could visualize the imagine; he thought he knew what this trip would be about.

Today, we present "The Reckoning" – a story plucked from the pages of a young photographer's notebook. You can ride your bike to the edge of a continent, but when the road ends it doesn't always lead to neat resolutions.
Listen to The Dirtbag Diaries:
Episode 12 – The Reckoning (mp3)
Watch the photo-enhanced version:
Episode 12 – The Reckoning (Quicktime movie)
Like what you heard? The RSS feed, subscription link to iTunes, and contact information for future story ideas are all available at www.dirtbagdiaries.com.