The Big-Wave Safety Paradox
Greg Long
/
October 19, 2021
/
9 Min Read
/
Surfing
Are the recent advancements in safety equipment and protocols making big-wave lineups more dangerous?
My foray into big waves began over two decades ago at Killers, the renowned break on Isla de Todos Santos, off the coast of Ensenada, Mexico. I cautiously eased my way into the lineup to the tune of mariachi music playing through a transistor radio behind me. When I turned to see our lone hired panga anchored in the channel 300 yards away, the driver was sprawled across the bow, settling in for a late morning siesta. Back then, it wasn't uncommon to be there with just the crew you came with. We relied on the unspoken agreement that everyone would look out for one another.
Our surfing mistakes were ours to deal with. One bad fall guaranteed a multi-wave beating in front of the rocky island cliff face. A broken leash promised a lonely half-mile deep water swim back to the boat. We avoided waves with low-make percentages, diligently studied the lineups, knew where to sit on any given swell direction and surfed with a heightened level of awareness. The lack of backup water safety made good decision-making mandatory. Those who took a cavalier approach didn't last long before being humbled by Mother Nature and sent back to the boat, with the potential for serious injuries or worse.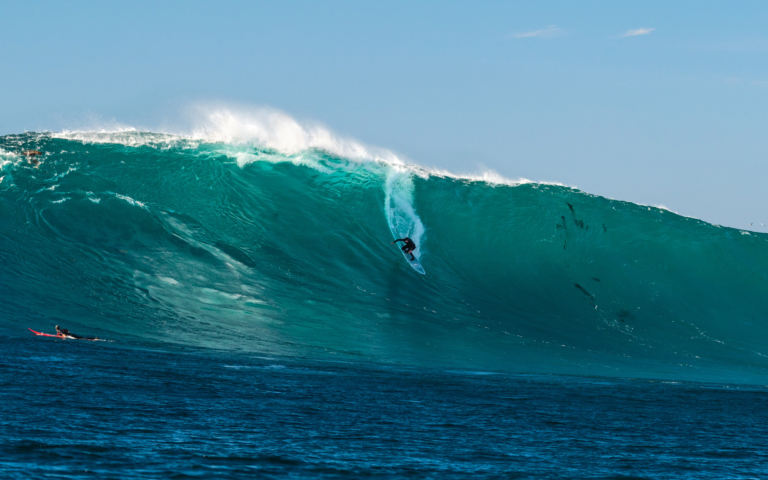 Today, the big-wave lineups are a much different scene. During any highly publicized swell, lineups will sometimes play host to well over 50 surfers. The channel fills with people on boats and Jet Skis maneuvering for position to watch and document the action. If any music is being played, it will likely be drowned out by the deafening thump of a helicopter filming from above. The most important difference, however, is the presence and implementation of new safety technology and organized water rescue.
These days, in most prominent lineups, you're unlikely to find a surfer who isn't wearing a state-of-the-art inflatable safety vest, armed with CO2 canisters ready to be deployed and assist them to the surface in the event of a bad wipeout. A well-orchestrated fleet of PWCs (personal watercrafts) occupied by highly trained rescue operators bob in the channel, waiting to swoop in and snatch surfers from the impact zone after a fall. It's these advancements in safety technology and rescue ops that have helped the sport progress dramatically in recent years. They've given big-wave surfers a new level of confidence to surf waves that were once thought impossible and have no doubt saved many lives.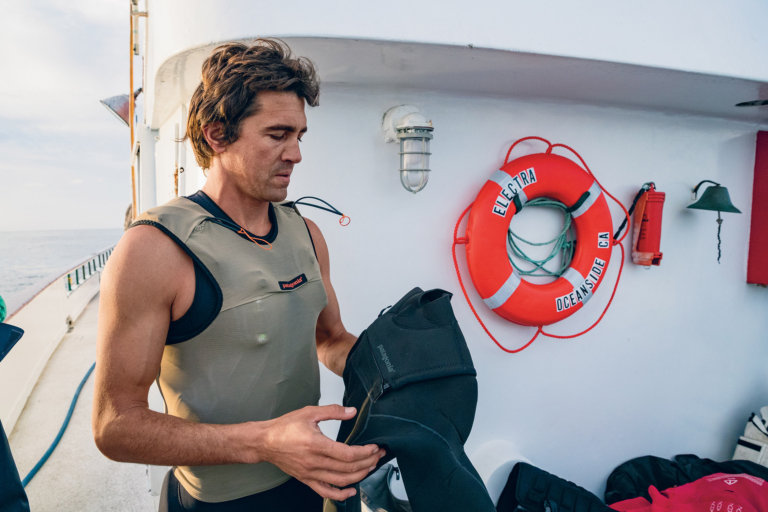 But, no matter how altruistic the intention, nothing in life comes without a cost.
Throughout history, revolutionary technologies developed as solutions have resulted in unintended consequences. Nuclear fission altered the world of energy production and left us with non-disposable radioactive waste. Some non-endemic plants and animals introduced into the wild have benefited ecosystems while others have decimated biodiversity and driven species to extinction. I can't help but wonder if these safety advancements are eroding the level of self-reliance previously demanded of big-wave surfers.
Albee Layer, who is one of the best and arguably most barreled surfers at Peʻahi (aka Jaws), says that this is exactly what he's seeing.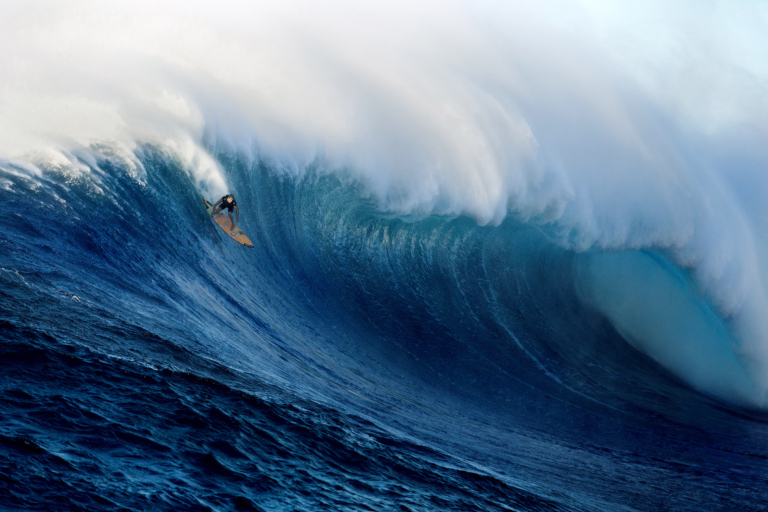 "The crowds have increased dramatically, and I'm sure a lot of the people are only out there because they feel safe knowing they can inflate [their safety vest] if they fall and a ski will come and help them. It's sending people out well before they have the skills to do so and on waves they shouldn't be on. It's putting everyone in dangerous positions."   
He points out that it's not just newcomers being negatively influenced by the bolstered feeling of security these advancements provide.
"People of all skill levels are surfing so recklessly these days and going on absolutely crazy, un-makeable waves, myself included," he says. "I honestly think I used to surf better, or smarter, when we didn't have so much safety around. I've personally had my worst and dumbest wipeouts in recent years because I feel safer wearing the vest."
Albee jogs my memory of a time I fell victim to the overconfidence of wearing an inflatable vest while surrounded by a world-class safety team. During my first heat of the 2015 WSL (World Surf League) Peʻahi contest—a massive and windy morning that I would have given a miss under normal circumstances—I mustered the courage to take off on a giant peak from outside. After a wild airdrop and skirting beneath the falling lip by mere inches, I pulled into the barrel only to have it run off 75 yards down the line ahead of me. The crowd went crazy, and I was given a 9.5, a near-perfect score for my efforts. Analyzing the video later, I felt somewhat embarrassed upon seeing that I had taken off on a wave with no chance of being made; I reached for my inflation vest inside the barrel before it shut down—a conscious decision and a tell-tale sign of being both influenced and overly dependent on my safety equipment.
On the heels of the 2020/2021 winter, one of the biggest and best in the history of Mavericks (Northern California's premier big-wave break), Grant Washburn—who has undisputedly spent more time in the Mavericks lineup than any other surfer—has strong opinions on what he's seen evolve in recent years.
"It's the nature of big-wave surfers to take risks," he says. "They push it as far as they think they can based on the available safety. In the beginning, that wasn't much, so the risks they took were somewhat reasonable. Now, the safety has seemingly eliminated most of the consequences. You can wipeout, inflate, get picked up by the ski and go right back to the lineup."
According to Grant, the vest and rescue system—if abused—creates a false sense of security. "It seems that some surfers are forgetting that all those things can and will fail at some point," he says. Last winter, for example, Grant "Twiggy" Baker (3x Big Wave World Tour Champion) suffered a wipeout on what was arguably the largest paddle-in wave ever attempted at Mavericks. When he went to inflate his vest, it failed, and the skis were unable to reach him until he'd been beaten to the inside. "Look at Twiggy's massive wipeout last season. Fortunately, Twiggy spent most of his life surfing and training without relying on vests and skis, so he was fine. I'm afraid of what might happen to somebody who is just getting into big-wave surfing and only knows what wipeouts are like with inflation and expects a ski will be there to help them."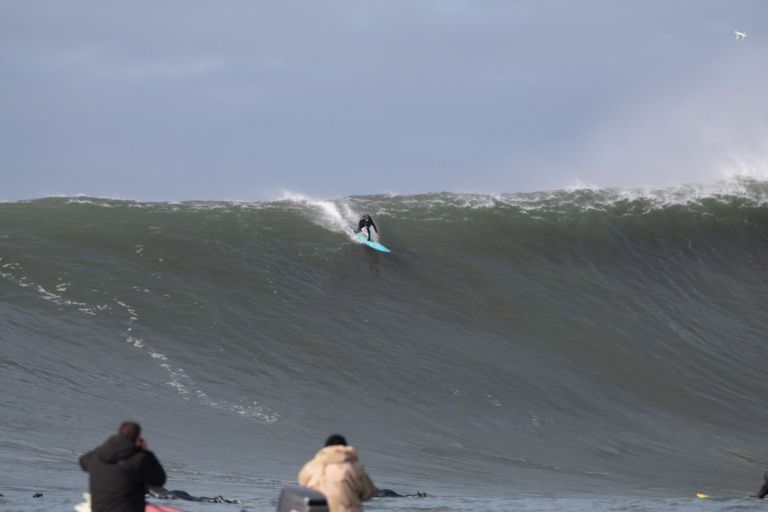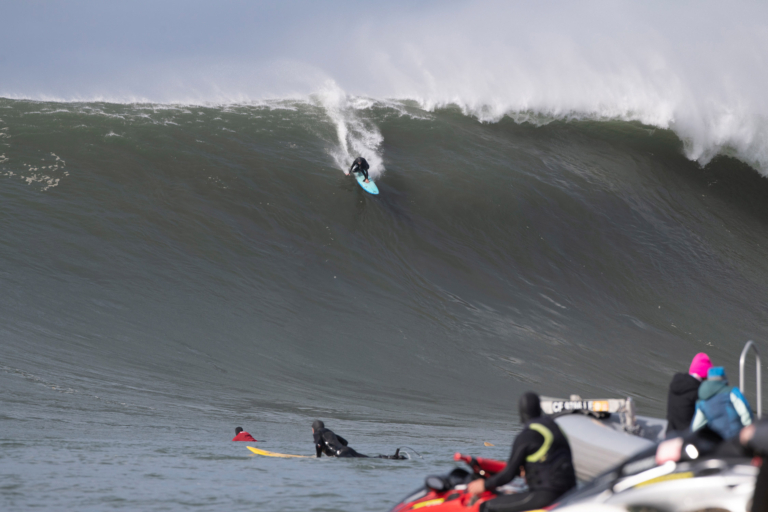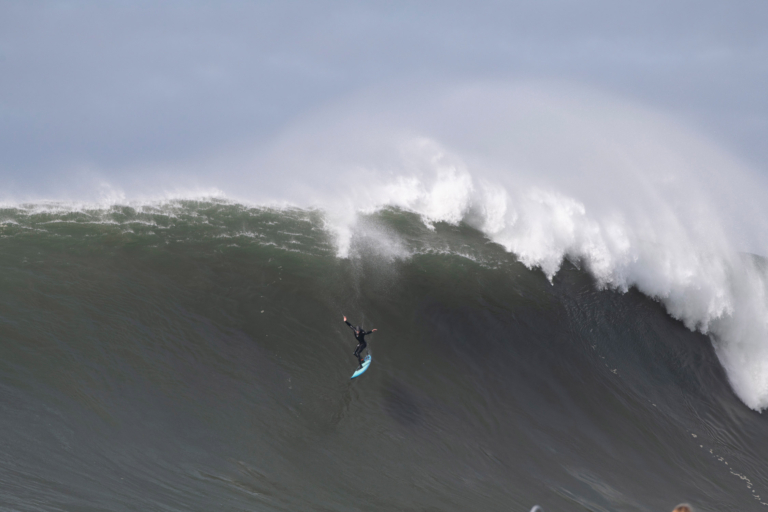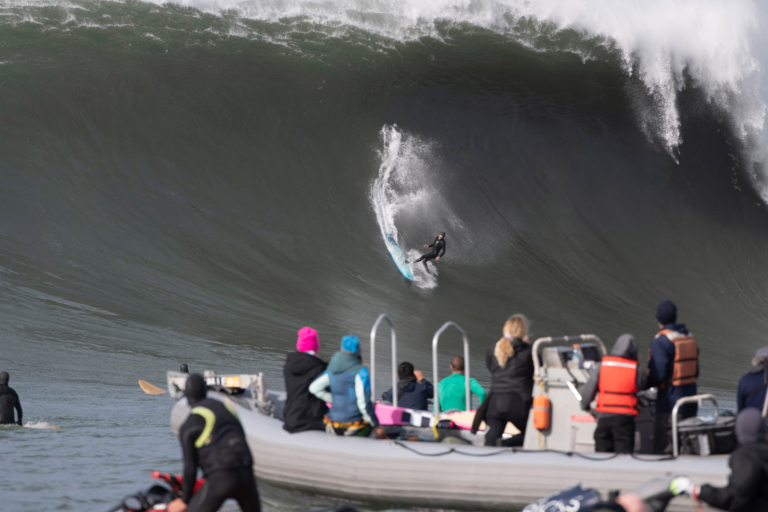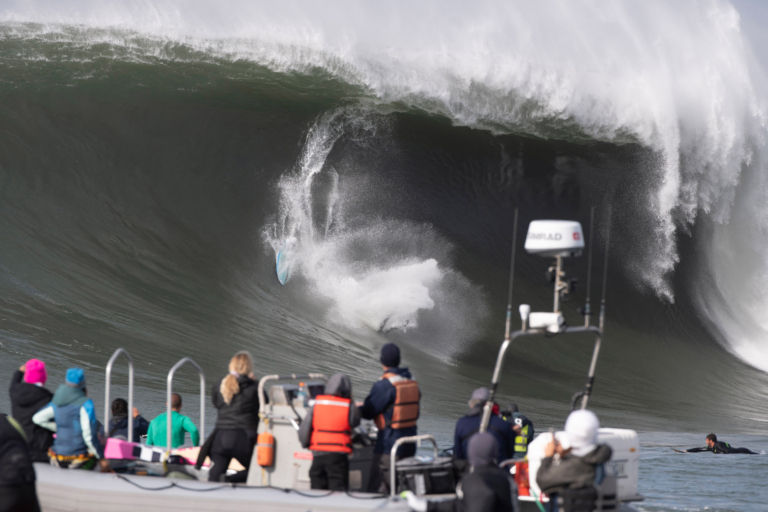 Frank Quirarte, who has been photographing the action at Mavs while simultaneously running water safety for decades, offers a nuanced perspective on rescues.
"We used to let a lot of surfers endure the wipeout and only go in to assist when we felt they truly needed help," Frank tells me. "But when things do go wrong in the water, they happen in a split second. Could you imagine if someone needed to be rescued and you were there with the resources to help but didn't act in time? In the end, we see the rescues as good training, so we are ready to help when someone's life might actually be on the line."
With the ever-growing popularity of the sport and the current rate at which it is continually being pushed, it is only a matter of time before the safety net fails. To address it, we need to look beyond the lineup to other culprits of influence like the WSL Big Wave Awards and contests where the line between progressive and dangerous surfing becomes more blurred each year.
"If you look back at some awards in years past, the 'Ride of the Year' winner was also nominated for 'Wipeout of the Year' for the same wave," Grant points out. "I'm not taking anything away from the surfers as the rides were no doubt spectacular, but I just don't see how one can also be the other. What kind of example is that setting?"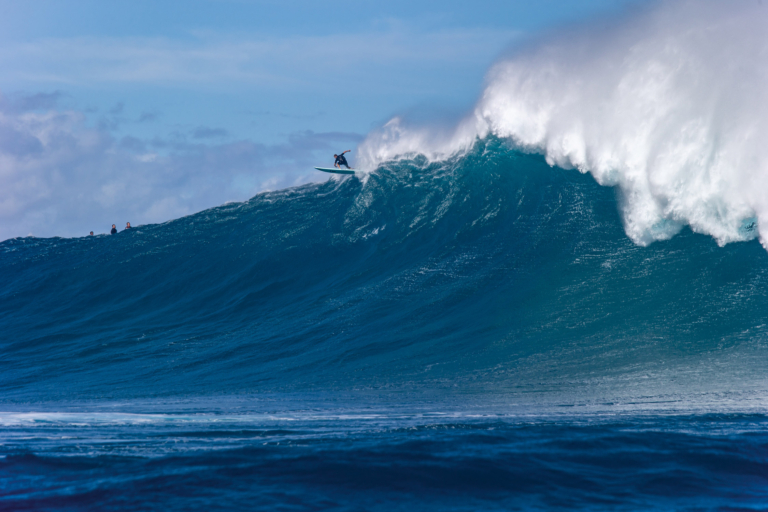 Ian Walsh, winner of the 2017 Big Wave Peʻahi Challenge and one of the most safety-minded surfers in the game, also worries that competitive big-wave surfing may be on a crash course for disaster if something doesn't change. He's recently called for reform in the judging criteria of big-wave events.
"We all choose our own waves and positioning, and most of us are at peace with the consequences that come with that," Ian says. "But the current criteria, no doubt, has influence over decision making when you're in a heat. If you look at how they have historically been judged, you will likely score higher for an unmakeable closeout barrel or a critical wave with no chance of being made than you will for a comparably sized wave that is successfully ridden to the channel." Recent big-wave events have resulted in a handful of concussions and more serious injuries.
"Adjusting the scoring criteria away from heavily rewarding unmakeable waves could help prevent this in the future," says Ian. "It wouldn't be unlike the NFL when they made helmet-to-helmet contact illegal. It adjusted how the game was played and ultimately protected the players from injury."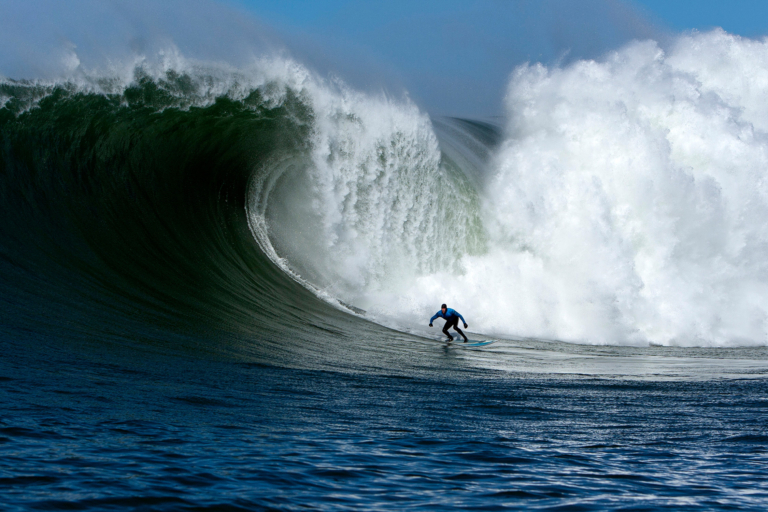 Results of systemic reform usually take time before they are witnessed, and the truth is, these competitions are but a microcosm within the world of big-wave surfing.
I believe the big-wave community has the intelligence to bring about the next level of change and improvement and ask, "What is the solution to tempering the exaggerated confidence and negative behaviors these safety advancements are fostering?"
According to Grant, simply speaking to those who exemplify the bad habits in the water is an easy start.
"Chances are, people who are surfing that way may not even realize they are doing it," he says. "They may be new to the break and simply not aware of how bad the wipeouts and consequences can be. Speaking up and sharing some local advice can go a long way."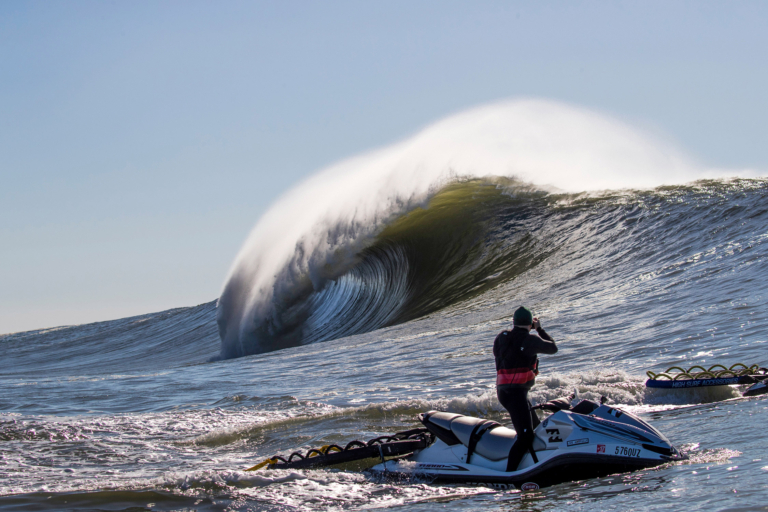 Frank agrees, "When we pick up surfers, we always make a point to remind them that we might not be there next time, and we won't shy away from having a longer conversation if we feel somebody is being a real hazard."
In the end, the majority of surfers are not out there to become famous or make money. They're surfing big waves to challenge themselves and experience the sense of thrill and accomplishment it brings. It will always be up to the individual to decide the level of risk he or she is willing to take when entering the water. I would, however, be very interested to see the changes in approach that might take place if, after we put on our inflation vests and expressed our gratitude to the water safety personnel for their presence, we asked ourselves, "How would I approach this session if I didn't have those two safety nets?"
May we let our honest answers help guide us through our future sessions.