Solutions Series, Part 7: Vote!
Annie Leonard
/
October 17, 2014
/
6 Min Read
/
Activism
On Tuesday, November 4, 2014, U.S. citizens will vote in the 2014 midterm elections. Patagonia supports candidates who will push hard for clean, renewable energy, restore clean water and air and turn away from risky, carbon-intensive fuels. We support leaders who will act on behalf of the future and the planet.
Voting is an action we can all take, the ballot a place we can all be heard.
In this installment of her Solutions Series, Annie Leonard, founder of The Story of Stuff Project, writes about the importance of voting, especially in the midterm elections where participation is disturbingly low.
"Good citizens take an interest in people and issues outside themselves. . . . They inform themselves. They volunteer. They listen. They take the long view. They vote."
–Massachusetts Gov. Deval Patrick
In 1990, I visited Haiti just after the country chose its first democratically elected president. In the streets of Port-au-Prince, Haitians proudly showed me their inked thumbs, marked as they entered the polls. They were so excited at being able to vote that two weeks later they hadn't washed off the ink.
Contrast that with the United States, where about 60 percent of those eligible vote in presidential elections. The midterm congressional elections in November draw about 40 percent. Compared to other countries such as Australia, Belgium or Chile, where 9 out of 10 voters turn out, that's pitiful.
Artwork (above): Besties by Todd Gilloon, part of our crowd-sourced poster project to get the vote out. A portion of the proceeds benefit the artists and HeadCount.
In this age of political gridlock and partisan mudslinging, it may seem futile to expect government to work for real solutions to our environmental, economic and social problems. But—after excellent citizen organizing—government gave us the Clean Air Act, the Safe Drinking Water Act and many other laws that have made our environment cleaner and safer. Government gave us national parks, wilderness areas and wild and scenic rivers.
Government is often slow, clunky and frustrating, but it remains a powerful vehicle for progress—if we get involved to make it so! The vehicle has been hijacked by corporate interests and paralyzed by partisan ideologues, but we can—and must—fight to reclaim it as an ally for advancing solutions.
Here are some essential things We The People can do to take back our government.
1. Vote.
Voting matters, which is why people around the world, from Hong Kong to the Amazon take to the streets to demand the right to vote. Leaders of the women's movement and the civil rights movement risked arrest, violence, even their lives, to expand voting rights to all U.S. citizens, and we owe it to them—and to future generations—to exercise this most basic right. It's frustrating to choose between two candidates if neither truly reflects our values. But remember that our votes are not full-on endorsements, but tactical steps to keep us moving in the right direction. Vote for the candidate who gets us closer to the goal, even if it's not as far as we'd like.
I join Patagonia in calling for us to Vote the Environment. A vote for pro-environmental candidates covers a lot of bases. As recording artist (and lifelong surfer) Jack Johnson says, a vote for a candidate who supports renewable energy is a vote for jobs and independence from oil imports, which is an investment in peace. A vote for candidates who will protect clean air and safe drinking water is a vote for public health.
If you aren't registered yet, Rock the Vote can get you signed up. HeadCount can help you recruit others at concerts and festivals around the country. We also need to protect the right to vote. Key provisions of the Voting Rights Act are under attack, and we have to fight back to protect this critical democratic right.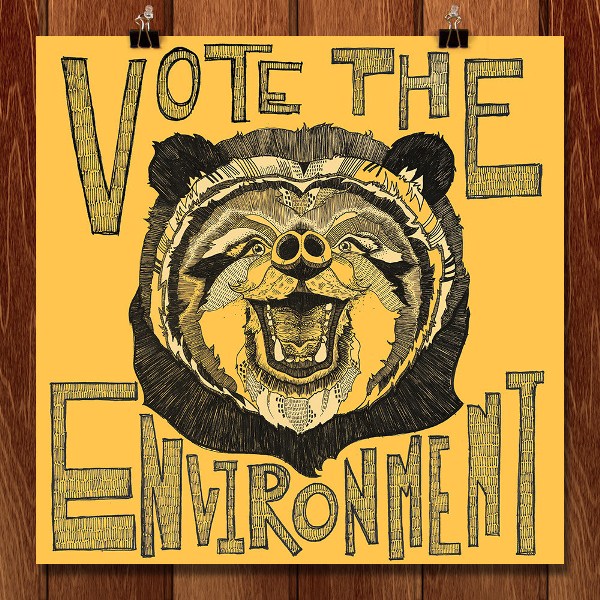 Artwork: Happy Bear by Anna Dulaney.
2. Make your voice heard.
A friend who worked in the White House told me that President Obama gets yelled at every day by people pushing for or against an issue, but almost never by people who care about the environment. Our movement is so silent, he said, that environmental concerns don't even register in decision-making. So let's turn the volume up and make sure our voices are heard. Write letters to your elected officials about issues important to you. Better yet, show up at a town hall meeting and ask them a question in public. If you're visiting City Hall, the state capital or Washington, D.C., request an appointment to tell elected officials in person what is important to you. Elected officials won't know what we want unless we tell them—loudly and frequently.

Artwork: Vote the Environment by Misia.
3. Keep an eye on your elected officials—and vote accordingly.
Remember, we're paying their salary. We wouldn't hire a carpenter or mechanic and not check on how they are doing. After we tell elected officials what we want, we have to monitor their voting records and reward or punish them accordingly at the polls.
There are many online resources that make it easy to track how elected officials vote and how much corporate money they're taking. The League of Conservation Voters publishes an annual guide grading members of Congress on the most important environmental issues. Most states also have their own conservation voters' groups. Oil Change International maintains a Dirty Money website that tracks how much fossil fuel money goes to elected officials.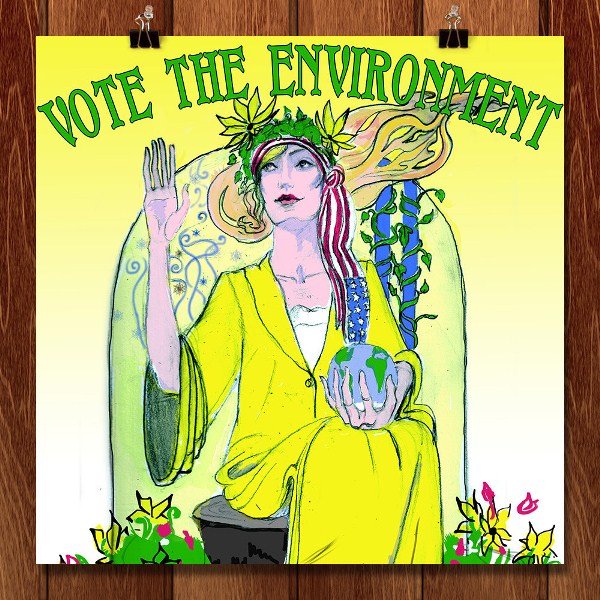 Artwork: Vote the Environment by Erika Pitcher.
4. Repeat. Repeat. Repeat.
Periodically, an inspiring, unconventional candidate excites and energizes millions of people who've never voted. Unfortunately, after their champion wins (or loses), many of those new voters return to the ranks of the apathetic. But the special interests we're up against are in it for the long run, so we have to stay with it also. We have to make voting, speaking out and being a watchdog a basic part of our daily routine—part of who we are.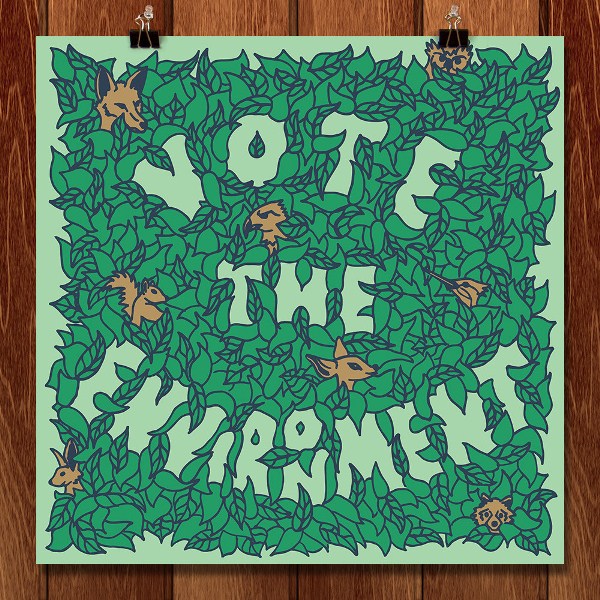 Artwork: Environmental Growth by Shane P Bowman.
5. Work for a return to true democracy.
Beyond voting, making our voices heard and monitoring officials' performance, there's still more we can do to get government working on the side of solutions. Our most important task is reducing the influence of money in politics. Recent Supreme Court decisions have opened the floodgates to unlimited campaign contributions from corporations and the One Percent, skewing the one person-one vote principle that's supposed to be the cornerstone of democracy. Fortunately, a host of groups are working to restore the balance. To get involved, check out Money Out-Voters In.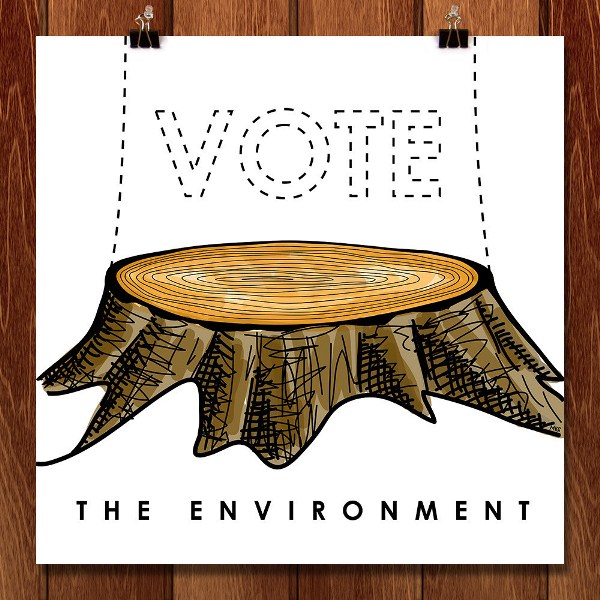 Artwork: Ghost Trees by Molly.
I have no illusions that it is going to be easy to get the government working for environmental and other solutions. In fact, I know it's hard, but it's not impossible and that sense of possibility gives me hope. Lots of things worth doing are hard—from climbing a mountain to running a responsible company; that never stopped us before. Every journey starts with the first step. So register to vote. Then take the next step, and then the next. Each step brings us closer to the solutions we, and our planet, urgently need.
Annie Leonard is the founder of the The Story of Stuff Project and the Executive Director of Greenpeace USA. She has dedicated nearly two decades of her life to investigating and reporting on environmental health and justice issues. Her podcast, The Good Stuff, features interviews with inspiring activists, entrepreneurs, scientists and others who've succeeded in making change.
Read the entire Solutions Series.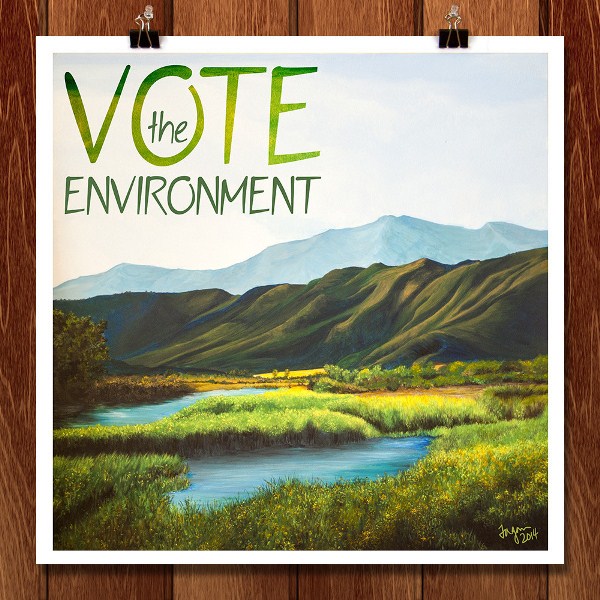 Join us. Get informed. Take the planet into the voting booth on Tuesday, November 4, 2014.
Artwork: Rose Valley Spring Bloom by Katie.