Save Our Wild Salmon Visits Patagonia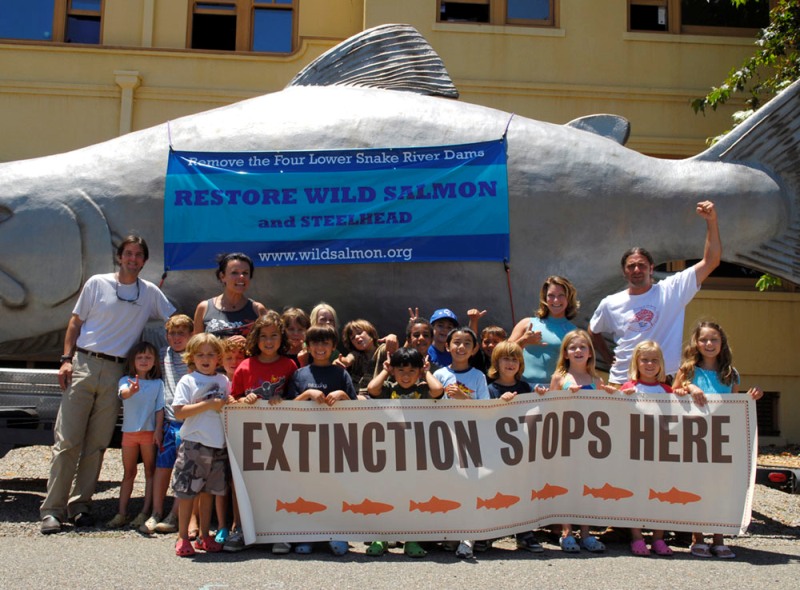 Brett Millar from Great Pacific Iron Works, sends us this report about some honored guests who visited recently:
Great Pacific Iron Works, the original headquarters for the retail division of Patagonia in Ventura, California had an extremely unusual visitor this past week. Save Our Wild Salmon and their "Extinction Stops Here" road show stopped by with a 25-foot-long metal and fiberglass salmon to raise awareness for endangered wild salmon and steelhead in the Pacific Northwest.

Save Our Wild Salmon is a nationwide coalition of conservation organizations, commercial and sport-fishing associations, businesses, river groups, and taxpayer advocates. This partnership was formed in order to help restore what used to be a thriving species of fish that, in the time of Lewis and Clark, numbered over 16 million within the Columbia and Snake River Basins alone. Today, as few as 10,000 salmon return to the Snake River each year. The main reason for this huge decrease in numbers is the various human-made dams blocking the travel of these magnificent creatures to their original spawning grounds. The group's present focus, and the reason for the five-state road tour with Fin the giant salmon, is campaigning for the partial removal of four dams on the lower Snake River in Idaho.
[Joseph Bogaard and Jeremy Nickel pose with some of the Patagonia kids. Photo: Brett Millar]
"This administration and its federal agencies continue to disregard thecultural and economic value of these fish and their importance to thepeople of the Northwest. If we're going to maintain fishing communitiesand economies, we need real political leadership to ensure long-termprotection and restoration of the rivers, streams and oceans where wildsalmon live and spawn," said Joseph Bogaard, Outreach Director for SaveOur Wild Salmon.

Joseph, along with his traveling partner Jeremy Nickel, have beendriving down the Pacific coast for over three weeks informing thepublic on their way about the plight of our nation's fish populations.Those who stopped by to see this gigantic fish — it was made by asmall number of artists up in San Francisco about 20 years ago — couldsign a petition and/or send a postcard urging political leaders toensure that the federal government meets its responsibility to restorethese once wild and scenic places where fish used to thrive.

Extinction Stops Here is project of Save Our Wild Salmon, with supportfrom American Whitewater, Association of Northwest Steelheaders,Clackacraft, Federation of Fly Fishers, Northwest Energy Coalition,North Olympic Salmon Coalition, Pacific Coast Federation of Fishermen'sAssociations, Patagonia, Sierra Club, Salmon Protection and WatershedNetwork, Trout Unlimited, and United Anglers of California.

To learn more about Save Our Wild Salmon's trip down the coast, visit their Web site: www.wildsalmon.org

Brett Millar
Patagonia's G.P.I.W.
Environmental Grants Coordinator
[YC contemplates the size fly it would take to land a 25-foot salmon; Looking out Fin's mouth at Save Our Wild Salmon's information table; A beautiful mural is painted on the inside of the fish; Anthony (I.T.) and his son Anthony Jr. walk inside the belly of the not-so-beastly Fin. All photos by Brett Millar]