Chuitna Mine Is Endangering Salmon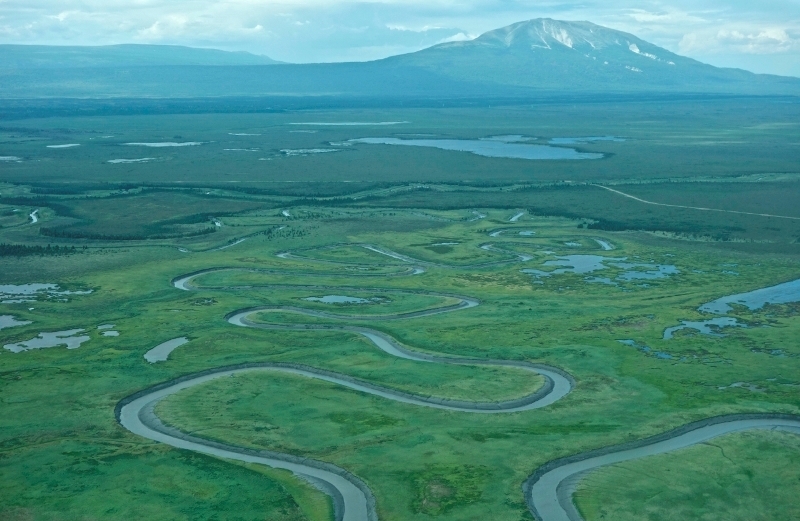 Peering out the window of the plane, I took a deep breath and tried to soak it all in. The sun was glistening on the expansive mudflats, casting a bright glow over the pristine landscape. To the west, the Alaska Range was commandeering the sky, its snowcapped peaks piercing the clouds. Everywhere the eye could see, serpentine rivers were snaking through the flats on their journey to the Cook Inlet. And though too small to be seen from the sky, the rivers were teeming with salmon, beckoning me to immerse myself in these pure waters and pursue that heart-stopping tug.
It's hard to fathom a place so raw, so barren, and so untouched. But it's even harder to acknowledge the disturbing reality that this landscape is endangered and could soon become an industrial wasteland if the proposed Chuitna coal strip mine is given a green light.
[Above: View from the plane of the pristine Chuitna watershed. All photos by Paul Moinester]
If you're reading this then you're likely familiar with the proposed Pebble Mine, an enormously controversial copper and gold mine in Alaska's Bristol Bay. But chances are you haven't heard of the proposed Chuitna Mine, which is a problem. Like Pebble, Chuitna is a proposed massive extractive resource project that, if permitted, will have a devastating effect on Alaska's wild salmon stocks. But unlike Pebble, few people outside of Alaska have ever heard of the Chuitna Mine. I was blissfully unaware of its existence until I met Sam Weis.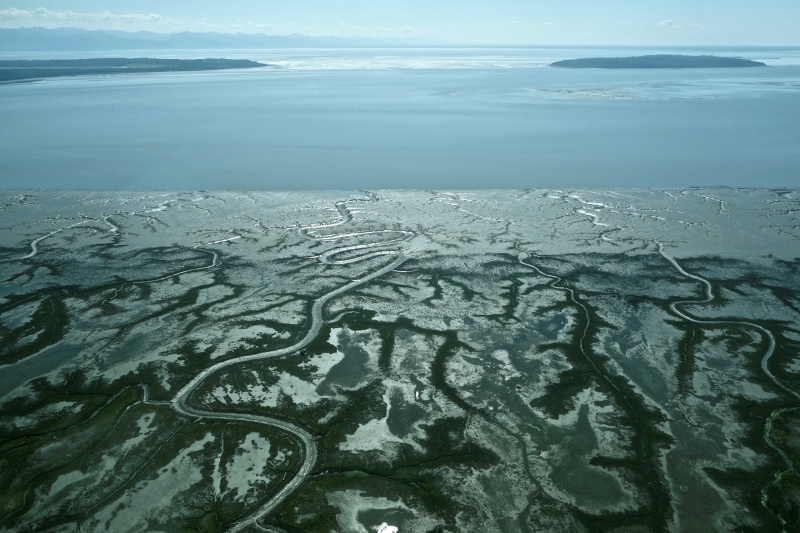 Sam is the Communications Director for Alaskans First, a coalition of diverse groups and concerned residents fighting to protect Alaska's way of life from six proposed coal mining projects. A native Wisconsinite and avid fly fisherman, Sam felt the irresistible call of Alaska and moved to Anchorage earlier this year to fight for the preservation of wild salmon (and to fish of course). Fittingly, I met Sam at an event titled, "Eat Salmon. Save Salmon."
Halfway through explaining my project to him, Sam interrupted and asked if I had heard of the Chuitna Mine project. When I told him I hadn't, he immediately pulled out his calendar and asked when I could fly out to a remote Alaskan wilderness to visit the proposed mine site. He sweetened the deal by promising we could spend a few hours chasing silver salmon fresh from the ocean. How could I say no to that?
A week later, we were crammed into the back of a Cessna Skywagon bound for the tiny town of Beluga. Only a forty-minute flight west of Anchorage, Beluga is emblematic of what springs to mind when you imagine a remote Alaskan outpost. It has 17-21 fulltime residents – the variance is due to one family that sometimes flies south for the winter. The town's runway is a gravel road that doubles as Main Street. The post office is a converted cargo container with a dozen or so mailboxes tacked to the side.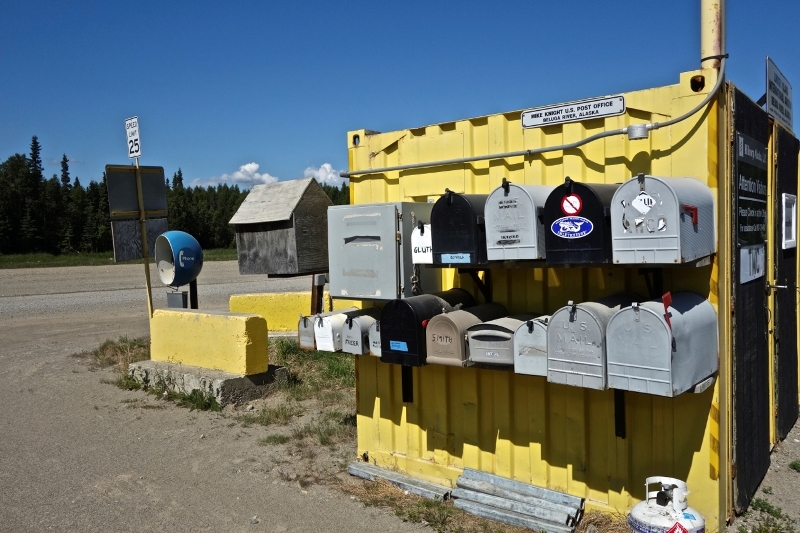 We were met at the "airport" by Terry Jorgensen, a commercial setnet fisherman. We tossed our gear into the back of his old, beat-up pickup truck, bounced along the bumpy roads to the coast, hopped on ATVs, and raced down the rocky shoreline to his fishing spot. With the rhythmic sound of waves crashing in the background, Terry exhaustively detailed the plans for the proposed project. As I listened to detail after excruciating detail, I struggled to understand how this horrific project has flown under the national conservation radar for so long.
Chuitna is unprecedented in both its size and blatant environmental disregard. The scope of the coal mine is unmatched anywhere in Alaska. If approved, it would be the state's largest coal strip mine. It's also the first coal project in Alaska to have the audacity to propose mining directly through a salmon stream. The plan is to completely remove 11 miles of streambed and more than 300 feet of underlying soil and rock strata.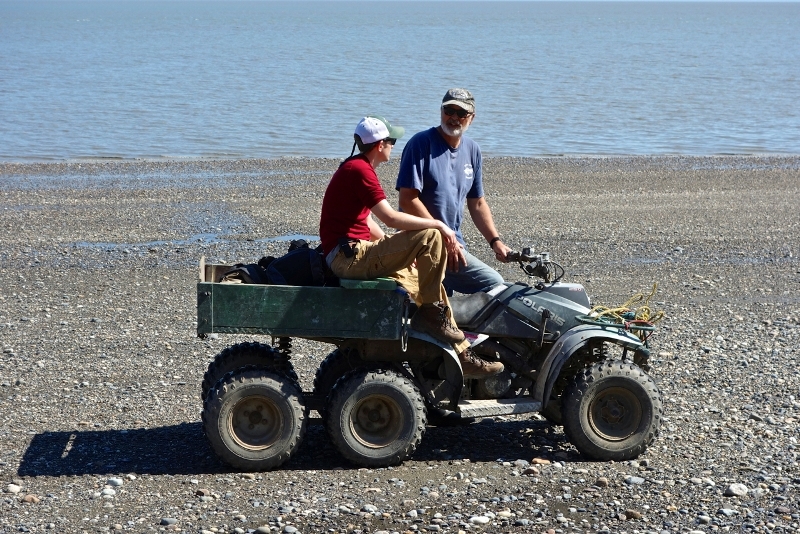 That's not conjecture of potential impacts. The company behind the project fully acknowledges it will remove 11 miles of prolific salmon stream. The threatened 11-mile stretch is called Middle Creek and produces roughly 20 percent of the silver salmon for the entire Chuitna River system. It has been labeled by the Alaska Department of Fish and Game as critical habitat. It would vanish if the project were approved.
To make matters worse, the streams not directly plowed through by the project will be inundated daily with millions of gallons of groundwater from the mine pit. This daily deluge will disrupt natural stream flows and alter the rivers' sedimentation, making this prime ecosystem less inhabitable for egg rearing. Moreover, it would destroy thousands of acres of pristine wetlands and forest that are important habitat for bear, moose, upland birds, and waterfowl.
The impact of the mine would be felt miles beyond the proposed site courtesy of an 8-mile conveyor belt that stretches into Cook Inlet. This nasty tentacle of infrastructure would deliver millions of pounds of coal to a large manmade island that will store it until enormous vessels pull up to the two-mile dock, get loaded up with coal, and head across the Pacific to Asia. This intense infrastructure network would fundamentally alter the seascape, disrupting the migration of salmon and, according to Terry, put him and all of his fellow commercial fishermen out of business.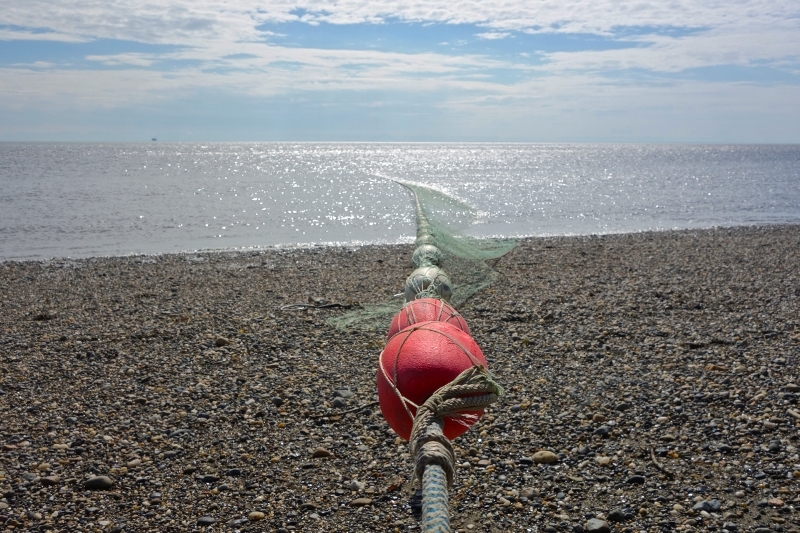 The scariest part is that everything I have described is just Phase One. If approved, Chuitna would open the floodgates for the company to expand their project and for other companies to start exercising their claims on the coal-laden watershed. The initial plan impacts 15 square miles of the watershed. Phases Two and Three would increase the footprint to over 32 square miles. And another coal company would likely exercise their claim to an additional 17,686 acres of leases, bringing the grand total to 60 square miles of destruction.
Needing a pick-me-up after Terry's depressing depiction, Sam and I headed to the mouth of the Chuitna to set up camp and fish for a few hours. Our timing with the tides was not ideal, and we only managed to sneak in an hour of fishing before slack tide hit and the fishing died down. We were able to elicit a few aggressive follows from some chromers but no takes. While we yearned to feel that magical, powerful tug, we didn't need to hook into any silvers to appreciate the magnificence of this resource.
The following morning we gobbled down a quick breakfast of camp stove oatmeal and rushed out to see Terry's haul from the morning. As we pulled up, he was laying out the five species of Pacific salmon he had caught that morning – King, Sockeye, Silver, Chum, and Pink. There are only a handful of places left in the world with strong wild salmon runs. There are even fewer that receive prolific runs of all five Pacific species. And hardly any spots left where you can catch all five species in one day. The Chuitna watershed is one of them – it's the rarest of rarities.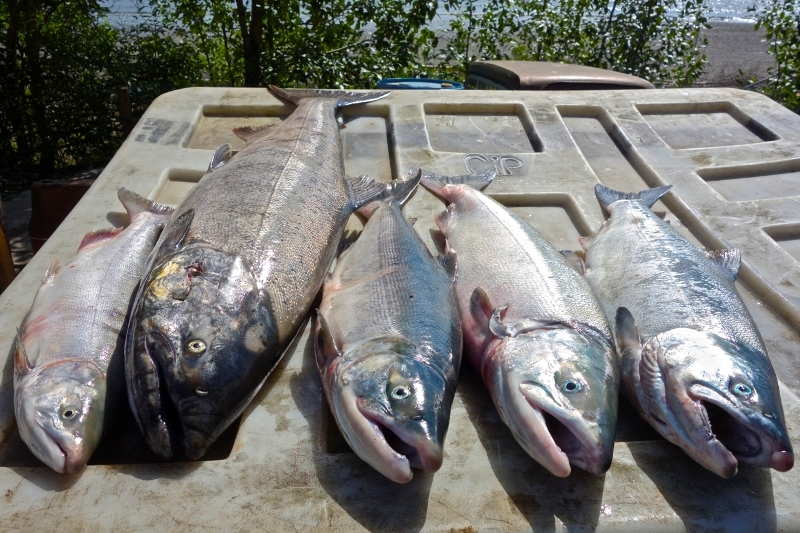 Yet this rare gem is staring down the barrel of destruction. And for what? The carbon buried deep beneath the Chuitna watershed is the lowest grade coal on the planet. It's of such poor quality that no market exists for it in the United States. Every pound pulled out from beneath a salmon stream is bound for Asia. And it's all done at a huge cost to Alaskans.
A study released by the Center for Sustainable Economy concluded that for every $1 of economic output the project would create, there would be $5.84 of economic losses. So for every $1 generated by things like taxes, royalties, and job creation, there is nearly $6 of economic losses in the form of environmental damage, reclamation costs, and lost economic opportunity. And that's just the economic losses. These lopsided figures don't even include the incalculable cost of losing irreplaceable resources like some of the last vestiges of wild salmon and pristine wilderness.
As we bade farewell to Terry, he left us with one last unnerving statement: "The only reason Alaska is the last viable commercial salmon fishery is because it was the last to be discovered." Those are stark words coming from a guy who is a student of the global salmon industry and whose livelihood is tied to the health of Alaska's salmon fishery.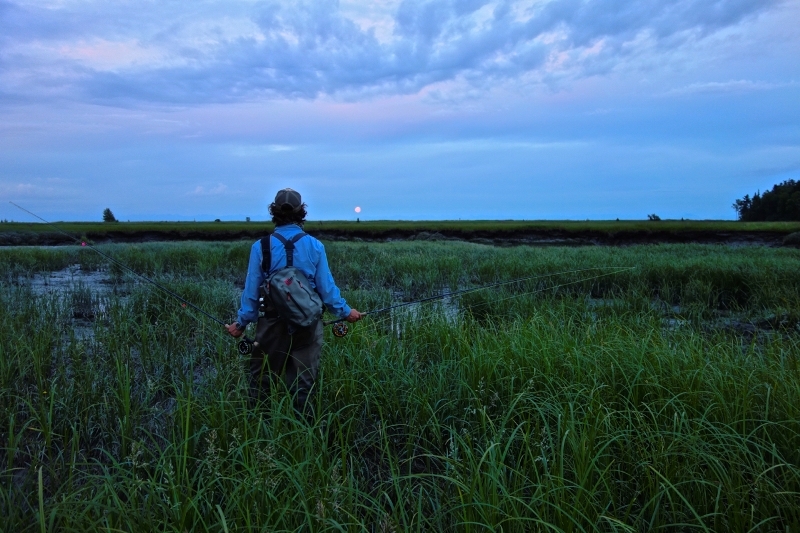 Rather than viewing that statement as a depressing inevitability, we need to see it as an opportunity and as a challenge. It's easy to analyze the state of Alaska's salmon fisheries and think Terry's grave words are coming to fruition. Across the Last Frontier, projects like Pebble and Chuitna are on the table and if approved, they would irrevocably harm some of the world's best remaining salmon runs.
But concerned Alaskans, commercial fishermen, and committed outdoorsmen possess the ability to stem the tidal wave of extractive resource destruction. Anglo American's recent announcement to withdraw their 50 percent ownership stake in Pebble Mine, a significant blow to this horrendous project, is proof positive of our communal power.
That announcement sent a loud and clear message that our collective voices and actions are a force to be reckoned with. It proved that the influence of multi-billion dollar industrial giants can be squelched by the concerns of the people. And it most certainly put the company behind this project on notice. It's time they feel the pain of our collective power. The fate of one of the last great salmon fisheries depends on it.
This story originally appeared on the Orvis blog.