Chasing Charlie
Kennan Harvey
/
August 30, 2022
/
8 Min Read
/
Climbing
Charlie Fowler was a world-class alpinist; what did he find out in Colorado's Wild, Wild West climbing area that kept him coming back?
"Rooted deep in the nature of every one of us is the spirit of adventure, the call of the wild—vibrating under all our actions, making life deeper and higher and nobler."
Ka-pow!
Midway through a relaxing lunch break, my companions Eric Malone and his son Charlie both jump out of their camp chairs and point. "That came from behind those boulders!"
We hear a second unmistakable crack from a large-caliber rifle echoing across the yellow desert. A plume of dust explodes off a sandstone boulder at the base of the Atomic Energy Crag, right above the trail we were planning to take after lunch. Alerted to our presence, the hunters quickly split, never realizing there was also a couple mid-climb at the crag hoping they were not the intended prey. Talk about blowing the objective hazard assessment! According to our aptly named out-of-print guidebook, we were neck deep in the Wild, Wild West.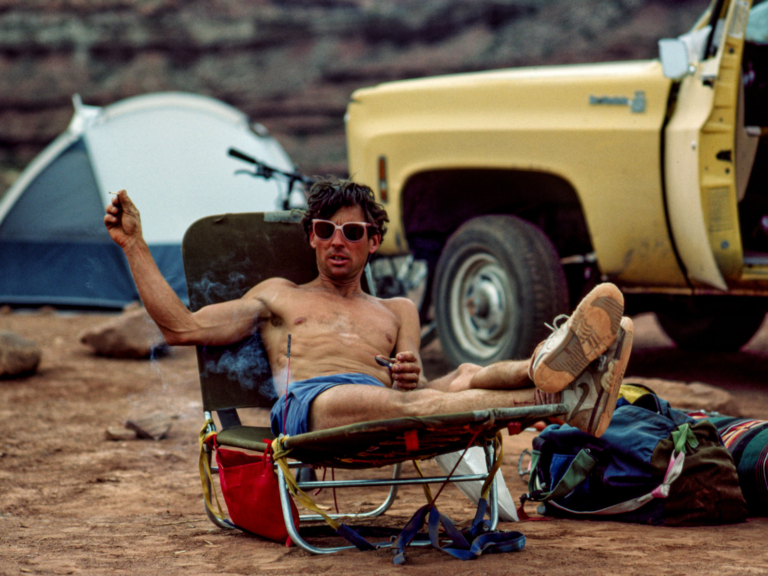 Published in 2003, Wild, Wild West is a guidebook to Colorado's western slope and was cowritten by Charlie Fowler (not to be mistaken with Eric's son Charlie, whom I'll refer to as YC, or Young Charlie, for clarity) while he was living in nearby Norwood. As one of the most accomplished all-around climbers of his generation, Charlie initially came to Colorado for a backyard winter training ground for alpinism, but soon elevated his motivations. "Surrounded by a mythic history and ancient culture, the American southwest remains wild and remote, free from excessive rules and regulations and prime for exploration and adventure," he wrote in Alpinist 20. "'Freedom of the Hills' is not a cliché," he continues. "It's my credo."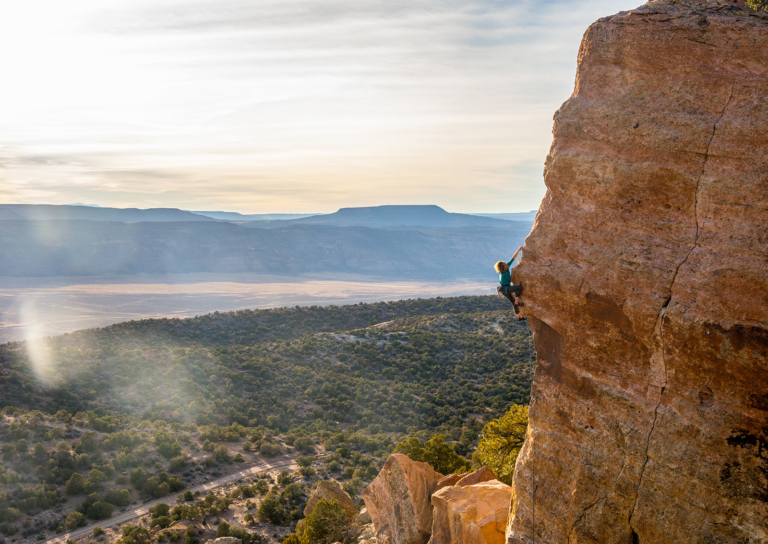 Surrounded by a region known for challenging ranching and boom-and-bust mining, the climbing area described in Wild, Wild West roughly follows the Dolores River as it flows north through striking red canyons close to the Utah border. Part of the Colorado Plateau, this region includes the most exposed bedrock of anywhere in the world, enough for a lifetime of unscripted climbing—assuming that dusty, bumpy gravel roads leading to flaky, grainy cliffs are acceptable destinations.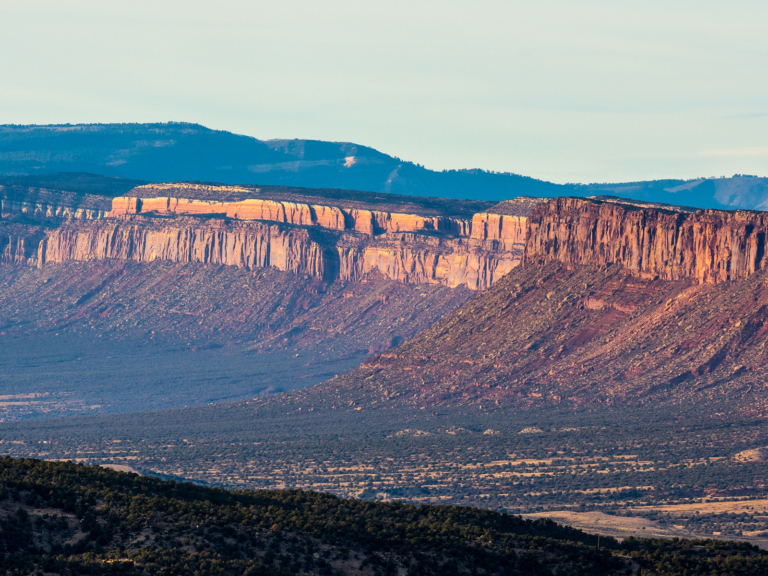 This was certainly acceptable to Eric and YC, even if their lunch was interrupted by gunfire. Eric had just quit his career, built out a pickup camper and was climbing a lot. YC had recently graduated college and had spent the past year and a half on a climbing road trip. In contrast to his dad, he had just rented his first house while pondering his own career path beyond climbing full-time. Longtime friends from Durango, the three of us arrived seeking to repeat and appreciate Charlie's legacy of ample backyard routes.
Although this cluster of climbing crags was collectively created by Charlie and a handful of his close friends, he seemed the most consistently motivated throughout the area's 15-year development period. Like a conductor guiding an orchestra, Charlie's best routes are a part of his lifetime opus and quite worthy of chasing.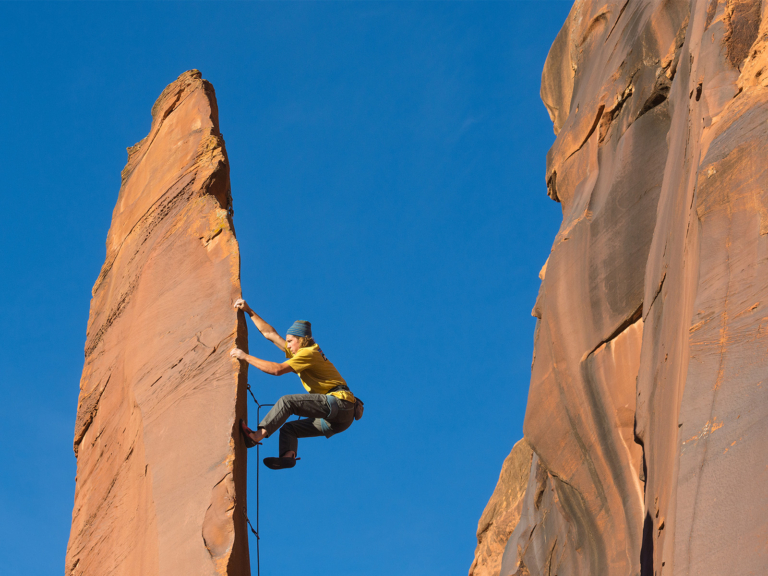 The morning before arriving at Atomic Energy I had introduced YC to two Fowler classics at nearby crags, which were still amazingly vivid to me a decade after my own ascents. Traditionally, older mentors share their experience with younger mentees, but YC and his competitive climbing background proved that climbing gyms and youth programs have upended this age-based relationship. Eric and I joked that we were now the lost generation as we watched YC easily outclimb both of us. At Sewemup Mesa, YC laybacked the knife-like sandstone flake of Charlie's Angel with dogged determination to onsight, his fingers frozen from the lingering fall chill and no warmup. At the River Road Crag, he pulled through overhanging sandy huecos, grinning through dust-filled eyes as he cleaned each hold just enough to spot the next bolt.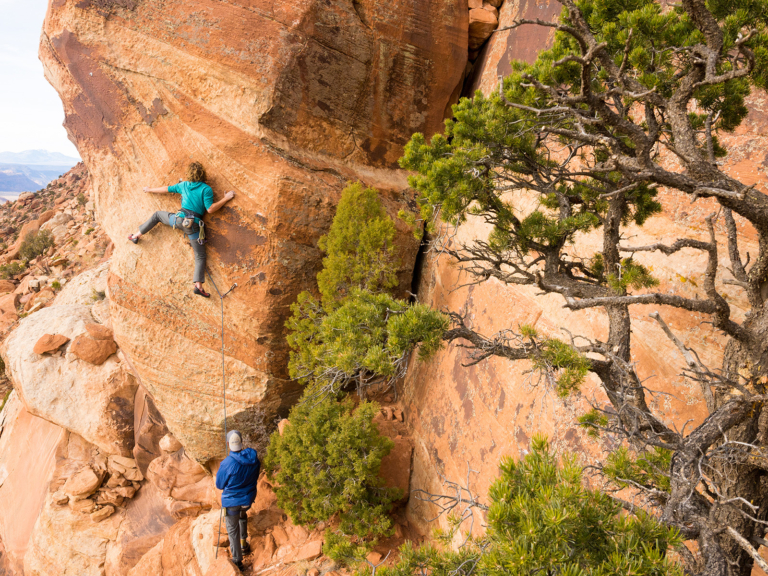 The next morning, we hiked down from the Atomic Energy Crag to the top of Little Red Rocks, inadvertently discovering the same petroglyph panel of triangular figures that was on the back of our guidebook. Here, YC quickly adapted to the subtle footwork needed to move past the wind eroded ripples of desert patina. Eric and I grinned at the idea of a "Charlie sandwich," with sage alpine wisdom from climbing's history resonating through Charlie's routes and the pure strength and technical ability of climbing's future flowing through YC. Both are key aspects, according to the famed Arctic explorer and Nobel Peace Prize laureate Fridtjof Nansen, for "making life deeper and higher and nobler."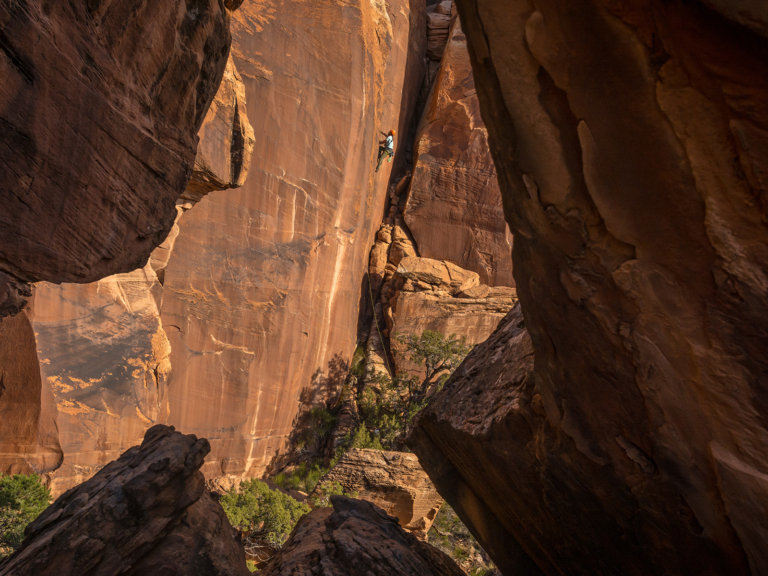 Charlie was classically handsome and had a charming tangy drawl from westernized Appalachia. He radiated an accommodating confidence gained though climbing nearly 365 days a year for over 30 years. He climbed more routes annually than many complete in a lifetime. The world first took notice when he started free soloing long routes near the top of the difficulty standard. In '77 he soloed the insecure Direct Northwest Buttress in Yosemite. The next summer he soloed a 5.10 route on the Diamond for the second ascent, calling it "casual," an offhand comment that became the route's name. His life was performance art, unscripted and relevant mostly to himself.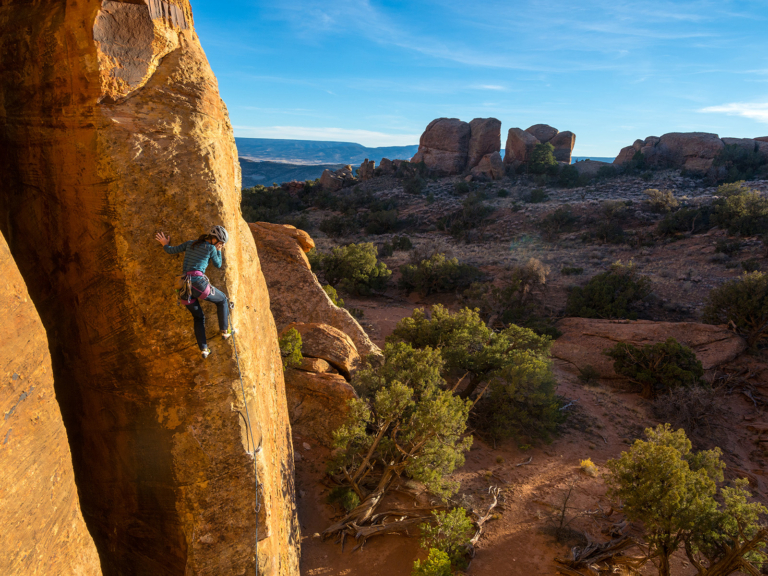 Charlie made his living as an independent guide, photographer, writer and movie rigger, but funds were always tight. Visitors warmed their hands over the cookstove in his Norwood home because he wouldn't pay to run the furnace. His gear was thrifted and scrounged; for a portaledge, he used a lounge chair rewoven with 1-inch webbing.
Full-time climbers were called dirt bags in those days, which basically meant food, clothing and lodging were secondary, superfluous to ambition. Charlie was so caught up in climbing that he gave little thought to sustenance but had an uncanny knack for showing up at mealtimes. Eric remembers taking an AMGA guide course from him in Yosemite and come sundown they were all hanging out together in the campground. All who knew Charlie love reciting the familiar dialogue: "Charlie, want a beer?" "Sure …" "Want some leftovers?" "Sure …"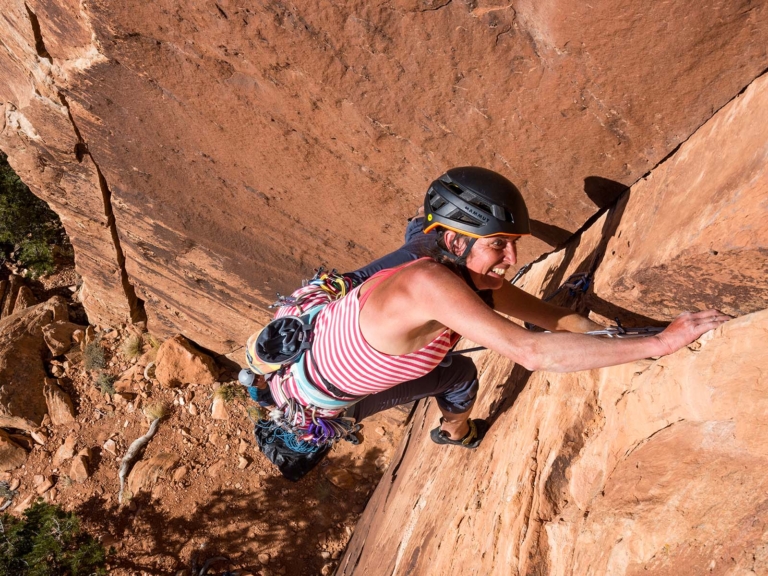 Charlie was a rarity, a climbing hero you could actually meet and then become even more enamored with. He just loved climbing wherever and with whomever. "I climbed with him for months before I even knew his last name!" Damon Johnston says, who coauthored Wild, Wild West with Charlie. "He was always down for going out. Rain, shine, blustery … it did not matter. Never a complaint. We just climbed. The effort was the goal."
Doug Berry, who climbed regularly with Charlie in the '90s, reflects, "Charlie set the precedent. He could simply tie a rope around his waist and go up. Nothing stopped him, nothing fazed him."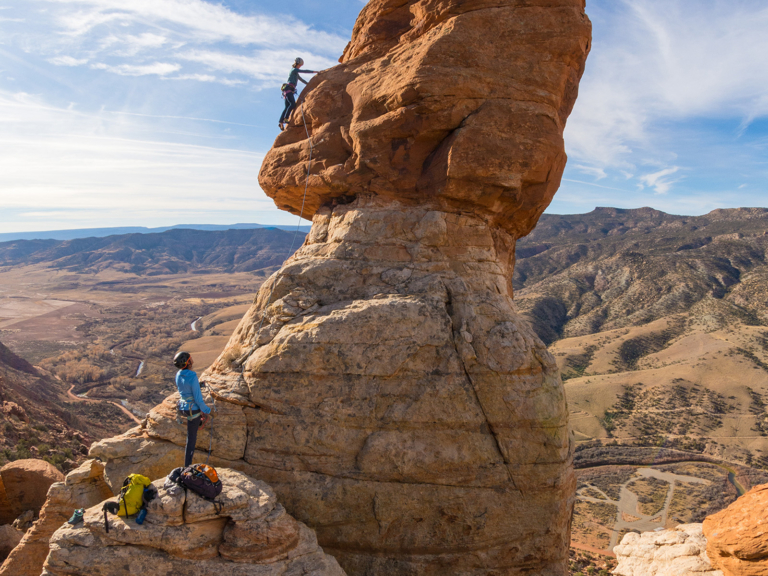 Charlie loved puzzles and word games, and to him, climbing was the biggest puzzle and the ultimate game. Stormy weather, stuck in the airport, no problem; adventure was a process, not an end point. When he broke his leg, lost toes to frostbite or fell 400 feet down the North Chimney below the Diamond—after he was hit by a slab of snow accidentally kicked off by his partner Alex Lowe—this was also just a part of climbing. "If you're gonna fall off, better land in a big pile of snow," he'd say.
Unfortunately, this single-minded passion for the unknown was not without consequence, and Charlie's magnificent life was sadly cut short by an avalanche in 2006 while climbing in western China with his partner Chris Boskoff. But before then, Charlie was available to all and mentored many. His lasting legacy is what he gave back to his climbing companions and the community at large. He helped start climbing programs at Telluride and Norwood high schools and guided countless folks to peak experiences.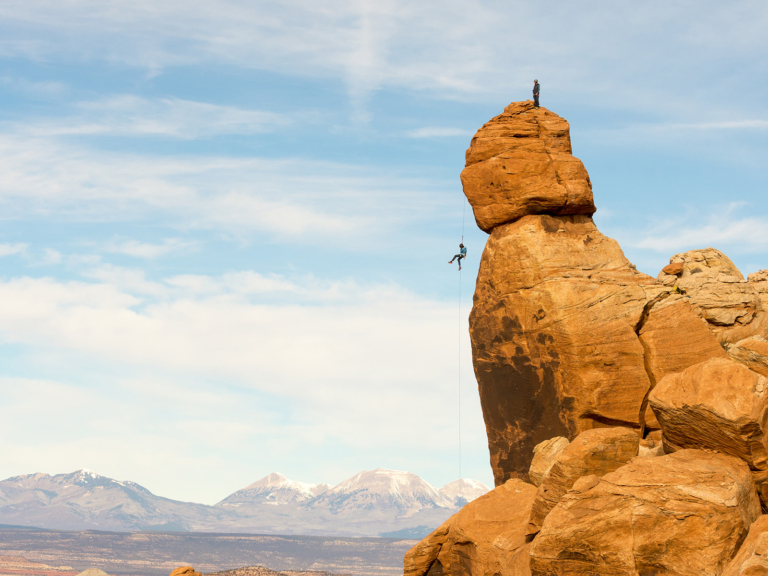 "Charlie had a 'the more the merrier' mandate," recalls Daiva Chesonis, a frequent climbing partner of his. "I sure miss picking up that creaky-voiced, craggy-toothed guy at his house in Norwood en route to the Wild, Wild West."
Every time I return to climb his routes on this warm desert sandstone, porous enough that you don't need chalk (if you find tick-marks unappealing like I do), his spirit feels strong. And stronger still around the campfire, its flickering, smoky warmth perfect for illuminating tall tales. Smiling, I turn to YC and reinforce the dirt bagger's lore: "Charlie, want a beer?"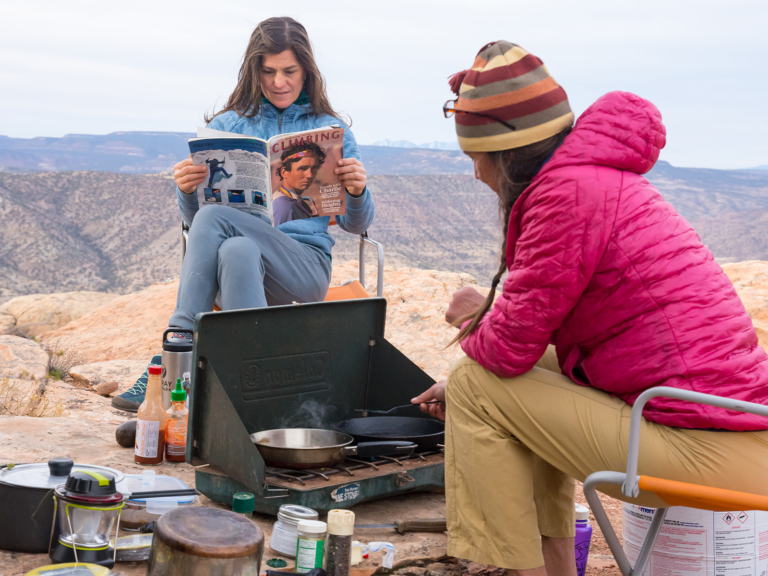 After Eric and YC return home, I spend an hour driving a maze of dirt roads, designated by letters and numbers only locals memorize to meet other friends, Danika Gilbert and Annie Quathamer. We watch the sunset from the cliff-edged campsite perched above the 16Z climbing area, named simply by its access road.
Annie reads out loud from the '93 Climbing article "Travels with Charlie" while Danika and I prep supper. After recounting a lifetime of global escapades, Annie closes the magazine and we admire the crescent moon hovering over the Abajo Mountains in the fading western twilight. "If Charlie spent time here after so many grand expeditions, then I can't wait to check it out tomorrow," Annie whispers.

Following an idyllic fall cragging day the next morning, we drive more lettered and numbered roads to the base of Psycho Tower, arguably the best 5.9 desert tower in the Southwest. The three-pitch Psycho-Path route wraps around three sides of this slender spire, with a wildly exposed tiptoe traverse inches above the lip of a 20-foot horizontal overhang on the second pitch. Setting up to record Annie's descent, I realize I am positioned exactly to recreate Wild, Wild West's cover image. Around these parts, we are all chasing Charlie.

Later that afternoon, I drive east and away from the Dolores River and a part of Charlie's legacy. In 2019, two neighboring 13,000-foot unnamed peaks in the San Juans became Fowler Peak and Boskoff Peak—a 10-year effort which required an act of Congress. Looking in my rear-view mirror through a lingering plume of desert dust kicked up by my tires, I recognize Fowler Peak for the first time. Forever humble in life, Charlie Fowler's spirit is now appropriately perched on a magnificent summit, keeping watch over his favorite backyard crag.