Beyond and Back: Indian Creek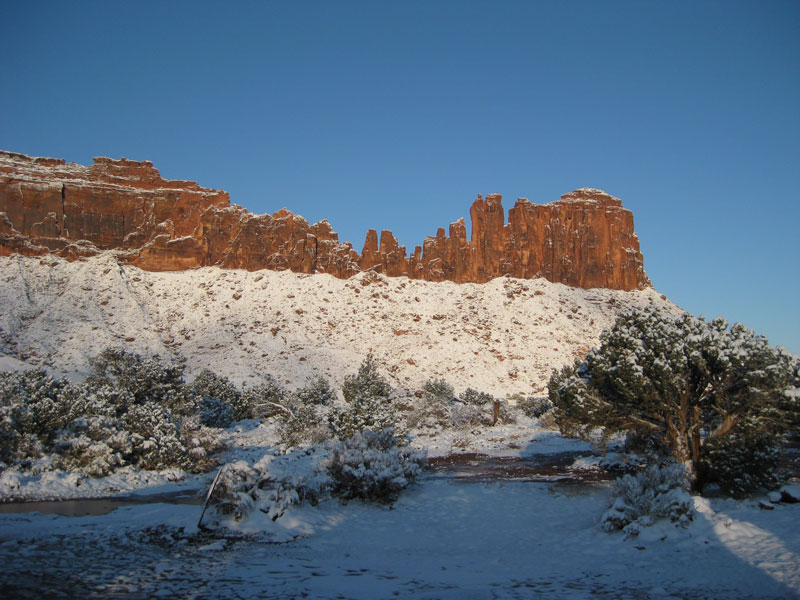 I've dreamt of Indian Creek for years but had never made the voyage. Now I had an excuse. The Patagonia Design Offsite was to be in Utah this month and I wanted to attend. This would be my first trip to Moab and Indian Creek. I picked up my friend Bill Beckwith in San Francisco. The drive to Indian Creek was supposed to be around 15 hours. For us it took 24. We're idiots, I know. Lots of music, lots of talking, long stretches of silence. We got lost.
Bill and I often climb like wussies. Instead of going for it, we'll just yell, "Take!" and hang for a bit before moving on. But this time we made a deal. Every "take" costs you $5. This could get costly therefore forcing us to climb like real men.
[The Bridger Jacks after the storm. Indian Creek. Photo: Jeff Johnson]
It was Saturday. We woke up in my van at the base of Battle of the Bulge Buttress. Dark clouds engulfed red sandstone cliffs, intermittent snow flurries, buzzards soaring above, cold, not a soul around. My first lead at Indian Creek. I'm only half way through the pitch and I'm out of red Camalots – it's the same size all the way. I've heard about this. I was pumped out. I almost said the dreaded word. Was it worth five bucks? Should I just run it out? If I do, I could deck. I looked down and Bill was smiling, dollar signs twinkling in his eyes.
"Out of gear, huh?" he said.
My last red Camalot was at my waist. "I'm off!" I yelled, "Falling!"
Bill caught me.
"What the Hell was that?" Bill said.
"I fell."
"No you didn't."
"Yes I did."
This set the tone for the rest of our climbs – fake falls with pro at our waists in order to save five bucks.
We spent the second night in my van at the base of the Bridger Jacks. There was rain, then snow, lightning and thunder ripping through the valley, lighting up the inside of the van. We woke to clear blue skies and four inches of fresh snow. Two pitches up on Vision Quest I had my stomach in my throat as I shimmied through the beginning of a sandy, run-out, off-width. I remembered someone telling me that it's sketchy to climb sandstone after a storm. Damn it, I said to myself as I down-climbed to my last piece.
"Take!" I yelled.
I must have run my bill up to 50 bucks as I down-climbed to the belay. We rapped. I was dipping in to next month's rent.
Cragging that afternoon I coaxed Bill into getting on something harder so I could get some of my money back. I found one where it looked like the last move was the crux – he'd be pumped by then. Bill cruised the first two-thirds like it was fourth class. My spirits were drained. At the crux he put in his last finger-sized piece, lying back toward the anchor. Then he froze.
"Ahh," I said laughing.
"Shut up,' Bill said.
After shuffling his feet, and franticly rearranging his hands, I asked, "What are you gonna do now?"
Bill looked down to me with anger in his eyes, "JUST F—ING TAKE YOU BASTARD!"
"Cha-ching!" I yelled. "Thanks Bill!"
I still had a ways to go to get all my money back.
Next day. Lightning Bolt Cracks on the North Six Shooter tower. Bill and I sit in our harnesses at a hanging belay at the edge of a roof – our legs dangling in space. Sunny and cold, not a breath of wind, not a cloud in the sky. I'd never heard the world so silent. Even our voices sounded strange. We sat there for a second not talking. The desert floor was speckled with snow, red sandstone cliffs in the distance framed by a hard, cobalt blue sky. I heard the pitter-patter of feet coming from the desert floor. Some kind of animal, possibly a coyote, trotting on rock and dirt. I could hear it but not see it. It was my lead.
"Put in a Cam as soon as you can," Bill said with a serious tone. "Our anchor is behind this sandy chalkstone."
Footholds broke at my feet as I pulled over the roof and shoved my body into the squeeze chimney near the summit. Fallowing my lead Bill yelled up to me.
"There's a cow's skull in the back of the chimney, just staring at me!"
I can't believe someone would actually take the time to put a cow skull up here in the chimney. Genius, I thought. The desert scares me.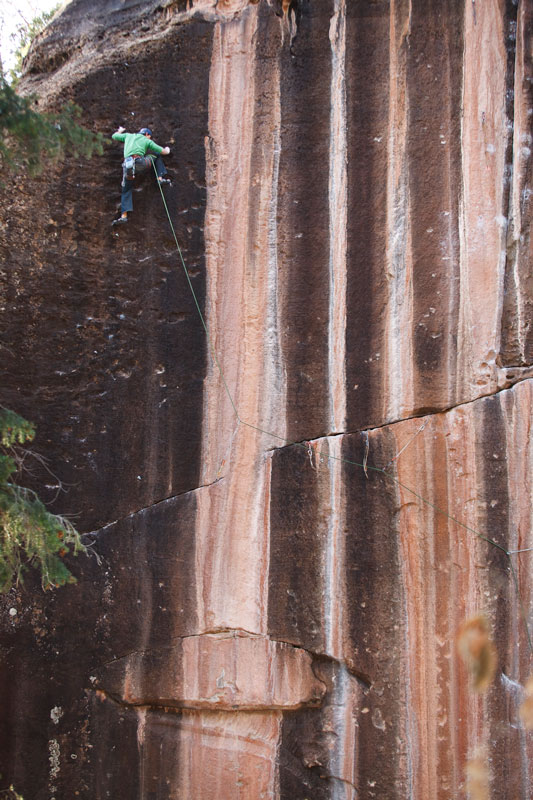 [The design offsite was attended by Patagonia designers and ambassadors alike. One afternoon I shot photos of Sonnie Trotter climbing at Mill Creek. Sonnie likes to find difficult bolted cracks that can possibly be climbed on natural gear. They are really rare – bolts next to thin, insipient cracks. Here's a gem he found at Mill Creek called Prosthetics, which when done on natural gear turned out to be 5.13d R/X. He said the crux is 13d, about 10 feet past the last piece of gear. Near the top there is a good possibility of a ground fall. But Sonnie said it's only like 12d at that point so he's not likely to fall there. Photo: Jeff Johnson]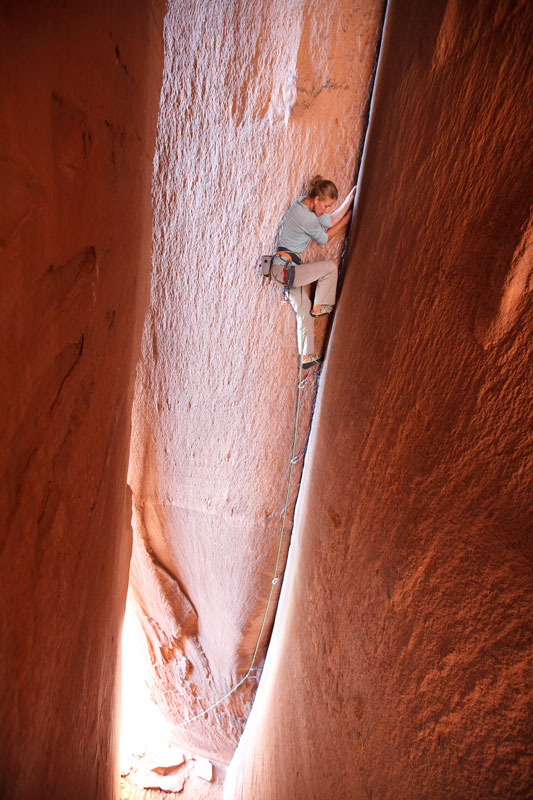 [Kate Rutherford on the "Cave Route." Indian Creek. Photo: Jeff Johnson]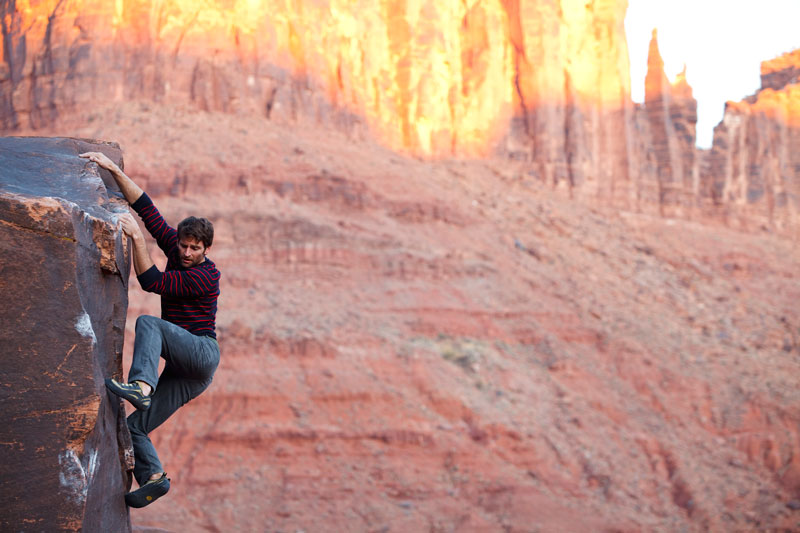 [Kristo Torgersen – Patagonia's ambassador liaison and grassroots event coordinator – bouldering at Big Bend. Photo: Jeff Johnson]
Jeff Johnson is a writer, photographer, climber and surfer. Today's post is the latest in his ongoing series Beyond and Back. Look for Jeff on the big screen this spring in Woodshed Films' new movie 180° South. His latest book of the same name is also coming soon.