All Better Now? The Refugio Oil Spill, Three Months On
With ancestor chants evoking the original stewards of these shores, Chris Malloy, the Farm League crew and I put together a video short to comment on the Refugio Oil Spill. I did a voice-over at Todd Hannigan's amazing recording studio based on some lines I wrote, but after a nip from the flask to loosen my chords, I went a little Kerouac and riffed poetic (or so it seemed at the time). And I wonder now about something I said.
Video: Chris Malloy  Still photo: Erin Feinblatt
"I'd be a fool to grant myself some personal exemption from my share of the responsibility for this spill."
Let's not be coy. Plains All American owns and operated the pipeline that burst, their share of responsibility for the spill is one hundred percent, and it ought to hurt to pay what they owe. But what about my share of the responsibility? How much would that be? One five-millionth of a share, for all the drivers in the greater Southern California region?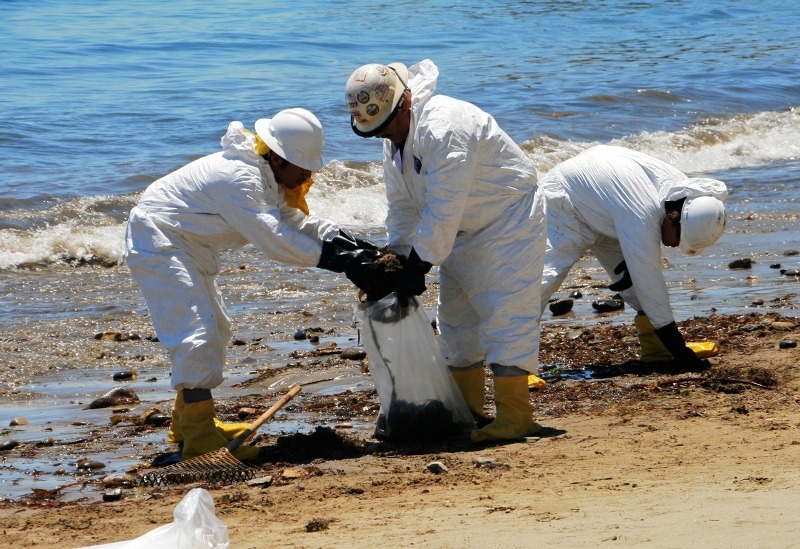 May, 2015: workers clean up oil-stained debris from the beach after a ruptured oil pipeline spilled 140,000 gallons of crude into the Pacific Ocean. Refugio State Beach, Santa Barbara County, California. Photo: Linda Krop/Environmental Defense Center
My sentiment remains unchanged—that I am part of the contemporary world and therefore responsible for my place in it—but a 1/5,000,000th share is pretty diffuse, and leaves me thinking about more effective ways of making a difference, or, sadly, if that's even possible.
But a week ago I got word of a paddle out to Platform Holly off the Gaviota coast, organized by the Surfrider Foundation and Patagonia, in support of oil safety legislation in the California State Assembly. "Now that's something I can do," I thought, and readied my boat, Cormorant. My soon to be four-year-old daughter, Josephine, and my friend, Ethan Stewart, were my shipmates, and we launched off the beach at Haskell's at about 7 a.m. and joined the flotilla of roughly 30 paddlers.
We sailed on a steady fog wind out of the southeast, drawing evenly through the water. At 18-feet, I often think of Cormorant as an overblown surfboard—a twelve channel pintail—so coursing along with the paddlers we kept good company, shouting out hails of encouragement. Ethan mentioned that with a moratorium on pumping since the Refugio spill, the pressure is greater on the underwater seams and there has been more "natural" oil seepage than usual this summer on the coast. And indeed, there was a heavy slick emerging from Platform Holly—noxious gas fumes enveloping our boat as we sailed past the platform and came about to re-join the main body of paddlers.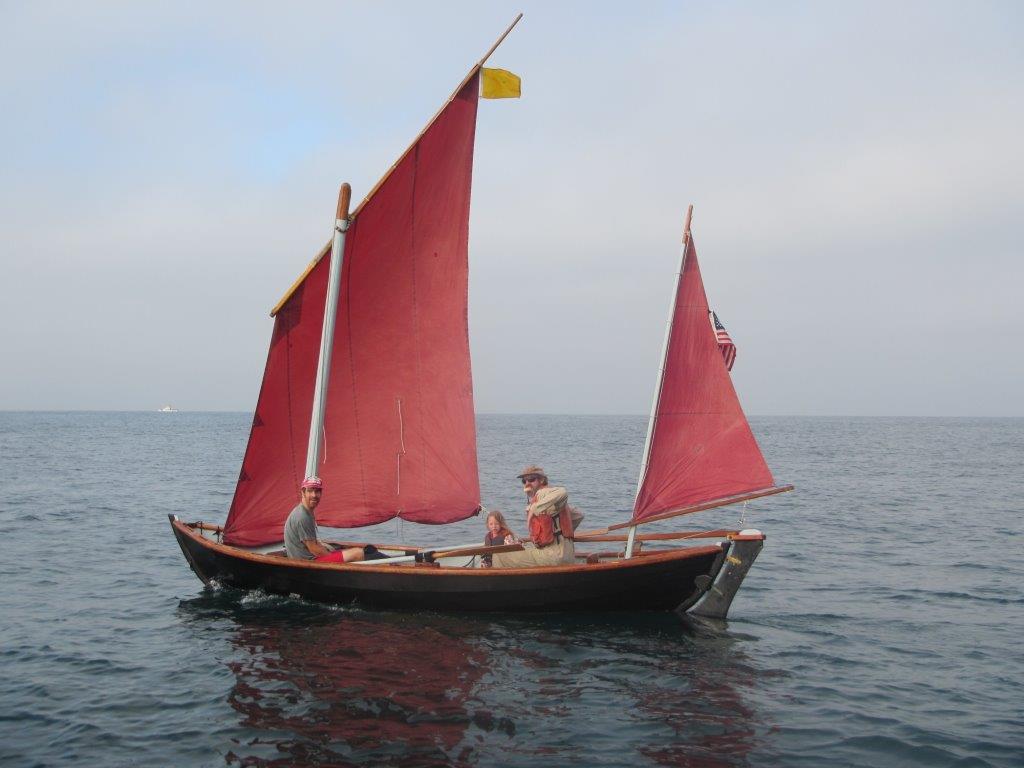 Ethan, Josephine and Captain Beamish aboard Cormorant. Photo: Santa Barbara Channelkeeper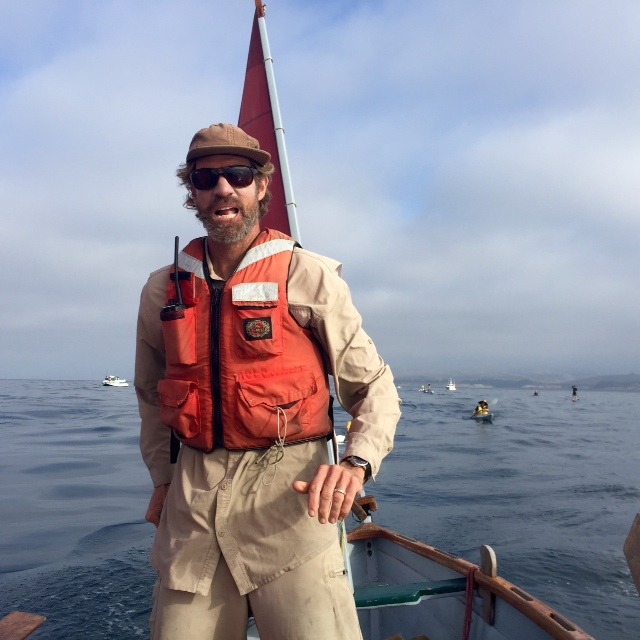 En route to the oil platform with the rest of the paddlers. Photo: Ethan Stewart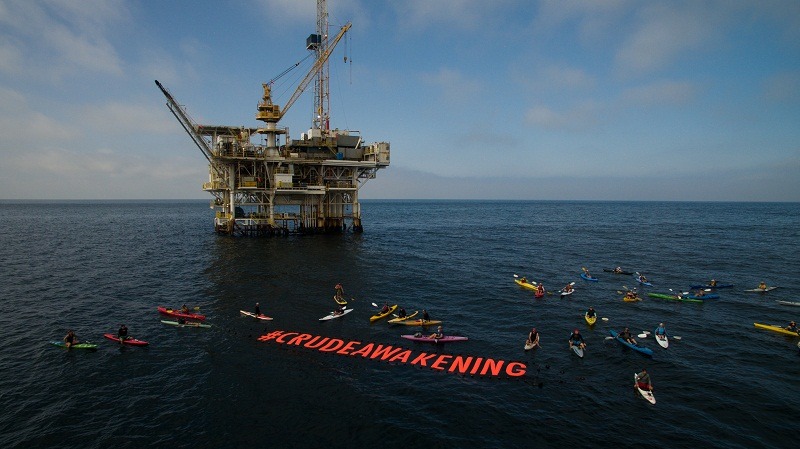 Staging a #CrudeAwakening to bring attention to three critical California state bills that will help protect our coast. Learn more and take action. Photo: Scott Soens 
This is young Josephine's second event as an activist (her first on the North Shore two winters ago when we marched against GMO experimentation in Hawai'i) and she's a stickler for picking up trash off the beach and closing that water tap quickly! Our hope is that by paddling to Platform Holly, we've encouraged the wider community to contact their State representatives and urge them to support the bills coming through the Assembly.
We got lucky this time on the Gaviota coast. "Only" 140,000 gallons spilled, and two months later the old boys are surfing the little peeler in the cove, the fishermen are casting for halibut from the beach. Hundreds of animals—birds and mammals—died, but that loss will be replenished from the thriving stocks that the Channel and these coasts hold. Still, we got lucky—that's all.
Even after all the recycling and fuel-efficient practices we put to use, the environmental struggle remains … support your local organizations, challenge your politicians, treat your neighbors with love and kindness. We're not done yet as a species, and this planet still holds wonders a plenty, but we need to bring a more sustainable and equitable future (both among human and animal populations) into being—and community efforts like this paddle out are the best places to start.
TAKE ACTION: Support Oil Spill Prevention Legislation
If there's any upside to this horrible mess, we now have a good opportunity to stop future spills. Three bills are currently moving through the California State Assembly that would:
Improve oil spill response off our coast
Require oil companies to use "best available technology" on their pipelines
Improve requirements for pipeline inspection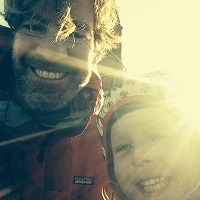 Christian Beamish, author of The Voyage of the Cormorant (Patagonia Books, 2012), lives in Santa Barbara County with his wife, Natasha, daughter, Josephine, and son, Miles.

Special thanks to everyone who worked on the video:
Farm League Originals
Tieneke Pavesic
Tim Lynch
Michael Pizzo
David Burden
Directors of Photography:
Danny Moder
Erin Feinblatt
Kellen Keene
Scott Soens
Morgan Griswold (editorial)
Jay Clarke (music)
Thanks as well to our friends at The Environmental Defense Center and Santa Barbara Channelkeeper for their work on this issue locally, and Surfrider Foundation who is working statewide and nationally. Please support their efforts.