Taking the Kids to Point Nemo
Somira Sao
/
9 mars 2022
/
9 min de lecture
/
Communauté
When your goal is to raise children in wild places, it helps if you're flexible.
All photos by Somira Sao
Soon after we decided to start a family together, everyone told me and my husband, James, that our life—or at least our way of life—was over. When we got pregnant, James became intense and serious. It was not because we were about to be parents. He stared at me with a wide-eyed look and made me promise that we wouldn't stop traveling. I agreed. To keep exploring is what I wanted, too.
What unfolded went a little beyond "traveling." Most families spend maybe two or three weeks a year on a trip. When our daughter Tormentina was a month old, we took off bike-packing and spent the first year of her life living in a tent, cycling through Chile and Argentina on dirt roads between Tierra del Fuego and the Atacama Desert. By the time our son Raivo was born, two years later, we had already made a loop around the world with Tormentina and had shifted to living in a cargo van in South America.
In the van, we traveled with a canoe and sport-climbing gear, dividing our time between the small mountain towns of El Chaltén, Argentina, and Puerto Natales, Chile, climbing and running rivers. Our best descent? The four of us floated the Santa Cruz River in Argentina, unsupported, for 237 miles from basically the southern Patagonian ice field to the Atlantic.
Prior to having a family, James had completed a solo circumnavigation on his 40-foot carbon-fiber sailboat built for passages in the Southern Ocean. In April 2011, after our third summer season in Patagonia, we decided to relaunch his boat and make an ocean crossing together in the North Atlantic from Portland, Maine, to Cherbourg, France. When we left port, neither Tormentina nor Raivo had spent a day sailing. We figured if everyone was miserable, the Canadian coast was long enough that we could just pull into port and James could continue solo.
We left in June 2011, making a flawless passage sailing into the center of the high pressure. What memorable moments, watching sea turtles float by and being visited by dolphins and pilot whales. Tormentina turned 3 underway. Raivo was 9 months old. We arrived after 21 days and filled the galley with French bread, wine and goods from the local market. We realized that sailing and the accompanying lifestyle really worked well for our family, so we kept going.
By the time I gave birth to our third child, Pearl, in December 2012 in New Zealand, we had crossed the North Atlantic, equator, South Atlantic, southern Indian Ocean, Great Australian Bight and Tasman Sea. All these were successful nonstop passages averaging between 10 and 32 days. Next, we planned one giant, 60-day nonstop sail from Auckland, New Zealand, to Lorient, France. Most likely it would be our last in this boat. We were now a family of five on a single-handed vessel designed for one.
On day 14, we crossed Point Nemo, the oceanic pole of inaccessibility. Nemo is the most remote location in the ocean; it's the farthest you can get from land in all directions. True ocean wilderness. James had been there before during his solo voyage and wanted to share this sacred place with our family.
Less than a week later, we sailed in storm conditions downwind for 72 hours ahead of a 982-millibars low-pressure system. Sailing fast and making smooth turns in big seas, it was incredible—some of the best high-latitude miles we had ever experienced. On day 21, the system accelerated, then passed over us. Left with calm conditions, we felt relief mixed with anticipation. We had just made record eastbound time and were about to reach Cape Horn, the next milestone after Point Nemo. Before we could celebrate, we were knocked down by a rogue wave and broke our mast. With assistance from the Chilean Navy, we arrived safely in port and ended up with an unplanned stop on the Chilean island of Navarino.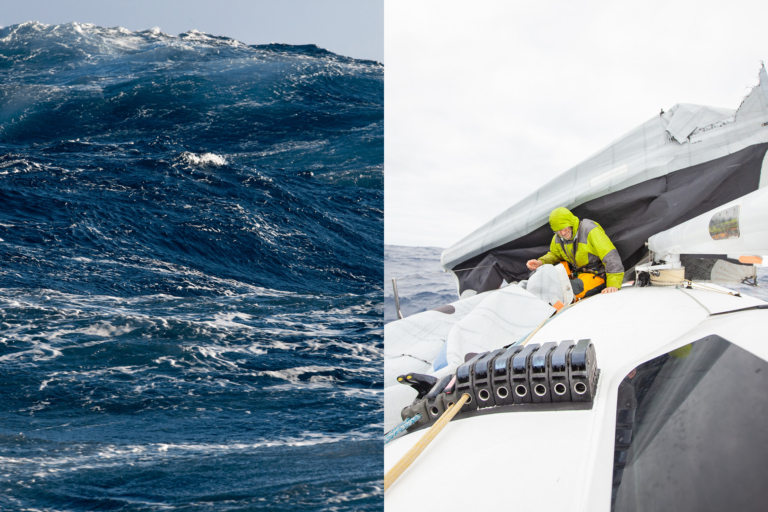 As a young girl, the Cape Horn archipelago brought to my mind historic tall-ship voyages made with bravado by explorers like FitzRoy, Darwin and Magellan. I imagined an inhospitable landscape where elements of nature were harsh and raw. I never thought I would find salvation there.
A whirlwind of formalities followed, including clearing customs and making reports with the Navy and Port Captain's office. James wanted to make a jury-rigged mast using the boom and leave right away for the bigger commercial port of Ushuaia across the Beagle Channel, but the Chilean Navy would not give us clearance to leave until a new rig had been stepped.
The idea of stopping and losing our momentum seemed devastating. We thought about how hard it would be to get going again, and we knew that there were no services this far south to easily fix our boat. But it was wise of the naval authorities because, in hindsight, there was no reason to leave a safe port with our family aboard without making a full repair.

Once we had resigned to the fact that we were staying, time shifted to a seriously slow crawl. Our boat was moored in an inlet off the Beagle Channel at the Navy's Micalvi Yacht Club in Puerto Williams. We were side-tied to a big raft of expedition vessels bound to and from Cape Horn and Antarctica.
It felt overwhelming to organize a high-tech mast replacement in a remote and logistically complicated location, especially with a limited budget. There were zero marine services on the island, no ship chandleries, no parts, no machine shops, not even much of a hardware store. Finding a replacement screw for a fitting proved to be a challenge. Searching in Chile, Argentina and throughout South America for a mast that would meet our boat's engineering requirements was fruitless. We realized we would have to ship all the parts in from outside of South America.
We were self-insured and had left port mentally and financially spent in preparation for our epic voyage. A new carbon wing-mast was way out of our budget.
Friends in the marine industry around the world donated their time and knowledge to help us. For a third of the original carbon fiber replacement cost, we learned that we could step an aluminum tube over our carbon stump and use some of our original rigging and headsails. Now all we had to do was come up with the funds.
Being self-employed, stress levels were intense when there was no work. Sometimes we went backward financially, and we were not sure we would ever go sailing again. We slowly plugged away and gradually the work came.
Inside space aboard the boat was cramped, so for nearly three years while we worked toward our goal, the forests, riverbanks, wetlands, peat bogs and rugged coastline of the Beagle Channel became our preferred living space. Without a vehicle during the first two years, we would venture out on foot in all conditions—strong winds, rain, mud, snow and ice—and wander the network of dirt roads, horse trails and walking paths.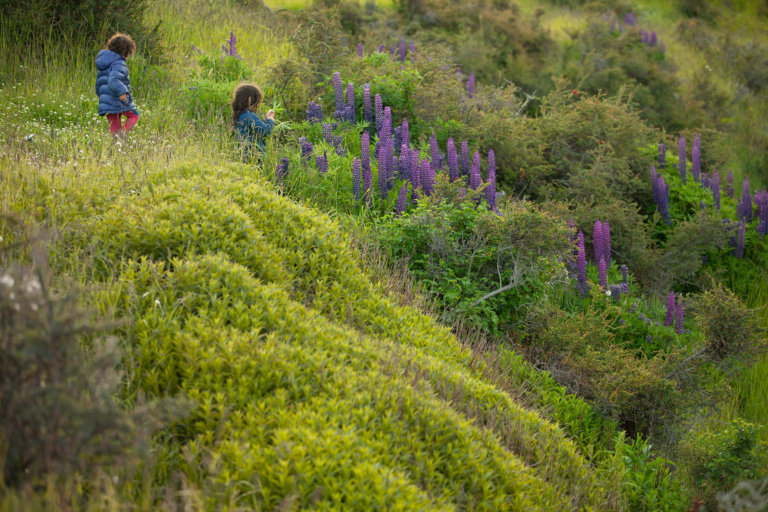 The island was also small. Our children soon figured out their own routes to various places and gave nicknames like "whiskey-bottle forest" or "night heron path" to places they liked to play. I allowed them the freedom to explore the island on their terms. When we went on excursions together, I gave them the responsibility to pack their bags with food and clothes, choose our routes and set our pace. I took charge only in gauging the time and energy we needed on reserve to get everyone home.
In a place with such dynamic weather, they quickly learned (sometimes the hard way) about traveling light and being prepared. The day was not complete until someone's rubber boots were filled with water, clothes were covered in mud, found objects replaced consumed food in the space of their packs, and someone had shed a bit of blood from playing hard.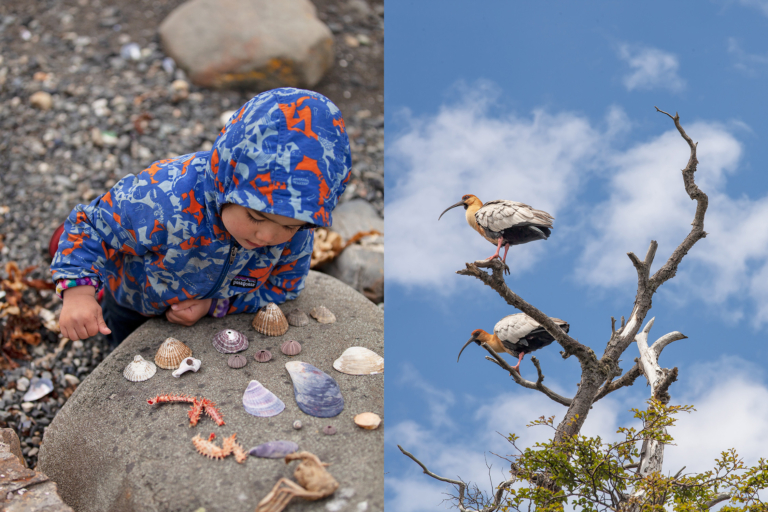 In nature, my kids evolved into naturalists. They wanted to know the names of the birds, trees and plants, so we repeatedly visited the tiny local library and the anthropological museum, searching for information in field guides and books.
Soon they could easily tell the difference between the lenga (beech), ñirre (Antarctic beech) and coihue (Magellan's beech). On our walks they would point out caiquén (upland goose), carpintero negro (Magellanic woodpecker), martín pescador (kingfisher), huairavo (black-crowned night heron), bandurria (black-faced ibis) and cachaña (austral parakeet).
For a short time, the children took care of an austral parakeet named Martine while his owners were in Antarctica. The kids loved Martine but felt sad for him being caged, especially after seeing how vibrant and healthy the free cachañas were as they fluttered happily in the trees. Martine flew out of our boat once, but James grabbed him just in time. The first week Martine was back with his owners, he escaped his cage and never returned.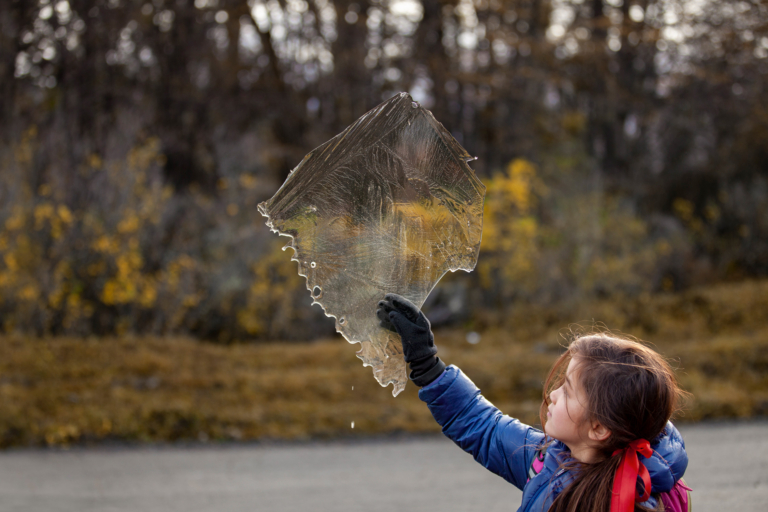 We arrived in early autumn and watched the beech trees change color, which we'd never seen before. We searched in late autumn for mushrooms, ripe Calafate berries and chaura (prickly heath).
In the winter, our boat sometimes froze into the inlet, covered in ice and snow. The kids went sledding, made snow sculptures, ate icicles and built fires inside the woodstove of the Micalvi Yacht Club. There were winter days of total calm when the water was like a mirror. These were good days to paddle the protected waterways in kayaks and canoes during the short periods of daylight.
Spring was a magical time, watching new leaves appear budding in the forest, the kids running with joy through the muddy streets and seeing baby geese appear all over the channel.
Summer months were the peak season for expeditions, and the Micalvi filled with a cacophony of foreign languages as sailors from all over the world traveled through Puerto Williams. Scientists studying phytoplankton turned our boat into a makeshift classroom, teaching the kids about marine biology.
Summer was also when we would find wild patches of palomitas (dog orchids) and watch as cachañas happily filled the branches of notro (Chilean firetree) trees to eat their blooms. Sometimes the kids were bold and took icy dips in the Ukika River or the Beagle Channel. We savored fresh produce grown on the island, strawberries from the local greenhouses and free-range eggs.
Chilean king-crab season started in July but could go until November, depending on the year. Watching the local fishermen measure and transfer their massive catches of Lithodes santolla (Southern king crab) during peak season let the children see the impact of commercial fishing on the community and the ocean. Playing at the anthropological museum among the gigantic vertebrae of sun-bleached whale bones gave them perspective on their size in the world.
We eventually fixed our boat and finished our circumnavigation in May 2017. It's taken a few more years to appreciate the impact the island had on my children. Many ocean miles and ports later, my Navarino Island kids are now 13, 11 and 9 and remain nostalgic for their "magic" forest. Now with six children aboard and a bigger boat, my kids actively seek places with similar qualities for us to drop anchor. They've been in polluted ports where the ocean feels dead. They value clean water, clean air, clean dirt and ample access to open spaces and nature.
I often think back to the events around the dismasting that brought us to such a special island. Never had a landfall been so emotional. We went from being isolated in the wilderness, racing across the ocean, to finding ourselves on land with a broken boat surrounded by people, sounds and smells. It all felt so surreal and so sickening. James and I were mentally shattered on so many levels but extremely relieved that we were all safe in port. And, in the midst of all our boat and work dramas, the kids thrived.