Our Quest for Circularity
Patagonia's journey toward zero waste and reduced carbon emissions, failed experiments included.
The idea was to create a line that never ended up in a landfill. Return, recycle and reuse every single polyester fiber. This was 2005, long before "zero waste" became a buzzword. It would be a rebuttal to the preindustrial hunger for scale and speed that was inundating landfills with clothes most didn't need in the first place.
Patagonia had been inspired by the '90s concept turned book Cradle to Cradle that set the foundation for a circular economy—design products via renewable energy, efficient water usage and socially equitable practices, then recycle and reuse those products again and again. We called it the Common Threads Garment Recycling Program.
Polyester, traditionally sourced from petroleum, seemed like a good place to start, so we launched the program with Capilene® baselayers. We'd collect customers' used baselayers, then recycle them to make like-new polyester. The actual recycling was done by our partner Teijin, a Japanese tech company that had created a progressive chemical recycling system called Eco Circle®. To us, it sounded like a win-win. Curb the dependency on petroleum and put old Capilene to good use.
Except things didn't quite pan out. The first issue was supply. We build products to last, so we didn't get the influx of used Capilene baselayers we needed. Then there was economics. If you don't have enough supply, how do you meet the capacity of an industrial recycling machine?
The clincher came in 2014 when Teijin moved its recycling facility to China, where there were stricter rules on waste. We could never align the infrastructure to make it work with the new China-based operation and had to walk away, beanie in hand.
Two decades later, even with savvy customers understanding upcycling, even with companies touting their eco-attributes, even with better infrastructure in place, circularity still doesn't figure into most of the clothing industry—not even here at Patagonia.
"We're ahead of the pack, but brands in general are so behind, so that's not saying much," says Ciara Cates, Patagonia's lead material developer. "The bar is low."
The clothing industry continues to follow a largely linear "take-make-waste" model. But in a circular or closed-loop scenario that prioritizes a more efficient use of resources, waste gets upcycled into new products that get reused multiple times. Following that natural chain can cut a garment's carbon, waste and water footprint by 73 percent. Take the humble aluminum can. Raw, mined bauxite ore gets treated with a white powder called alumina, compacted into slabs and turned into sheets of aluminum to create a can. That can holds a liquid, is incentivized to be recycled, gets melted down without losing its material essence, and that aluminum sheet is used to make a new can again and again. It's a classic closed-loop model, but the apparel and textile world doesn't have that kind of circular system in place.
Patagonia is better equipped to get there than most brands, but we've also grown exponentially since launching in 1973, quadrupling revenue in the last decade. At some point, growth can outpace progress reducing waste and emissions.
Recent reports have made it clear just how radically humans need to change. In 2018, the Intergovernmental Panel on Climate Change sounded the alarm that if we don't rein in global warming to 1.5°C—we're already at 1°C above preindustrial levels—the impacts would be catastrophic. For its part, the clothing industry produces up to 10 percent of global carbon emissions. If business doesn't adapt, it'll claim three times as many resources by 2050.
Considering how much stuff is already out there, reselling clothing should theoretically be a part of every brand's DNA. Plus, shoppers are already game. According to ThredUp, resale grew 25 times faster than traditional retail in 2019 and is poised to hit $64 billion by 2024. But for true circularity, brands have to implement the infrastructure so they're creating their own upcycling stream, rather than relying on other platforms to do the work for them.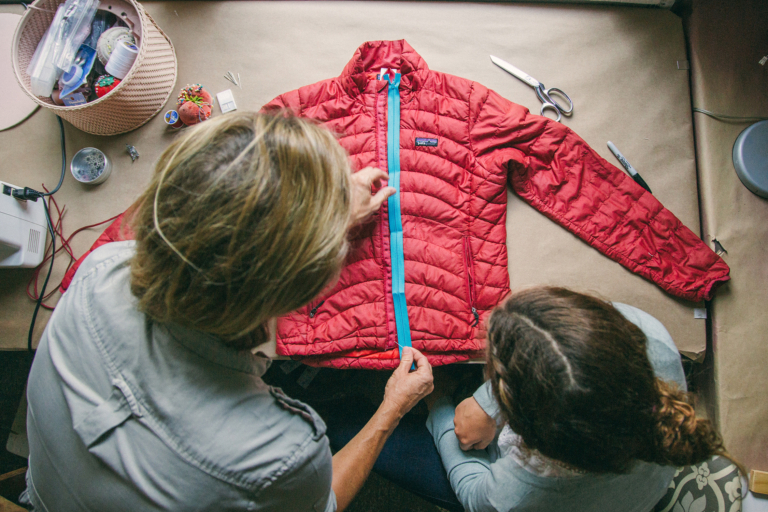 Patagonia isn't a stranger to secondhand. In 2011, we evolved our Common Threads Recycling Program into the Common Threads Initiative, an eBay store where customers could buy and sell used Patagonia products. That turned into Worn Wear two years later and made it possible for customers to shop for used items in select stores. In 2017, Worn Wear went online, and since its launch, they've repaired more than 130,000 items, keeping them in play. But Worn Wear still only accounts for $5 million of our business. New products still reign supreme, and customers need more of an incentive to trade in their used goods.
We will soon test a rentals initiative, starting with a pilot for mountain biking, trail running, hiking and fly-fishing gear. Rather than buy a new set of waders, jackets and fleeces, customers can rent the clothes then send them back. The garments will be professionally cleaned so they can be rented again. Instead of having five brand-new jackets sourced, stitched and transported, there's one jacket. And that's a massive win considering our supply chain accounts for the biggest slice of our carbon footprint—97 percent with 86 percent stemming from raw materials alone.
Ultimately, the crux of circularity isn't take-back programs, it's rethinking how products are conceptualized to begin with.
"It has to be a core strategy of business," says Nicole Bassett, Patagonia's former social responsibility manager and now the cofounder of The Renewal Workshop, a platform that helps clothing brands achieve circularity. "Brands have to ask, 'Where did this come from, and where will it go next?'"
In the past few years, Patagonia has prioritized recycled materials—like in its Responsibili-Tee®, a 100 percent recycled, Fair Trade Certified™ sewn T-shirt, each of which is made with 4.8 plastic bottles and 0.3 pounds of cotton scrap. It also uses 96 percent less water and generates 45 percent less CO2 than a conventional cotton T-shirt. On a larger scale, by this fall more than 90 percent of Patagonia's fabrics will be recycled, organic and traceable.
The upcoming Tee-Cycle™ T-Shirt will be Patagonia's first stab at designing a product with its full life cycle in mind. Due next spring, the zero-waste T-shirt will be made out of old T-shirts from Patagonia, or other brands. The point is for Patagonia to own all its waste across the lifespan of this tee, which is made from a blend of preconsumer mechanically recycled cotton and postconsumer chemically recycled cotton that creates like-new virgin fiber quality—and might never see a landfill.
The Capilene baselayers recycling experiment may not have panned out, but it taught us some lessons we're implementing now. For starters, supply isn't an issue. Right now, we have pallets upon pallets of old tees sitting in our Reno, Nevada, distribution facility. Unlike a technical product such as Capilene baselayers, tees have a shorter lifespan. And we also sell more of them.
There's also a better handle on infrastructure this time around. We've partnered with Vertical Knits, a Mexico-based manufacturer that will own the entire creation process, from yarn to fabric to garment, and can control scrap collection. We also work with Infinited Fiber, a Finland-based recycling operation that can transform almost any waste—even cardboard—into new fiber.
That works for products with recycling channels in place, like there are for cotton and polyester and even certain blends, but not for technical products, many of which need special coatings, trims or fabrications to make them performance-level. Take DWR, which doesn't yet have a sustainable alternative. Backpacks and waders still need waterproof coating.
"That's what we're wrestling with," Cates says. "We make practical things that have to function, and if function is short-lived, people stop wearing it, and it's trash. So how can we reimagine how we build products to meet those criteria?"
Cates hints at changes to luggage in the next year or so, as well as new options in rainwear, which is traditionally a polyester-based fabric with a polyurethane coating. It's those sort of laminations that prevent products from getting recycled. So far, we're experimenting with a polyester-based fabric and coating so at the end of the product's life, a polyester recycler will accept it.
That may get us closer to circularity on the material side of things, but what about emissions created when shipping the recycled cotton from Finland to Mexico, or the energy needed to actually make the products? Some garments have a significant footprint, especially those that are heavy, woven, made without any recycled materials or incorporate mechanical and chemical finishes to make them performance-level. Patagonia has invested in solar and wind options and currently we're covering 100 percent of our US footprint through solar energy, but many of our supplier factories still run on fossil fuels. One solution is to work directly with suppliers to reduce their energy use and switch out fossil fuels.
"It's difficult work that involves looking at the energy use on-site," says Paul Hendricks, Patagonia's senior manager of environmental responsibility. "Are there systems that can be upgraded to run more efficiently? Are there alternatives to coal, especially locally? And what is the willingness of a supplier to switch things out and potentially install new machinery?"
So if materials cause pollution and energy causes pollution, but a business still needs to provide products to the customer, the obvious (albeit, less capitalist) solution to getting closer to circularity seems to be: Make less stuff. Do we need a Better Sweater® 1/4-Zip in 18 colors?
"I'm of the mind where we need to trim down our line. Get rid of the most polluting products and go beyond massive assortment," Hendricks says. "I come at it from the activist side. My role is to challenge things. Other people challenge that, and hopefully we meet in the middle."
Narrowing inventory would have big benefits—namely, less fabric liability, also called "deadstock." Maybe a mill spun extra fabric to account for potential errors or shortages. Maybe an order was canceled or that ochre color wasn't quite right. Whatever the reason, the more that's produced, the more there's excess waste that comes with it.
Capping products may sound like an ax to profit, but in a circular economy, it's about generating more money from the same products and leaning into materials like recycled wool that are actually cheaper than their virgin counterparts.
"There's a business model there," Bassett says. "A brand is going to look like a car company, selling new, old, pre-owned certified. That's how you'll get scale, growth and profitability in a way that's more efficient than continuously making new stuff."
Even with our take-back programs, carbon positive goal and ongoing activism efforts, we admit we're just starting the journey to circularity. We want our products back, but bigger questions remain.
"We need to work on being more aware of what's going on in our full product life cycle," Cates says. "Every product has an end of life, and from there, it's our job to make new product out of it. That's going to be the model going forward.