Sonnie Trotter Takes on 24 Hours of Horseshoe Hell
"24 hours of what?" I cried into my cell phone.
"24 hours of HELL," Kristo repeated.
"Well, okay then, sign me up." He had answered my question and we left it at that.
Two months later, I still didn't fully comprehend the meaning or significance of the event's name. I thought it might have something to do with an early Halloween themed party and I could not have been further from the truth. I simply shrugged my shoulders and carried on with my day to day. About once a week, I'd get some informative e-mails from the event organizer Andy Chasteen, followed by a few witty replies from some of our team members at Patagonia. Kristo Torgersen was our ring leader, and besides being a climber/surfer, his job was to make sure we all had tickets to the place they call the Horseshoe Canyon Ranch in central Arkansas. It was his decision to sponsor the event and it was with great pleasure that the rest of us arrived to see what all this "HELL" talk was all about. I mean, for Pete's sake, how bad could it be?
At the airport, I heard my name from across the terminal, long timefriend and Patagonia ambassador Brittany Griffith was waving at me tocatch my attention and welcome me with a warm hug. Towering behind herwas Kristo, still dressed in his Southern California get up, surfshorts, surf sandals, surf shirt and surf hair. We all laughed andpiled into the rental car, a shinny red Volvo waiting outside.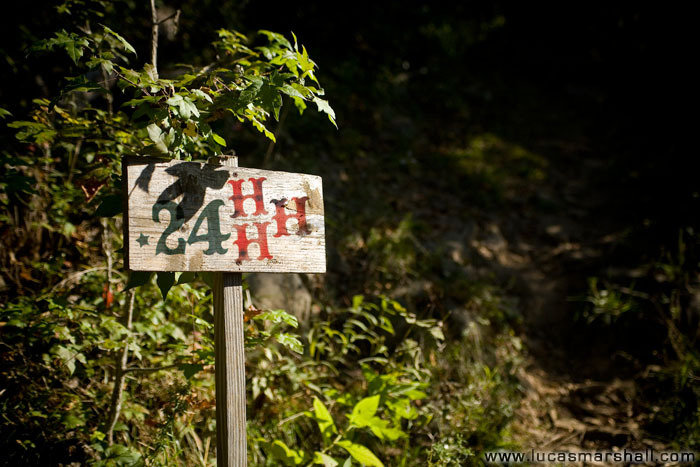 A road closure off Highway 7 forced us to make a detour, so from theairport in Little Rock it took us nearly four and a half hours to getto the small country town of Jasper. We recognized the world famousOzark Café instantly and knew we were within minutes of our finaldestination.
[A warning of what's ahead … 24 Hours of Horseshoe Hell. Photo: Lucas Marshall]
It was 2 am when we opened the cattle guard to the Ranch, the rusticwood finish and the sign that read "Welcome to Hell" made us feel asthough we had stepped into a place of more questions than answers.After 18 hours of travel, we were finally at a real dude ranch, andgreeted by real dudes.
The following few days leading up to the event involved meetingfriendly faces, sleeping in, eating biscuits and gravy and of course,climbing some rocks. We took two days to familiarize ourselves with thearea. Local boys from Oklahoma took us on a proper tour of the canyonand showed us where to start. Confederate Cracks was as good a place asany, with solid warm-ups and climbs leading into the very solid 5.12,5.13 and eventually 5.14 range over by the Prophecy Wall. But we weretoo hacked to have any success on those routes involving teens.Instead, we readied ourselves with a dozen or so moderate pitches ofthe Canyons Classics.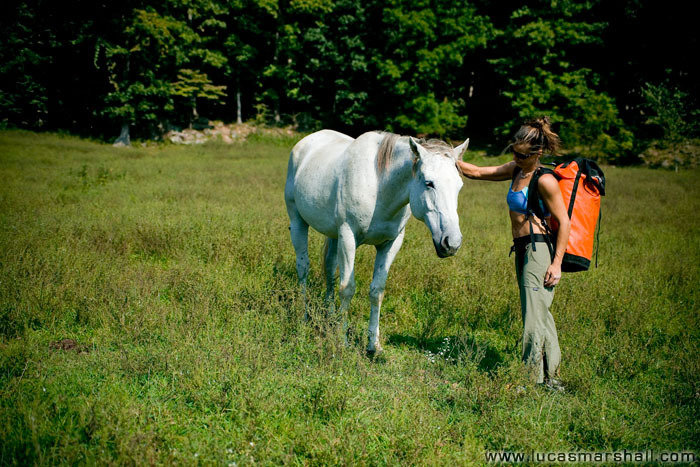 "What do you mean – 24 hours? Nonstop?" I replied.
"Yep. Didn't you read the e-mails?" Brittany asked followed by a forkful of fresh salad.
"Well yah, sort of. I mean, I thought I painted a fairly accuratepicture, but I didn't realize each person had to climb for 24 hoursstraight, without any sleep at all."
"Well, what the hell did you think it was? A bouldering comp?" She grinned.
"Yah, maybe. So!"
[Brittany makes friends as she hikes between crags. Photo: Lucas Marshall]
Over dinner, I finally understood the beef of the event. It's not acompetition at all, it's more of a challenge and we're all free to tryas hard as we choose, to climb whatever we want, and to quit wheneverwe want – which is what makes this event so freaking fun. In theory,each team could create their own ideal of what the challenge was aboutfor them. For some people, it was simply to climb one route per hour,for others it was to climb every trad route in the canyon, some wantedto redpoint 5.13, while a couple of young lads wanted to send everysingle 5.10. It was a perfect challenge that fit the bill of eachparticipant and the gun was going to blast in less than 36 hours.
The next day, Jonathan Thesenga showed up on the Ranch – the fourthmember of our party and my personal partner for the event. His energywas high and the night before we set our strategy. We were going tostart on one side of the Canyon and climb all the way to the other sideclimbing everything that we could and that was available. This wouldeliminate too much walking back and fourth and we all knew time was ofthe essence. One minute here and there could add up to an hour, and anhour is nearly 8 pitches.
What time does it start?
Who is there to judge our score?
How will we know when the climbing begins?
I was still full of questions.
At 10 am sharp, the shot gun blasted and we all hiked to our idealstarting route. A line of brightly dressed climbers flowed through theforest. "Climb fast and hard and don't look back," JT would yell up.The rules stated that we could run up to two laps on every climb, thiswould speed things up tremendously and save plenty of juice because youalready know the moves the second time around. We made an effort toclimb that way, unless a particular route was so bad it just wasn'tworth it. Out of the 60 climbs we did, we didn't find one bad pitch.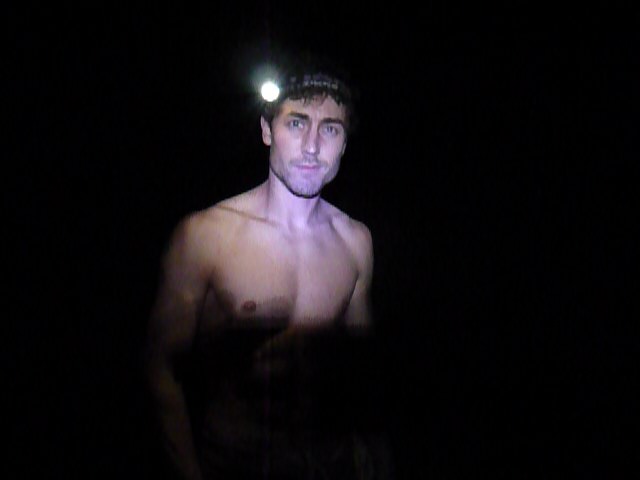 The crux of the event thundered in around 4 am hitting me like a tidalwave. My speech began to slow, my reflexes dulled and my skin showedsigns of first-degree burns. When my pace was noticeably slower,Jonathan would yell at me and I would snap back to reality, for a whileat least. We knew this was a critical point in the event, so we choseto climb a lot instead of hard: 5.9 after 5.9, 5.10 then back down to5.8. After three or four recovery climbs, I had enough juice to pumpthrough a couple 5.11's and 5.12's and then I would slump back incruiser mode, my brain fuzzy and my wits dulled. My vision was limitedto the five or six feet in front of my headlamp, and the encouragingvoices of fellow climbers. "C'mon JT – Giver boy – Pick up the pace!" Ijoined in the fun.
[Sonnie Trotter sheds some light on the long, dark night. Photo: Jonathan Thesenga]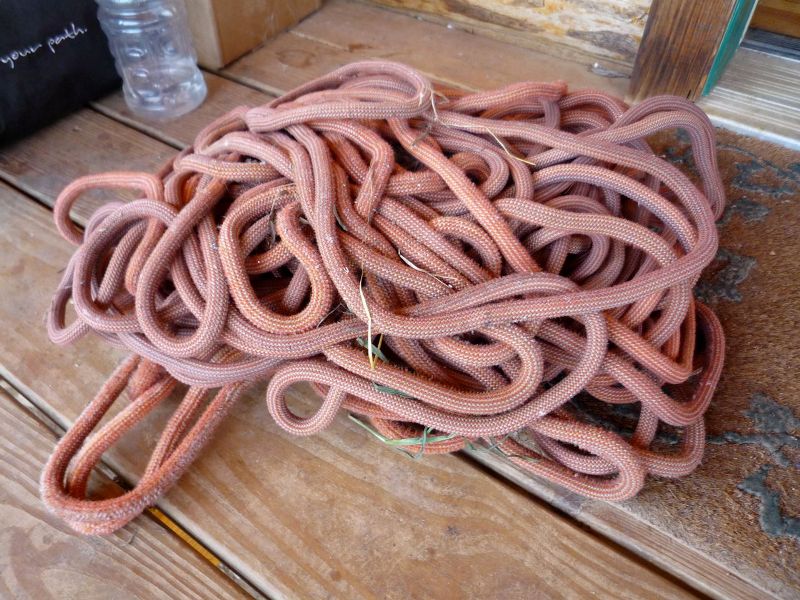 By 6 or 7 am the sun showed its pretty face again on the opposing sideof the canyon, mental spirits lifted, but we hardly had enough energyin our bodies to match it. Thank god for slabs. As a human, our legsare bigger and stronger than our arms, (unless you're Chris Sharma) sowe worked hard to rack up more points using lower angle climbs – andjust like before, those "easier" climbs would save just enough energyto bust out a few hard moves, or if you were lucky, a few hard routes.It became an effort to keep up the morale, we knew it was nearly over,but if it were not for each other, I would have quit a long timebefore. I thank my partners.
[What a brand new rope looks like after 220 pitches of abuse in just 24 hours. Photo: Sonnie Trotter]
When the shotgun fired, indicating the end, our faces all looked pale,but we laughed and smiled without control. The reality of what we hadjust accomplished had settled into our minds and we glowed likeenlightened monks during our walk back to the registration cabin.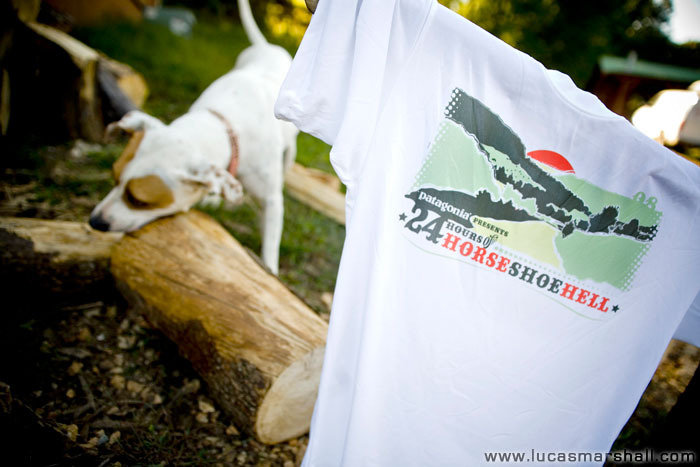 Unfortunately, we only had two hours to enjoy the rest of the day. Weattended the ceremonious giving away of the prizes and places and wecheered for the victorious teams, but soon after we were packing tocatch a plane back to reality. We had gear strapped to the top of ourcar, sitting on our laps and stuffed into corners. But the four of usrolled out of that beautiful valley in one relative piece, the windowsof our red Volvo pushed down. The captivating hills of the OzarkMountains rolled by our tired eyes and the trees had a hint of fallcolor to them.
[Capilene T's for all competitors kept the humidity manageable. Photo: Lucas Marshall]
Kristo did a championship sleep-deprived drive, a haul I'm not sure Icould have done myself, or anyone else for that matter. It was betterfor him if we all stayed awake and talked, and what better topic tochoose than the brute 24 Hours of Hell event we had just sufferedthrough. We shared some high points and low points, and we discussedratings and pitches, and though we all did slightly different climbsand went to slightly different cliffs, we could all agree on the deepsearing sensation our hands produced. I could barely bend my fingers tounclip buckles or write with a pen. Pink flesh had surfaced on allpoints of our palms and fingers. I imagined that this is what our handswould look like if we pushed down really hard on a belt sander. It's afeeling I have never felt before or since, as though we dipped theminto acid, or better yet, into the depths of hell.
I had no more questions to ask.
—————————————————————————————-
Patagonia would also like to thank everyone who made 24HHH such a heavenly event. Special thanks to Andy Chasteen for an amazing job organizing the event, our friends at Pimpin and Crimpin for their great company and fun party, the staff at the Horseshoe Canyon Ranch, and Lucas Marshall for the photos. If 24 hours in hell is your idea of a good time, stay tuned to the official site for details on next year's event.
To read more about the event, including the final results, visit Climbing.com.