The Cleanest Power – $20 Million & Change invests in Hawaiian rooftop solar project
/
October 15, 2014
3 Min Read
/
Activism
Last year, Patagonia Works announced the launch of $20 Million & Change, an investment fund for companies and initiatives that, in the words of our founder Yvon Chouinard, "work with nature rather than use it up." We promised to update you from time to time on how this project is shaping up. [Update: the investment fund is now called Tin Shed Ventures.]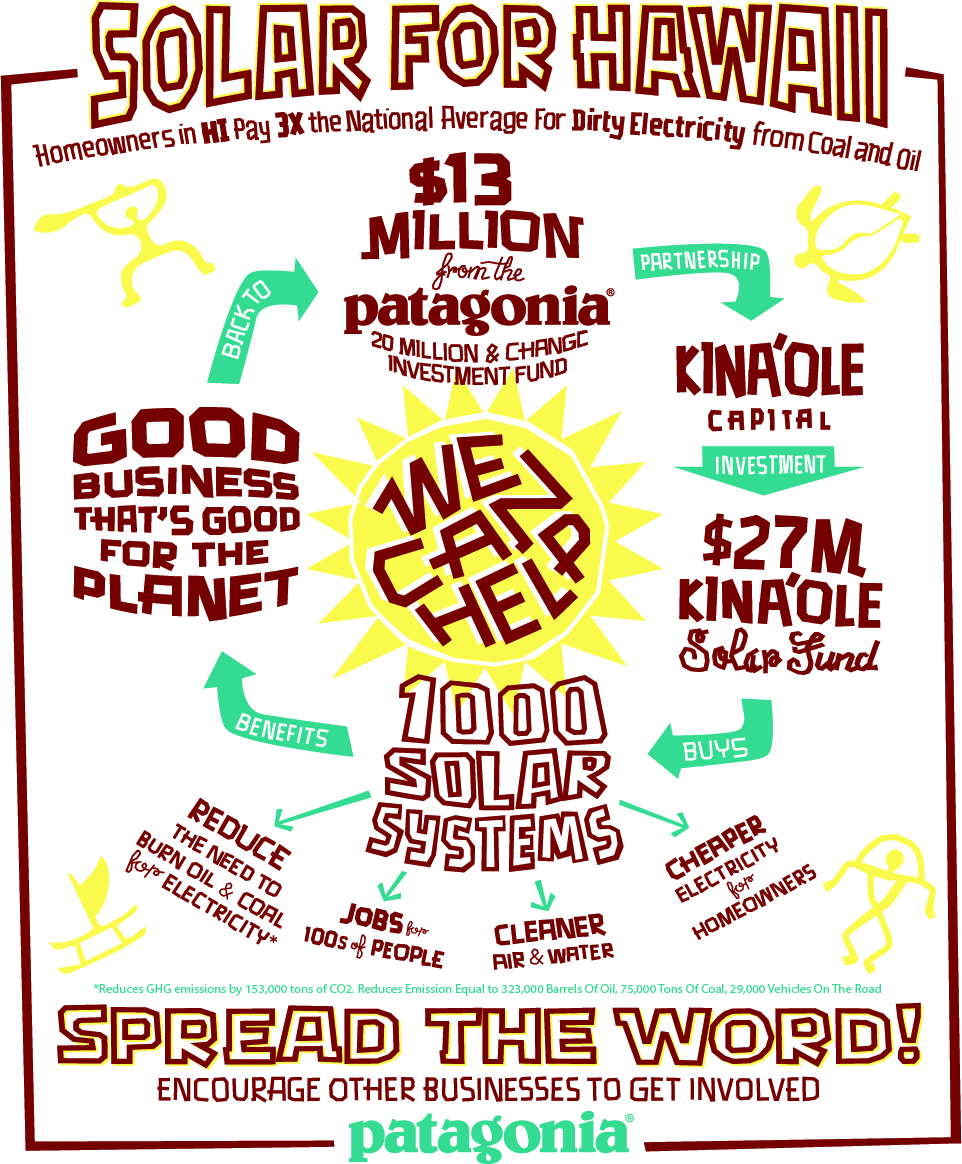 We're entering into an agreement with Kina'ole Capital Partners to create a $27 million fund that will purchase more than 1,000 rooftop solar power systems in Hawai'i, where most homeowners currently use electricity generated by coal and oil.
If more businesses followed this investment strategy, we'd have a full-on renewable energy movement on our hands. Conventional wisdom too often assumes business success is incompatible with helping the planet. This investment shows we can do good business by working with nature, rather than using it up—and we're providing a roadmap for other companies interested in getting their dollars involved too.
Read how it works—and then help us spread the word on social media!
Homeowners in Hawai'i currently pay three times the U.S. average for electricity. This project will make affordable clean power available to a lot more people—especially those who cannot afford to buy solar power systems outright. The difference will be huge for Hawai'i, both environmentally and socially.
The 1,000 new solar power systems purchased through the Kina'ole Solar Fund will supplant dirty oil- and coal-sourced electricity with the cleanest power available. Over their lifetime, these systems will displace 153,000 tons of CO2 emissions—the equivalent of:
323,000 barrels of oil
75,000 tons of coal
or taking 29,000 passenger vehicles off the road
The social benefits are equally big. State residential ratepayers now fork over 37.7 cents per kilowatt hour—more than three times the U.S. average (12.31 cents per kWh). Ratepayers, without having to dig into their pockets for any upfront investment, are projected to save 35 percent on their energy bills after solar installation. And there are other benefits as well.
Installation and maintenance of the systems will provide jobs for hundreds of workers, including employees of Patagonia surf ambassador Kohl Christensen's O'ahu-based solar installation company.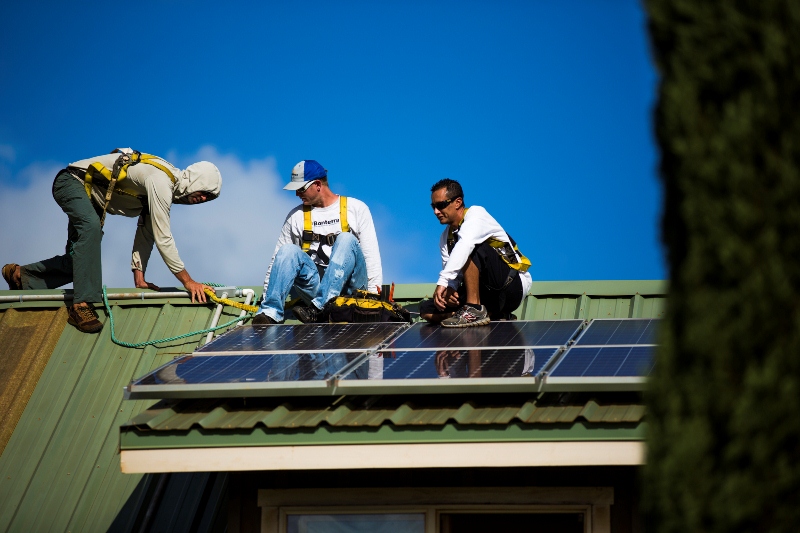 Kohl (left) and crew on the job. O'ahu, Hawai'i. Photo: Tim Davis
Patagonia Works' contribution of $13 million comprises nearly half the fund. This investment makes business sense thanks in part to federal and state tax credits that help repay our investment—and allow us to reinvest to fund future installations.
"This is smart business for Patagonia and good news for homeowners in Hawai'i," says Patagonia CEO Rose Marcario. "I hope other companies will see how this strategy can bring strong returns and think seriously about doing the same thing. Business can be a driver of change."
We're happy to work with a local business like Kina'ole Capital Partners that shares our business values. Kina'ole has decades of experience in solar and is committed to local relationships and networks, with transparent marketing and sales practices.
Additionally, at a given point in the lease, customers are free to purchase the solar power system at a fraction of its original cost. In 2011, Forbes Magazine reported that single-family houses with solar PV systems gain about $20,000 in value and sell faster than conventionally powered houses. You can find more information about Kina'ole at kinaolecapital.com.
Those interested in joining Patagonia to do good business by doing good for the planet can visit this link to learn more about how any company can take advantage of federal and state tax credits offered for investments in clean energy.
Energy customers who live in Hawai'i and are interested in going solar, please click here to learn more.
We're excited to share this news and will keep you posted as the solar installations start making their way onto rooftops in Hawai'i.
Update: In 2013, we launched $20 Million & Change, an internal investment fund to help like-minded, responsible start-up companies that use business to address environmental problems. After investing well over $20 million, the fund was renamed Tin Shed Ventures, honoring the tin shed in which Yvon Chouinard started Patagonia. Please visit tinshedventures.com to learn more about our investment fund.