On an unseasonably warm morning in April 2020, with industrial air movers humming and the rollup doors open to views of mustard blooms in the hills above the Ventura River, a team of volunteers congregated in a circle on the floor of our research and development facility, nicknamed "the Forge." "Stay six feet apart," said Justin Mills, Patagonia's advanced research and design engineer. "Disinfect everything you use. If you step out, remove your gloves. Put new gloves on when you come back inside. Let's stay safe and make some masks."
For many of the volunteers, most of them Patagonia employees, N95 is an alphanumeric they became all too familiar with two years ago when the Thomas Fire burned 281,893 acres and destroyed 1,063 buildings in Ventura and Santa Barbara counties (it held the record for California's largest wildfire until the Mendocino Complex Fire surpassed it less than a year later). During that disaster (and to prepare for future disasters), the city of Ventura's emergency response team stockpiled 20,000 N95 masks. With the arrival of COVID-19, they accessed their stash, only to find that the rubber straps had decayed and become too brittle for use.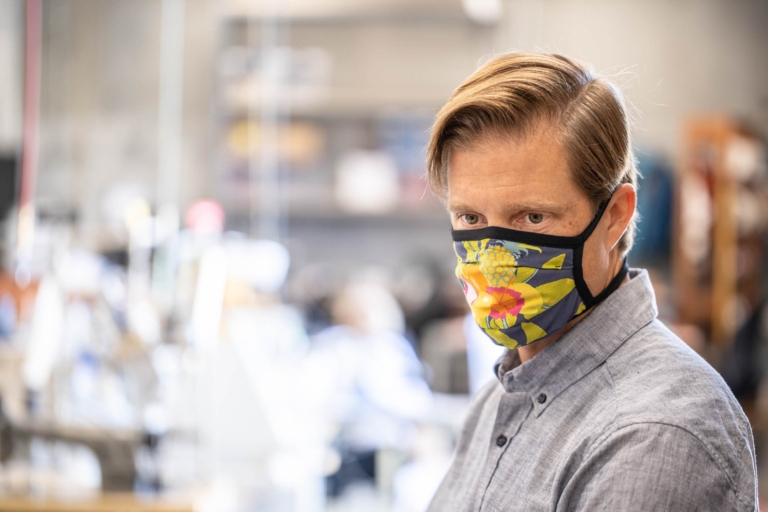 If It's Broke, Stitch It
So when Ventura's economic development manager, Estelle Bussa, reached out to us for help, we were excited to jump in and help repair the damaged masks. Our facilities team got to work transitioning the Forge into a safe social distancing environment by spacing workstations at least six feet apart and stocking up on gloves, masks and sanitary wipes. Our global repairs operations manager, Marty Chapman, was able to procure 18,000 yards of elastic from one of our suppliers. Finding volunteers was the easy part.
"I'm very grateful that I'm able to come in here again and be at my own workstation," said Paige Leichtnam, a Patagonia prototype technician, as she sewed an elastic strap to a mask using a lockstitch. "I'm here every day sewing masks for community and first responders."
Though the volunteers cited helping frontline workers as their primary motivation, they were also happy to get out of the house, chat with colleagues (from a distance) and feel like they were doing something useful. Patagonia also donated 3,500 N95 face masks from our own Thomas Fire stockpile and 6,100 units of baselayers and Workwear coveralls to Americares, a nonprofit relief and development organization that responds to the health needs of people in crisis.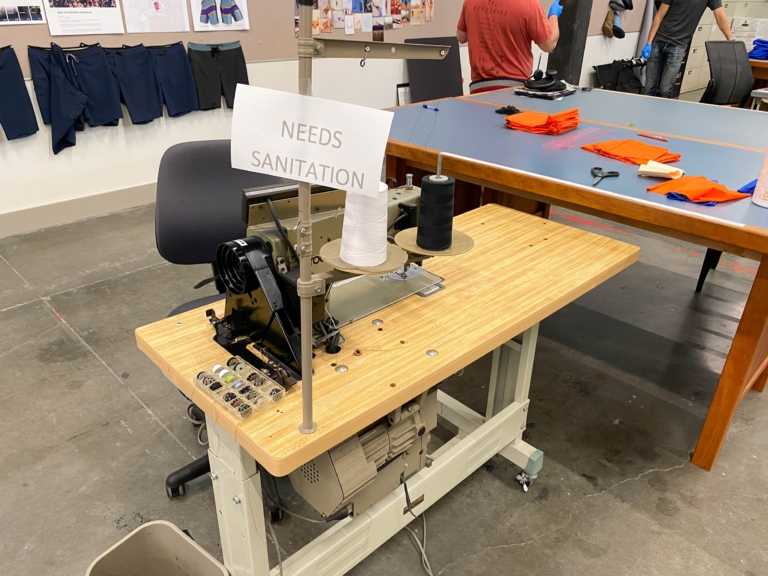 Next-to-Face Comfort
In addition to repairing existing N95 face masks, we're sewing 2,000–3,000 new face masks using leftover fabric from the construction of our Nano-Air® jackets—which are specifically designed to be breathable while you're moving. "Its breathability is 120 CFM," says Mills, of the fabric. "When double-layered to make a mask, it is reduced to 60 CFM." Though #cutefacemask is already a thing, CFM stands for cubic feet per minute, a measure of airflow through fabric. We also found that our boardshort material has just the right amount of stretch to make relatively comfortable (and colorful) masks. (Our face masks have not been approved by the FDA. Please see CDC recommendations here.)"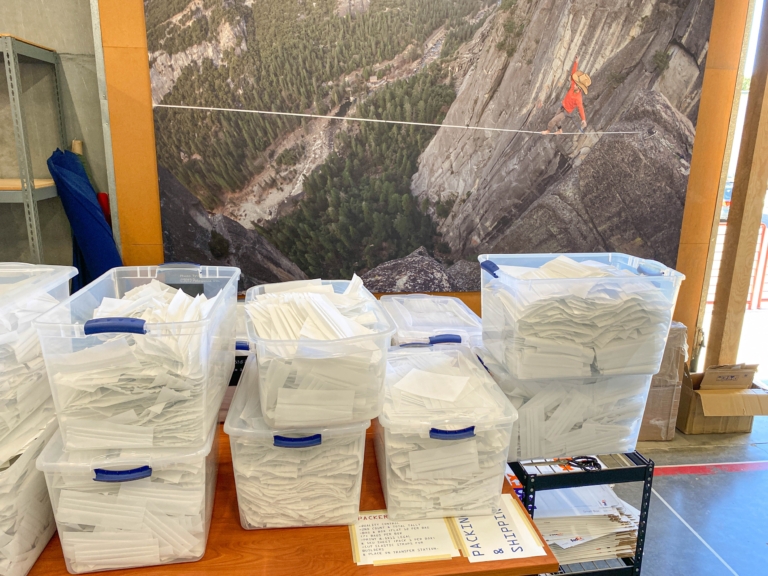 Gil Valdez, a category quality program lead, recently relocated to Ventura after working in our Reno distribution center for six years. "The Forge is such a creative environment," he said through a mask adorned with a Cheshire cat smile graphic. "I just love being here, just helping out as much as I can and putting my skills to use." More recently, Gil and the Forge staff have been putting their skills to use by serving those who serve; they made more than 100 face masks out of black and navy Nano-Air fabric and donated them to the Ventura Police Department so the officers will be comfortable and uniform-color-coordinated while on patrol.
In response to the uncertain future of this pandemic, we've also sourced 10,000 hemp face masks and we're producing nonwoven masks that will be sold and donated to frontline workers around the US. To further support the comfort and safety of these workers, we've donated 7,267 units of fleece, Houdini® jackets, and backpacks.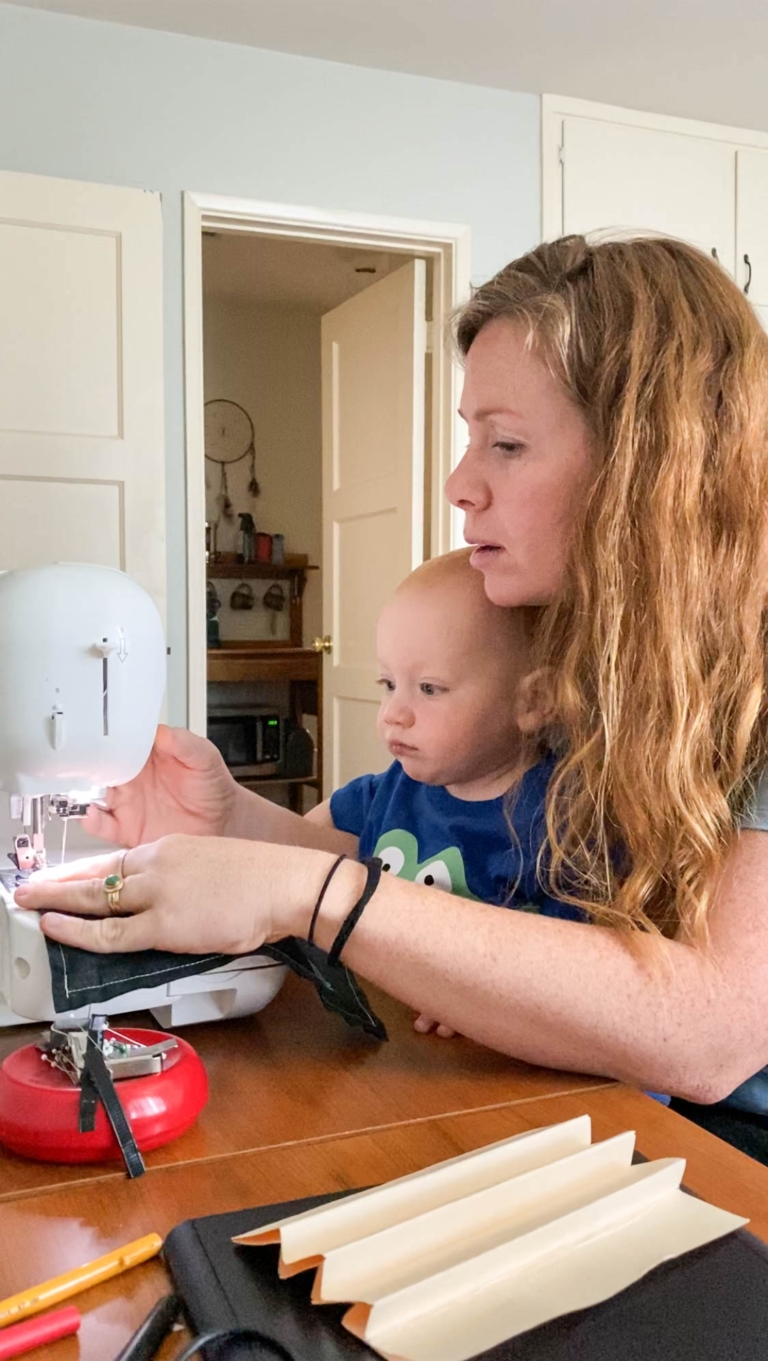 Sew-from-Home
For the volunteers who need to stay at home to juggle work and family, we're providing curbside pickup bins containing 400 pre-cut masks and all the supplies needed to assemble them. "I think the coolest thing we observed is how many people reached out to volunteer within days of being shut down," said Steven Yui, a Forge R&D employee who is helping manage the volunteer program. "With a mask design and materials available, the level of intensity our volunteers have taken to the challenge is incredible. They quickly started competing against themselves, trying to beat their previous day's output. They're data logging their output per hour and forecasting their trajectories to beating their records. Truly shows our competitive community of activists, makers and athletes!"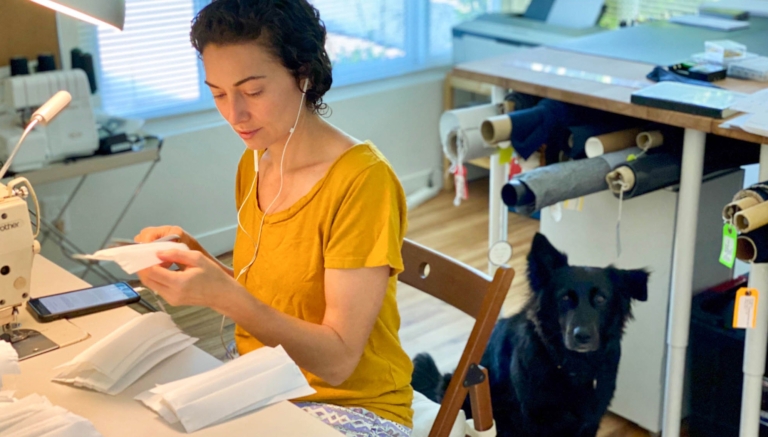 As of May 15, our sew-from-home volunteers had made approximately 3,200 masks, while another group repaired 3,500 masks.
We're all adapting and adjusting to a new normal, but it's proving to be a time of innovation as well. We'd like to thank the people, businesses and grassroots activists who have found ways to help, whether it's by sewing masks at home, providing food for folks with compromised immune systems or simply practicing social distancing. Acts of love, kindness and empathy are important to our future.
*Our face masks have not been approved by the FDA. Please see CDC recommendations here.
As we continue adapting to this crisis, we're looking into making our masks available for individual purchase. For now, we're focusing on donating them to first responders and frontline workers.
To fill out a donation request form, click here. Please send group sales inquiries to GroupSalesWest@patagonia.com.