Rewriting the Myth of the West
Jade Begay & Patrice Ringelstein
/
February 23, 2021
/
10 Min Read
/
Community
Two women, Black and Indigenous, reflect on the myth of the American West after horse-packing through the Sierra.
In the midst of the uprisings that took place across the country in the summer of 2020, at a moment when the entire nation was once again reckoning with its history of white supremacy, a group of seven women from different social, economic and professional backgrounds came together in the Sierra Nevada mountains to reclaim the practice of horse-packing. Their journey put into question existing narratives about lone cowboys and addressed how patriarchy and colonial-based views still shape the way many people see and interpret the history of the American West. 
This band of women dedicated to racial, gender and environmental justice rode through the mountains for 10 days and 75 miles. The trip was organized and brought to fruition by Aniela Gottwald, the founder of Riding Wild—a nonprofit that funds and guides healing horse-packing trips through the West—and sponsored by Patagonia.
After the trip, Jade Begay and Patrice Ringelstein looked back at their experience in the Sierra, reminisced about life-changing moments and discussed the draconian barriers that continue to keep people of color from spending time in the natural world and ultimately wanting to protect it.
This conversation has been edited and condensed for clarity.
Patrice: Jade, I remember you and your riding horse Forrest had a powerful bond that only grew stronger throughout the trip. Other people traded horses or didn't fully trust riding their horse down steep grades, along steep drop-offs or over shaky bridges, but you two were stuck together like glue. How did your relationship evolve during your time together?
Jade: I was born in the Year of the Horse, and believe this has something to do with my connection with horses. I've also been riding since I was a small child. To some extent, I trust horses more than I trust humans. And I think they can tune into this trust, and they can sense that I'm not going to take advantage of them or hurt them and that I'm there to connect with them. I've always had a fairly easy time bonding with horses and that happened quickly with Forrest, too.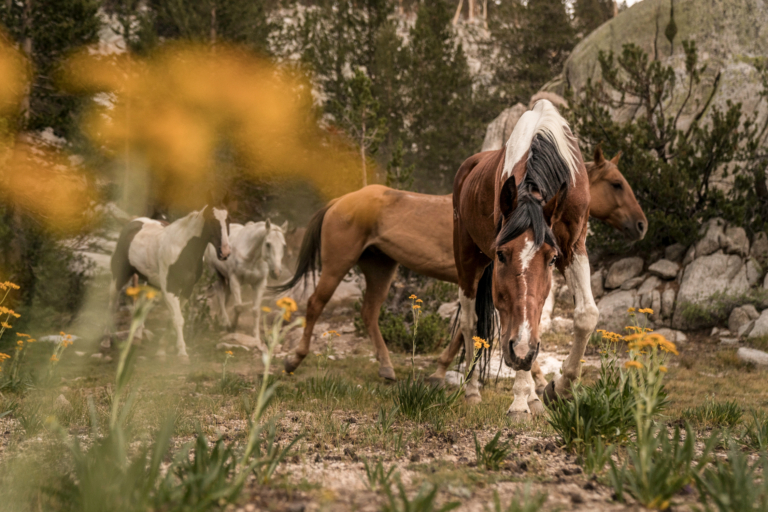 Jade: I think in order to have a clear channel with the horse, you have to let go of your busy mind, your attachments and your fears, otherwise the horse will tune into that and that will create a block in the relationship. On the trip, as the days went on, I consistently worked on clearing my mind and letting go of anxieties—whether those were about the trip or about leaving all my responsibilities for 10 days—and really just focused on being present so that Forrest and I could be that much more connected. When we rode down steep grades, where one misstep could mean disaster, or when he took off in a gallop because something spooked him, we became closer because we learned how to work together in a moment where complete trust was needed. At the end of the trip, I definitely shed a tear or five saying goodbye to that sweet boy.

Patrice: While the trust didn't come as quickly for me, I remember being inspired by my horse's capacity to trust me in such a short amount of time. Just a few hours after we met, Guapel and I were traversing down one of the steepest, longest mountain passes I had ever experienced. At first, I was terrified and contemplated hopping off. I didn't trust him or myself, but somehow, he trusted me and kept on. I quickly realized that it takes two to ride—he didn't just have to trust me, but I had to trust him, too. He knew where to step for the strongest footholds when navigating down the steep, slick rock slopes. I had to loosen my grip on the reins and let him lead and sometimes lean with him to ease tension from the saddle on his strong back. Other times I had to hop off and walk a few miles to give him a break.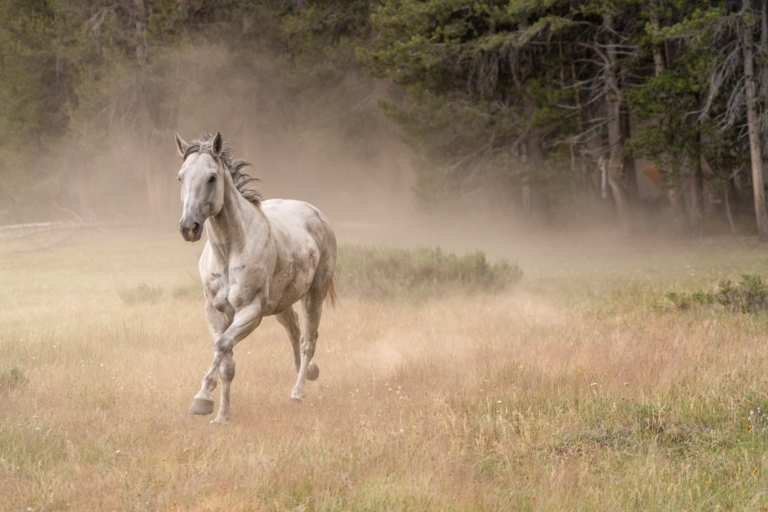 I felt so intensely connected to him after a few days and began to see the world through him. I'd watch his ears move to pick up sounds I might have missed, signaling a deer off to our left or, on a few occasions, a rattlesnake on the trail. After many days and many miles with him, I became more aware of the beauty of my surroundings and the power of being present. I draw on my time spent with Guapel often when I feel overwhelmed or concerned over things that are out of my control.
And this experience, it's so different from the "cowboy narrative" we've been told. I like how you mentioned that the story of the lone cowboy has been romanticized but is completely unrealistic.
Jade: I think what bothers me most about these cowboy narratives or narratives about the vast, wild west is that they historically have erased my people's point of view, all Indigenous peoples' for that matter. They create this myth about the land and who it belongs to or doesn't belong to, and you see how these myths or narratives continue to play out. The narratives around exploring the West perpetuate a sense of entitlement to land and to so-called "no man's land". That's another myth, right? Because ultimately all land within North America is Indigenous land. Stolen, Indigenous land.
Something I learned from an Indigenous mentor of mine is that seeing the natural world as "wild" creates a barrier for our connection with it. The idea of wild makes us think of something other, foreign or mythical. Instead, my mentor suggests how we can see the natural world as a relative. And I think it's this perspective, and the lack of it in our society, that leads us to extract from and not be in the right relationship with the natural world. This lack of relationality with the natural world is why you see politicians call the Arctic—a region that's incredibly rich in biodiversity—"barren" and "empty" so they can drill and gain profits. I think if our society and culture adopted this perspective of nature as a relative, we would operate from a right-of-nature framework and ensure that rivers, mountains and ecosystems have rights just like we do.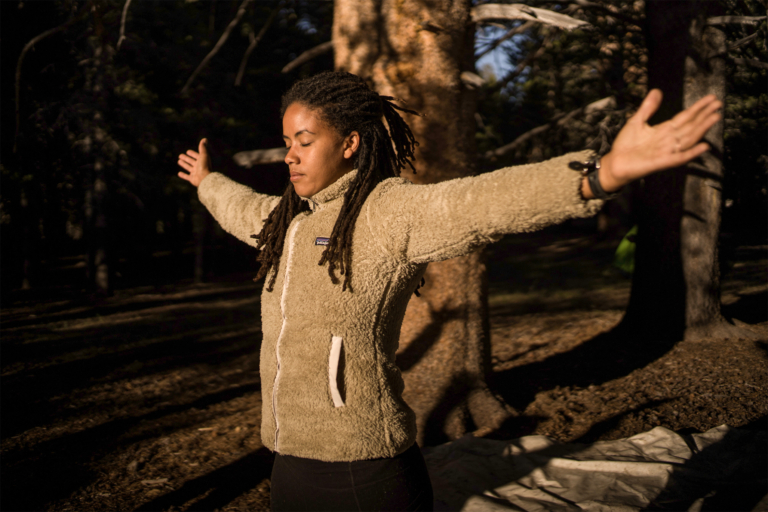 Jade: The world of horse-packing is steeped in patriarchy and has connections to white supremacy and colonization. Do you think our participation in this journey challenges these systemic problems? For me, the very practice or experience of being an Indigenous woman, riding through the West with a group of other women, making daily mindful intentions and practicing deep respect and reverence as we rode, that's really the meat and potatoes of narrative, cultural and individual change.
Patrice: I respect Aniela's well-intentioned organization of this packing trip being led and attended by women from culturally diverse backgrounds. Women and people of color rarely see themselves represented in movies, books or TV shows that take place in the mountain ranges of the American West, or any mountains at that.
As a Black woman born and raised in the city of Los Angeles, I grew up with the mentality that only the John Waynes and Clint Eastwoods of the world could experience the "wild West." The images of guns, violence and damsels in distress from those films filled me with fear rather than adoration for the outdoors. It wasn't until I moved to the Santa Monica Mountains and began creating my own positive experiences in the outdoors that my mentality changed.

I had been conditioned to believe that the outdoors was something to fear, and while it deserves a great deal of respect, I feel safer in the wilderness than driving down the 101 freeway or walking down Hollywood Boulevard. I believe that fearing or misrepresenting that which we don't fully understand can lead to its destruction: from the poisoning of fresh water through mining and excessive water-extraction practices, to the endangerment or extinction of animals such as grizzly bear and elk, to the blatant disregard of Indigenous people and their practices that have kept this land alive through it all. The more people who can develop a true appreciation for all that the natural world represents by going into it and having positive experiences, the greater the chance we have to protect it. I hope that this trip makes a strong statement that these experiences and this land don't belong to any one group, but to every living being on the planet.
Jade: As we rode through the Sierra and passed hikers or packers, I really did not see many people of color. The outdoor industry has put resources into marketing to demonstrate their commitment to improve diversity, inclusion and equity, but I'm skeptical of how marketing translates into real change and creating real access for people that look like us. What are your thoughts on how the outdoor world has been taking action to create more inclusivity? Do you think this industry has a role to play in reparations?

Patrice: I definitely noticed the lack of diversity out on the trail. I notice it every time I'm out in the wilderness. It's something that has bothered me for a long time, mainly because it's uncomfortable. It doesn't feel good to be the only Black person miles out on a remote trail in the wilderness. I want to see people who look like me enjoying the land as I do. I want them to feel inspired by its beauty and how comforting it is to let Mother Nature be in control.
Decades of oppression have kept a large majority of underrepresented people confined to concrete jungles. Working long hours for unethical wages leaves little time for taking a day to hike or let alone a week to go on a packing trip. It doesn't help that the mountains tend to be hours away from city centers and only accessible with a reliable vehicle. If outdoor and adventure companies are going to market to people of color, they would benefit the community, themselves and the planet by taking action to diversify the outdoors. Perhaps a line of clothing and shoes that can be purchased by the average person making $12 or $15 per hour? Or maybe free monthly guided hikes and transportation for those in underrepresented communities that otherwise wouldn't have the accessibility?
I feel very fortunate to have had this opportunity and am grateful to Riding Wild and Patagonia for sponsoring this journey. I hope this trip can inspire more companies to share the wealth and support diversifying the outdoors. Doing so will benefit not only the individuals involved but also the planet as a whole. As more people experience the innate beauty of the natural world, many will make instinctive choices to protect it.
Jade: Beyond the access issue, I think there's a deeper trauma or gap that was intentionally created by colonization and assimilation. For Native folks, we've been systematically removed from our ancestral lands and at various points in history criminalized for practicing our traditions and ceremonies, which are very interconnected with the natural world. There's also this layer of internalized shame that some folks are still working to heal because we've been penalized for being in relationship to our lands—one could even say we still are. If you look at resistances by the Standing Rock Sioux Tribe or Wet'suwet'en First Nation, our people are attacked by police and military forces for protecting water and gathering in prayerful ways. So, I think it's important for the outdoor industry to be really conscious and very aware of the histories and narratives of how Black and Indigenous peoples relate to land. There can be no healing without radical truth telling, so I'd love to see what truth, reconciliation and reparations look like for the outdoor industry.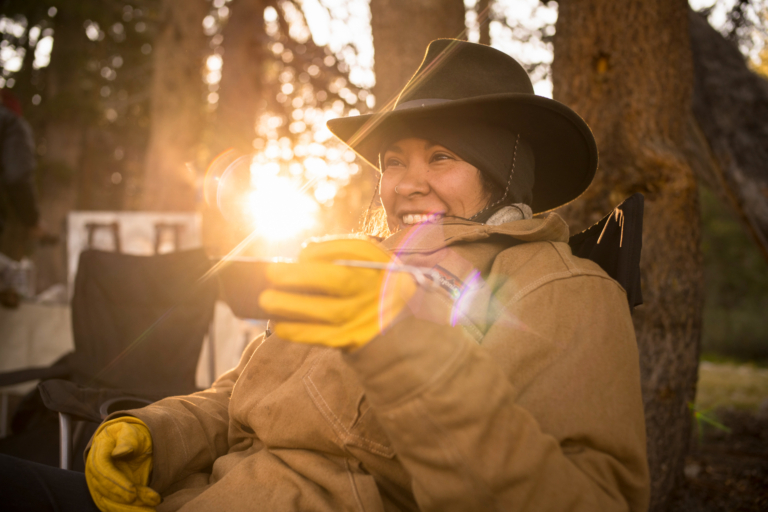 Jade: You found out some really big news just days before the trip. Can you share why you decided to do the trip anyway?
Patrice: After years of trying to get pregnant, three days before we were set to take off on our packing trip, I got a positive pregnancy test! My husband and I were elated and terrified. We'd had false positive tests before, but something about this one felt so real. So many thoughts were running through my head, the most significant being cancelling the trip out of precaution for this precious potential new life. The timing of the trip coinciding with the prospect of bringing a new life into this world was almost too perfect, though.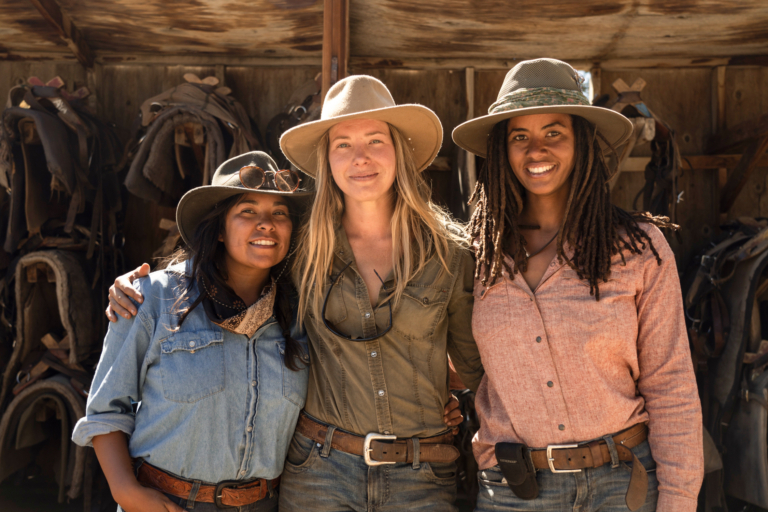 My husband and I came to the conclusion that this opportunity was too powerful to pass up—to pack through the Sierra with our future bright spirit cradled inside me could only result in positivity. We put our trust in the horses and the planet for a safe journey, and we were taken care of. Our baby boy is due to arrive in late March. To be able to one day share with him that he began his life on the back of a gentle, strong and trusting animal I hope will facilitate a deep relationship with the natural world that will guide him through life.