Product Testing: Babes in the Woods
/
October 29, 2008
5 Min Read
/
Design
We test our gear on a variety of levels. Our athletes and ambassadors are responsible for putting the latest designs and fabrics through the paces before we'll add a new product to our lineup. But just because something reaches our shelves doesn't mean testing is over. Once a new item shows up in our catalogs, our Customer Service staff gets busy ground-truthing the latest offerings. They know the questions our customers will be asking, and turn that attention to our gear.
_____________________________________________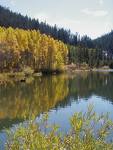 Product Report – For mom: Wool 2 Crew, Down Vest, Full-Zip Houdini Jacket, and new Visor Beanie For baby: Baby Puffer Vest and Kids' Visor Beanie
Activity – Hiking with a toddler, Spooner Lake, NV
Tested by – Michelle, Patagonia Web
Five years ago I would not have thought that "Funkytown" by Alvin and the Chipmunks would be playing on my car stereo while trying to get psyched for an outdoor adventure on a cool autumn day. But I guess it all depends on the company. My three-year-old son's head was bobbing up and down, thumb dangling loosely outside of his mouth as I explained we were going to go for a hike.
As we drove along a white-capping Lake Tahoe, he was pointing out the window demanding to "get out!" We parked at Spooner Lake and the second we got out of the car he started to chase a chipmunk. "Well cool!" I thought. This is what it's all about, right? Getting him familiar with nature and appreciating all of the fun things he can discover out here. What I didn't realize was just how many different things can be appealing to toddlers; or that what I thought to be an easy 2 mile hike was going to be an all-day outing with our first winter-like Sierra storm blowing in.
The conditions were definitely on the chilly side. The temperature hovered between 55-59 degrees, a distinct departure from the 80 degree temperatures we'd been enjoying. And then there was the wind chill factor.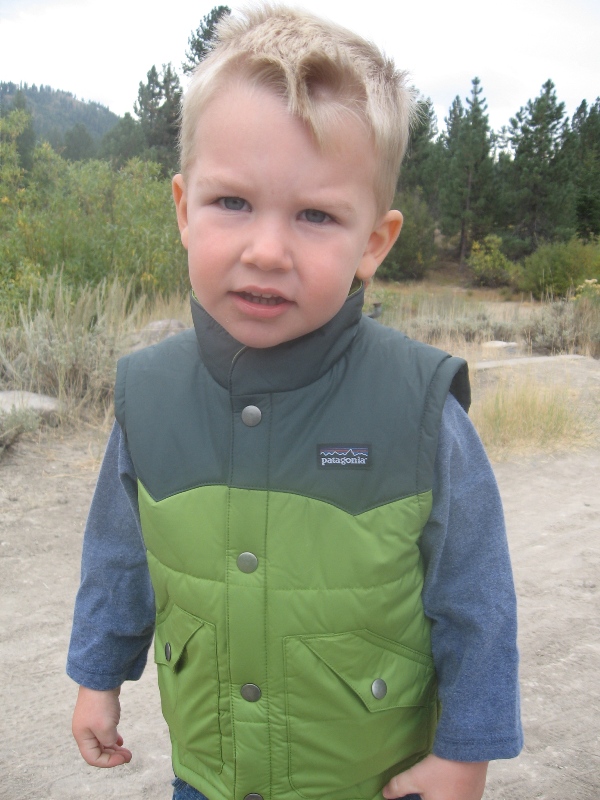 I started Zachary off with his new Baby Puffer Vest in Jacaranda Green, with a long-sleeved cotton shirt underneath. I tried several times to get him to put on his Visor Beanie, but it was a no-go. My child requires one of those under-the-chin straps in order to truly keep a hat on, so that was a bit of a bummer. I started off with a Wool 2 Crew, with a Full-Zip Houdini Jacket as wind protection, and my new adult-sized Visor Beanie.
About a ¼ mile into the hike, I was definitely getting cold. There was no level of exertion for me as my kid was constantly finding a stump to climb on, rocks to jump off of, and spend a good 15 minutes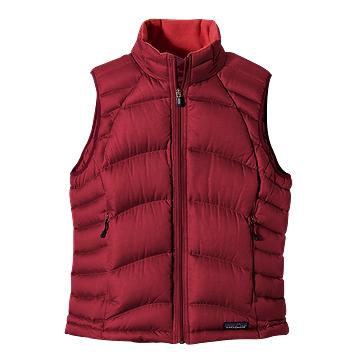 developing a deep friendship with a twig. So I threw on my W's Down Vest. Perfect! About ¾ mile down the trail, my son was approaching meltdown. We came upon a nice little spot to have our picnic, and the food made him happier. I also realized that he was cold, so it was time to lose the vest and break out the Kids' Duality Jacket. This jacket is awesome! Not only did the hood save his ears–and he tolerates hoods much more than hats–but the fuzzy fleece on the inside kept him warm while the nylon on the outside protected him from the wind.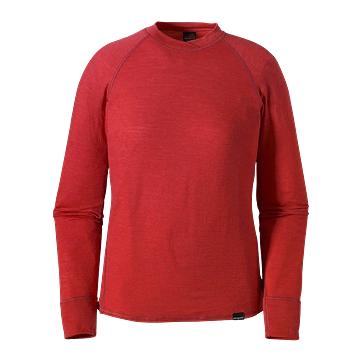 The turn-around in both of our moods was virtually instantaneous as we pressed on with our hike approaching beautiful golden-hued aspen groves. Zachary had fun chasing me along the trail with a death grip on his PB&J sandwich.
When we finally picked up the pace, the wind also died down so I was able to shed the Down Vest and continue with just my Houdini and Wool 2 Crew. The thing I noticed about the Wool 2 is that when my body generated some heat, it did a great job of regulating my body temperature and keeping the warmth at the same level even when I slowed down. And quite seriously to my surprise: no itch whatsoever! I have been one of those non-believers in wool that supposedly does not itch. I am really sensitive to it and can barely wear a beanie with any amount of wool in it for more than an hour. Not so with the Wool Crew. This will be one of my favorite pieces for a long time to come.
The Visor Beanie also proved to be a new favorite piece. It was loose enough to keep the pressure off of my head but tight enough to keep me warm, especially around the ears. The feature that rocks the most is where the visor is located, so the beanie isn't pressed against the forehead. I have never been much of a beanie person because I can't stand that feeling of having fabric against my forehead, and this proved to be the ultimate solution.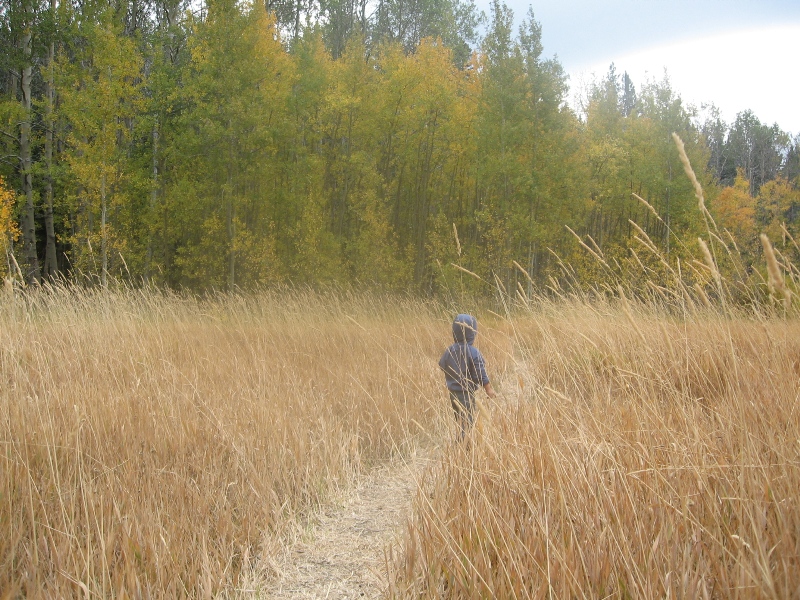 We completed our journey through several aspen groves and pines along the shore of Spooner Lake in just under 3 hours!
[Photos: Michelle Lesseig]