Patagonia Employees' My Footprint Series: Charting a Course of Questions
Series intro: Today's citizen is engaged, concerned, and most of all, confident; confident in his or her choice as a consumer, confident in his or her power as an employee, confident that change is possible.
The Footprint Chronicles were developed to document the changes we're making as a company to lighten our environmental impact and do less harm. These chronicles are as much an inspiration to Patagonia employees as they are an outgrowth of our personal values. The "My Footprint" series shares the stories of Patagonia friends and employees who have been inspired by the Chronicles, and whose inspiring lives help fuel the vision of what we can do as a company.
Their stories are offered here, glimpses of individual footprints spotted along the path toward positive change. We invite you to enjoy these personal accounts, and share your own in the Comments section included with these posts.
__________________________________________________________
My footprint is etched cleanly in the soft earth near a thundering creek. It's the latest addition to a chaotic, muddy mash of lug-soled prints pointing in all directions. Looking up from this confused circle, I can trace the tracks, see that they lead tentatively toward each point of the compass. The prints tell a story of a group that struggled to find its way, and I can't blame them. The people who made those tracks are my students, and I confiscated their maps before they left camp this morning. But there is one main track leading off from the center, the path it traces sure and deep. The feet that made it moved with purpose in a common direction.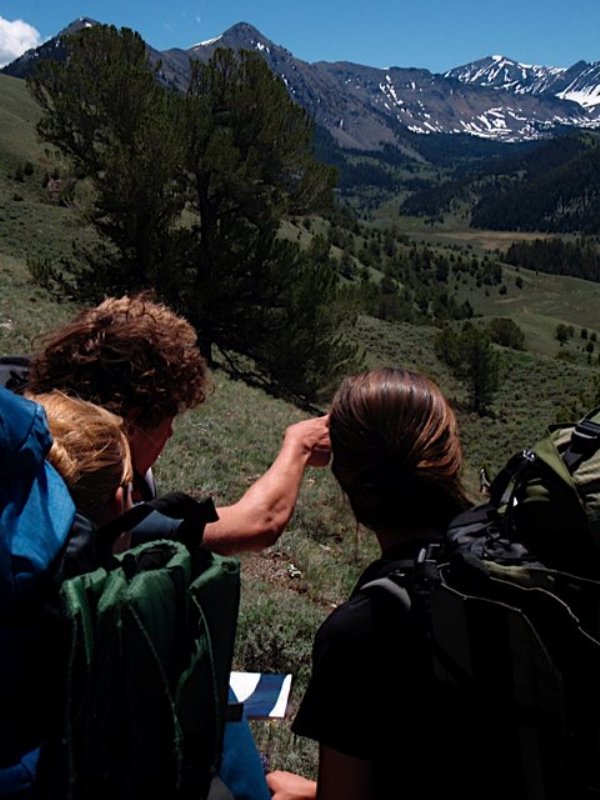 There's an exercise I do with the courses I teach in the mountains. Early in this month-long wilderness expedition, I introduce students to the elements of map reading. We cover the maps in detail every day, until the creases of their frequent foldings grow dark with the soil and sweat of studious hands. Each day brings a new element to the studies. We explore the subtle differences in the terrain, teasing out features that help formulate a picture of the land we will encounter. Today, a white expanse across the side of a mountain indicates the absence of significant tree cover, the ranks of brown contour lines crowding closely together suggest a steep slope, and the southerly aspect of the face means — at this time of year — no snow.
We follow a recipe that quickly leads to navigational proficiency: analyze map, interpret information, apply it to daily travels, and reflect on the day. Our practice is honed with careful questions. The students write detailed travel plans based on maps read with a pedant's eye. To prove the depth of their acumen, I take the maps away, leaving naught but these carefully written plans to travel by.
I have yet to witness a student fail or get lost. Practice, patience and experience dial an internal compass, one that provides reliable guidance even to those trained to rely on a map. It's through practice like this that these students will develop confidence; the kind it took for them to turn away from the comfortable "handrail" this creek provides, leave the established trail, and march off through the forest toward today's destination. Practice like this develops the self-reliance necessary to follow their own path, rather than retracing the footsteps of others.
Through teaching mountain navigation in this way, I've learned to pay close attention to footprints. The pattern of a given sole, the depth of a track, angle of a footstrike – these variables help me identify and trace individuals. It never fails to surprise them when, gathered around at the end of the day, I relate details of their hike (where they took breaks, the precise order of the hiking group at a given time, who wandered off from the party and at what time, etc.) despite having been hours behind them. But for all the attention paid to the intricacies of their individual footprints, mine remain a mystery. The only way I can find out what they look like is to pause in the daily march and take a moment to look behind.
Recently, I've taken to doing just that. And while the sight of my own cleanly etched tread still triggers a momentary jolt of surprise and confusion, I've begun to recognize my mark and, like the students, ask careful questions about what I see. Those questions are beginning to linger, setting in motion subtle shifts that will surely change everything.
You know where this is going. During the long drive home after wrapping up my most recent course, I caught the draft behind an old beater of a truck. The driver could tell my little rust-bucket was struggling against the headwind and was happy to let me settle in behind him. As we made our way across the high, rolling desert of southern Wyoming, my eyes kept stealing back to his bumper; on it, an 80s-era sticker read "Whoever dies with the most toys, wins!!" I smiled at the irony of being served up this grub for thought, fresh on the heels of a solid month spent carrying everything I needed on my back.
As I sat there slowly melting my way back across the mind-bendingly vast stretches of the West's arid heart, my mind was on my footprint. The metaphorical one. The one that's growing.
And on this troubling thought: I'm not sure I can stop it.
[Students in Montana's Beaverhead Range study a map of the surrounding terrain, using features like mountains and rivers to get their bearing before choosing their route. Photo: localcrew]