Introducing Woolyester
Kristina Johnson Avery
/
September 12, 2018
/
5 Min Read
/
Design
Three years ago, we set out to make a new fleece fabric using natural fibers that were light on the land. Our inspiration came from an old sweater, a weather-beaten merino pullover worn by founder Yvon Chouinard in Patagonia's early days. It had all the properties that have made wool a staple for centuries of cold-weather work. It breathed well, wicked sweat and stayed warm when wet.
To this, we added the durability and loft of our classic synthetic fleece (think of the cozy Snap-T) for the best of both worlds: Woolyester Fleece, a lightweight layer that dries quickly, packs easily, and is soft on the skin. Yet the biggest innovation behind the fabric is its use of recycled wool. And like a lot of good ideas, this one sprang from necessity.
In 2015, Patagonia made the decision to temporarily halt the use of virgin wool, due to concerns about animal welfare and land management. The pause gave us time to develop the Patagonia Wool Standard, and use the Responsible Wool Standard as our baseline requirement for wool suppliers, so that we only work with sheep ranchers who demonstrate that they treat animals humanely, manage grasslands responsibly, and offer transparency at every step in the supply chain.
With virgin wool unavailable, and plans for a natural fiber fleece already underway, our materials team needed a workaround. So we turned to reclaimed wool.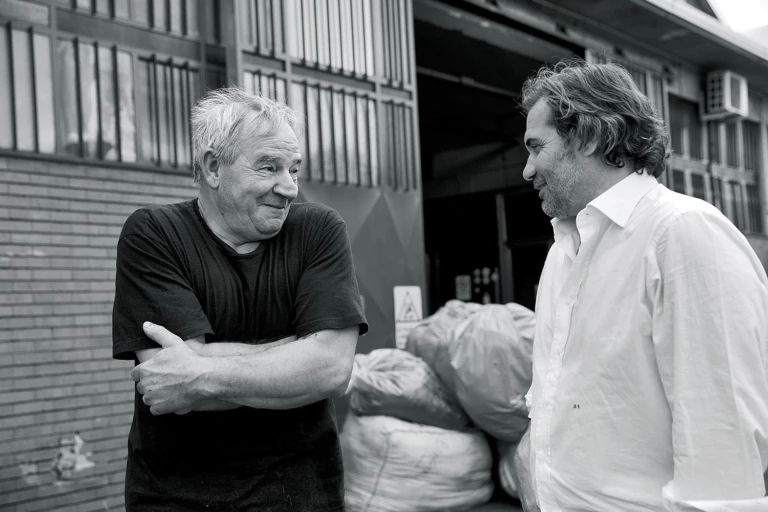 We started in the Prato region of Italy, where our partners, the Calamai family, have been recycling wool for nearly 150 years. Two young brothers opened the Calamai facility in 1878 (well before the birth of the modern environmental movement) with the goal of meeting growing demand for affordable textiles. Today, the family's fourth generation is motivated by ecology, not economics. Thanks in large part to their recycling process, the production of Woolyester Fleece uses 23 percent less water than its synthetic counterparts, and emits 37 percent less carbon.
Recycling wool also keeps clothes out of garbage dumps. The Calamai family collects unwanted sweaters, blankets and fabric scraps from around the world, then sends them to Prato, where they're sorted, shredded and bundled into towering monochromatic bales.

"It's astonishing when you go to the facility and see these giant warehouses stacked with discarded clothes," says Sarah Hayes, Patagonia's senior material innovation and research manager. A staggering number of the abandoned garments are in like-new condition. Most of them come from the U.S. Woolyester's Fall 2018 line alone will divert roughly 60,000 pounds of clothing from landfills.
Another big reason we like recycled wool is because it eliminates the need for dye, and the toxic chemicals and water waste that often come with it (we're tackling this problem with the Clean Color line). The color experts at Calamai can create almost any hue without ever opening a bottle of pigment. They pluck a variety of colors from the spectrum of fiber bales, then run them through a rigorous mechanical blending process to render an entirely new shade. Mix three variations of crimson, and you have Patagonia's Oxide Red—a shade that's as vibrant as it is easy on the planet.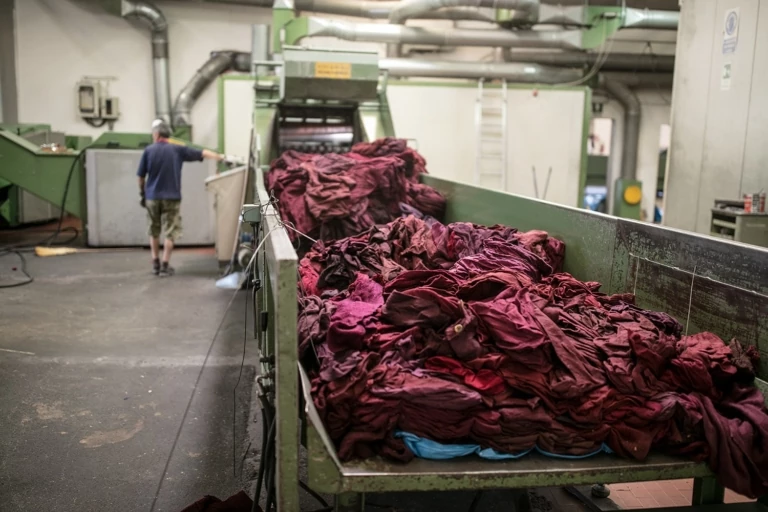 But it does no good to make an environmentally friendly jacket that no one wants to wear. In order to achieve the level of comfort we were going for, we knew we needed to nail the mix of materials. It took a few tries. When we blended the recycled wool with a standard polyester, we ended up with a dense, bulky fleece. So we went back to the drawing board, this time knitting in a feather-light micropolyester. It worked better than we'd hoped.
"The moment a new fabric arrives at the warehouse and you unroll it, you know if you have a winner," Hayes says. "As soon as we touched it, we were stoked. It was soft, lofty, lightweight."
But it still had to go through a battery of tests at Patagonia's in-house lab. After washing it, stretching it, and beating it up to check for pilling, abrasion, and bursting strength, our design team sent Woolyester on to field testers, who lived in it for weeks straight before giving it a thumbs up.
It was warm, but didn't trap sweat. It didn't hang on to odors. It washed well. You could easily compress it and shove it in a backpack. It had a higher weight-to-warmth ratio than standard synthetic fleece, and better breathability. It dried more quickly than a wool sweater would, and was significantly lighter.
It also happened to look pretty good. Before sketching silhouettes for the pullovers and full-zip jackets that would introduce Woolyester to the world (along with Woolie, its sister line of recycled wool and cotton), Senior Sportswear Designer Kourtney Morgan spent weeks sifting through Patagonia's archives, a sprawling warehouse stocked with specimens of nearly every T-shirt, jacket or climbing tool we've ever made.
Morgan pulled favorite details from the 1970s pile fleeces that first put Patagonia on the map. She modeled wide navy cuffs after the ones we used back when we couldn't afford fabric minimums to make trim in other colors. She added Half Dome pocket stitching and swapped out baggy Y-Joint sleeves for a slimmer fit.
The result is a modern, minimalist layer that pays tribute to our history, not just in its classic design lines but in its ethos. It's the evolution of fleece.
Visit patagonia.com to see the entire Woolyester collection.