If I Had a Hammer
Jeff McElroy
/
October 14, 2020
/
4 Min Read
/
Workwear
Who made the first hammer, the thing that's used to make other things? For blacksmiths, it starts with the forge—and it's hammers all the way down.
In 2018, Ashley Childs walked away from a lucrative, high-paced jewelry-making business to pursue a deep calling: learning to become a blacksmith. She left a world of "deadlines, overnight shipping, flight delays and broken printers" behind and enrolled in the Penland School of Craft in the mountains of North Carolina—and she never looked back. Over the past two years, Ashley has traveled the world to learn different techniques from master smiths such as Jerry Coe in Berkeley, California; Heather McLarty in Buenos Aires, Argentina; John Winer in Tennessee and Yvon Chouinard in Ventura, California. In early February 2020, she joined master blacksmith Jakob Faram at his shop in Stanwood, Washington, to learn the art of hammer making. Turns out, Faram had also transitioned away from his jewelry business in favor of swinging the hammer.
After a good, long day at the anvil, the pair sat down to share their thoughts around all things "smiting" the iron.
Ashley: It's uncanny how quickly your body acclimates to swinging a hammer. Truly, it comes as naturally as throwing a stone, casting a fishing rod or shooting an arrow. With practice and time at the anvil, each hammer blow becomes more intentional and as honest as the weight of your hammer.
Jakob: Once I got a taste for forging, there wasn't anything else I wanted to do. The act of swinging a hammer as a means to manipulate material is incredibly addicting. On the surface it all may seem like a brute, thoughtless process of beating material into submission, but it's quite the opposite. It is very technical and requires each blow to be well calculated and thought out in a split second.

Ashley: It's strange how a certain material can teach you. I've failed so many times and I don't know if it's the body aches and sweat or if it's the danger involved, but I've created pieces that changed my sense and strength of character.
Jakob: The most satisfying thing about blacksmithing is putting something I made in someone else's hands; whether that's a hammer, a necklace or something they put on their dining room table. The satisfaction comes from knowing I created something with my hands and put it out into the world—knowing it will be here long after I am gone. It's a way to sort of immortalize my existence on this earth.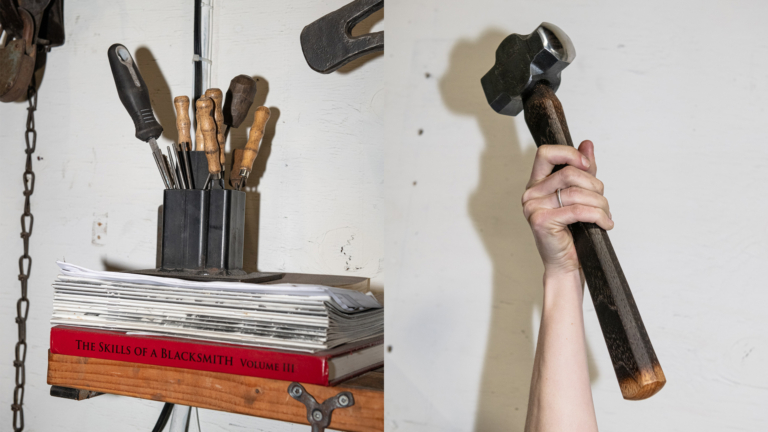 Jakob: The first tools I made were from old truck coil springs, and I still use some of those tools to this day. That was the turning point for me, when I found out what it feels like to make a tool and use that tool to make something else. It had to be the most gratifying moment I've experienced.
Ashley: The act of swinging a hammer changed the way I saw the simplest things, from a pair of kitchen scissors to an iron railing in a park.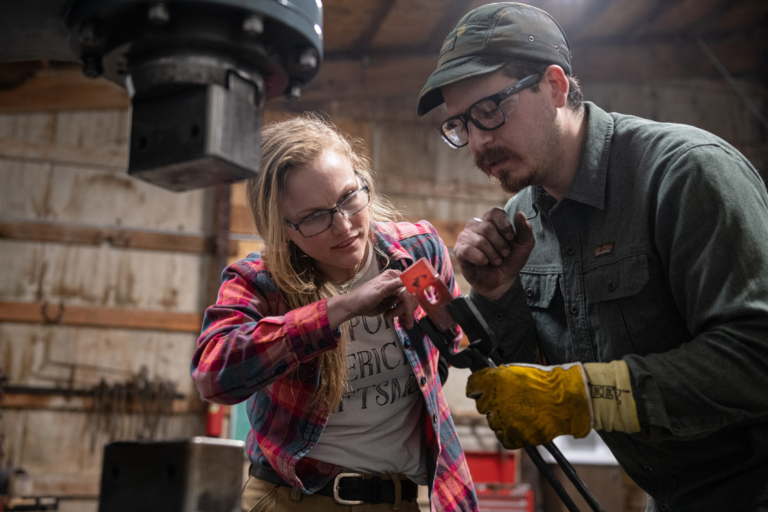 Jakob: One of the major things I tell my students is to slow down. There seems to be a lot of focus on how much they can get done in one heat. Speed comes later. Right now, it's important to develop an eye for detail.
Ashley: I have more mentors and new family now just by way of the hammer. From blacksmiths to bladesmiths, these people are as straightforward as the material. I don't need to be a master—I simply crave to be with people who love and accept my strength and sensitivity.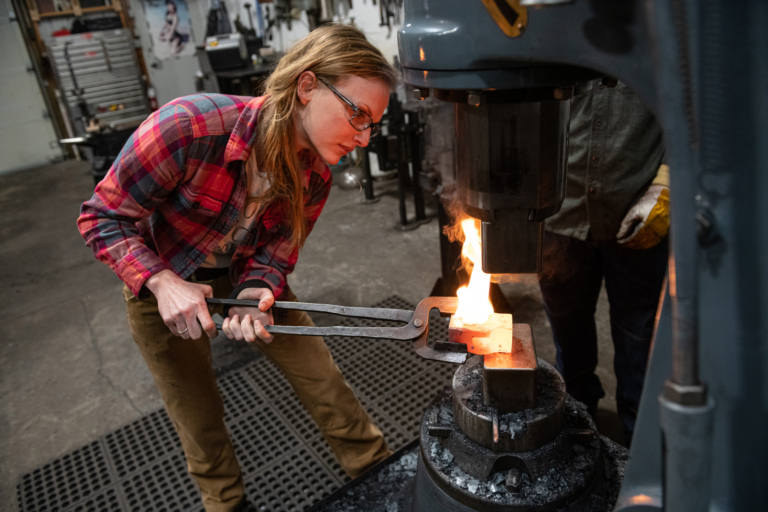 Ashley: Before you could cross the country by train, there was the town blacksmith. This was not some kind of calling you could pick up easily, but a summons to a son whose father swung the hammer to fix the local farmer's horse carriage and tools. As my friend Patrick Quinn at the Center for Metal Arts in Johnstown, Pennsylvania, said, "You wouldn't have the iPhone if there wasn't a blacksmith."
Jakob: We have adapted away from needing the village smith, and what once was a necessity is now a luxury.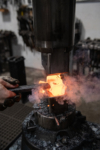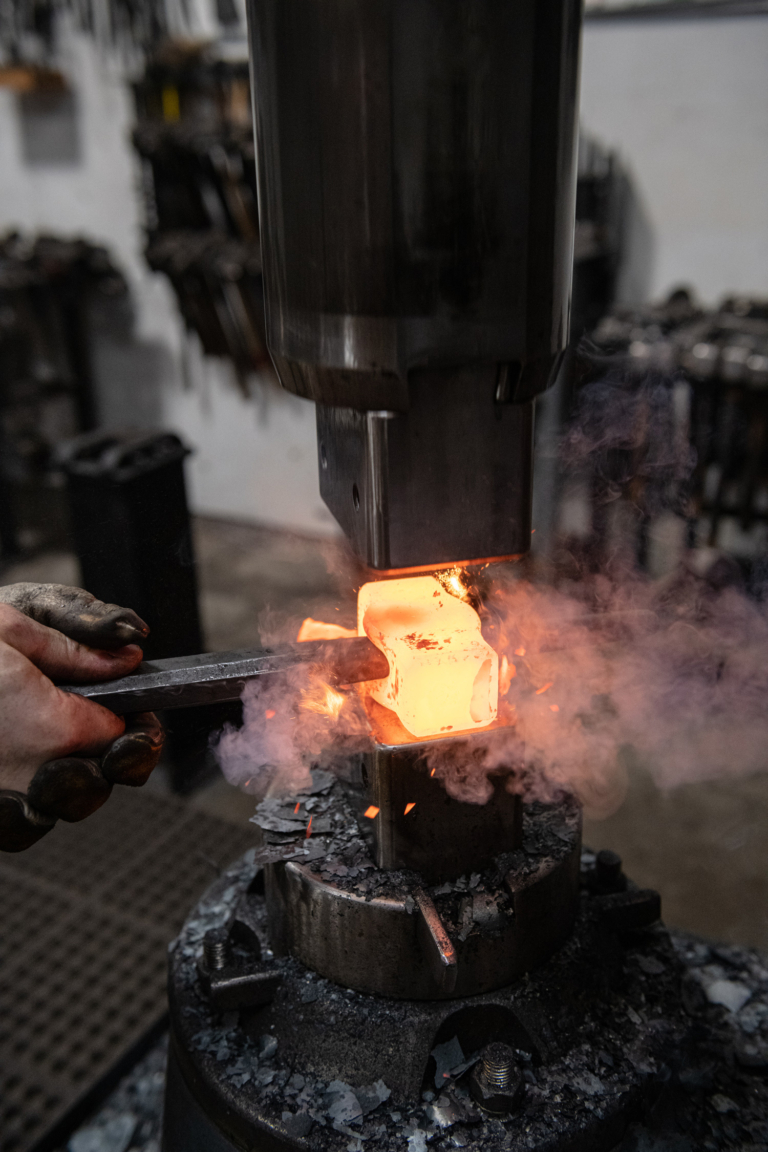 Jakob: Historically, heat sources started with charcoal, then moved to coal. Now we have propane and natural gas forges, induction forges—and the availability of different steels would spoil the smith of yesterday. But forging, at its core, is hugely unchanged and will remain unchanged because it's always going to be the act of manipulating material between two die surfaces.
Ashley: Blacksmithing has a global language. Whether you're forging a railing or tools, the heat and intention are the same. Just as the material comes out of the same giant blue dot, the same rule applies: Strike while the iron is hot. That will never change.