Lynn Hill Climbs in Italy
Lynn Hill
/
August 29, 2007
/
3 Min Read
/
Climbing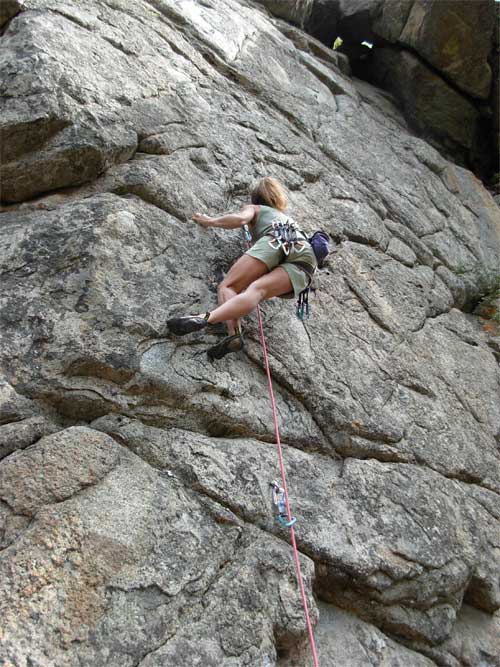 The last few days with my Italian friends have been fun! Yesterday I drove them to the airport and they are probably about to land on their home turf as I write these words. One lives in Rome where I lived for a year and a half, and the other lives in Arco, the historic place where I first came to Italy and competed in the Sport Roccia competition (now called the Rock Master). With Owen in daycare, we took advantage of our last chance to climb together before their return to Italy. Since it is still scorching hot in the sun, we chose to climb in Boulder Canyon at a shady area called Avalon. Though the weather looked dodgy, some young guys climbing next to us said that the weather forecast predicted only a 30% chance of rain.
After climbing the second pitch, the rain began to fall. My friend Antonella said, "Should I go up and get the gear?" I said, "Si, vai!" But by the time she came around the overhanging bulge onto the upper face above, the sky cut loose and drenched everything. I was laughing so hard I could barely stop — especially when she came down and ripped off her top in front of two young guys. The look on their faces was hilarious! In her mind, the comfort of changing into a dry top was a much higher priority than any sense of modesty. I love that aspect of the European temperament.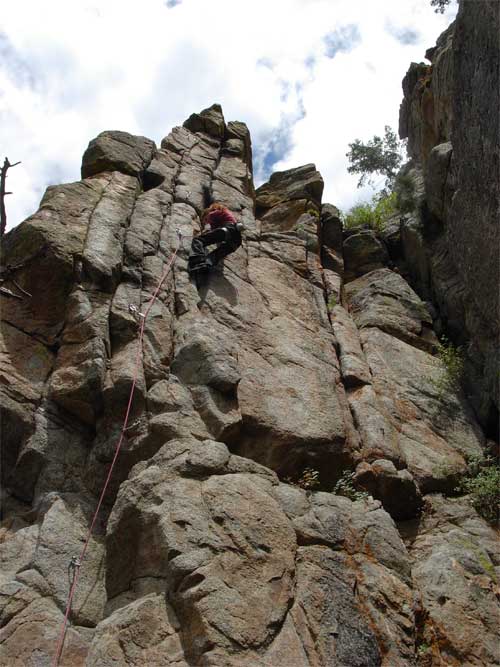 Shortly after that scene, everyone else at the crag left and we decided to wait it out and try climbing when the rock dried. We ventured up to the next tier where there was some sunshine peaking through the clouds. By the time we were finished snacking on some sunflower seeds, the rock was dry.
After a few more climbs on the front side, we saw thick black clouds approaching.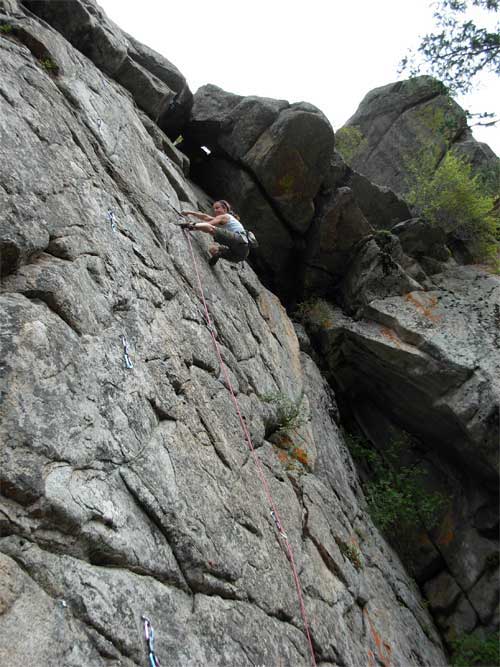 As my friend, Giulia finished the last pitch, we packed up our gear, dashed down the hill, pulled ourselves across the tyrolean, and just as we arrived at the car, it started pouring rain. We were happy to have made it just in time since only minutes later, it started to hail so hard that the sound of ice pellets beating down on the car hurt my ears! The temperatures went form hot, to cold, to wet, then beautiful.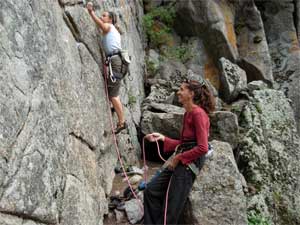 I'm glad we got the chance to spend one more pleasant day on the rocks together. The next time I see my friends will be at the end of September in Rome after the conclusion of my climbing camp in Sardinia. I look forward to this trip and the opportunity to meet new people, go climbing on some fantastic limestone cliffs, and to hang out with my old friends.
Photos: Antonella leads the crack; Giulia laybacking; Anto and Giulia.