Brittany Griffith Remembers Her Larger-than-Life Friend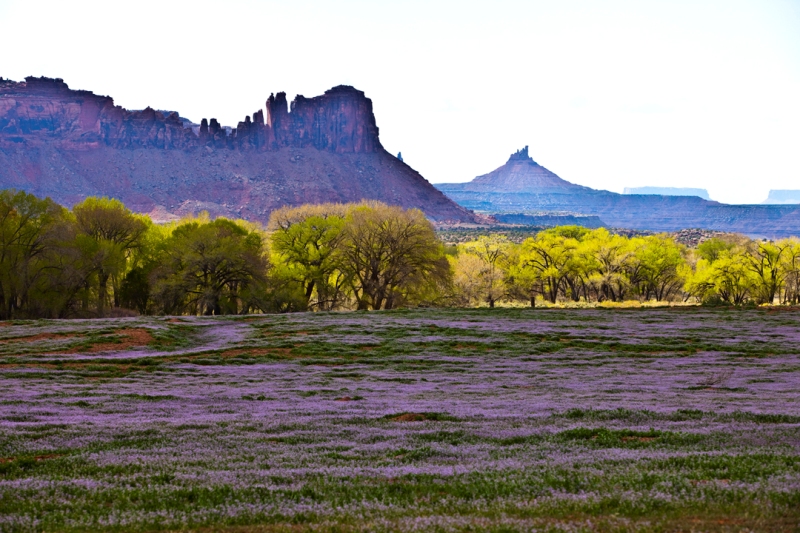 Early spring means it's desert season. Well, it does now. Fifteen years ago it meant belaying my boyfriend on his three-year sport-climbing project in the Virgin River Gorge. Now, I spend March and April weekends climbing sandstone splitters in the beautiful desert of southeast Utah. Back in the 1990s, I would burn away those same spring days clipping bolts and chasing grades. Why? Well, honestly, I didn't know any better. Living part-time near Smith Rock in Oregon and traveling with my sport-climbing boyfriends, bolts and projecting was all I ever knew. My first trip to the desert of Utah outside of Moab in 1999 changed all that—and I couldn't be happier.
And now here it is again: desert season. I have dozens of special memories from my desert climbs, but one stands out more than the rest: a weekend in 1999 spent cragging at Indian Creek with my friend Sue Nott.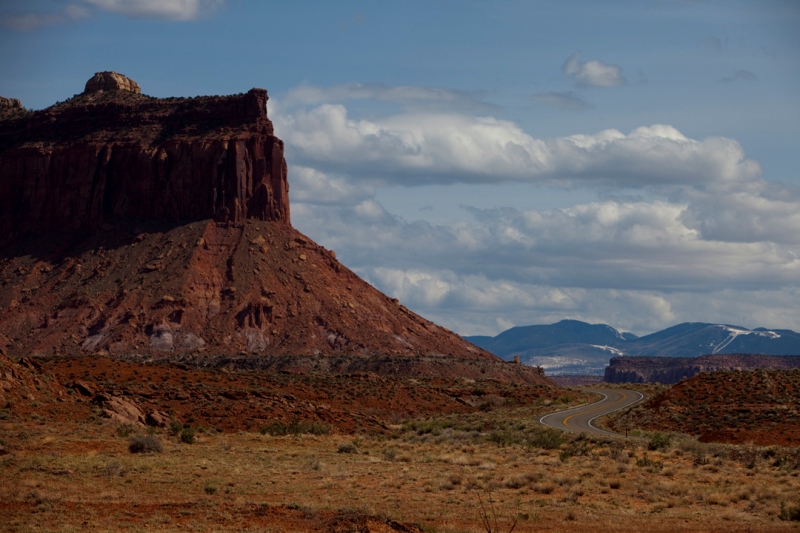 One of the many amazing Wingate sandstone buttresses that line the canyon. Photo: Andrew Burr
I was casually lay backing 5.8 terrain and was about 30 feet off the ground. I looked down and saw Sue lying on a flat sunny boulder, 20 feet away. "Sue, you can't belay me from way over there!" I shouted down.
"But it's so nice in the sun!" She protested, but then bundled up in an enormous pink down coat and moved to the shady base.
Seconds later, I experienced the familiar feeling of falling. But something was wrong, the rope wasn't stopping me. Then the horrible dread of realizing that the rope wouldn't stop me as I hadn't yet placed any gear. I focused on the fast approaching slope of sand, rock and cactus. As I tried to spot a landing, poof, I felt like I had landed on an airbag. I suddenly found myself seemingly inside Sue's gigantic down coat. She caught me. I was fine. Not a scratch on me.
She wailed. At first I thought she was hurt. But then realized that she was laughing. Howling in fact. What was so funny? I guess this was one of the best things about climbing with Sue; everything was funny.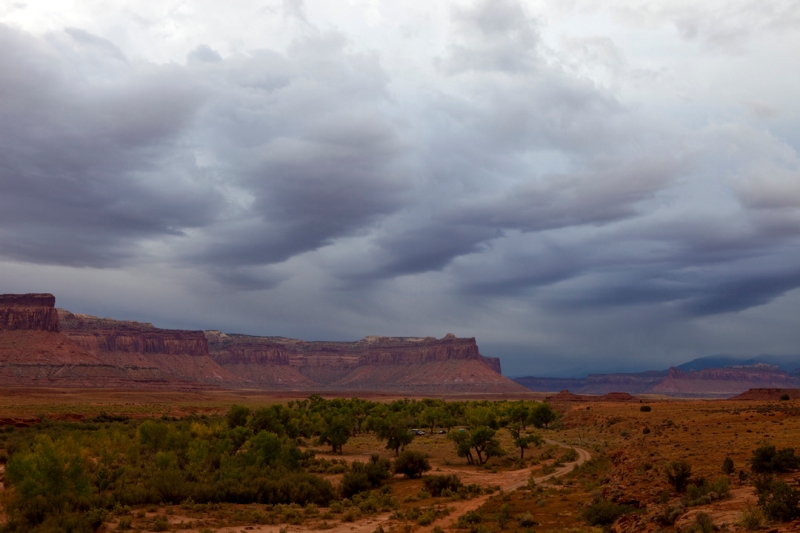 World-class camping among the cottonwoods. Photo: Andrew Burr
Sue was my first partner in Indian Creek. She was mostly a mountain climber (she had crampons!) and didn't care that I was a skinny sport climber. Sue liked anything pink or sparkly. She would go for five-mile runs before dawn on climbing days. Sue used Big Sexy Hair shampoo.
Sue also loved top-ropes and before I could shake the experience of the morning's ground fall, she had cleverly convinced me that I could lead the Creek classic, Sacred Cow.
"But Sue, it's 5.12!" I whined. I wasn't usually intimidated by that grade, I could casually warm up clipping bolts on a 5.12, but this was trad climbing. She amusingly started clipping cams to my harness. I squinted up at the stunning splitter and thought what the hell, we were the only ones there, there'd be no witnesses to the ensuing epic.
We were so rapt in our giggling and gossiping, that we didn't hear all the huffing and puffing, clanging and clinking coming up the loose slope. A couple emerged. The girl, wearing her harness and already racked up, I'll call "Trad Betty" was obviously perturbed that we were there and apparently at the base of the climb she wanted to do.
She recognized me and hissed, "What are you doing here? There's no bolts here." I shrank and blushed. Maybe I didn't have any business trad climbing. Afterall, I had just decked on the warm-up.
I recognized her, too. Trad Betty had recently been at my home crag, Smith Rock (which is mostly bolted climbing).
I tried to say something hurtful (but true!) back at her. "Oh hey, I remember you! I put a top rope up for you on the warm-up a few weeks ago at Smith Rock!"
She stared at me blankly and didn't flinch. She looked tough with all her well-used cams and slings and taped hands and dirty clothes and Belayer With An English Accent. Oh yeah, well look at my cams (shiny) and… and my matching bra top and tights and perky ponytail and ditzy blonde belayer AND, that I'm already tied in at the base of this climb.
I was nervous. What if I flailed miserably and couldn't get to those anchors 150 feet away. I awkwardly stood up in my climbing shoes, already struggling with the weight of the rack. Sue, uncharacteristically silent, put the rope through her ATC, held it with conviction and then said to me, in a serious tone that I had never once before heard, "You show them what you are doing here." She softly smiled at me from behind over-sized pink sunglasses.
With Sue's positive energy coursing through the rope, that's just what I did. Squealing with delight, Sue whooped and hollered up at me as I clipped the rope through the anchors, "Good job!" and then proceeded to do multiple top-rope laps while Trad Betty and English Belayer grumbled.
It's been more than five years since Sue and I had last planned to go back to the desert together. We were going to have so many more fun times in the sand and sun when she returned from her big scary mountain climb. Sue never came back from that mountain. But I know she is sometimes there with me in the quiet rosy light of dusk as I hike down the talus cones by myself. I can hear her laugh and see her big sexy hair.
Rest in peace, sun and sandstone, Sue.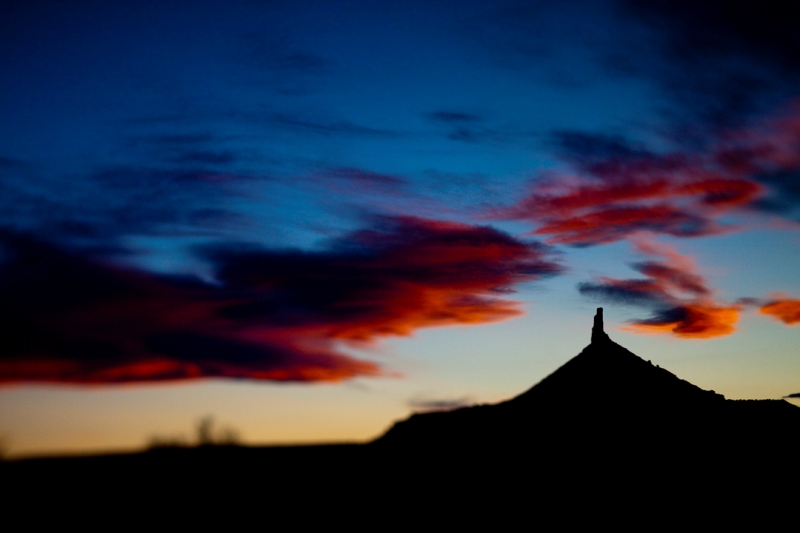 North Six Shooter sunset. Photo: Andrew Burr