Chasing Snow into the Southern Hemisphere – Live Updates at #PursuitOfPowder
By Eliel Hindert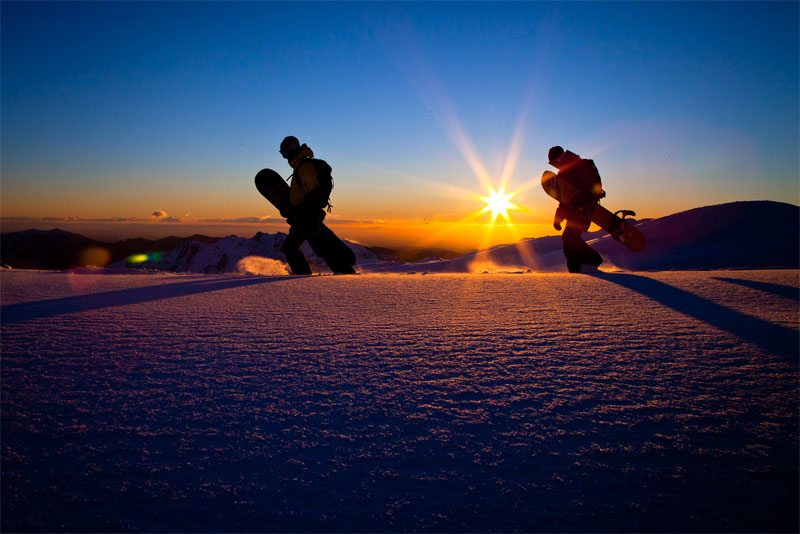 We live our lives one step at a time. Steps filled with dust, snow, mud, ice, rock, and increasingly present pavement. Right foot in front of the left ad infinium that move us through space and time, changing our surroundings while our surroundings undoubtedly transform us.
Take a single step over the equator and an invisible line is crossed from the Northern Summer into the Southern Winter. Take a couple hundred thousand more steps and you will find endless deserts dotted with snow capped volcanoes, immense glaciers colliding with lush rainforests, and temperate bustling metropolises seated at the feet of the icy mountain peaks that extend well above the surrounding clouds and pollution alike.
'Winter' is not simply a three-month period in North America when clouds fill the sky and icy airs settle around us. For me and my fellow Patagonia snow ambassadors, it is a search for a very different definition. One that encompasses an unrelenting drive to seek out spaces touched by winter's hand twelve months of the year.
[Above: Alex Yoder and Forrest Shearer hiking Nevados de Chillán during their #pursuitofpowder in Chile. Photo: Andrew Miller]
Diving south for another winter feels like a second chance. For myself, an all too real second chance after a severely broken arm pulled my powder season out from under me, just as the late winter season was kicking into gear.
It seems so foreign upon arrival that it's easy to get caught up in the dream-like state of it all. With your seasonal clock spun 180 degrees in the opposite direction, the feeling is surreal to put it mildly. Stray dogs in mountain villages following your touring party dozens of miles into the backcountry. Warm smiling faces, hardened by the unrelenting cold and wind of these exposed environments. Islands of white seated amidst and endless sea of oceanic blue.
It is not a place but rather an idea, one that will leave this space and return it to summer as quickly as it arrives. A temporary state that cannot be captured, caged, or consumed. Only pursued one step at a time with the hope of existing amongst it and enjoying it, if only for a fleeting moment.
These are the images of that journey. This is our Pursuit of Powder.
Eliel Hindert claims residence in Canada's Coastal Range, but lives the majority of his life out of a duffel bag, wherever snow or swell take him. A Patagonia grassroots athlete and fledgling contributor to ESPN, The Ski Journal, Powder Magazine, and Freeskier, he has begun entertaining the foolhardy idea that writing might actually be a reasonable profession.
Patagonia riders Forrest Shearer (@forrestshearer), Alex Yoder (@yoderyoder), Piers Solomon (@pierssolomon), Dave Rosenbarger (@american_dave), Adian Sheahan (@aidansheahan), Carston Oliver and Eliel Hindert (@eliel_hindert) are searching for powder in the southern hemishpere at this moment. See their photos by following #pursuitofpowder on Instagram, Tumblr, Twitter and Facebook. Here's a taste of the action so far…