Baggies Shorts Throughout the Years: Photos
In the book Unexpected: 30 Years of Patagonia Catalog Photography, long-time contributor and friend to many of us at Patagonia, John Russell, said in an interview, "For me, photography is all about two things, light and relationships."
Beautiful lighting is something you'll find in any good photo. But it's not as important to us as the relationship depicted, either between friends or family members or between one person and nature. It's through relationships that you get good stories, whether it's a moment of awe or reckoning, expedition plans gone awry, crappy weather endured, or goofy antics on a rest day.
"No one could resist the appeal of wallowing and sliding around on that beautiful warm brown stuff, and changing their persona—a most satisfying and sensual experience."
Of all the products we make, Baggies™ Shorts have been our most popular in photographic submissions throughout the past 30-plus years. The shots range from irreverent to desperate, from ill-advised to poignant. Every one of them tells, in good light, a story of relationship.
To celebrate 36 years of Baggies, we dug through our archives and contacted a handful of our friends so they could share the stories behind a few iconic Baggies photos.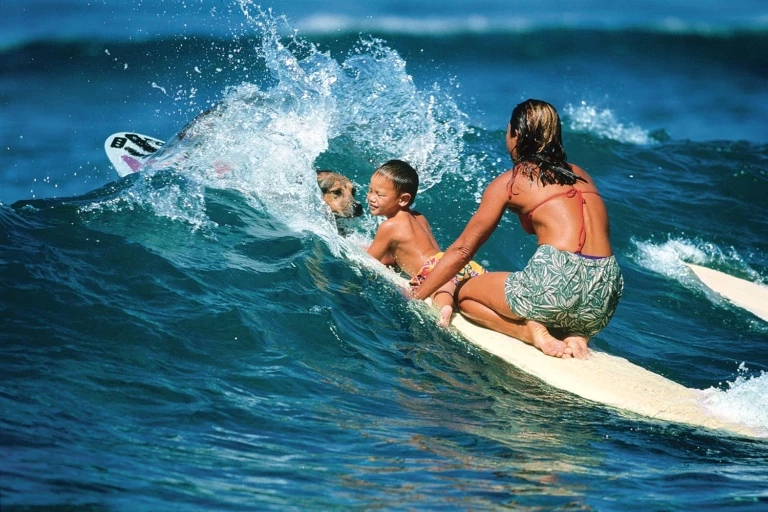 "I met Rell Sunn the same day I took this photo. She was known as the "Queen of Makaha," and greeted everyone with an open heart, whether they were a local or a tourist (I was the latter). Normally I wouldn't select a photo like this. She's not riding the wave toward me and my camera. Instead, her back is facing the camera and she's paddling out. But to me it shows her true aloha spirit: sharing her home, which was the ocean, with a keiki, and of course her dog Lokahi along for the ride." – John Russell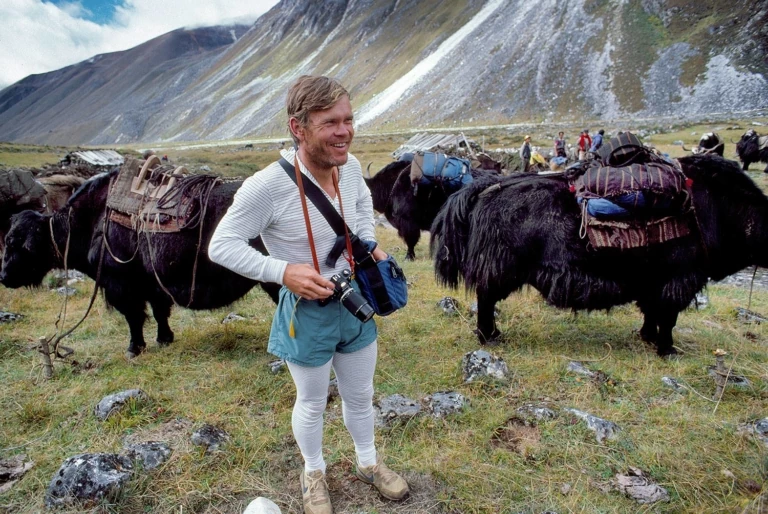 "This photo is from our 1985 Gangkar Punsum expedition in Bhutan. It was Yvon, Doug Tompkins, Gerry Roach and myself. We were the first American mountaineers invited to Bhutan to try and climb what then was the highest (24,840 feet) unclimbed mountain in the world. (It's still unclimbed.) With no maps to the area, by the time we found the mountain, it was too late in the season to try and climb it." – Rick Ridgeway

"I took this shot while traversing the Coast Range in northern British Columbia near the Yukon and Alaska border. I was guiding a group with Alex Everett (the guy in the photo) and we were enjoying ourselves on a rest day: drying up mountaineering/camping gear and mostly goofing off. I'm not even sure how this photo came together but I do remember we were laughing hard. What I can remember is that we did not wear shorts very often on that trip!" – Pascal Beauvais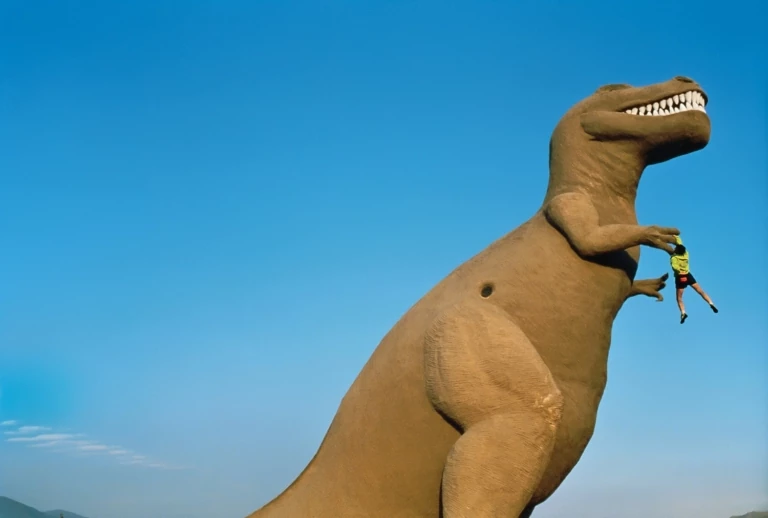 "This photo was taken at the tail end of a Patagonia art department/Black Diamond Joshua Tree weekend. I shot several products with the art direction of a who's who Patagonia catalog design team at the time (Kathi Carlson, Tracy Smith), plus Maria Cranor, the founding creative director at Black Diamond.
"As I recall, we were trespassing. Jonny was reluctant because he thought the dinosaur would collapse under his weight, and that this was just another one of Epi's (me) stupid ideas. I further remember that Jonny ultimately said 'No!' and that Maria made him/convinced him to do it. Haha, saved by Maria again.
"It's a photo that can never be duplicated and was quite dangerous for Jonny. If the T. rex claw would have broken, or if Jonny couldn't have mantled back up onto the arm … well, it would have been a very hard landing." – Greg Epperson

"This is Scott, fresh out of the burn pile with his three puppies on a spring day in New Hampshire. (He said that his frog boots made him do it!) He's 31 now, and for the last four years he's been a glassblower at the Simon Pearce studio in Quechee, Vermont. He loves to hike and fly fish on weekends, and he still loves New Hampshire." – Pete Swart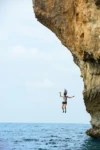 "This photo was taken in Yemen, off the island of Socotra. For once, Burr, whom I've traveled the world with, was not right in my face shooting. Instead, he was in a little fishing boat bobbing about in the light surf. I had just finished completing a first ascent of a deep water soloing route and the only way down was to jump into the Arabian Sea. An hour later we were shot at by a disgruntled off-duty army officer because he thought we were on military property (we weren't close to the base). Turns out the climbing wasn't the most dangerous part of our day." – Brittany Griffith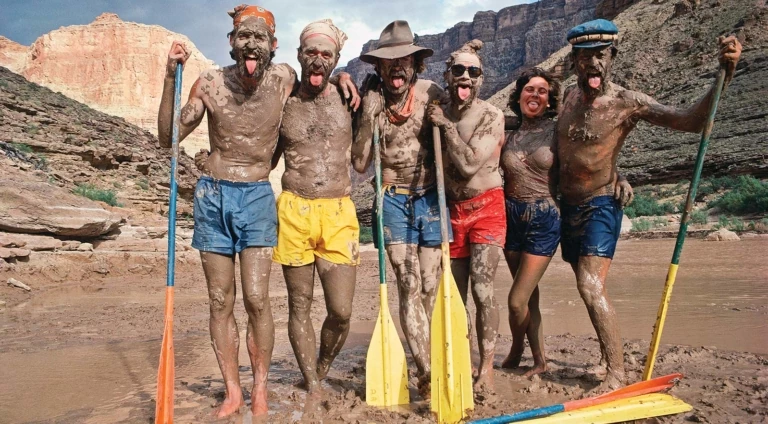 "Between the excitement and terror of the big rapids, I do river trips to relax and have fun, to be spontaneous and silly. Every now and then we came upon a patch of smooth, slimy, slippery mud by the side of the Colorado River, where no one could resist the appeal of wallowing and sliding around on that beautiful warm brown stuff, and changing their persona—a most satisfying and sensual experience. But what a shame turning our brightly colored Baggies into the color of dirt. 'Hey, wash off your Baggies, and I'll take your picture,' I said, and everyone took up the challenge. Snap, snap, hooray! No dress codes here!" – Chris Brown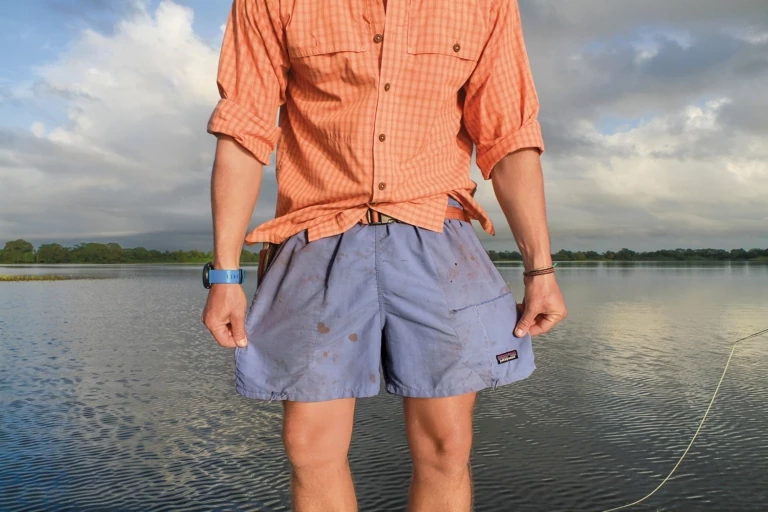 "This photo captures the very essence of a season in the bush, where one is under constant attack from the wild elements, and the natural world tests one's spirit. It was shot early one morning crossing a lagoon deep in the jungles of Costa Rica in search of tarpon. It had been a particularly tough couple of sessions with biblical rains and a rising river of mud—not ideal conditions for a bite. I had one more ace up my sleeve by way of these shorts, and we hoped that the battered garb would give us that little extra edge we had lost. The stains and rips are evidence of many jungle swims while releasing tarpon. Not twenty minutes later I was once again chest-deep, holding a big silver king."  – Tom Enderlin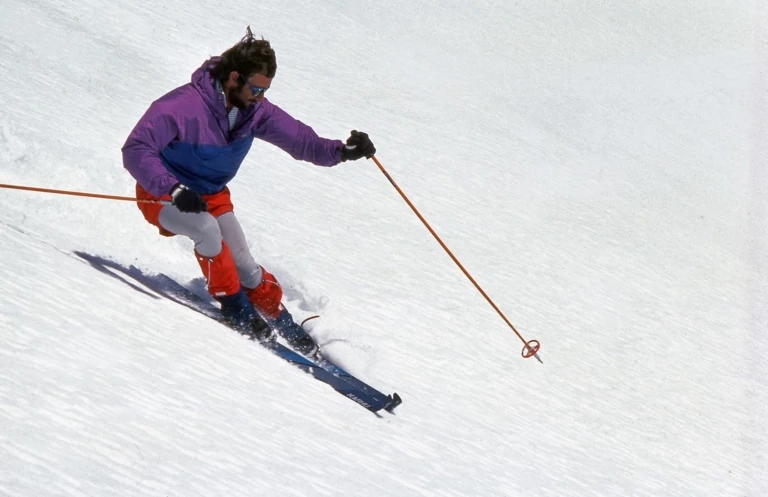 "Both of these photos are from a High Sierra backcountry spring ski trip with Yvon and John Wasson, when we scored some good corn snow. The guy skiing is John Wasson, whose wife Jocelyn used to do illustrations and artwork for the Patagonia catalogs, and designed some of our prints. I remember the late Galen Rowell, also a climber/photographer, was also on the trip." – Rick Ridgeway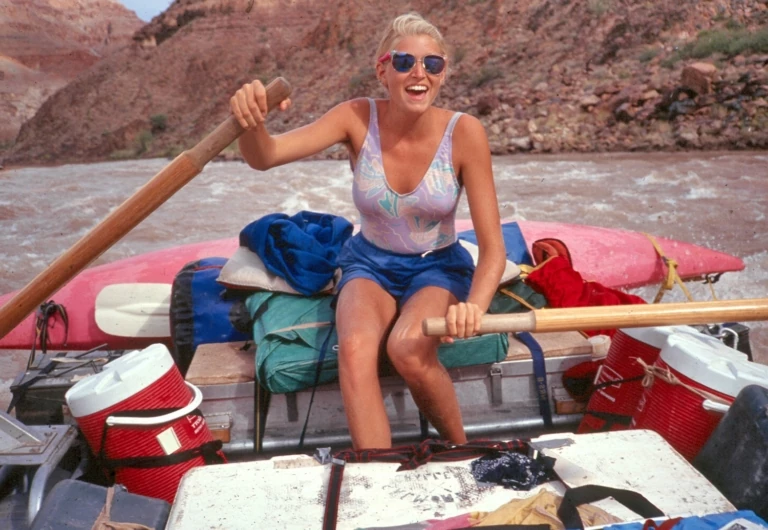 "I grew up on the Snake River outside Jackson, Wyoming, where I developed a special relationship with the river: it became my refuge during troubled times. The summer I was 19, I was invited on a private 18-day rafting trip on the Colorado River through the Grand Canyon. This photo captures me rowing a rapid for the first time (I should be wearing a PFD!) and the pure joy of connecting with the river in a playful way. The Baggies belonged to my then-boyfriend who managed to take the shot at the exact moment I decided to become a river guide." – Bridget Crocker
#WhatsInYourBaggies
Want to celebrate 36 years of fun hogging with us? Tag your favorite Baggies Shorts photos #WhatsInYourBaggies and we'll share them at patagonia.com/baggies.