A Different Path
Living and designing sustainably in Southern Chile with Bureo co-founder Ben Kneppers.
Patagonia's Tin Shed Ventures® fund was launched in 2013 to help innovative, like-minded startups bring about solutions to the environmental crisis and other positive change through business. Or, in Yvon's words, to help entrepreneurs and innovators succeed in "working with nature rather than using it up." Patagonia has supported Bureo's development through Tin Shed Ventures since 2016 when this story was first published, and more recently with the addition of NetPlus® recycled fishing nets in our product line.
From his cabin in Cocholgüe, Ben Kneppers can see the ocean. An American entrepreneur from Cape Cod, Ben is an unlikely resident of this small coastal community in the south of Chile. He is a co-founder of Bureo, an innovative company that transforms discarded fishing nets into recycled products. In Chile, Ben works on the ground overseeing Bureo's Net Positiva initiative, the recycling program that is the foundation of their business. Through Net Positiva, Bureo facilitates the collection of discarded nets to obtain the raw materials necessary to manufacture sunglasses and sidewalk cruiser skateboards while simultaneously reducing plastic pollution.
Ben and business partners David Stover and Kevin Ahearn founded Bureo with the intention of developing a sustainable business model in collaboration with Chilean fishing communities and delivering high-quality recycled products to individuals who share their love of the outdoors. A mechanical engineer and environmental consultant by training, Ben worked for the Chilean government on a project that focused on the wild-caught fishing industry prior to the formation of Bureo. During the early stages of exploring Bureo's business model, Ben realized, through conversations with fishermen, that, especially in the case of low-income fishermen, there was little to no infrastructure available to manage the fishing nets. "That's when we really started to see this whole project form into a powerful force," Ben said. "This force is what became Net Positiva today."

Bureo Skateboards and Patagonia Works. Video: Bureo Skateboards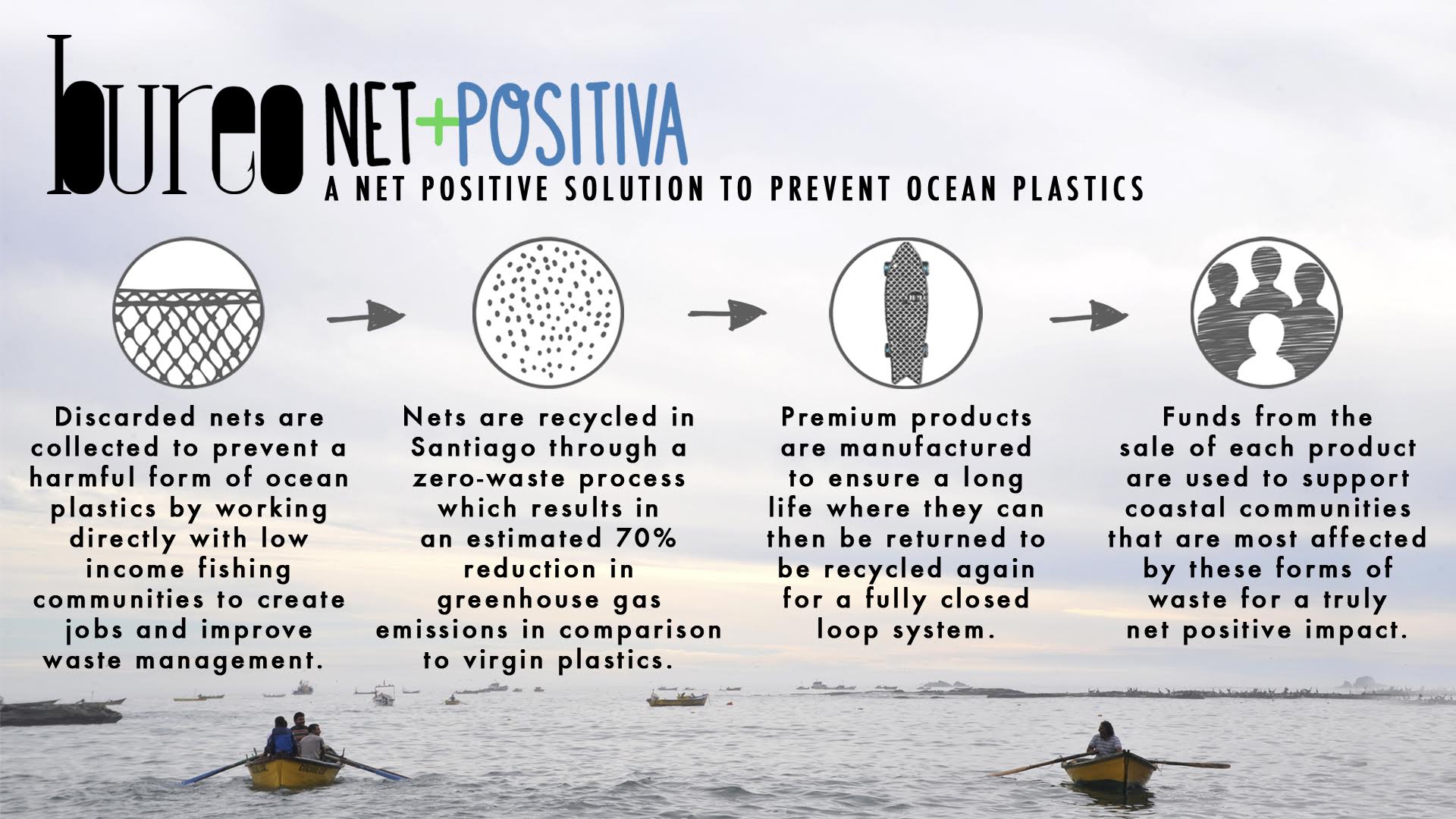 Photo courtesy of Bureo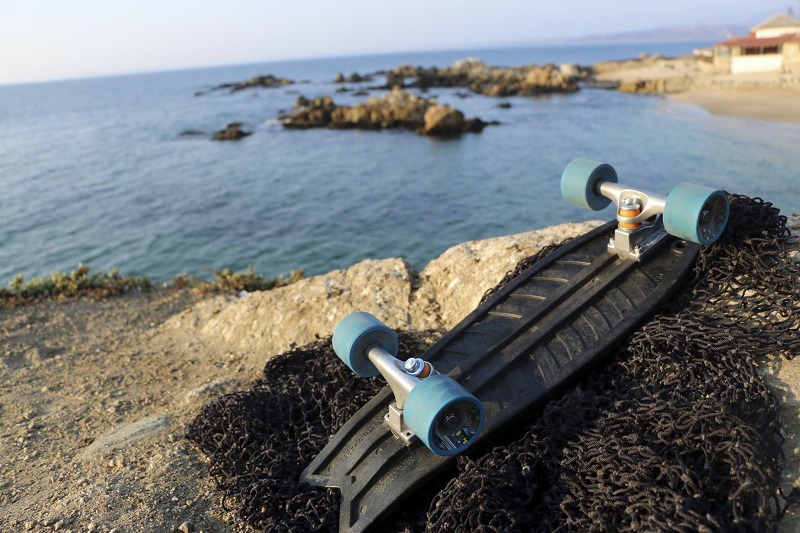 A fish out of water. Bureo's recycled Minnow Cruiser skateboard rests on a pile of fishing net just north of Valparaíso, Chile. Photo: Kevin Ahearn

While other members of the Bureo team have relocated back to California, Ben and his wife, Gabriella, opted to stay in Cocholgüe, Chile, the first artisanal fishing village Bureo partnered with to collect nets. In addition to the lack of waste management infrastructure and lack of education about the environmental consequences of discarding nets in the ocean, there was also a lack of value connected to the material. "The idea was to get into actually living in this area," Ben explains, "to get fully hands-on with the situation, work day-to-day with the fishing communities, understand how they're managing their nets and how we can turn this into a full-scale program."
Ben works closely with both regional managers and community managers involved in Net Positiva, which currently operates in three major regions in Chile: Iquique, in the far north; Coquimbo, which is a bit farther south; and Concepción, where Ben lives. Within each region, there are five to a dozen fishing communities who participate in the Net Positiva program, each with their own community manager. Ben acts as a kind of national manager but that doesn't mean he works in an office, far from the action. Instead, he is constantly on the road, working directly with the fishing communities who participate in Net Positiva.
Ben explains that the "grand scheme" he's developing in Chile is to gradually shift responsibility to the regional and community managers, helping them build a viable business that is connected to Bureo through the sale of recycled nets. "Just as the fishermen are catching fish and selling them for a certain price, these teams of workers can make collecting the nets and selling them to Bureo, through Net Positiva, their own business. They can harvest the nets and make a supplementary income. At the end of the day, I want to hand this all over to them. Right now, I'm just there to coach them along."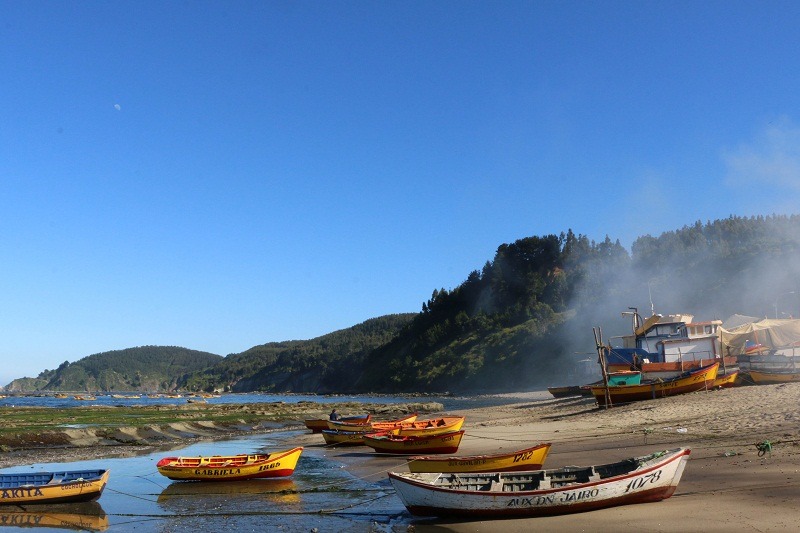 Low tide and salty air in Cocholgüe, Chile. Photo: Bureo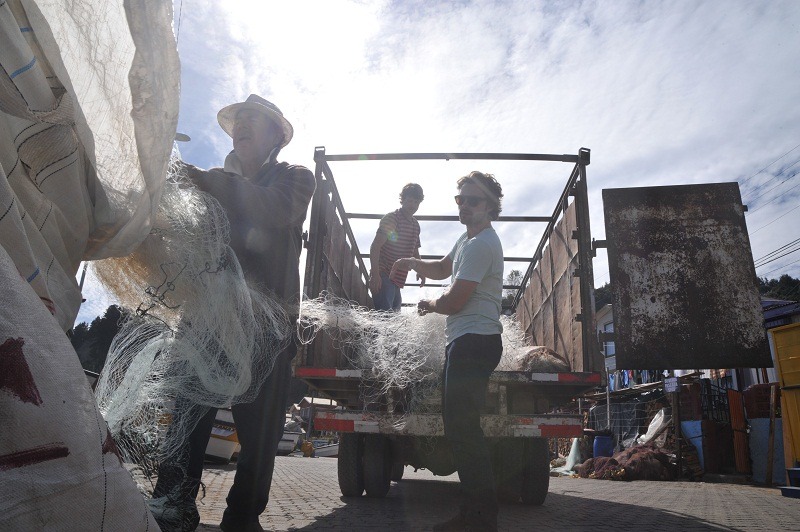 Ben Kneppers empties discarded fishing nets from a collection point with local fisherman in Cocholgüe, Chile. Photo: Bureo
While Bureo is a for-profit company, its business model is designed to give back to the fishing communities that supply the raw materials needed to produce skateboards and sunglasses. In addition to the compensation that regional and community managers receive for their work, Bureo sets funds aside for every kilogram of net collected. "We want to show that this isn't just about the fishermen agreeing to give us the nets," Ben says. "Now we're bringing value to the entire community."
When the Bureo team recognized that they didn't know how to best distribute the funding, they turned to local nonprofit organizations for help. In the Concepción region, Bureo collaborates with Fundación El Árbol, a grassroots NGO that supports recycling, environmental education and community empowerment—a combination that meshes well with Bureo's mission. Fundación El Árbol is organizing workshops with community leaders to determine how best to use the funding from Bureo. Examples include the development of a community composting center in one village and establishing a recycling point for cans and bottles at a centrally located elementary school in another village. Bureo also supports environmental education workshops which include beach cleanups and more general programs to educate youth in the area about environmental topics. This kind of community engagement is a cornerstone of Bureo's mission, and Ben's commitment to living and working closely with the community helps to make it a reality.
Originally, Ben and Gabriella planned to stay in Chile for about a year. During that time, Ben would build Net Positiva, engage with the community and get everyone trained before heading back to California. But since then, Ben says, their plans have changed. "The amazing thing we're starting to find is that the more time we spend down here, the more we're just loving it. We've always wanted a nice simple place to live where we can just have the things we need, nothing too fancy."
Although living in the nearby city of Concepción would be more practical in some ways—having better Internet access, for instance—the benefits of living in the community far outweigh such inconveniences. "It's a really beautiful place and the people are amazing, They've been so responsive to this program and they take care. There's not a lot of crime to worry about, or violence, and it's a very well-maintained community."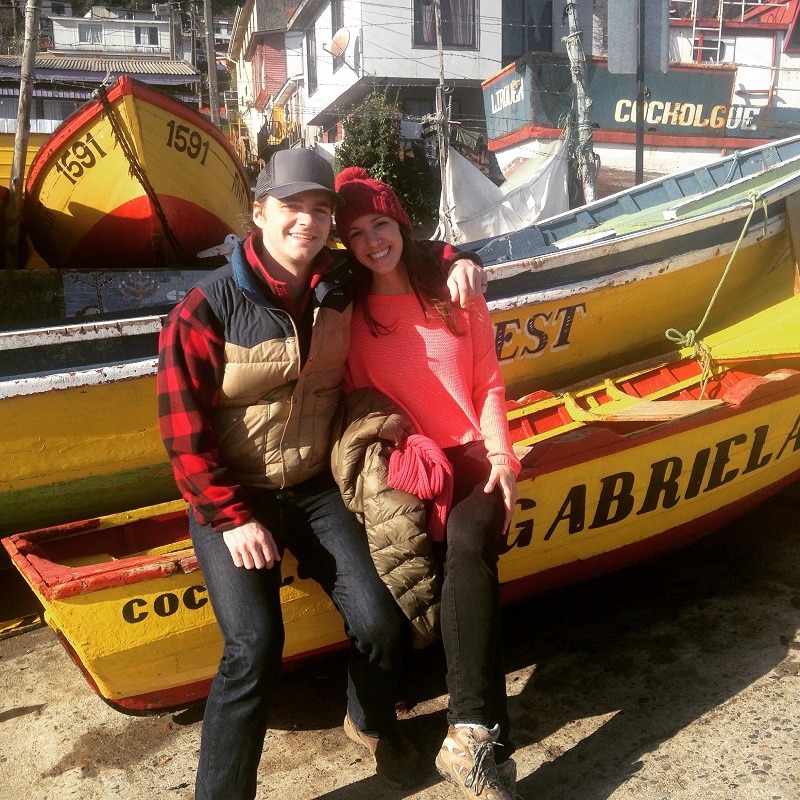 Ben and Gabrielle Kneppers sit amongst the colorful fleet of artisanal fishing boats in Cocholgüe, Chile. Photo: Bureo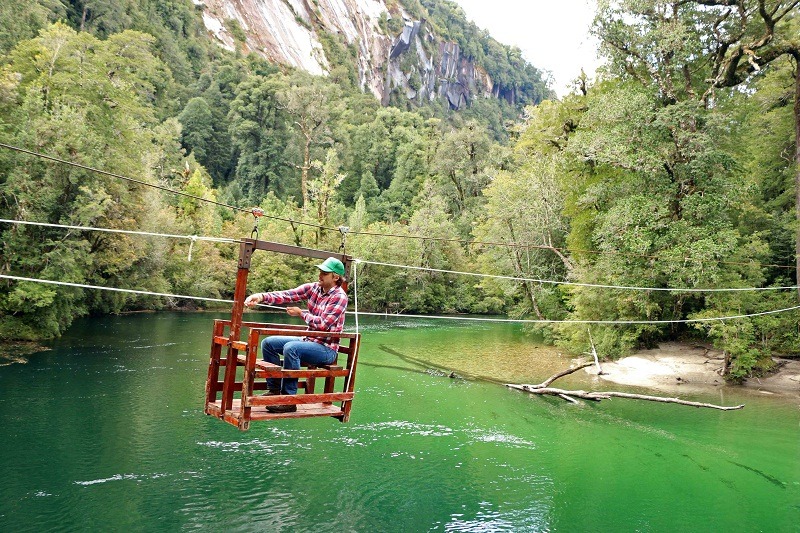 River crossing in the Cochamó Valley. Ben takes time off to explore the local environment in Southern Chile. Photo: Bureo
Ben notes that Bureo's funding of community projects has been well received but the crucial thing will be staying true and committing to it. Unlike other do-gooders who might come in, promise the world and then disappear two weeks later, members of the Bureo team have established a lasting presence in the communities they work with. In return, Chilean fishermen and their communities have been willing to collaborate with Bureo and accept the new ideas put forth by the "three gringos," as Ben, David and Kevin are known locally. Earning respect and trust is not only key to the operation of their business, it is also key to building meaningful, sustainable relationships.
For more information on Bureo and Net Positiva, visit bureo.co.