Just down the street from Patagonia's Ventura, California, headquarters, a building known as The Archives is home to almost five decades of Patagonia history. Racks of colorful, old clothing line sections of an open-office floor plan; decades-old brochures and posters are tacked on walls; handwritten and typewritten papers fill file boxes with ideas and history. A plywood board in the shape of a fleece sweater leans against a wall with the words NEVER NOT TINKERING handwritten in permanent marker, repeated over and over, like the words of a troublemaking student scrawled across a chalkboard. It is this creative kind of chaos and a belief in the value of tinkering that led to the creation of the world's first fleece, which still hangs on the wall near the entrance to The Archives: the unassuming artifact that started it all.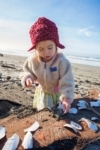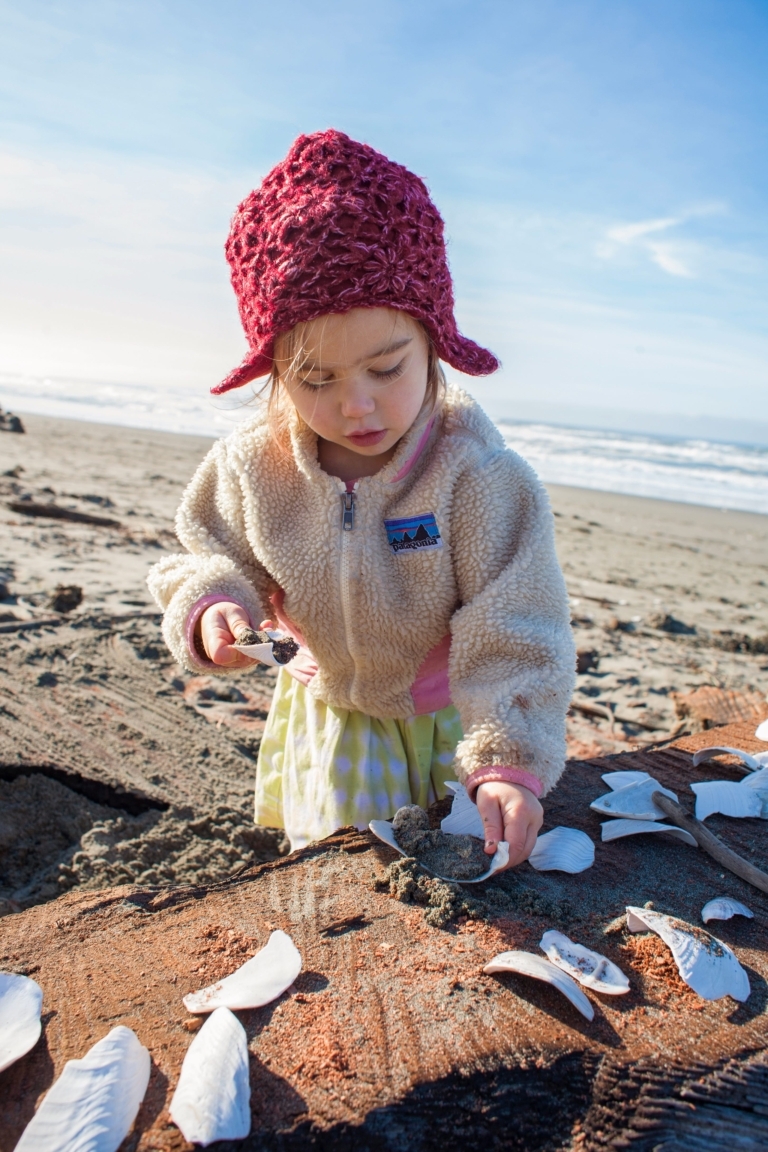 Origin
The story of fleece actually begins with Yvon Chouinard's favorite wool sweater. This warm, durable layer served as the preferred choice of insulation, but it became heavy when wet, was slow to dry and difficult to clean. So he started looking around for a miracle fabric—a synthetic solution with the same warmth and strength of wool fibers, but lighter and with faster drying properties.
In the early '70s, Yvon discovered an acrylic pile fabric at a textile dealer's store in Canada that looked bad and smelled bad but was water-phobic and therefore had promise. Inspired by this find, Malinda Chouinard went to the fashion district in Los Angeles on a hunt for a roll of similar fabric. What she returned with was made of polyester and intended for toilet seat covers, but she saw the potential for a sweater. The bolt sat dormant, along with other samples that had been collected, until one day Yvon rediscovered it and took it to the sewing room.
Standing over the shoulder of Val Franco—then seamstress and now manager of The Archives, plus keeper of Patagonia history—Yvon shared the design in his head for what would become the very first prototype of a fleece sweater. It was best described as "heather blue," with a simple zipper front, no pockets and an outer fabric that started to pill after its first wash. But it seemed capable of being everything wool could be, and more. It weighed far less, held less than 1 percent of its weight in water, was machine washable and dried quickly, both on the line and in the field. Patagonia then partnered with Massachusetts-​based fabric maker Malden Mills, now Polartec, to create the first light, strong pile fabric out of polyester, which we then used to make the very first fleece sweaters. Soon after, the world fell in love with fleece.
Evolution
Before long, there were bolts of fleece in every fabric store, and every outdoor brand started making things out of this beloved new fabric. It provided all the benefits of wool, was easy to wash and could be layered over or under virtually anything. But sometimes in life, when you seek to solve problems, you inadvertently create new ones. "When we looked back to solve what wasn't working in that original wool sweater Yvon loved, we reinvented it with virgin polyester. But synthetic fabric comes from fossil fuels," says Helena Barbour, vice president, global sportswear. "So, we went back to the drawing board once again."
We took a hard look at the impact of petroleum-based fibers, including polyester, which at that point made up most of our line. Then we worked with our mill partners to find a source for recycled polyester and in 1993 became the first outdoor clothing manufacturer to transform trash into fleece. At the time, the technology was limited, so our first recycled polyester fleece was the color of the bottles it was made from: soda-bottle green.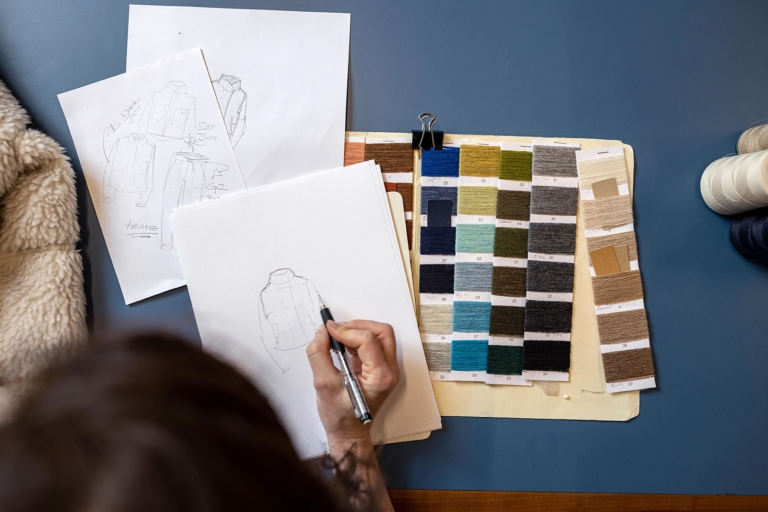 Still Tinkering
To continue to find ways to reduce the footprint of these materials, our next step was to incorporate natural fibers—including returning all the way back to our favorite material for warmth and durability: wool. More specifically, recycled wool.
"There's always been this fascination with the romance and legacy of wool. It really is the perfect natural fiber," says Helena. "By deciding to blend it with our beloved fleece fabric, I guess, in some ways, we ended up back where we started, but not really. It's the best of both worlds." Blending recycled wool into our fleece material allowed us to emit less carbon than we would have using virgin polyester. It also helped divert quite a lot of clothing from landfills.
Wool is recycled using one of the oldest recycling processes in the world. Our partners, the Calamai family in Prato, Italy, still use a process similar to what was used in the 1600s. Huge piles of clothes are hand cut and separated into piles of similar colors and then turned into yarn. In the same way that our first recycled fleece was made with sorted green bottles, our recycled wool gets its natural color from the sorting process, taking on the color of the garments mixed to create it.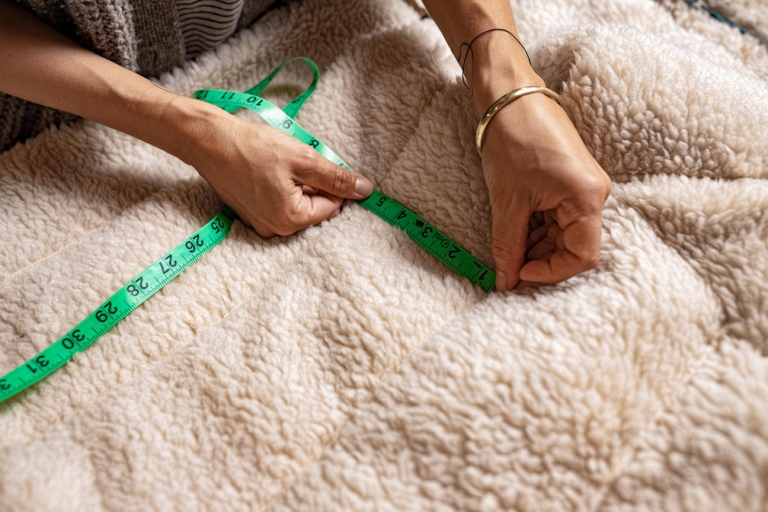 The Future
There's never a shortage of ideas at Patagonia. Tinkering is encouraged, to seemingly no end. "That's what we do as a brand—we challenge the status quo. Even our own," says Nicholas Hartley, one of our material developers. "Is it uncomfortable? Yes, it's sometimes a nightmare, but it's what we need to do. And so we have to keep evolving and changing. It's just who we are."
To feed this need, in early 2018, the product team launched fleecelab, an incubator program for the design and material teams to explore new concepts and continue researching how to lessen the impact of fleece. Through collaboration and experimentation, they release limited-edition collections of new styles that incorporate blends of recycled synthetic and natural materials, including recycled wool. For our material developers, that means going to the mills, presenting problems, asking them to dream up solutions and bringing back an array of concepts for potential new fabric constructions. The designer decides on the ultimate material mix, and then the mills build the fabric. The result is a selection of garments cut from custom-made fabrics and fibers, released outside of our regular seasonal timelines.
"We make most of the fabric we develop with the mills available for other brands to buy from them. We are OK with that," explains Nicholas. Why? "Because we want to change fleece. We want it to keep getting better, and not just what we make." We believe that the benefits of these new fabrics should be allowed to have the widest impact possible on the environment and on the lives of the people who wear them.
"Our responsibility is to point people to do it right. There's so much degradation in our industry, and we have to continue to raise the bar. We want to disrupt and encourage others to come along this journey with us, and it seems to be working," says Helena. "I feel the perfect fleece is, 'don't buy this fleece.' But if you have to, make sure it's made out of waste. That's where my head is at for the moment."
The perfect fleece—we haven't made it yet. We're still tinkering.
Visit patagonia.com to see the entire Fleece collection.