The Forever Chemicals
Beth Schiller
/
16.05.2022
/
5 Min. Lesezeit
/
Workwear
This story was supposed to be about a thriving, women-led organic farm in Maine. Then came news of the "forever chemicals."
All photos by Greta Rybus.
In these early summer months on the Dandelion Spring Farm in Bowdoinham, Maine, the winter squash is already in the ground, and the tomato plants with their first flowers are showing promise. By July 4th, we've sown the seeds of our independence with all our carrots, beets and rutabagas that will feed us through the winter, both nutritionally and financially, planted in the ground. By early September, we begin the process of pulling the last of the tomatoes from the unheated greenhouses to establish the winter crop of sweeter-than-you-can-imagine spinach, delicate lettuce heads and stored sunlight.
Maine might be known for its rugged coastline and long winters, but agriculture continues to be integral to our economy and rural way of life.
Here on Dandelion Spring Farm, we're part of the Maine Organic Farmers and Gardeners Association (MOFGA) and grow certified organic vegetables and herbs on unceded Wabanaki land. These 7 acres on the MidCoast were last consistently farmed in the 1940s as a family homestead and small apple orchard. Today, we're a team of 14 farmers, with just one self-identified man. In a typical year, we sell half of our products at farmers markets and half directly to restaurants and natural food stores. We are outside every day under the sun and moon, through drought and excessive rain, dedicated to soil, community and nutritious food for all. But now, we're facing a sinister threat to our livelihoods and the health of our citizens.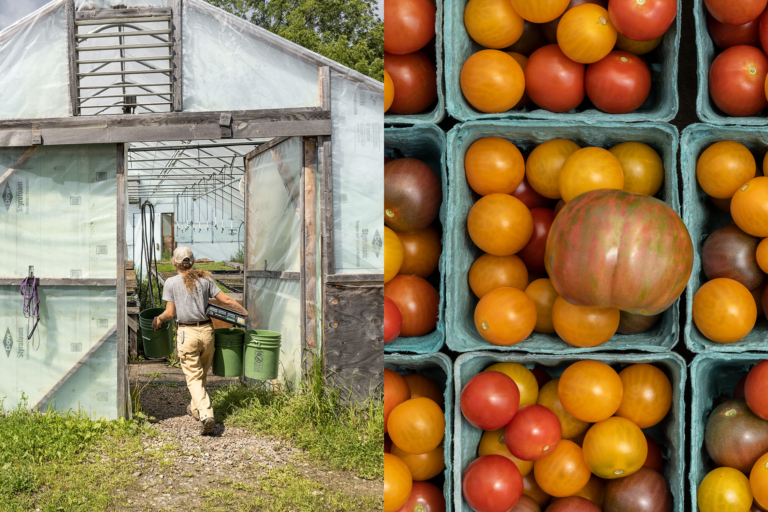 In the 1980s, prior to my ownership of this land, a farmer was permitted to spread sludge on the fields. Though many of us think of sludge as extra-thick mud, this version is waste generated from municipal, commercial or industrial processes, usually tied to wastewater treatment. This common practice across the state helped farmers create an affordable nutrient source to grow food for livestock. What they didn't know is that the sludge, in our case a by-product of Maine's paper production industry, contained chemicals known as per- and polyfluoroalkyl substances (PFAS). Sadly, PFAS have become commonly known as "forever chemicals."
The Maine Organic Farmers and Gardeners Association writes that PFAS "have been widely used since the 1950s in products ranging from food packaging to firefighting foam. PFAS have recently been recognized as contaminants in agriculture and are believed to largely be entering soil through the application of biosolids, industrial sludges and ashes, which may contain these compounds that are difficult to break down … At this time there are no current federal thresholds for PFAS contamination in food crops, and Maine only has thresholds set for milk and beef, which were recently developed."
There are over 500 organic farms and processors within the state that will need to determine if they were subjected to these chemicals on their lands, and the results could be dire. Farms that were thriving just months ago are shutting down production as high levels of this toxic chemical have recently been found in their wells, ponds and soils. We are quickly learning how plants and animals take up PFAS and how they impact our bodies. Some plants seem to have their own natural block against these chemicals (apple trees) while others are prone to more absorption (our precious lettuces). Though thresholds have yet to be set for vegetables, farmers are testing their water supply and soils and pulling products from the marketplace.
In January 2022, a crew from the Maine Department of Environmental Protection came out to take water samples from our land. The test is so sensitive to these chemicals that the crew had to be mindful about the clothes they wore and tools they used so they wouldn't contaminate their samples. They will return on May 3 to test our soil, and we won't have the results until July. Anxiously, we await news that could have a huge impact on the future of our farm.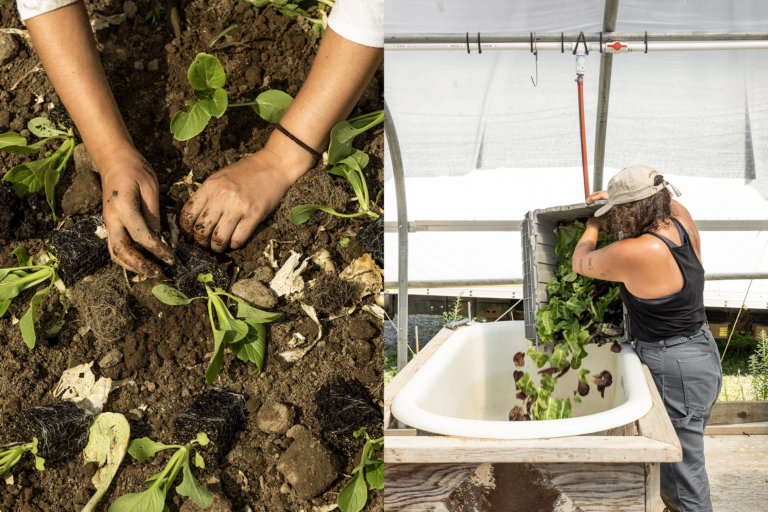 As an employer, I've invested in teaching my crew the skills to be the next generation of Maine farmers and, someday, take over ownership of this productive farm. Like many farmers in this state, I'm asking myself every day how to plan for the growth of my team and business while simultaneously being worried about long-term soil contamination. While we wait for the test results, we continue our dedication to stewarding the health of land and people through the production of nutritious food.
The food and farm culture in Maine is truly beautiful, and we've already started working together to create recovery funds to help pay farmers during the time they need to be shut down. We are talking about buyout programs so farmers can start over on new land. We are learning more every day about what mitigation can look like, while knowing this chemical is here to stay. There is a path forward, but it is also heartbreaking.
I'm grateful to my farming community for our mutual support during this scary time. I'm also grateful to MOFGA, which was founded in 1971 by a bunch of big-hearted folks at a kitchen table who were, and continue to be, dedicated to putting the health of people and land first. From my little corner of Maine on the Dandelion Spring Farm, I encourage you to learn as much as you can about PFAS—because they will inevitably become a concern in your state. They already exist in our food supply and the daily products we touch, including dryer sheets, sunscreens, disposable hot beverage cups and paper plates. The more we learn together, the more we can support one another.