Patagonia Ambassadors Create Running Tradition with Japan's Shinetsu 5 Mountains Race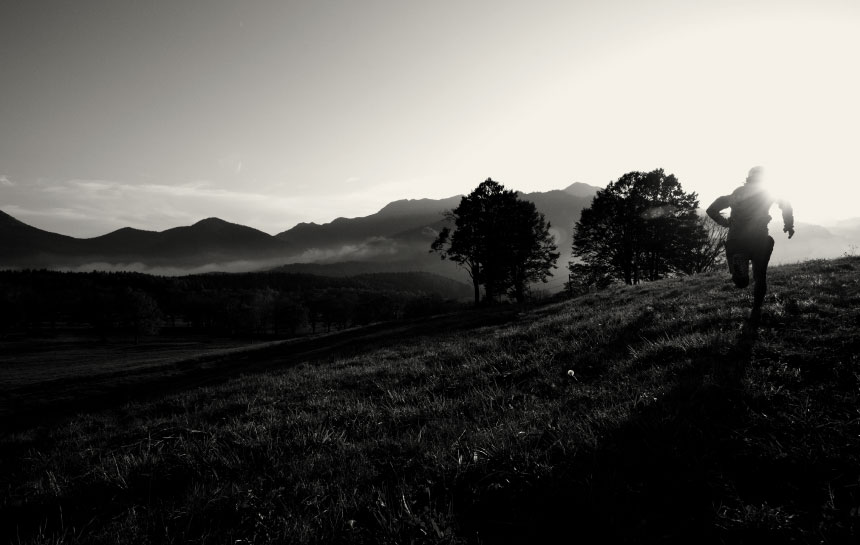 Patagonia Running Ambassador Krissy Moehl took top honors at the recently held Shinetsu Five Mountains Trail 110K in Japan's Shinetsu Highlands. This year marks the second running of the race, a labor of love born from the vision of another Patagonia Running Ambassador, Hiroki Ishikawa. Takayuki Kakihara, of Patagonia Japan, offers this introduction to the Shinetsu race. Krissy's own introduction and race reports follow after the jump:
The "Shinetsu Gogaku Trail Running Race 2010 ~ Art Sports x Patagonia Cup," produced by Patagonia Ambassador Hiroki Ishikawa was held in the Shinetsu highlands that spread across the Niigata and Nagano prefectural borders from September 18th (Saturday) to 20th (Monday). The "Shinetsu Gogaku," used in the title of the event, points to the 5 mountains that exist in the Shinetsu highlands. These mountains have long been deeply intertwined with the lives of the people residing at the base of these mountains and have attracted worshipers as a sacred place.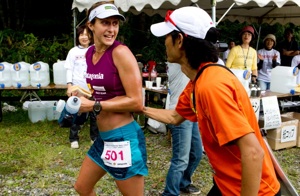 The race which welcomed its 2nd year had a course of 110km, the longest course amongst
domestic trail running races in Japan. This race also included many features that Hiroki Ishikawa had experienced in the various trail running races that he had participated in (mainly in North America), such as Japan's first-ever trail running event with aid stations. These allowed the family members and friends to provide support for the runners and set-up areas where pacers were allowed in to provide safety for the runners during the night hours. The race this year had a total of 542 runners (460 men and 82 women) who entered and 384 runners (225 men and 59 women) completed the race. Shinetsu Gogaku:http://www.sfmt100.com/
[Top – photo courtesy Shinetsu Five Mountains Trail 110K. Bottom – Krissy Moehl takes off from an aid station, with a gentle push and a mountain of encouragement from race organizer Hiroki Ishikawa. Photo: Sho Fujimaki]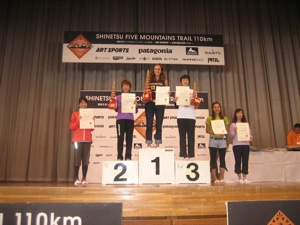 Japan staff through visiting the headquarters in Kamakura and presenting in Tokyo at the Shibuya store. I got to see some of the beautiful country and experience their amazing food. At each meal it was common to hear "Krissy is good with chopsticks" and "Krissy will eat anything." I'm so thankful for my trip to Japan this September, for the opportunity to experience a good friend's (Hiroki's) race course, and for the event experience, as well as for building friendships and meeting some amazing trail runners.
[Above – The Shinetsu Five Mountains 110K course map. Left – The top lady finishers. Photos courtesy Krissy Moehl collection]
Please visit Krissy's blog, Life in Motion, for a complete write-up of the events leading up to the race, and a detailed account of this unique trail event. Catch Krissy in action through our video series Tracing the Edge (also viewable on YouTube).