Hiking Down Memory Lane
Old School
/
26.03.2010
/
6 Min. Lesezeit
/
Design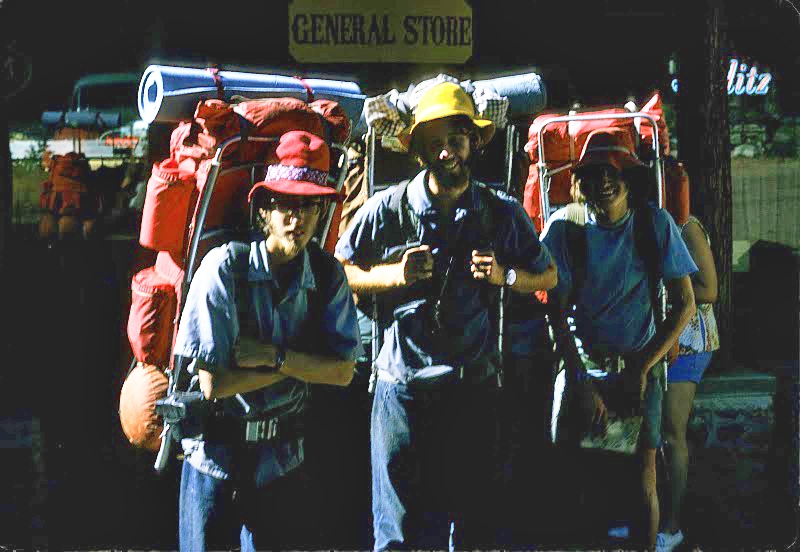 It's been said that if you remember the 60s then you weren't there. But if, like me, you grew up in the 60s and 70s and were into backpacking or climbing, there is actually a whole lot to remember. Like many of us, I got my start backpacking in the Boy Scouts. I remember our troop had a bunch of army surplus tents called "shelter halfs" which were heavy canvas tents that came in two pieces. They slept two people so each person would carry one half the tent and then you'd button them together in camp. Even though you only carried half the tent and it didn't even have a floor, it still weighed in at 5lbs per half. My first ever backpacking trip combined this tent with a cotton sleeping bag and a old scout pack called (I think) the Trapper Pack, an L-shaped torture device/pack frame that lacked both padded shoulder straps and a hip belt. I think we went three miles, and to this day it remains the longest trip of my life.
Although some of the younger folks I work with seem to think trips like that epitomize backpacking in the 60s & 70s, it was actually an era of huge advances in lightweight equipment. With the "back to nature" and "anti-establishment" sentiments of the 60s, backpacking became the 'in' sport, and suddenly trailheads were overwhelmed with hikers seeking out their very own wilderness experience. This popularity spawned a rush to create lighter and more durable backpacking gear. The people who started these companies were true pioneers and all of us who enjoy the great gear of today owe them a huge debt.
Indeed, so much of what we take for granted today came about during this period of innovation.

As writer and industry historian, Warren McClaren notes "The 70s seem to be when everything happened. MSR stoves, Therm-a-rest, Gore-tex, Geodesic domes, Friends, Fastex hardware, Pit zips, internal frame packs, etc."  All these things came about within a few short . . .
[Top – Jon, Tony & Ken, about halfway through the PCT, 1974. Photo: Ken La Russa. Above, right – A collection of some of Bruce Johnson's vintage gear. Photo: Bruce Johnson]
. . . years, it was a real gear revolution. Contrast that to today when big changes to gear might mean a new color or maybe adding an mp3 pocket.
In the very spirit of capitalism, these small companies were usually started by people who saw a need for a particular product and went into business. When I say small, I really mean small. For instance, while planning our Pacific Crest Trail hike, we heard stories of what was then the absolute lightest tent on the market, made by a company by the name of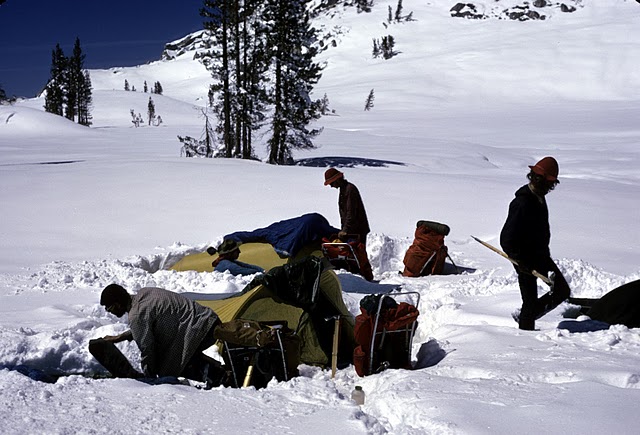 My friend Tony had just got his driver's license so we called Stephenson's to see if there was any way we could get a look at this elusive tent. We were immediately invited down and the next day we found ourselves being escorted through a house filled with exotic fabrics and sewing machines and into Jack Stephenson's backyard. Jack himself set up various tents on his lawn so we could have a closer look. Tony ended up purchasing one, as did his brother Jon, each for $130, which seemed so incredibly expensive back then, but considering a Warmlight tent now costs upwards of $500, I guess it was quite the deal.
Patagonia's Ventura retail store, the Great Pacific Iron Works, was a much smaller enterprise as well, and it really was an iron works. I remember looking out the back window and watching them make pitons and carabiners right in the yard. The retail store was a cluttered affair back then, devoted mostly to selling climbing gear out of cardboard boxes along with a smattering of backpacking stuff. I once walked into the shop in search of a clevis pin for my Kelty Pack and YC himself rummaged through a cabinet to find one for me. I must have been 12 or 13 and just learning to climb, so to me it was like showing up at Dodger Stadium and having Sandy Koufax sell me a ticket.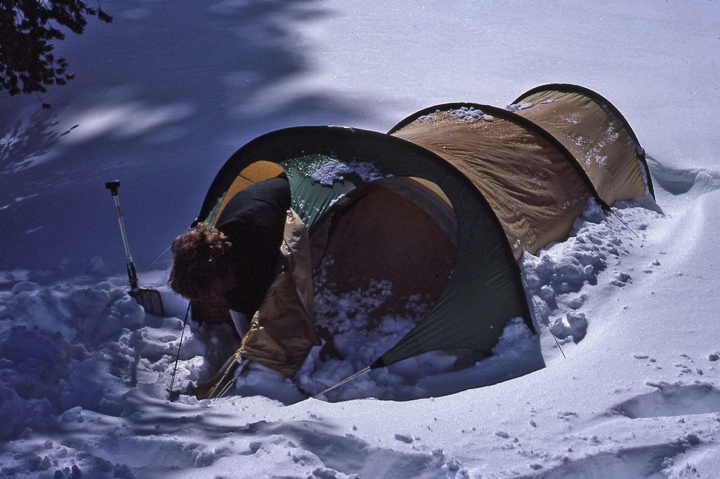 There weren't many big box outdoor shops back then, so when you needed something you went to your local climbing shop and if they didn't have it you just mail ordered it direct from the company. There was no internet, so catalogs were king and every company had a catalog. Most were quite cool and really reflected the personality of the owners. Sadly, the outdoor industry has become increasingly consolidated and most of the companies from that era are gone; closed, bought out, merged or otherwise out of business. Luckily, there are other folks like me out there who remember and appreciate the companies and individuals who are responsible for today's great gear. Unlike me, they're also smart enough to create websites. So if you too remember this bygone era, or if you just want to see what you missed, I highly recommend taking a look at two websites: 
The first is a history of gear – The Backpacking Revolution, Gear Pioneers 1945 to Present – written by Bruce Johnson of Olympia, WA. Bruce has been researching classic outdoor companies for many years and his site focuses on the colorful personalities and companies from this era. Bruce interviewed founders and former employees to bring these companies back to life, if only on the internet. It's a work-in-progress but still full of lore from this period. If you've ever asked yourself "I wonder whatever happened to Frostline?" or "Who invented the cordlock?" this is the site for you.
The second site –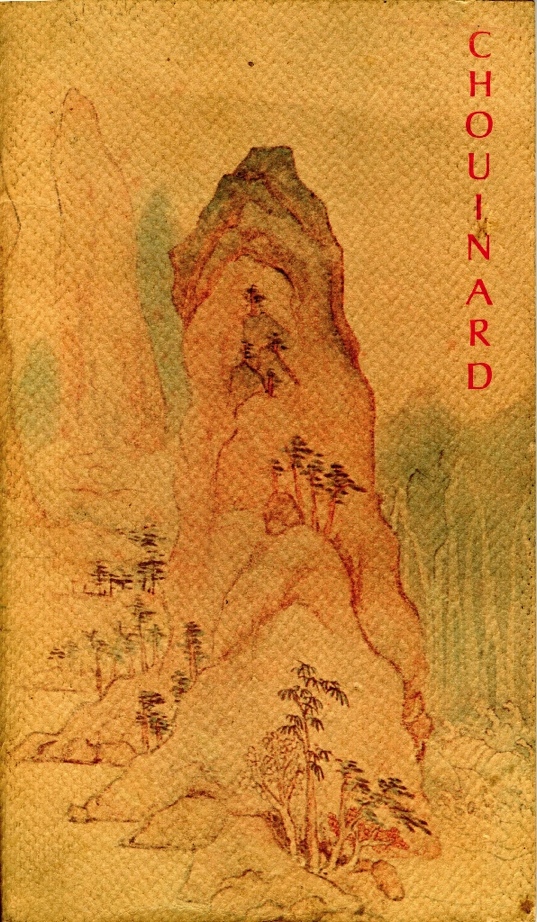 I was pretty amazed that someone from Australia was able to amass so many old catalog so I just had to ask him how he got them. It turns out that Warren acquired most of them the way I acquired most of mine (now long gone, unfortunately), he wrote to companies around the world or picked them up in local mountain shops. He also traveled extensively and as a designer he used the catalogs as a working reference library. For me, ever the gear head, this site takes me back to the days when I would pour over catalogs, searching for that perfect pack or sleeping bag or tent or stove, or jacket . . . all the stuff I just couldn't afford to buy but could look at all day.
I guarantee that if you were into climbing, skiing or backpacking during the 60s or 70s, both these sites will prove endlessly fascinating. As a side note, these sites are labors of love and depend heavily on the contributions of others. So if you worked for any of these companies, or have additional information about them or the product, let Bruce and Warren know.
[Above left – Digging out the Warmlights, Granite Basin, Kings Canyon NP 1974. Photo: Ken La Russa. Above right – One of my favorite tents in one of my favorite places: The Early Winters Omnipotent, Ostrander Lake, Yosemite, 1977. Photo: Warren McClaren. Left – Chouinard Equipment's iconic 1972 Catalog.]