Advice on Ultrarunning at 40 and Beyond
Maybe we're all getting old, or maybe just obsessed with trying not to, but Kelly Cordes' ongoing series about Fighting Forty makes today's post – from runner and guest-contributor, Liz Mosco – particularly appropriate. As a friend of patagonia, Liz has come to know some of the folks around here. She's a fan of those who keep a low profile, which helps explain how she became interested in this particular patagonia employee, a gentleman whose ultra-running career didn't even get started until he was close to 40. Liz will tell you the rest.  – Ed
________________________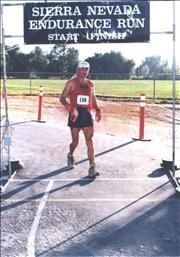 On my morning runs, I occasionally see an older gentleman also out for his morning jaunt. He must be in his 70s and although he is clearly running, his style resembles more of a bouncy shuffle. When we passed one summer morning, he did not give me the standard runner's tight smile or nod. Instead, he gave me a huge "hello!" and a vigorous double-armed wave. This man looks, and appears to feel, great.
I often think about my running future and how I still want to be lacing up in my 70s, spreading my joy to passersby. I love running. I am impressed by all kinds of runners, but I have a special awe and respect for older runners whose endurance has truly passed the test of time. One day I plan to stop this man and tell him that he is an inspiration- much like another inspirational runner I recently met who brought a new spring to my step.
As a friend and fan of Patagonia, I often hear about the incredible athletic feats accomplished by many of the company's employees. So I was not surprised to hear that one such employee is an endurance runner; that is, until I learned that this particular athlete is 65 years old and that he has run over 40 ultra marathons in the past 20 years, including 7 Western States Endurance Runs. This man took my vision of being an older runner, leisurely meandering around the neighborhood, and blew it away. Not only is this man running, but he is running really frickin' long trail races at 65. This smiling and humble gentleman, Milan Varga, graciously agreed to talk with me about running one afternoon.
[Milan crosses the line at the end of one run on his long list of successful finishes. Photo courtesy Ultra Signup.com.]
Milan Varga was born in the Czech Republic and ended up in Reno, NV in 1980 after emigrating to the US and living in New York, Hawaii, and California. He was married for 25 years before his wife passed away a few years ago. Milan's wife finished 5 marathons herself and shared in Milan's first athletic love, tennis. Milan began running in 1979 when the marathon craze began. He ran his fist marathon in Oakland and he remembers feeling like he wanted to die at mile 18. In Las Vegas in 1990, he qualified for Boston with one minute to spare. Milan will be the first to tell you that speed is not his specialty. Yet what he lacks in speed, he more than makes up for in endurance and longevity in a sport that is notoriously hard on the bodies of those who pursue it.
 
The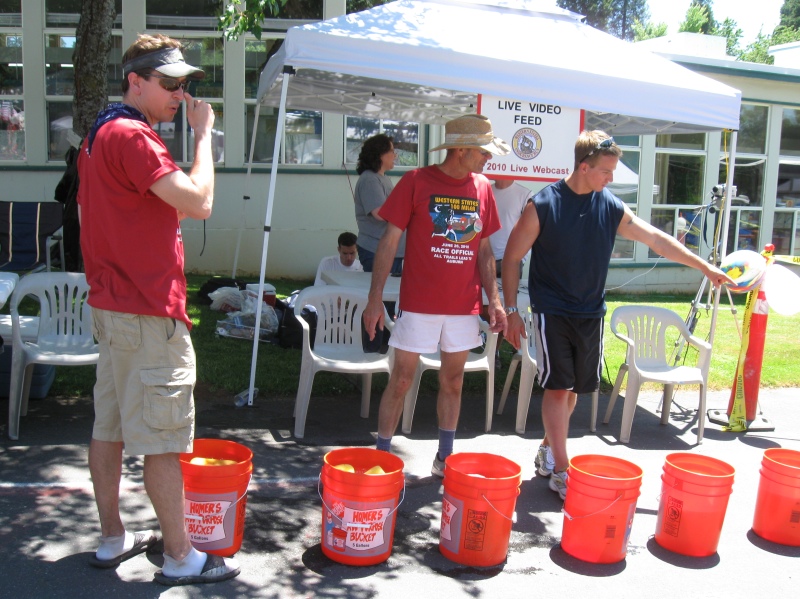 rite of passage than a mistake. I even volunteered at the Western States Endurance Run this year and was assigned the lovely job of sponging down exhausted, sweaty, smelly runners at mile 62. (Milan also volunteered; he was assigned different, less-rookie duties).
As Milan shared his amazing athletic achievements with me his tone was excited and joyous rather than boastful (which he certainly had license to be). Just as I started to believe that he could be bordering on too humble, I asked him if he is impressed with his running accomplishments.
Without hesitation he replied, "I think so. Not everyone can do it."
And he's right.
Milan Varga is an inspiration for those of us who want to keep running for as long as our bodies will allow. He is proof that we can thrive well into our 50s, 60s, and beyond, accomplishing feats that many people half his age would think are impossible or downright crazy. The real challenge will be if we can pursue these feats with Milan's enthusiasm and ever-present smile. 
As for me . . . if I don't continue with races, I think leisurely meandering would still suit me just fine. Milan has inspired me to run in a way I never thought I would again, yet I still love running whether I am racing or not. Wave if you see me in 40 years, running around the neighborhood or as you pass me during a 30K. I'll be the gal with a hearty hello and bouncy shuffle.
[Top, left – Milan, happy knees and all, lends a hand at the 2010 Western States' 100-mile Endurance Run. Above – Spongers at the ready, all set to cool down sweltering runners at mile 62 of the lengendary Western States endurance run. Photos: Liz Mosco]