Conservation Photographers Focus on Canada's Sacred Headwaters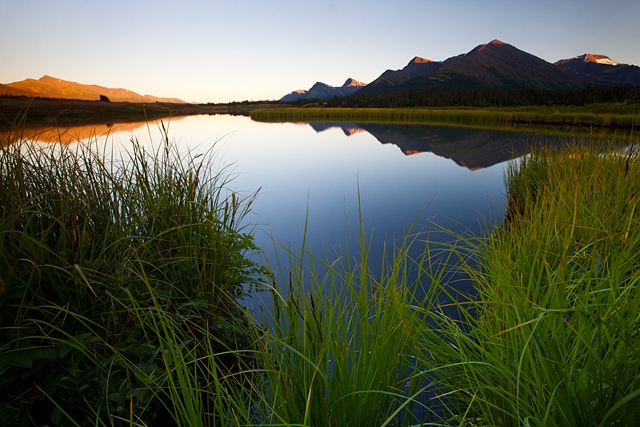 We first learned about the work of the International League of Conservation Photographers through their compelling work on behalf of threatened regions in Patagonia. This summer, they've been lending their honed expertise and incomparable imagery to the fight for some of Western Canada's most treasured landscapes. We're pleased to share this story, from National Geographic Explorer and award-winning author, photographer and researcher, Wade Davis, on behalf of Canada's Sacred Headwaters region.
* * *
In a rugged knot of mountains, in the remote reaches of northern British Columbia, lies a stunningly beautiful valley known to the first nations as the Sacred Headwaters. There, on the southern edge of the Spatsizi Wilderness – the Serengeti of Canada – are born in remarkably close proximity three of Canada's most important salmon rivers: the Stikine, Skeena and Nass.
[A calm lake in the Sacred Headwaters. Photo: Claudio Contreras, courtesy of iLCP]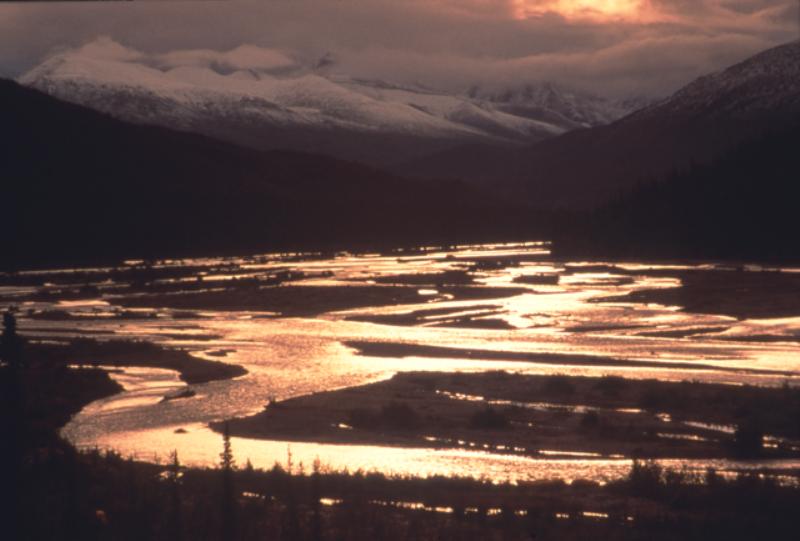 In the end, what is at stake is the future of one of the most extraordinary regions in North America. The fate of the Sacred Headwaters transcends the interests of local residents, provincial agencies, mining companies and those few among the first nations who favour industrial development at any cost. The voices of all Canadians deserve to be heard. B.C. Premier Gordon Campbell, to his immense credit, has attached his legacy to the fight against global warming, boldly calling for a 33-per-cent reduction in greenhouse-gas emissions by 2020. What better way to celebrate such a courageous act of leadership than to say to Royal Dutch Shell that no amount of methane gas can compensate for the sacrifice of a place that can be the Sacred Headwaters of all Canadians.
_____________________________
From iLCP's RAVE (Rapid Assessment Visual Expedition) Director, Trevor Frost:
The international League of Conservation Photographers (iLCP), with support from Patagonia, joined this campaign by launching a Rapid Assessment Visual Expedition (RAVE) after receiving an invitation from Wade Davis, an iLCP Fellow, and the Skeena Watershed Conservation Coalition (SWCC) (another Patagonia Grantee) to document the region for a photo book that will be published Fall 2011. The photographers on the RAVE included Wade Davis, Paul Colangelo, Carr Clifton, Joe Riis, and Claudio Contreras. A campaign will be be built in coordination with SWCC around the launch of the book that will include a traveling exhibit and lecture/slideshows by Wade and others. Now is the critical time to act: the moratorium on mining in the Sacred Headwaters will cease in 2012. Other partners on the RAVE included the Bateman Centre at Royal Roads, long time Patagonia ally Bruce Hill at the Headwaters Initiative, the Swift Foundation, and the Wilburforce Foundation. Take action here: http://skeenawatershed.com/projects/detail/sacred_headwaters_campaign/
or upload a personal video message of why you support the fight for the Sacred Headwaters to iLCP's Facebook page at www.facebook.com/conservationphotography
[Top, right – A First Nations man fishing for salmon on Skeena River. Photo: Claudio Contreras.
Top, left – Shell Coal Bed Methane test well head in the Sacred Headwaters, the birthplace of three of BCs greatest salmon rivers: the Stikine, Skeena, and Nass. Photo: Claudio Contreras.
Middle, right – An aerial view of one of the Stikine's tributary in Edziza Provincial Park. Photo: Wade Davis.
Bottom, left – The Stikine River. Photo: Wade Davis. All photos courtesy iLCP]