Confession of a Broken-Down Angeles Crest Pacer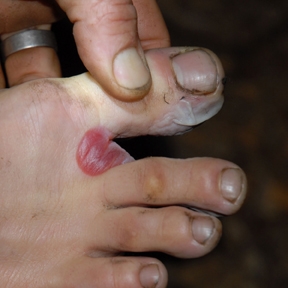 Continuing with our impromptu theme of employees traversing long distances on foot, today's post comes from Chuck Journey one of Patagonia's I.T. wizards in Ventura:
Brian looks at me: "You better be ready."

He isn't joking. We are at the Shortcut Saddle Aid Station, mile 59 of the annual Angeles Crest 100 Mile Endurance Run, an insane trail race from Wrightwood to a recreation area next to NASA's JPL facility in Pasadena, CA. Brian Polley [Mail Room], one of my long-time running buddies, is currently in third place and has been on fire all day long. At the all-too-soon upcoming mile 75 aid station at Chantry Flat, I am scheduled to begin pacing him through the last 25 miles of the race.

I am worried. Brian has 15 years on me and a lot of hard training under his belt. The fear of getting dropped a half-mile out of Chantry Flat flashes through my brain. Maybe I should have been doing a few extra laps on my training runs. Oh well, too late now.
[This little piggy went 100 miles in under 21 hours. Brian's beautiful blisters. Photo: Lisa Polley]
Brian's wife Lisa [Web Team], son Otto, Mark Shimahara [Web Team] and I have been crewing for him all day long; meeting him at aid stations and tending to him like a race car to get him in and out as quickly as possible. The age-old ultra run race acronym for CREW (cranky runner, endless waiting) has proven to be untrue for us thus far. Brian has been all business, but in good spirits, calm and confident as we re-supply him with fluids, food and gear. His blazing pace has left us with scant time between aid stations.

We drive to Chantry Flats and I shift from crew to pacer mode by donning my running gear. Brian rolls in right at his projected time of 7:00 PM, still in third place. He spends 11 minutes at the medical tent popping some gnarly-looking blisters and then it's off we go as darkness descends.

I start off with an easy trot up a mild climb, but we soon slow to a power walk. Brian's knee has been bugging him over the past few miles and is getting worse. We limp along, stopping several times for him to try to work out the kink. We're losing time, but at least I'm able to keep up.

We finally top out and begin a long, fast descent on a fire road. As we drop down into the Idle Hour aid station, Brian alerts me to a pair of rapidly-nearing headlamps behind us. I pick up the pace. At the aid station, I grab the drop bag as Brian chugs down chicken soup. I pound a replenishment drink, a few gulps of defizzed Pepsi® and a mouthful of Shot Bloks™ and we charge out.

About 10 minutes out of Idle Hour, my stomach gurgles and does a flop. I've made the mistake if trying to emulate Brian's fueling regimen rather than stick to something that I know works for me. The headlamps behind us close in. I feel ready to puke as the pursuing runner and his pacer pass us at a fast clip. With Brian's knee and my stomach, there's no way we can keep up.

We continue climbing. If nothing else, being passed has inspired us to pick up the pace. After what seems like an eternity, we finally top out at the Sam Merrill aid station. My nausea is finally fading.

As we cross over to the south side of the San Gabriels, the vast expanse of nighttime Los Angeles lays below us. We begin a hairy technical descent featuring switchbacks with nasty-looking drop-offs. I'm tempted to take a long tourist's look of the El Lay lights, but I'm sure as Hell not going to stop and this would be a very bad place to fall off of the trail, so I keep my gaze fixed to the five foot sphere of light my headlamp provides ahead of me. I try to keep a reasonably fast, but safe, pace. I look back occasionally and see Brian's headlamp bobbing close behind.

As we near Millard, the last aid station, we see more headlamps closing behind us. We're soon passed by another runner, Justin Angle [Patagonia Ultra Team] and his pacer Krissy Moehl [Patagonia Trail Running Ambassador]. They're pounding down at a fast clip, but we manage to keep them in sight for a while. Further up the trail above and behind us, I spot more headlamps. Shit!

We shoot through Millard at 53 minutes after midnight without stopping. Brian's knee is still bothering him, but we both want this race to be done and don't want anyone else to pass us again. At the very least, barring misfortune, we're on pace to finish under Brian's 21 hour time goal.

After what seems like an endless descent through the El Prieto drainage, we hit a paved road and then cut across an empty NASA JPL parking lot, along a short trail and then onto the road leading into the finish line at Johnson Field. I look back and see no headlamps.

Ironically, when we spot the finish line, it's nearly deserted. The vast majority of the other runners, their crews, friends, family and volunteers are spread out along the course far behind us. Brian crosses the finish line in fifth place at 20:45:17 to a smattering of hoots and applause from Brian's wife, a few volunteers and the runners who finished ahead of us.

Not a bad a night for a broken-down Angeles Crest pacer.
Thanks to Chuck for sharing this story with us. Many a Patagonia employee have been saved from cranky computers by Chuck, and for that we're most grateful. Incidentally, way back in the day, before there were such things as blogs and Internets, Chuck produced The Patagonian, a fictional tabloid about Patagonia and its employees. Maybe some day we'll share an old issue here on The Cleanest Line. Have a happy Thanksgiving everybody.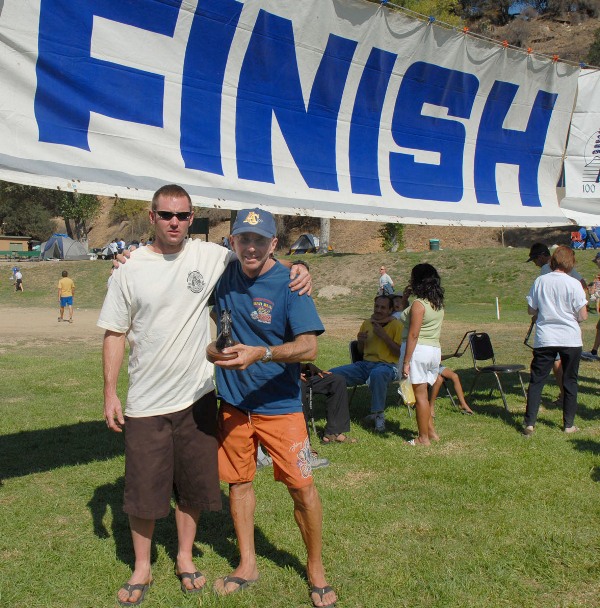 [Brian Polley and the author pose for the paparazzi after the award ceremony. 2007 Angeles Crest 100. Photo: Lisa Polley]